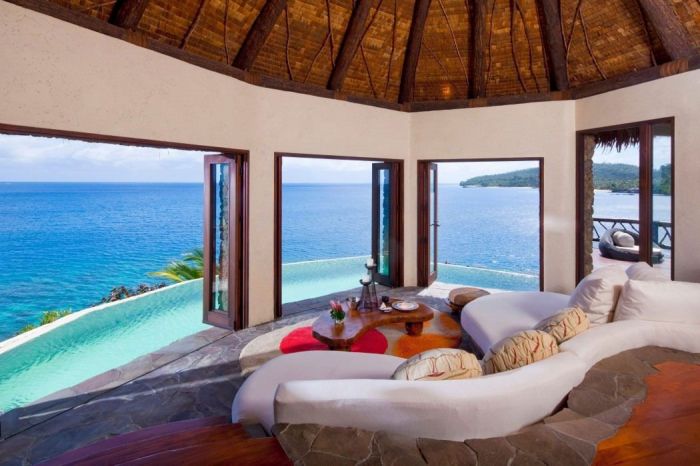 Photo Credit: Luacala
We're betting that when you were young, you dreamt of your perfect wedding, maybe even to the point of making scrapbooks filled with your favorite décor, flowers and attire. Good news is, now that you're all grown up, those aspirations can finally be turned into reality—starting with the location. And if you ask us, one of the best ways to say "I Do," is by having a destination wedding.
One day affairs never seem long enough, especially when your favorite people are in the same place at once. So instead of your typical venue locales, consider renting out a private atoll where your guests could really get to know each other throughout the week. Here are six full-service island resorts with accommodations for up to 30 people, and are worth every penny:
Photo Credit: Pumpkin Island
Pumpkin Island — Australia
Pumpkin Island in the Southern Great Barrier Reef can accommodate a maximum of 34 guests among their five cottages and two bungalows. Each is unique, boasting views of the Pacific, charming décor, large private decks and eco-friendly features. Although known for its tranquility, there is still plenty to do around the 14-acre island. Guests can utilize the resort's complimentary snorkel equipment to explore the ocean's abundance of colorful fish, sea creatures and plant-life. Or travelers can stay above water with stand up paddle boards and glass-bottomed kayaks. If you'd like to try out diving, five-star PADI Dive Center Capricorn Reef Diving can arrange charters throughout your stay. For your big day, Pumpkin Island has both indoor and outdoor spaces to choose from for the ceremony and reception. Custom wedding packages are available upon request.
Whole Island Rates: $1,825 per night
Photo Credit: Toberua Island
Toberua Island — Fiji
Falling just outside the Suva rain belt, Toberua Island is a popular retreat for guests due to its great climate and location off the eastern side of Fiji's main island Viti Levu. Offering four acres of tropical lands and sandy beaches, Toberua Island Resort is home to 16 traditional bures which can accommodate up to 35 guests. The villas all are nestled on the waters' edge and are designed with natural materials, 25-foot-tall ceilings, and modern facilities such as a beach deck, garden deck and an indoor/outdoor bathroom.
Island guests are also treated to complimentary activities such as snorkeling, kayaking, table games, kite-boarding, sailing, SUP and kayaking. There is also a nine-hole, par-three Toberua golf course which was founded by Australian artist Ken Done. At the spa, visitors can indulge in an array of treatments which utilize locally-made Pure Fiji products. Guests with children can also benefit from the daily babysitting services offered (additional fees apply). Served at the island's one restaurant, all meals feature locally-grown produce and an always-changing menu. Wedding packages begin at around USD $2,100 for 16 guests.
Whole Island Rates: $5,843 per night
Photo Credit: Petit St. Vincent
Petit St. Vincent — Grenadines
In May of this year, Petit St. Vincent (PSV) joined National Geographic's Unique Lodges of the World collection as its 25th member. The 115-acre private resort island was recognized among all six continents as a leader in stewardship and extraordinary guest experiences; meaning, this isn't your average island vacay. Founded in the '60s, this property was built using local materials and a dedication to preserving its natural habitat. With 22 villas and one- to two-bedroom cottages, island-living here is simple and meant to help you fully relax by disconnecting. Accommodations are free of Wi-Fi, televisions and telephones; instead, guests use a flag system which easily communicates with staff. PSV can accommodate up to 56 guests.
Along with 130 staff members, the resort features a Balinese-managed spa and wellness center, two restaurants and bars, a wine cellar and seven beaches. Like most resorts, it offers plenty of activities, and is home to the Jean-Michel Cousteau (son of diving pioneer Jacques Cousteau) dive center. PSV also has four yachts available for charter and a sailboat that loops around the Windward Islands. Non-customized wedding packages begin at $7,000.
Whole Island Rates: $27,200 per night (four night minimum)
Photo Credit: Fregate Island Private
Fregate Island Private — Seychelles
Fregate Island is home to 2,200 free-roaming Giant Aldabra Tortoises, more than 100 species of birds, seven beaches, 19 individual residences and was originally a refuge for pirates (as in actual Captain Jack Sparrows roaming around). If all that wasn't cool enough, to top it all off you're celebrating your nuptials in the beautiful Seychelles. Around the resort there is a plantation house restaurant and museum, the Fregate House, a chapel, kid's club and yacht club. Fregate House acts as the resort's home base in which guests will find the reception desk, main restaurant, library, a collection of old rums and whiskies, and the wine-tasting cellar. Separate from the main building is the Rock Spa surrounded by granite rock formations and offering various treatments as well as fitness training and yoga sessions.
But the real treat here is its accommodations. All 16 residences are elegantly decorated reflecting the island's colonial architectural heritage and inclusive of their own private pools. At the Banyan Hill Estate, three separate villas come together via a main building and open living area. With a full service kitchen, private infinity pool, TV lounge and personal buggies toting guests around the island, the estate in itself is its own little paradise. Wedding packages available upon request.
Whole Island Rates: $24,800 per night
Photo Credit: Necker Island
Necker Island — British Virgin Islands
Sir Richard Branson's Necker Island might just be one of our favorite private island resorts; therefore easily securing a guaranteed spot on our list. The gorgeous resort features a Great House with eight bedrooms and six Balinese-style houses. The Bali villas are dotted around the island and all accommodations come with air-conditioning, US outlets, well-stocked minibars, a selection of sunscreens, insect repellent and pool towels. Around the 74-acre isle are two infinity pools, one at the Great House, and a second with a swim-up bar, pool seats and a gigantic hot tub with room for more than 30 people (awesome).
Land activities range from zip-lining to Pilates classes and tennis courts. Water lovers can venture out on the open seas with a leisurely cruise around the BVI or can turn up the heat with an energetic booze cruise. In true Branson fashion, the nightlife aspect is also a one-of-kind experience. Depending on your preference, the resort can arrange for a themed evening affair including Casino Nights, Disco Fever, Beach Parties and Moroccan evenings. Necker Island can host up to 200 wedding guests and individualized packages are available upon request.
Whole Island Rates: $65,000 per night (30 guests) or $2,167 per night, per guest.
Photo Credit: Laucala
Laucala — Fiji
If you're an avid traveler or just a lover of amazing hotels, you probably already know about Laucala. The private island resort sits in the South Pacific and began making waves as soon as it opened in December 2008. Considered one of the world's most exclusive private resorts, this Fijian property has a price tag to match. Only covering about 15 percent of the four-square-mile island, Laucala is made up of 25 tropical pool villas, five restaurants, an 18-hole championship golf course, Water Sports Center (with a 14-boat fleet), a 2,152-square-foot lagoon-style pool and a spa. The rest of surrounding land is unspoiled and busy with some of the archipelago's rarest birds and animals. Coral reefs, jungle terrain, wild orchids, mangroves and marine life are all a part of the island's lush natural bounty.
Able to fit 72 guests at once, all residences are designed as glamorous versions of traditional Fijian homes and are sprinkled around the northern coastline. Villas are created with free-flowing shapes and forms, and were built using natural materials. Regardless of tier, all rooms open to an infinity edge pool and come with a buggy for getting around the resort. Although this is our most expensive island resort, it does come with a variety of perks including complimentary meals and drinks, laundry, dry-cleaning, butler service, a 90-minute welcome massage and activities. If all this wasn't enough, the resort also provides rides in their private submarine, which can dive as deep as 1,500 feet. Wedding packages are available upon request.
Whole Island Rates: $150,000 per night (five night minimum)