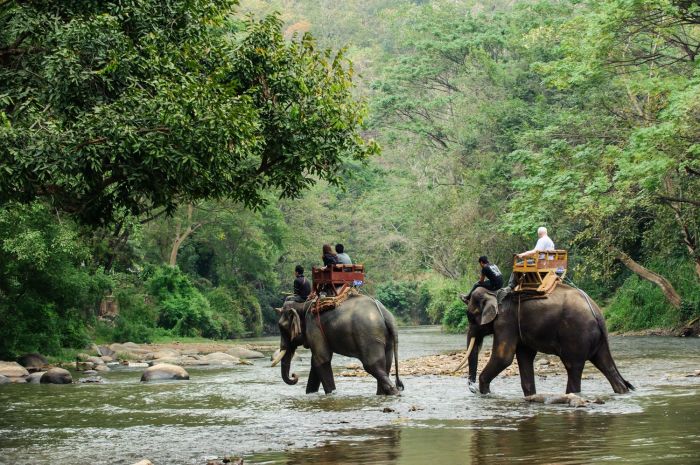 Photo Courtesy of Shutterstock
In 2014, 1.1 billion people crossed borders. And that number doesn't seem to be slowing down any time soon. This year, at the 27th annual Virtuoso Travel Week Conference in Las Vegas, we gained insight into where the masses are headed in the future. Virtuoso is an international luxury travel agency network specializing in experimental travel. It pairs its 373 agency members in 30 countries with 1,700 approved providers and generates more than $14 billion in annual travel sales. A combination of over 4,000 travel purveyors gathered to build relationships and compare notes to match up traveler desires and demands with destinations.
Photo Courtesy of Shutterstock
A review of the most popular autumn bookings was presented by Virtuoso's Public Relations Director Misty Ewing Belles. The top 10 are Italy, Mexico, United Kingdom, South Africa, Australia, New Zealand, France, China, Germany and Canada. "Europe continues to dominate the list, thanks in large part to the softer Euro. The UK was the top summer destination. Canada is the fastest growing in the top 10," said Belles.
Virtuoso's data also detailed the "Hot 10," which are countries seeing the biggest jump in year-over-year bookings and places more seasoned travelers will be venturing. The Top 10 are Vietnam, India, French Polynesia, Spain, Argentina, Canada, U.S. Virgin Islands, Peru, Costa Rica and the Netherlands.
Photo Credit: Seabourn
"Travelers are seeking the cultural appeal, favorable climate and relative value of Vietnam and India. Less traditional European countries like Spain and the Netherlands are on the rise [as well]," said Belles. "Luxury yacht cruising is seeing some of the strongest growth—up 15 percent when compared to last year—which is topped by expedition cruising, up 41 percent. Both surpass traditional ocean cruising, which is up 12 percent over last year."
In the cruise industry, luxury brands are forming partnership with other brands to create more experiential trips. Some have partnered with celebrity chefs such as The French Laundry's Thomas Keller who will be opening restaurants on Seabourn ships. Others are opting for enhanced amenities like an in-cabin spa for unlimited treatments throughout the trip.
Photo Credit: Pio3/Shutterstock
"Travel is no longer a luxury, it's a part of our lives, and its impact on the world's economy—it's 10 percent of the GDP—is huge," said Matthew Upchurch, CEO of Virtuoso. "The gift of longevity is that travel is now increasingly multi-generational. Families traveling together are on an intentional journey to create children and grandchildren who are global citizens."
The savvy traveler demands an experience beyond booking airfare and a hotel online. "They are looking for authentically-local, immersive experiences. They want to not just view the art at Musee d'Orsay in Paris, they want the opportunity to paint there, too. They want to stay on a working farm in Tuscany or Napa and help prepare and cook farm-to-table cuisine. They want to be cool," said Jack Ezon, a Virtuoso advisor with Ovation Vacations.
Photo Courtesy of Rmnoa357/Shutterstock
"Millennials, especially, are willing to get dirty and be in politically intriguing places with a touch of turmoil, but close out the day in the comfort of a luxury hotel and with the assistance of and security provided by a guide. They want the guides to hang out with them and take them where the locals go more than in their traditional, academic role of dispensing historical information," said Kelly Grumbach, with Quintessentially Travel.
One Virtuoso tour operator, Norman Howe, of Butterfield and Robinson, is already planning guided trips to Iran and Cuba. "More and more travelers are choosing destinations which are not just on their bucket lists but also to create bragging rights," said Tony Huffman, a travel advisor. Whether you're finally making that trip to Cuba this year or making wine in Italy with local vintners, the facts remain: we're all traveling. At the beginning of this year we mentioned 2015's travel trends and recently spoke to the future of luxury hotels. Now, as we look to 2016, it seems like the "Hot 10" will be hitting industry and traveler's radars.