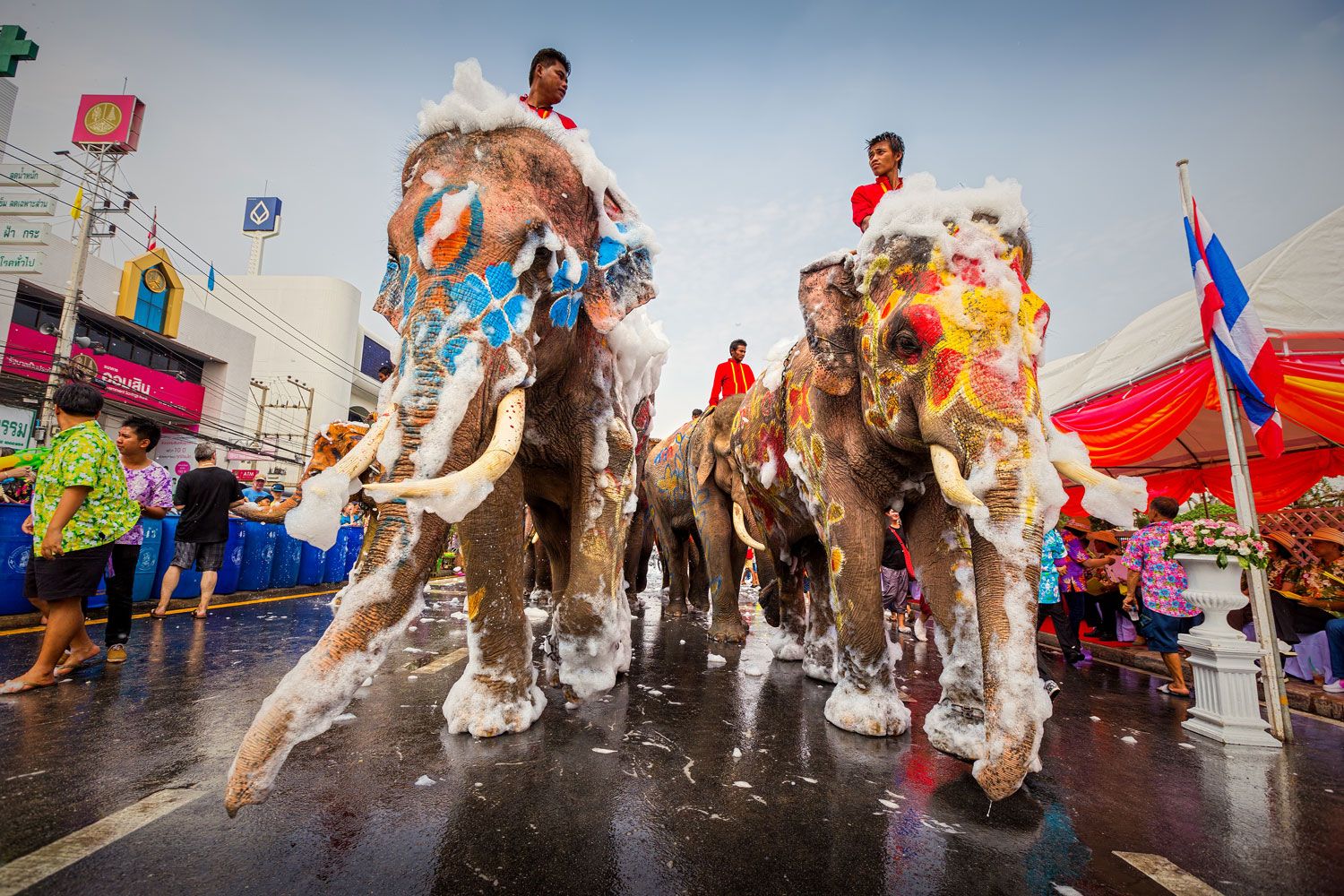 Photo Credit: Bule Sky Studio/Shutterstock.com
Most people are familiar with the traditions and festivities of Chinese New Year. But did you know that many Asian cultures celebrate the New Year on different days throughout the year, each with unique customs and spectacles? This year, Chinese New Year fell on Monday, February 8, but in India they party it up for five days in October. Tibet's celebrations, which begin on February 22, include dough balls that will tell your loved ones (or enemies) exactly how you feel about them.
The holiday is also a big money maker for Asian markets. According to Bloomberg, this year, "travelers will make a record 2.91 billion trips by road, rail, air and water over the holiday season, up 3.6 percent from last year. ... Retailers and restaurants will probably ring up more than $100 billion in sales." They also estimated that around six million people will venture to foreign destinations over the holidays. If you're headed to Asia this year, take note of when these festivities occur since you'll most likely be tackling higher than usual crowds during these times. Plus, it's more fun to immerse yourselves in other cultures and choosing your vacation based on the country's new year may just be the way to go. Here's a look at seven of the different traditions and calendar dates that vary between Asian ethnicities during the Lunar New Year:
Photo Credit: WikiMedia Commons/Shin/100yen
Japan
Shogatsu or Oshogatsu is celebrated in Japan from January 1 to January 3 since they adopted the Gregorian solar calendar in 1873. Because they believed (at the time) that Western practices were superior to theirs, the lunar calendar was phased out completely in 1910. Since then, they began celebrating New Year's Day on the first of January. On New Year's Eve, toshikoshi soba (buckwheat noodles) are served for dinner to symbolize longevity. At midnight, temple bells ring 108 times in order to drive out the 108 burdens/sins/desires that mankind faces. January 1 starts early with a sunrise viewing, but it is believed that no work should be done the rest of the day. New Years is meant to be celebrated joyfully and free of stress. Many Japanese will also visit a temple or shrine during these three days.
Photo Credit: Shutterstock.com
Korea
Up until the late 19th century Koreans exclusively celebrated Seollal (the lunar new year), eventually adopting January 1 from the west. The former usually consists of a low-key family observance while the latter is a three-day fest that is less extravagant than their Chinese neighbors, but still a full-blown affair. Celebrations begin with women clothed in a traditional hanbok dresses and all family members practicing in seh bae (a deep bow to the floor). The ceremonial ritual is done by bowing to deceased ancestors and preparing drinks and food for their spirits. This is followed by duk gook, a soup filled with dumplings. Gifts to family members usually include fresh fruits, honey, ginseng, honey and sebaedon (money). But children must work for their money in the form of bows to elders.
Photo Credit: WikiMedia/John Stephen Dwyer/istolethetv
China
The most recognized celebration across the globe, China's New Year occurs between January 11 and February 20. It is all about elaborate festivities, the color red (for happiness and joy), fireworks and feasting. Like most Asian cultures, Chinese will ensure their homes are spotless to remove the old and welcome in the new. Red decorations such as lanterns and door gods are also strewn around the house, many upside down. New Year's Eve Dinner is the most important meal and usually consists of fish and dumplings served at home among family. Because Chinese people believe in spirits, fireworks at midnight are used to drive away evil. Red packets often containing one to a few thousand Yuan (around USD $150) are given out to children; they are believed to suppress evil and give little ones a long life.
Photo Credit: WikiMedia Commons/Lưu Ly
Vietnam
On the same day as the Chinese New Year, Vietnamese ring in Tet Nguyen Dan, a three-day affair. They believe that how you act during those first three days will set the tone for the year. Meaning, if you're ever going to be on your very best behavior and set aside your vices, these are the most crucial days in the year to do so. Their traditions also include cleaning their homes from top to bottom, getting new clothes, rocking a fresh haircut, paying off debts and visiting local pagodas. For food, you'll find lots of xôi gc (sticky rice), bánh chung (a rice cake stuffed with pork and beans) and súp măng cua (soup).
Photo Credit: WikiMedia Commons/SA 3.0
Tibet
Although a part of China, the Tibetan New Year isn't celebrated on the same day. Losar is said to last 15 days with the first three days being the most important. Beginning on the 29th day of the 12th month (their calendar consists of either 12 or 13 months), monasteries hold a special ritual in preparation for the celebrations. This first day of the holiday also includes dough balls filled with various ingredients (wool, salt, rice, peas, glass, porcelain, coal) that are handed out as light-hearted commentary on a person's character. If you find wool, you're considered a gentle person, salt means you're lazy and stone shows you're stingy. On day two, locals head to monasteries, clean their homes and honor community and national leaders. On New Year's Day (February 22 this year), Tibetans must take a bath, put on new clothes, worship the gods, exchange gifts and have a reunion dinner. The rest of the 15 days are called Chunga Choepa, in which monks sculpt yak butter, perform purification rituals and create brightly-colored works of art to be displayed in monasteries.
Photo Credit: Topten22photo/Shutterstock.com
Thailand
Thailand celebrates the Chinese New Year, but it is not considered a national holiday. Songkran, their celebration, begins the last day of the Lanna lunar year, which is officially observed on April 13 and lasts for four days. On the first day, the Chiangmai Songkran parade takes place with revered Buddha images, costumed dancers and musicians. Wan Nao (Day 2) includes meals prepared and preserved to be used in Buddhist merit-making activities on the next day. Thai people also collect sand from various locations to build little pagodas in temple courtyards and decorate them with flowers and streamers. Come April 15, locals head to the temples to offer fresh fruits, cooked foods, robes and other goods to the monks. At the center of this day is a free-for-all, water-throwing fest. During this time, people pour perfumed water over one another to symbolize cleansing and renewal. It can be anything from a simple sprinkle to full-body dousing, but any form is meant to offer blessings and good wishes on each other.
Photo Credit: Gary Yim/Shutterstock.com
India
In India, Diwali (the Festival of Lights) marks the beginning of the Hindu New Year which lasts for five days and falls on the new moon. The festival occurs between October and November and this year's celebration begins on October 29. The tale behind the day goes as follows: Prince Rama was banished to the forest for 14 years by his wicked stepmother, even though he was his father's rightful heir. During this time, King Ravan kidnapped his wife and a battle ensued with Rama coming out as the victor. He then reclaimed his place on the throne and his people lit oil lamps to mark his return. Today, it is believed that the Hindu goddess of good luck visits homes that are brightly lit. During the five days of Diwali, Indian children will light diyas (oil lamps) while adults will spend time renovating, decorating and cleaning their homes. The second day they take baths before sunrise and anoint themselves with oil. During this time Indians also worship Lakhmi, the Hindu goddess of prosperity and Ganesh, the god of wisdom and good fortune. The last two days include deities being bathed in milk and adorned with gifts while on the final day, Bhai Duj, sisters invite their brothers and families over for delicacies. As a thank you, brothers offer gifts and more sweet treats.