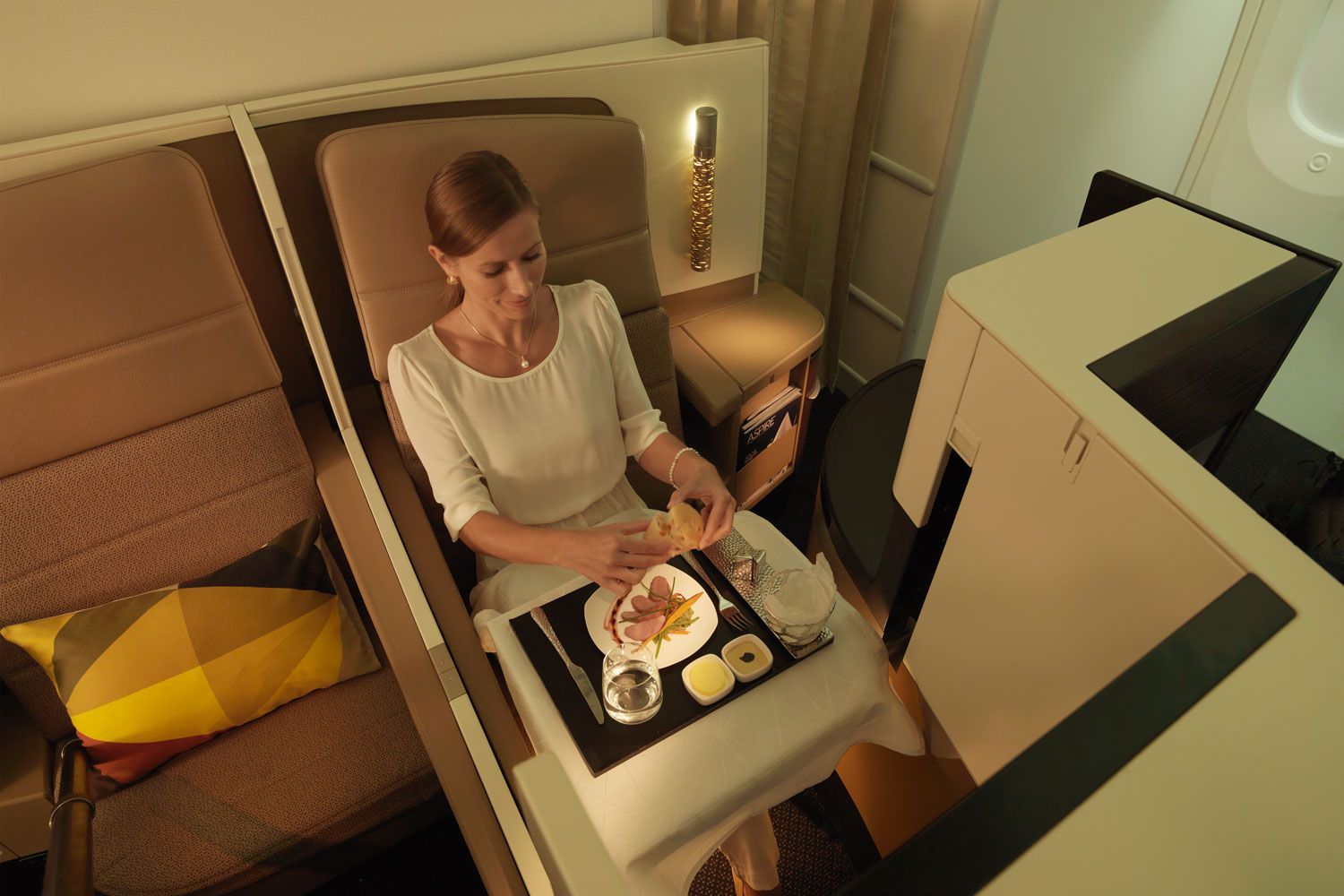 Photo Credit: Etihad Airways
Business and First Class cabins are undoubtedly the best way to travel well. As the top airlines get more creative with their premium offerings—spacious lounges, full showers, Champagne bars, private butlers—one thing remains the same: the dining is always top notch. From caviar and lobster to local delicacies and health-conscious options, the chefs behind airline fare are perfecting the art of fine dining 30,000 feet in the sky. But what does it take to develop these dishes, translate them into masterful creations in the air and satisfy the appetites of affluent travelers?
To start, not all airlines follow the same guidelines when it comes to updating their offerings. Some swap out new menus monthly while others opt for a three-month scheduled rotation or even a weekly timetable (on shorter flights). "Most of the menus rotate on a monthly basis and we will review and make necessary changes from time to time according to passenger/crew feedback, food trends, etc.," shared Aaron Claxton, Head of Catering for Cathay Pacific Airways. Over at Swiss Airlines, menus are updated according to the seasons.
To get a behind-the-scenes look at the process for their chosen menus, we spoke with five of the most esteemed airlines—Cathay Pacific, British Airways, Swiss Airlines, Etihad Airways and Singapore Airlines—to learn what it takes to create their elevated dining experiences.
Photo Credit: Singapore Airlines
Singapore Airlines works with a selection of chefs from around the world, called the International Culinary Panel (ICP), to create their on-board meals. According to Airline Reporter, the airline spends about $500 million a year just on their food service alone, so getting it right is imperative. ICP chefs are chosen based on areas the airline flies to and then menus are selected that center around those destinations. But the final say on which dishes get the green light and which are vetoed goes to Hermann Freidanck, Manager of In-Flight Services for Singapore Airlines. Herman works closely with ICP chefs and travels to each destination to taste and critique meals that they have developed.
"It's called Dish Development," said Alfred Portale, owner of Gotham in NYC and a part of ICP's culinary talents for Singapore Airlines. "We do 18 dishes: appetizers, soups, entrées, meat, seafood and dessert. Often they bring the chefs [who prepare the dishes] from JFK. They all huddle at Gotham and we walk through 18 dishes over a couple of days." This occurs twice a year, once in January and again in the summer. When the food is agreed upon, a book gets sent back to the airline with photos of the dishes and plating so that in-flight chefs and attendants can easily recreate these items.
Portale has been creating menus for the airline for 10 years and has flown on it for just as long. "I have a very good understanding of what works, what translates well on the aircraft. There's all sorts of considerations," said Portale. "I generally look to my menu, what I'm serving here at the restaurant. … Ideally I would like them to have a Gotham experience aboard the aircraft. So I look at what I'm currently serving and if I can adjust or modify a dish so that it can work on an aircraft, that's where I begin."
Photo Credit: Singapore Airlines
Knowing what works and what doesn't at 30,000 feet in the air is critical when it comes to preparing the right dish for airlines. Claxton (Cathay Pacific) urged that certain foods do not work well in flight such as fried fare which can become greasy and unappetizing, while on the other hand curries and stews do particularly well. "In general the more honest a meal the better it is accepted by our passengers. Comfort food and dishes which reflect the various cuisines of Switzerland are very much loved," remarked Benedict Fanconi, Manager Inflight Development Intercontinental for Swiss Airlines. "Meat in a sauce like stew or ragout work really well on an aircraft, because they get better the more you heat them up."
But meal planning is more than just what tastes good. All airlines take into account their demographic and destinations when planning for their menus. Especially since Business and First Class cabins are twice as much as economy or more, passengers expect the very best when it comes to their meals. "The majority of our guests enjoy chicken and guests from the Middle East enjoy fish, in particular. However, our guests from the U.S., Europe, and Asia are generally not as fond of fish," said Christophe Camacho, Etihad Airways Manager of Culinary Standards. "In addition, all our menus are halal (permissible for those of the Muslim faith to eat or drink)."
Photo Credit: Swiss International Airlines
Swiss' menus are developed from the SWISS Taste of Switzerland culinary program which highlights fare from different regions of the country. "Switzerland's cuisine has not only a heritage of the German cooking but is also influenced by the French cuisine in the western part and of course by the Italian one in the southern part of Switzerland and adds to various flavors," stated Fanconi. "So depending on the region where the Gault Millau and Michelin Star's awarded chefs are coming from, we also get inspired by the typical ingredients or by old recipes of the respective region."
Because Executive Chef Marcus G. Lindner, winner of 18 Gault Millau points and a Michelin star, is behind some of Swiss Air's dishes, guests can expect more than just a satisfactory meal on-board. Menus composed of white truffles found in the Piedmont region of Alba or culinary delights from Glarus are all just a part of the SWISS Taste of Switzerland experience.
On Singapore Airlines, one dish that continues to do well is the braised short rib, which has been recycled throughout the years due to guests' requests. "Things that are braised or poached [work well]. This dish was designed with that in mind. It's a short rib dish and has lots of small little root vegetables, potatoes, onions, carrots and leeks," said Portale. "It is all poached in a rich beef broth. ... It gets presented in front of the guest in a big bowl, sort of like a bollito misto." Plus, all dishes in First Class are served on fine China with opulent silverware and crystal glassware, so you really get the fine dining element.
Photo Credit: British Airways
A favorite among Cathay Pacific travelers is the iconic Krug Champagne and Caviar starter and First Class passengers can dine à la carte, choosing when they prefer to eat. In Business Class, guests are treated to port wine, cheese and fruit selections after the main course.
To keep up with current trends, airline chefs must also look to what is en vogue in the cities/countries they visit. In Etihad's First Class cabin this year, passengers can expect an à la carte menu focusing on delicate produce, a tailor-made tasting menu and a Chef's Special offering. Sinead Ferguson, Menu Design Manager for British Airways, stated that in 2016, the airline will be incorporating "ingredients such as Midwest beef filet, sea trout and halibut. Flavors of the deep South are on trend so we've looked at including two dishes in our Club World cabin with this theme."
According to Yahoo!, British Airways' Head Chef and Menu Design Manager Mark Tazzioli noted that travelers coming from India will have a different idea of what they want in the coming years versus what they desire now. "A certain age group is still looking for authentic Indian cuisine, but in the next three or four years the age demographic will change slightly and so will the taste," states Tazzioli. "In India now, the younger generation are far more into Indo-Chinese food and looking at other cultures and flavors. So, at some point our menus will have to mirror that. It's our job to get that timing right."
Photo Credit: Etihad Airways
One of the coolest parts about developing these on-board menus, is that, at times, chefs will even find new creations for their own restaurants. Which is a generous stamp of approval from a chef. "Once I've exhausted [Gotham's] menu items, I then begin to create the dishes specifically for them," said Portale. "There's been many times where one of the dishes I created for the airline makes it onto my menu here at Gotham. Amp it up a bit, dial it up, but essentially the inspiration has come through one of the Singapore dish developments."
So the next time you're enjoying that First Class meal, know that a team of chefs and culinary experts spent time, energy and money to ensure it's up to your discerning palate. And if you're unsatisfied with the offerings, let them know, because they're listening and adapting to your wants and needs. But we're pretty sure you're already enjoying the Michelin-quality fare alongside your glass of Krug Champagne.