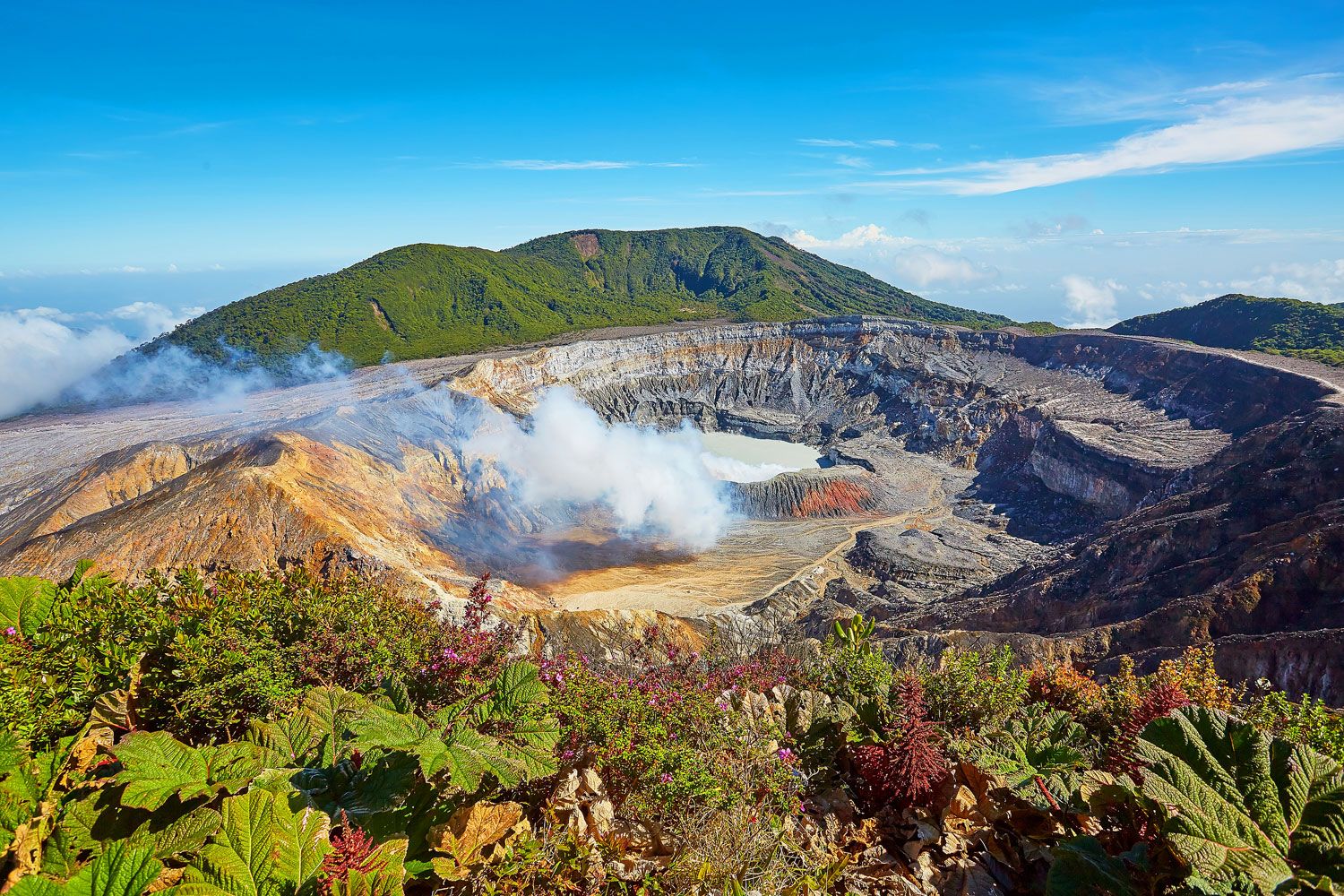 Photo Credit: Shutterstock.com
Costa Rica should never be billed as a "quick weekend getaway" hotspot or an easily-navigable locale. Rather, it should be thought of as a place where wanderlusters can take their time to explore without being bound to time or location. This small, but bio-diverse country is an experienced traveler's paradise and is all about getting outdoors and balancing our need for leisure with our thirst for exploration. In order to get the best out of an adventure-filled luxury vacation, choose the areas of Osa Peninusla and La Fortuna.
Photo Credit: Lapa Rios
Lodging, guided tours, and the all-around feel of the Osa Peninsula is not typical of a five-star destination. You're not going to find white-glove service, Wi-Fi is spotty (if at all available), you will sweat, and cocktail attire can be left at home. But, what you will find in this lush landscape dotted with monkeys, sloths and other animals is an authentic richness that translates into a fully immersive travel experience. Properties like Lapa Rios, a beautiful eco-lodge in Osa, fits perfectly in this environment with its treehouse-like rooms. Its accommodations offer the kind of elegance and romance that you want to come home to after a long day of adventures. Of course, they also include all the sights and sounds of staying on the edge of one of the most ecologically-beautiful places you'll ever see. Howler Monkeys will be your morning alarm clock.
Photo Credit: Finca Rosa Blanca
If you're looking to stay in a more artsy, cosmopolitan, but still rustic environment while in Osa, consider staying on a real-life coffee farm. Finca Rosa Blanca feels like an artist's commune with some of the best java you can find in the country, grown right on site. This eco-friendly property conducts daily tours of their farm and happily end each visit with a coffee tasting.
Photo Credit: Shutterstock.com
Guides and tour groups such as Costa Rican Vacations, can be your safest bet for navigating the jungle. Hiring a tour guide while in Costa Rica can you help you find hidden gems, such as Casa Orquideas, one of the oldest botanical gardens in the country. It's only accessible by a 20-min boat ride across the Golfo Dulce from Puerto Jimenez. These guys can also help you with arranging the charter flights that you'll often need to navigate this area, as driving may consume too much of your travel time. Plus, the aerial views of this part of the world are what GoPros were made for.
Photo Credit: Shutterstock.com
When in Osa, it's almost required to visit the national parks such as Manuel Antonio and Corcavado, which NatGeo describes as "the most biologically-intense place on earth." Plus, you have to treat yourself with an afternoon on one of the secluded beaches watching macaws fly in formation. If you choose to fly into Liberia (where you can catch direct flights from many US cities), rather than the country's capital of San Jose, you can ask your guides to take you to Arenal Volcano and their corresponding hot springs. The volcano is a must-do in Costa Rica and the soothing springs, while touristy, are considered holistic and healing for many ailments. Plus your photos will make for an amazing Instagram moment.
Photo Credit: Tabacón Grand Spa and Thermal Resort
While in the area, stay at Tabacón Grand Spa and Thermal Resort, located in La Fortuna. Tabacón is the first hot spring facility in Costa Rica and offers the kind of five-star luxury you won't find in the less touristy areas, but coupled with a tinge of naturistic romance that reminds you of its authenticity.
What makes these parts of Costa Rica special is they bring together the best of both worlds. The country gives you luxury in an unconventional way for the progressive traveler. Native Costa Ricans remind you that "Pura Vida" isn't just a slogan, it's actually they're way of life. Is it possible to find real luxury in the Costa Rican jungle? Yes, because being so close to untouched nature is the purest paradise there is.