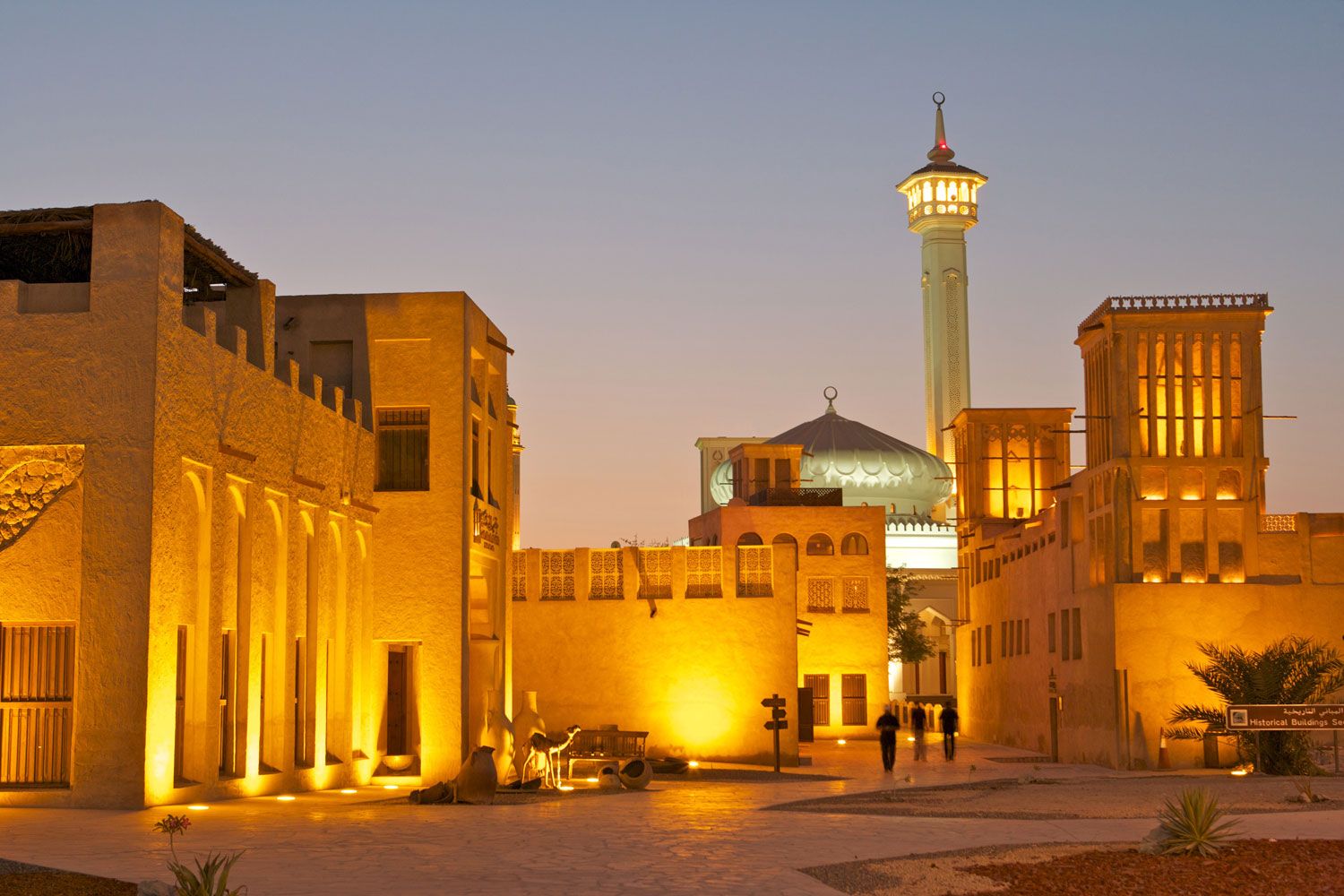 Photo Credit: Shutterstock.com
The rush of Bur Dubai neighborhood, replete with endless traffic, giddy neon signs, clustered apartment blocks, and heaving marketplaces, can sometimes feel about as soothing as getting massaged by a professional wrestler. Ironic then that this area should play home to one of the gentlest square acres of space you're likely to come across in a city of a million glitzy ambitions. More ironic still, that such a languorously unpretentious locale should have taken on achingly-cool credentials in a decade when Dubai has only grown taller and flashier.
But then contrasts and contradictions seem to abide quite peacefully within the wonder that is Bastakiya. From antiquated waterside communion to flourishing art commune, the district has really come into its own over the past half-decade or so. And though it may have been rechristened as the Al Fahidi Historical Neighborhood, it's Bastakiya where the aromas of the past and the possibilities for the future reside. A stroll through this town and pit stops at a few of its more prominent (read: endearing) destinations will have you reaching for your cameras to capture its sights.
Photo Credit: Shutterstock.com
Flirting With The Past
One of the last remnants of a time gone by, Bastakiya's cultural significance as the congregation point of the region's early merchant community can't be understated. Its proximity to the Creek and the Souqs, the not-to-be-missed old markets, meant that local traders and their families were naturally inclined to make this district their home. This gave birth to a community whose street spirit and earthy vibes exist to this very day.
The quaint wind-tower houses stand still and silent, their brick walls and mud compounds redolent with the smells and memories of a simpler past. Myths waft around the air, drifting in and out of structures built with coral, shell rubble from the sea and palm fronds. It's from within these surroundings that a remarkable artistic renaissance has sprung forth.
Photo Credit: Majlis Gallery
A Meeting Of Hearts & Minds
The Majlis Gallery is unarguably the cornerstone of the affair that's blossomed between Bastakiya and art. A labor of love that dates back to 1978, the gallery began life as expat Alison Collins' family home, slowly opening its doors to a motley crew of creative acquaintances, amateur artists and professional painters. Living up to its Arabic name, the gallery soon became a relaxed meeting place for artists and art lovers. The fabled Villa Number 19 could well be credited with laying the seeds for an artistic journey in this city, one that today manifests itself in such headline-grabbing projects as Art Dubai.
Majlis is home to a fascinating array of media with collections ranging from acrylics and calligraphy to lithography, photography, sculptures and of course, paintings. A much-coveted affair, the gallery's Artist In Residence program has allowed global artisans to stay, live, breathe and create while being immersed in the potent flavors of Arabia from this unique vantage point. Over the years, the Majlis has done exceptionally well in bringing over artists of international standing, showcasing some exceptional works from the likes of Emily Gordon, Morteza Darehbaghi, Nitin Dadrawala and Sacha Jafri.
Photo Credit: Arabian Tea House
Grabbing a Bite
Shifting focus ever so slightly, the Basta Art Café just down the road has made art out of preparing delicious Arabic fare for the hungry traveler. A perfect little stop-over while exploring Bastakiya's many charms, Basta's leafy courtyard dwelling attracts a loyal following, especially for it's Basta Specials (the self-proclaimed best fresh lime and mint juices in town). The address rechristened itself as the Arabian Tea House some years ago, but Basta has a charm and a days-gone-by resonance all its own. Cloth-canopy draped large central trees, friendly service and a cushioned Majlis area for when temperatures start to soar. Basta also does a memorable breakfast, served up on big chunky plates.
Photo Credit: Shutterstock.com
An Open Window to Arabia
A further twist and turn down from Basta lies Sahary Gate, a veritable treasure-chest of distinctly Arabic experiences. The good folks at Sahary have taken it upon themselves to guide potential tourists through the richness and diversity of Arabic life, making for a truly hands-on cultural experience. Sahary Gate's offerings traverse an impressive list of cultural diversions—a personalized tour through a Sheikh's home, impromptu art get-togethers, dinner engagements at its rooftop terrace and Discover the Emirates workshops—each offered in a warm environment.
Photo Credit: XVA Hotel
Adding Up the Delights at XVA
Any visit to Bastakiya would be amiss without dropping in to say a quick hello to the XVA Gallery. Quite possibly the pick amongst the city's embarrassment of art riches, the XVA dons many an avatar, and does so with considerable ease. When the weather's gorgeous, its charming central courtyard serves as both backdrop and seating area for film screenings. There's a lot to be said for evenings spent under a billowy silk canopy, with an independent flick for good company. And yes, lest you forget, the gallery also houses some great art.
The courtyard serenely unveils itself as a restaurant of award–winning credentials, serving up a tasty treat of sandwiches and juices for visitors. The freshly-prepared vegetarian fare is almost a guaranteed antidote to Dubai's usual raging temperatures. Meanwhile, The XVA Boutique Hotel is an exotic stunner, its traditional rooms having been converted into stylish art-boutique residences. Clean, hip and with just the right dash of ethnic roughness around the edges, they've succeeded in making XVA a hidden gem amongst the discerning pack. Three laidback open courtyards and six designer rooms conceptualized by well-known designers and artists have all made the Art Hotel part of the Chic Retreat. XVA encourages artists to take up residence in these rooms on occasion, and you're inclined to believe that any painter who says yes to the offer wouldn't find inspiration to be too much of an issue.
Photo Credit: A.I.R Dubai
Festival Fever
Latching onto Bastakiya's ready-made rustic attraction and artistic identity, fairs, festivals and exhibitions have begun making a beeline for the destination in recent years. The Creek Contemporary Art Fair, lying on the fringes of the much larger and acclaimed Art Dubai, continues to showcase local art across Bastakiya's many galleries in week-long affairs.
The Artists-in-Residence Dubai event, a Dubai Culture and Arts Authority initiative, has been devised to give art lovers keen insight into the working process of renowned artists as they embark on the journey of putting their paintings, methods and thought-progressions together. Meanwhile, the SIKKA Art Fair is a charming mélange of art, film, music and dance—a smaller indie cousin to the large art extravaganzas. Part of Art Week, SIKKA takes pride in being "home-grown, offbeat, intimate, mellifluous, non-exclusive and open to all."
Photo Credit: Shutterstock.com
A Fresh Lease of Life
Through the galleries, boutiques and other art projects on its horizon, it's clear that Bastakiya's renaissance isn't destined to be a short-lived one. The district could well be likened to a screen siren who's discovered romance in the twilight of her career, giving her ambitions an unexpected fillip. A second coming of sorts, a fresh coat of paint, call it what you will. Fact is you're very likely to be swept along in Bastakiya's story, happily lost amidst its winding alleyways and narrow passages into the past. If graceful ambience, architecture and a refreshing sense of Bohemia are your things, this anomaly amidst Dubai's by-the-numbers attractions could well become your private haven. A sleepy trading point though it once might have been, there's no doubting that the town has passionately embraced this vivid chapter in its life, one where art and color hold magical sway. Quite fitting for a true masterpiece.