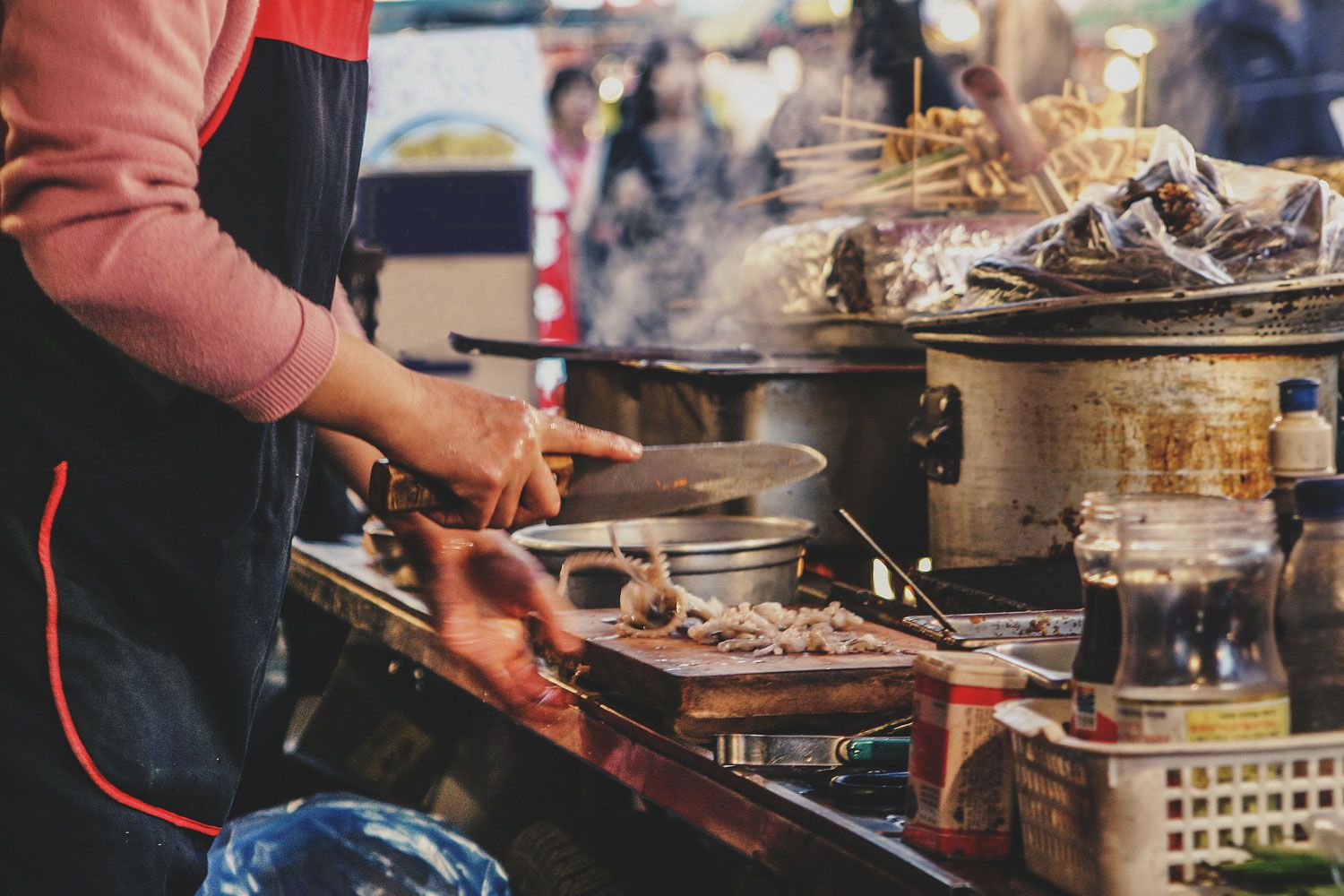 Photo Credit: Shutterstock.com
In our opinion, traveling and eating well go hand in hand. There's nothing better than digging into a plate of paella in Barcelona, sipping on Tom Yum Goong soup in Bangkok or biting into your first gyro in Athens. But it's also the undiscovered foodie destinations that peak our interest year after year. Whether you're a studied gourmand or just enjoy trying new dishes, the globe is full of destinations that are begging to be noticed. In 2016, these four locales have caused us to take another look at their culinary prowess and deem them the best new foodie cities of the year.
Photo Credit: OCIo
Medellin, Colombia
It's hard to hear the name Medellin and not immediately think of the infamous Pablo Escobar. But in the past two decades, The City of Eternal Spring has transformed itself into a thriving metropolis boasting dynamic architecture, improved local parks and neighborhoods, and an up-and-coming culinary scene. Plus its year-round warm weather makes for some great al fresco dining.
Colombian food focuses on deep-fried dishes and uses vegetables sparingly, so toss out your diet on this trip. As with many Latin American cuisines, meals are usually prepared with a side of rice, beans or potatoes. Changing the face of Colombian fare however is OCIo restaurant in the posh El Poblado neighborhood. The eatery prepares slow-cooked specialties like a 12-hour roasted pork shank and 12-hour glazed osso bucco alongside locally-grown produce. Formerly working in the kitchens of two-Michelin-star Il Rigoletto in Italy and three-Michelin-star L'Astrance in Paris, Chef Laura Londono ventured to Colombia in 2013 to open the restaurant. This move to farm-to-table dining that pays homage to its roots, is being seen in kitchens across the country. It's also helping to establish Colombia as a power player in the culinary world.
A favorite of locals and in the same neighborhood as OCIo, Carmen attracts a hip crowd with its high-end cuisine crafted by husband-and-wife team Rob Pevitts and Carmen Angel. Serving a fusion of Colombian dishes with Asian ingredients, the duo utilizes traditional French cooking techniques and more modern ones to create their dishes. Carmen's reservations are hard to come by, so be sure to book in advance. If you're jonesing for a good craft beer, head over to Cervecería Libre in the Ciudad del Rio neighborhood. Along with their own IPAs, brown ales and stouts, they serve beers from three other microbreweries inside the small tasting room.
Where to Stay: The Charlee Hotel
When to Go: December to March; June to September
Photo Credit: Pablo Rogat/Shutterstock.com
Santiago, Chile
Chile has always been a favorite of wine aficionados, but a new generation of chefs has brought the country into the spotlight for another reason, its gastronomy. In September of 2015, Saveur magazine named Santiago as "The Next Great Food City," and its time has definitely come this year.
It's almost impossible to mention Santiago dining without giving a shout out to Chef Rodolfo Guzmán's Boragó restaurant, named No. 2 on Latin America's 50 Best Restaurants. Like many of the area's chefs, Guzmán is helping locals fall in love with their cuisine again while introducing visitors to Chile's diverse bounty. With 12 different climates sprinkled throughout its borders, the country's terroir is a virtual playground for chefs, offering everything from the world's best grapes to abundant seafood and mouth-watering cheese selections. Chileans always eat with the seasons and put a high value on artisan products. For handmade fare, check out Secretos de la Unión for its cured game prosciutto (deer, llama, wild boar) or Belgian chocolate from Damien Mercer's delectable shop.
The destination is also home to Ñam, the country's most vibrant food festival featuring Chile's rising culinary stars. Each April it attracts thousands of foodies enjoying workshops, cooking demonstrations and lectures by top chefs. Aside from eating within the city, the country itself provides sustainable food products to more than 100 worldwide destinations each year.
Where to Stay: Grand Hyatt Santiago
When to Go: Late September to November
Photo Credit: Taesik Park/Shutterstock.com
Seoul, South Korea
Like its neighbors Hong Kong and Singapore, South Korea is recognized as a major business and financial hub within Southeast Asia. But it's not just its city centers that are in the limelight. Korean food is ready to have its moment and travelers are beginning to take notice of its bold flavors and culinary creations. When it comes to the country's fare, Koreans are devoted to respecting time-honored techniques and preparing traditional dishes. Its capital is a great starting place for any foodie since it is filled with must-eat establishments and impressive street food vendors.
Kimchi, bibimbap and barbecue reign supreme in Seoul, and its restaurant scene is brimming with eateries offering these selections in new and unique ways. Sakhinda, or fermentation, is a typical practice in the country. Rather than letting food spoil, Koreans created a process of developing deep complex tastes over long periods of time. From this method comes kimchi, made by salting cabbage, radishes or cucumbers in a mix of brine, garlic, spring onions, ginger, hot pepper flakes and spices. This can be, and usually is, served with every meal. A popular fermentation restaurant is Sandang located in Yangpyeong at the edge of the city where over 80 percent of its dishes involve fermentation.
Named one of Asia's 50 Best Restaurants, another venue to sample local cuisine is Jungsik. The eatery applies molecular gastronomy techniques to Korean elements and fuses them together with global ingredients and flavors. One of its most popular dishes is sea urchin bibimbap made with rice, popped millet and dried laver, and topped with a serving of sea urchin. Though there is a demand for locally-sourced foods and organic selections, Seoul is still lacking in farming cooperatives. But places like Korean Hansalim Federation are looking to change that by working with around 2,000 local farmers to source locally-produced, pesticide-free vegetables and meats.
Where to Stay: JW Marriott Hotel Seoul
When to Go: March to May; September to November
Photo Credit: Shutterstock.com
Cape Town, South Africa
You might be quick to assume that since South Africa currently holds no Michelin-starred restaurants, that it's not quite up to par with foodie destinations such as Paris, Barcelona or Tokyo. Yet, in-the-know gourmands have already recognized its vibrant food scene filled with ingredients you won't be find elsewhere, due to its geography.
"The diversity creates an atmosphere in which creativity thrives, both in food and wine, but also in design. The world has started to sit up and take note of what we are doing here, as we speak our own culinary language," said Margot Janse, Executive Chef of The Tasting Room in Cape Town. Diners can enjoy choices such as springbok (white antelope) and kingklip, a sea creature most like eel but touted as a white fish due to its cod or hake taste and texture.
There's also a laid-back approach to dining within the city, whether it's wandering The Saturday Neighbourgoods Market at the Old Biscuit Mill for artisanal staples or dining at The Pot Luck Club helmed by Chef Wesley Randles on the 6th floor of the Old Biscuit Mill overlooking Cape Town. But, for a more fine dining experience Planet Restaurant features old-world service and glamour paired with a menu chock full of seafood options. Guests will find everything from seared duck breast and caviar appetizers to grilled springbok loin and rosemary and garlic lamb loin as mains. Finish with a selection of local cheeses for dessert.
Where to Stay: Ellerman House
When to Go: March to May; September to November