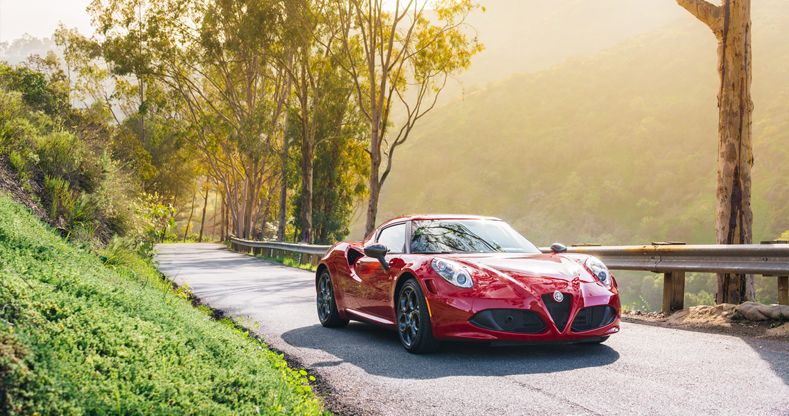 Photo Credit: alfaromeousa.com
Road trips are a quintessential part of growing up in America. We have so many beautiful landscapes and scenic routes scattered throughout the country that it's nearly impossible to go through life without experiencing a great one.If your adventure includes a luxury ride that seamlessly hugs the road's curves, you're sure to have an unforgettable trip. This year, instead of hopping on yet another plane, why not jump into the driver's seat, turn on your favorite playlist and cruise along one of these five awesome routes?
Photo Credit: Shutterstock.com
Road Trip: The Blue Ridge Parkway
Running from Waynesboro, Virginia To the Great Smoky Mountains, The Blue Ridge Parkway is 470 miles of road twisting through historic towns, Cherokee Nation lands, the Appalachian forests and plenty of open colorful foliage to keep your eyes happy. Start your trip off with the Virginia Fall Foliage Festival in Waynesboro (spend the night), before heading to Shenandoah. The park's Skyline Drive will most likely be your favorite part of the journey. Plan to stop at Luray Caverns next and head underground where you can listen to their one-of-a-kind stalacpipe organ. As Appalachia is the heart of bluegrass, also spend time visiting The Blue Ridge Music Center (near Galax, Virginia) and maybe even catch one of their free shows.Once you hit Biltmore, you'll be amazed at the beautiful, Gilded-Age Vanderbilt estate outside of Asheville, North Carolina that holds the nation's largest private home. Spend a night or two in Asheville. Finally, following the southern Blue Ridge Mountains parkway and passing three other mountain, you'll end up at Great Smoky Mountains National Park on the Tennessee border. With its number of waterfalls, fall colors and deep valleys, it's the perfect end to your road trip.
Photo Credit: Shutterstock.com
Moab, Utah to Grand Canyon, Arizona
Red-Rock country is beautiful no matter what time of year, with its natural bridges, larger-than-life boulders and rolling hills. Along the way, make time to go kayaking, whitewater rafting or even rock climbing. For this trip, you'll want to pack your hiking boots and equipment as well as plenty of warm clothes for the evenings. This itinerary will take you through six national parks on your 862-mile adventure to the Grand Canyon. Start on Route 191 in Moab and stay overnight at Moab Under the Canvas, a luxury camp with safari-style tents, hot showers and made-to-order breakfast. For your first stops, visit Dead Horse Point State Park and Canyonlands National Park as you wind through Highway 95 and over to Highway 24. The latter route will take you to Torrey and into Boulder, where it's joked that its residents still receive their mail by mule. Head west to Bryce Canyon National Park and over to Kanab, nicknamed Utah's Little Hollywood. Finally, head down Highway 89A to Highway 67 in Arizona and end your trip at the Grand Canyon. Spend a few days here exploring and taking in its many sights, and stay at The Grand Hotel located one mile from the park's entrance.
Photo Credit: Shutterstock.com
San Francisco to San Clemente
Highway 1 (or the Pacific Coast Highway) is one of the most scenic routes in California. Winding along the coast, the 123-mile road connects Nor-Cal's green landscapes, vineyards and agricultural lands with its warm southern beach towns and ocean-side destinations. Starting off in San Francisco, drive across the majestic Golden Gate Bridge and head south to Santa Cruz (spend the night). In the morning, head to Monterey (stop in at the aquarium) and proceed through to Carmel and Big Sur. Here, redwoods line the road, and Bixby Bridge sits high above the Pacific (one of 33 along the route). Bixby is considered one of the world's highest (260 feet), single-span concrete arch bridges. From there pass through San Simeon, Cambria, Morro Bay and on to San Luis Obispo. You'll cut in a bit east here but it's a fun little town with great shops and restaurants to discover (stay here overnight). Back on PCH head to Santa Barbara and check-into a quaint B&B or something a little grander like the Bacara Resort and Spa.
As Los Angeles County begins to emerge through your window, take in the beauty of the coast in Malibu, California's playground for the rich and famous. Spend a day at the beach and marvel at the beautiful homes lining the coast. Finally, wind down to San Clemente, and walk along the pier during sunset.
Photo Credit: Shutterstock.com
The Olympic Peninsula Loop
This next road trip is a water lover's dream. Spanning 550 miles, the Olympic Peninsula loop journeys along 73 miles of Pacific coastline starting off in Seattle, Washington before driving to Olympia. From there, head north to Port Townsend, known for its art galleries, Victorian architecture, wine bars and fresh clams. Then venture over to Sequim, making a stop at the Dungeness Spit, one of the world's longest natural sand spits. Spend a couple nights at Lake Crescent, sitting west of inside one of Lake Crescent Lodge's Roosevelt Fireplace Cabins. Continuing on, get ready to explore Neah Bay off of Highway 112, the westernmost point reachable by car in the state. If you're up for it, once you leave Neah Bay, drive inland to the Hoh Rain Forest and go for a hike around the area. Before circling back to Seattle, spend a few nights in the Quinault Valley located in 922,000-acre Olympic National Park. Here, you can rent a boat and spend a day on the river, experience a rainforest tour or trek through one of five hiking trails. As your trip comes to end, drive back to Seattle and sip on some of the city's best coffee, toasting to your epic adventure.
Photo Credit: Wikipedia.com
Atlanta to Knoxville through Tail of the Dragon
The open road between Atlanta and Knoxville is thrilling for driving enthusiasts because of the Tail of the Dragon. As you enter into North Carolina from Tennessee, you'll begin your 11-mile winding route along route 129. Considered best for vehicles that can handle tight turns, the best way to experience this drive is via sports car. With 318 curves, the road's sharpest turns are at Copperhead Corner, Shade Tree Corner, Sunset Corner and Brake or Bust Bend. The loop only takes about three hours, but this will probably be the most fun you'll have behind the wheel. After The Tail, head toward Knoxville (one hour away), and spend a few days discovering the stories of the small town known for its significant historic sites such as the Mabry-Hazen House Museum and Civil War Bethel Cemetery.