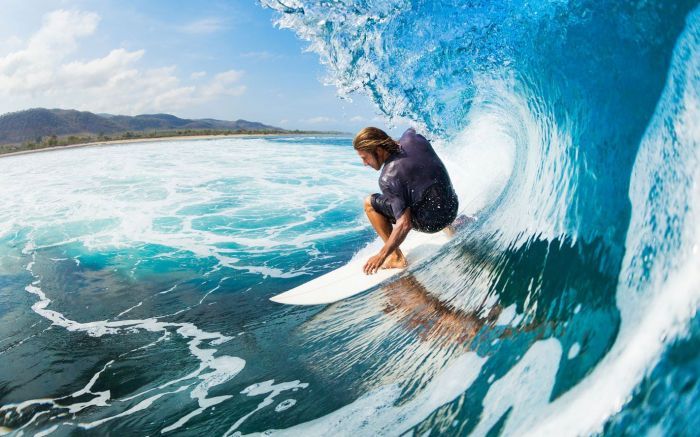 Photo Credit: Shutterstock.com
When you see a surfer headed toward the beach, they're typically running (not walking) to it, even if they're a couple blocks away from the water. I've asked friends why this happens, and they've all separately said, "Because you're that excited to get some good waves." Simple as that.
Surf culture is more than just a love of the water sport, it's a lifestyle that transcends the waves. The ocean is wild and full of surprises, it's what keeps surfers coming back each day, dropping everything at a moment's notice when "surf's up," is shouted across a room. Lovers of the sport talk about it consistently in a language that can seem confusing to outsiders.
Photo Credit: Shutterstock.com
Ask any surfer, and they'll tell you that going on an epic surf trip around the world tops their travel bucket lists. Although most endless summer adventures involve beach shacks, streetside tacos and vintage VW buses, we're imagining a more upscale excursion filled with five-star hotels, one-of-a-kind custom-made boards and sunrise surf sessions with the pros. Here's our guide to creating the most envy-inducing RTW journey in search of the perfect wave.
Photo Credit: Kelly Wearstler/Boom-Art
Stocking Up
Before setting off on your trip, consider getting a new board (or two). Inspired by Kelly Wearstler's love of Malibu surf culture, the Mulholland Long Surfboard ($9,950) is made out of a variety of woods including Douglas Fir, Wenge, Thermowood Ash, Walnut, Cherry, Russian Birch Plywood, Koa, Ash, White Oak, and South American. The puzzle piece design gives these boards a chic, eclectic look that pays homage to their west coast roots.
Or for a board with more color, Boom-Art hand makes limited-edition sticks in France with beautiful works of art painted on each. The company teamed up with Highsnobiety to create a series of retro boards, twin with double concave in the kee fins (USD $4,000). Only six boards were made and the bright floral designs will also look great as a chic piece of artwork in your living room.
Since you'll want to remember every moment of the trip and sliding through all those barrels, be sure to pick up a HERO4 Black GoPro ($499.99) to capture the adventure. They can also be attached to your boards, which makes for some pretty sick footage, especially if the ocean's residents decide to join you for the afternoon.
Photo Credit: Mana Photo/Shutterstock.com
Must-Do Destinations
There are many bucket-list worthy destinations to surf in the world, but to get a taste of a few different landscapes and climates, here are four of our suggested breaks to experience:
Hossegor, France
From September to November, waves at Hossegor in France are heavier with W-NW swells creating seven-foot-high waves. Water temps are around 61 F, so you'll need a 3/2 wetsuit. The 145 miles of coastline called the Côte d'Argent is the longest uninterrupted stretch of sandy beach in Europe. Bathymetric features combine to yield super-hollow beach breaks when conditions are right. If the surf is flat, there is a very-well established watersports scene so you can easily change course and go kayaking, kiteboarding, wakeboarding or deep sea fishing for the afternoon. For accommodations, stay at the four-star Les Hortensias du Lac built in the 1930s between the lake and ocean in Hossegor.
Oahu, Hawaii
Each year surfers make their way to Pipeline in Oahu to surf and watch the pros compete for world titles at the many contests held at the destination. Those who've surfed here will tell you know matter how much you know about surfing, the ocean and its waves, there's nothing like Pipeline. Even longtime pros will find themselves completely baffled by a wave being suddenly in the lip or underneath it within seconds. It's also where you might find yourself in a perfect barreling wave, that is, if the locals let you drop in. As with all of Hawaii, be mindful of the pecking order because it'll cost you if you aren't cool with them. When a north swell hits, waves form an A-frame shape with Pipe closing out a bit and peeling off left. Waves on average are about nine-feet high but can get over 12 feet. To avoid the "scene" of it all, go from late February through March. Water temps will be around 73 to 77 F so only a rash guard is needed. For accommodations, stay at Turtle Bay which is only nine miles from Pipeline.
Photo Credit: Unstad Arctic Surf
Jeffreys Bay, South Africa
Jeffreys Bay is not for the faint of heart. It is known as the "the Surf Mecca of the World" and home to the World Championship Surfing Tour, the Billabong Pro J-Bay. With endless summers, stunning beaches and nestled in the Eastern Cape Province of South Africa, Jeffreys Bay is like no other in the world. Its one caveat, however, is that it is heavily infested with sharks. But locals will tell you there's no sense in worrying and those who've surfed J-Bay will tell you the risk is worth it. One of the area's best breaks is Supertubes, a long, slabby, powerful wall that draws larger swell energy from the upper reefs. A good wave here will last about 250 yards. The best time to go is from June to August in the winter when town is vacant except for surfers. Even in the winter, temperatures are in the upper 50s so booties aren't necessary for warmth but rather for traction on the slick rocks. A 3/2 wetsuit will work and having a ding kit is advised since you'll hit the rocks eventually. For accommodations, check out Sandals Guest House, Eastern Cape, a four-star estate in Saint Francis Bay with 10 guestrooms, two restaurants and lounges, and an outdoor pool.
Unstad, Norway
It's been called "a cold Tahiti," a place where Arctic Aloha is a common saying. Located on Austvågøy, one of the seven Lofoten islands, Unstad isn't the first place you'd think of when planning a surf trip. But it should be, or at least it should be considered. With only 13 residents, the city is known for one thing: surfing, and many head to its waters in search of its impeccable waves. In the winter, the area has high, nearly-perfect waves that can be 30 feet or more. The average water temperature is between 40-50 F, so a 5/3 wetsuit can work, but a 6/5/4 is better. You'll also need booties, gloves and a hood that are all at least 5mm. We bet you'll earn some bragging rights after shredding these bad boys. For accommodations stay at the Unstad Arctic Surf, a 13-room residence owned by surfers.
Photo Credit: Luxury Retreats Bali
Mix it Up
We know you probably want to spend all your days in the water with no cares, but make your trip even more exciting by adding a couple extra activities to your itinerary. Here are three add-ons to tack onto your adventure:
Surf With a Pro
Next May, Billabong is hosting a seven-day surf camp for 16 surfers with their professionals at the Chicama Surf Resort in Peru. Chicama is known for having one of the longest left points in the world, and the wave is just steps from the hotel. During your trip your Billabong's staff will capture each session on a digital camera and via video in order to show you techniques on how to improve. Along with coaching and instruction, guests will also receive an edited DVD of their adventure with photos and video of them surfing, plus a complimentary Billabong 3/2 wetsuit and gear. The camps starts at $1,975 per person.
Volunteer to Teach Surfing
The cool part about traveling the world is getting to experience different cities and cultures. One way to make this surf trip even more rewarding is to spend a day or week volunteering and teaching underprivileged kids how to catch waves. Go Eco offers a two-week program in Cape Town, South Africa that allows you to teach valuable life lessons and skills specifically through surfing and swimming. The 12 to 14-year-olds come from disadvantaged areas where facilities and equipment for outdoor activities are not readily available. Some students have even gone on to compete nationally, internationally or have become sponsored following their training.
Yoga Retreat
Round out the last leg of your trip with some much-needed relaxation and yoga to reset the mind and body. Luxury Retreats Bali offers a five-day retreat at Semara Luxury Villa Resort in Uluwatu filled with daily meditation, morning and afternoon yoga, organic spa treatments and products, an Ayurvedic detox program and private butlers. Set on the a cliff top, travelers will get a chance to practice their Namaste while viewing out onto the Indian Ocean. For meals, a raw, organic, gourmet selection of items is available to nourish the body and help restart it before getting back to the real world. Plus, Uluwatu is another great surf break, so in between "Ommms," you can get your surf fill in for the day.