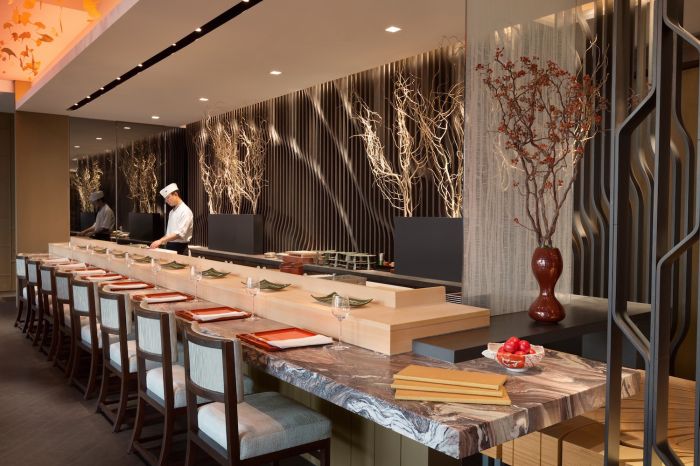 Photo Credit: Shangri La Tokyo
For most travelers, cuisine plays a large part in planning not only your itinerary, but where it is you plan to visit. Japan is a popular destination for its historical sites and rich cultural heritage, but also as a culinary destination in its own right. Ramen, sushi, unagi and tempura are among some of the top foodie favorites, and there's nothing like eating these foods right in the heart of Tokyo. And for those who love Japanese fish and seafood dishes, there's no better place to visit than Tsukiji, the world's oldest and biggest fish market.
Before you go, make a reservation with Tsukiji Cooking for a private cooking class and tour of the surrounding fish markets. While visitors are welcome to explore the area on their own, it's a vast labyrinth of tightly-packed shops, store fronts and restaurants, that can be difficult to navigate if you've never been there or don't speak the language. The classes and tours here are all given in English and focus on teaching visitors how to enjoy and better understand Japanese cuisine, while giving them the knowledge and know-how to replicate it in their own kitchen.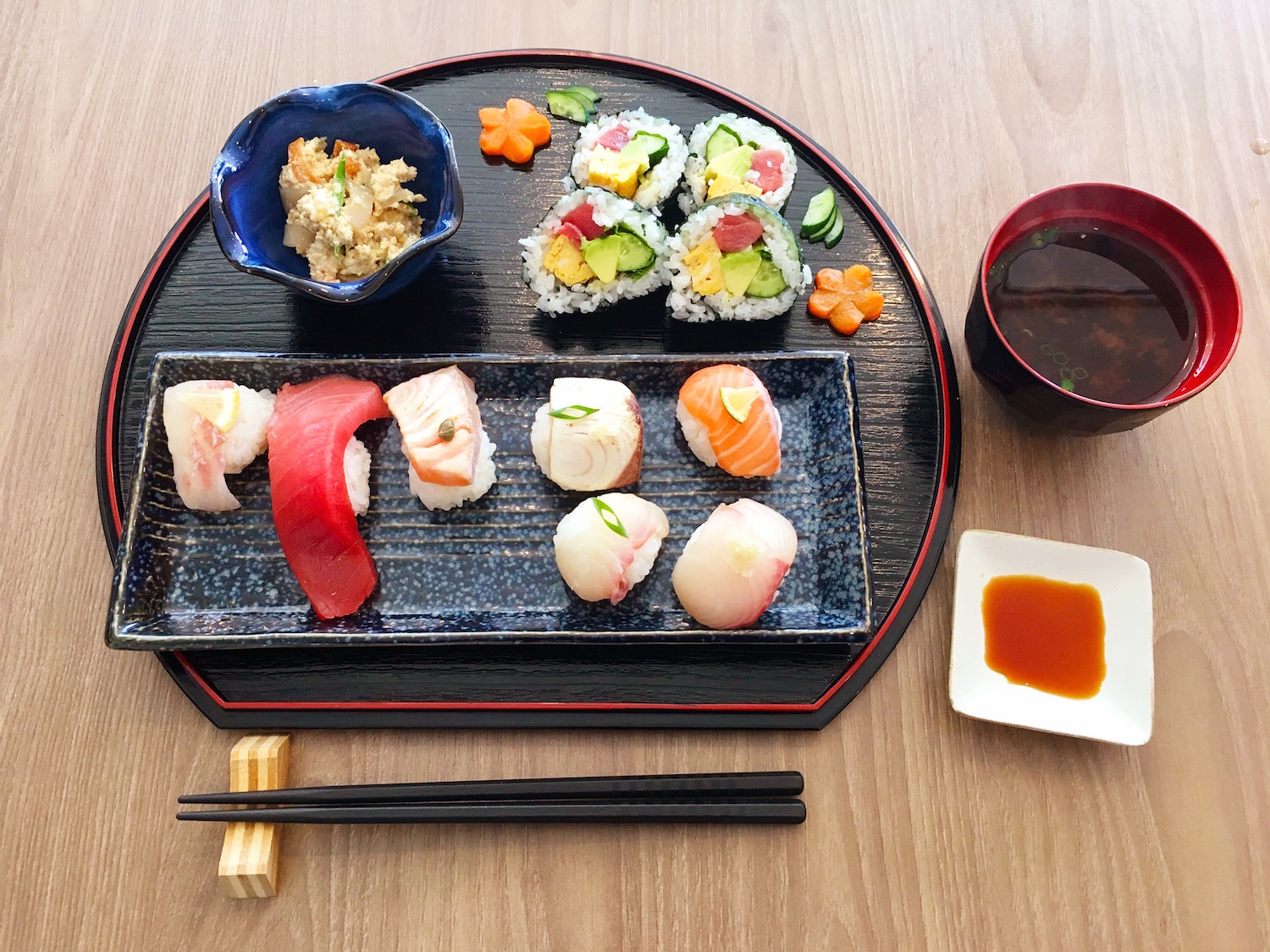 Photo Credit: JustLuxe
At Tsukiji Cooking, there are a number of classes and tours to choose from to fit your own needs, from private, one-on-one classes to group classes with Michelin-starred chefs. As a self-professed sushi enthusiast, I opted for a sushi course and was guided around the market by my culinary instructor as we shopped for ingredients to cook up in class. Here she showed me some of her favorite stalls and a number of recommendations for selecting the best shrimp, salmon, tuna and yellowtail. As I was taking a private course, the menu was catered to my personal taste and the instructor also offered up some new ingredients she thought I might enjoy as we toured through the market.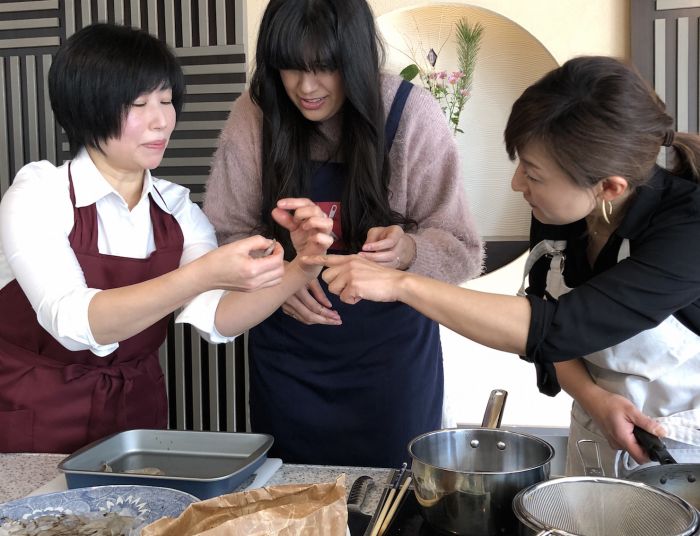 Photo Credit: Tokyo Luxey
The class is an easy-to-follow, step-by-step lesson that shows you how to not only cook these ingredients in your own home, but how to make the best use of these ingredients. I'm by no means a whiz in the kitchen, but by the middle of the lesson I had made my own dashi soup stock, sushi rice and roasted sesame paste, base ingredients for a number of Japanese dishes. You are taught the proper way to cut and clean fish for sushi and sashimi, which accoutrements complement which fish, and the proper way to devein and clean prawn without removing the shell, as these as seared and eaten whole for maximum flavor. By the end of the class I was able to finally sit down and enjoy the Japanese dishes I had made from scratch from ingredients bought just outside at the Japanese fish market. It was some of the freshest and most delicious sushi I had ever tasted.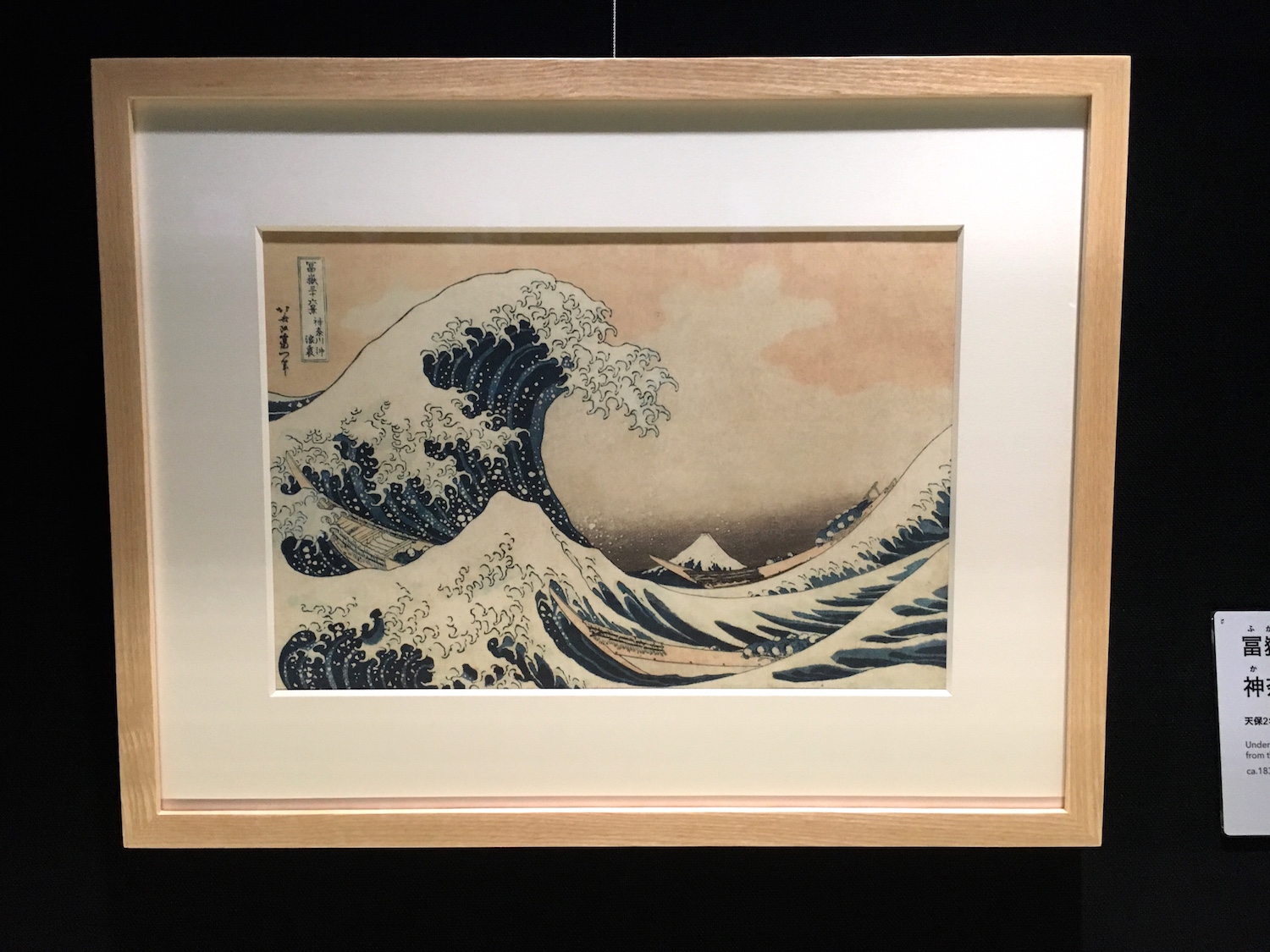 Photo Credit: JustLuxe
After eating your fill, let your food digest as you walk around Tokyo's Sumida Hokusai Museum. The ukiyo-e artist, Katsushika Hokusai, creator of the the Great Wave—one of the most popular Japanese woodblock prints in the world—has a museum dedicated to his life and works which span over 70 years. His work is known around the world if not by name then by sight, and he has influenced artists including Edgar Degas and Vincent van Gogh, and even composers like Claude Debussy who drew inspiration from the Great Wave off Kanagawa from the collection Thirty Six Views of Mount Fuji for his symphony La Mer.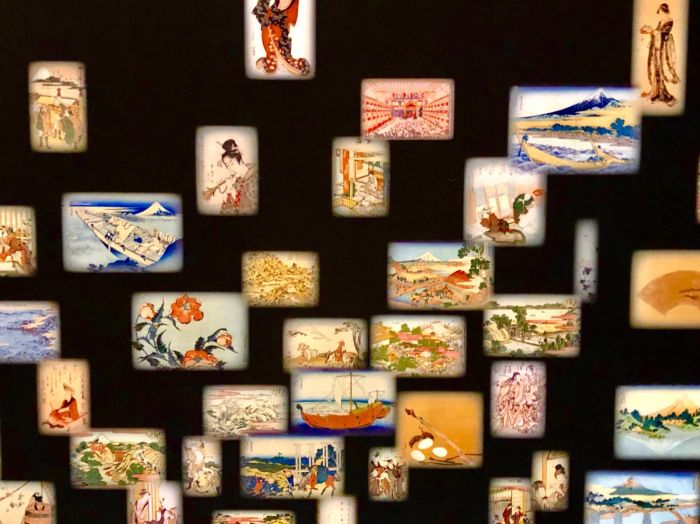 Photo Credit: JustLuxe
The museum is only in its second year and is not particularly large, but it is packed with a treasure trove of Hokusai antiquities that range from some of his finest, and most well-known works at the height of his career, to a number of seemingly nondescript illustration manuals that he drew as study materials for his art students. The museum is well thought out, walking guests from the beginning of his life in Honjo Warigesui in 1760 until his death in 1849. As Hokusai was very popular in his own time and had a career spanning decades, his work has been scattered throughout the world and can be seen in a number of museums throughout Asia, Europe and the Americas, but here, special exhibits are given not only to the property's privately-owned collection, but pieces on loan from all over the world in an effort to preserve and present these culturally significant assets.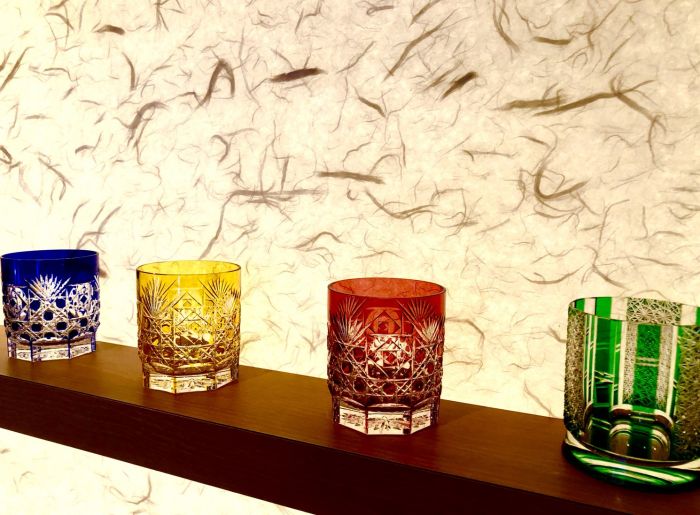 Photo Credit: Tokyo Luxey
If you're feeling particularly creative after a visit to this museum, head over to Sumida Edo Kirikokan, or the Museum of Edokiriko, which is less of a museum, and more of a showroom with a DIY workshop. The museum offers about 350 pieces of this Edo-style glass on exhibit, but the real reason to visit is the glass-cutting class that they offer. Here you can get hands-on and practice a Japanese craft that has been around for hundreds of years. It's said that the current style of glass cutting was brought north to Tokyo from Kyoto, and it grew in popularity throughout the upper class during the Edo period. Today it's still a popular collectable for the wealthy of Tokyo as one authentic Edokiriko drinking glass can cost upwards of $200.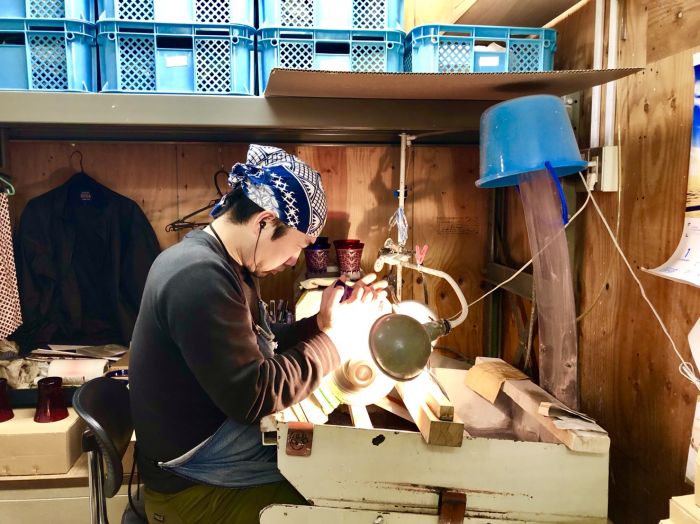 Photo Credit: Tokyo Luxey
At Sumida Edo Kirikokan peruse the glass on display or pick up some souvenirs for your next party in their gift shop (they also custom design pieces on request), but don't leave without sitting down at a workbench and getting gritty with a Edokiriko craft session all your own. After a quick how-to from one of their master craftsman, I sat down and spent the next 45 minutes or so cutting my owns designs into a glass I had picked out. I chose a dark, but beautiful blue shade (which I was warned was the hardest color to cut) and went to town. It was surprisingly easy to do, and while I had neither the talent nor the patience to create some of the jaw dropping designs created by the in-store artisans, I went home with my own little piece of artwork that makes for a unique souvenir and reminds me of my time there.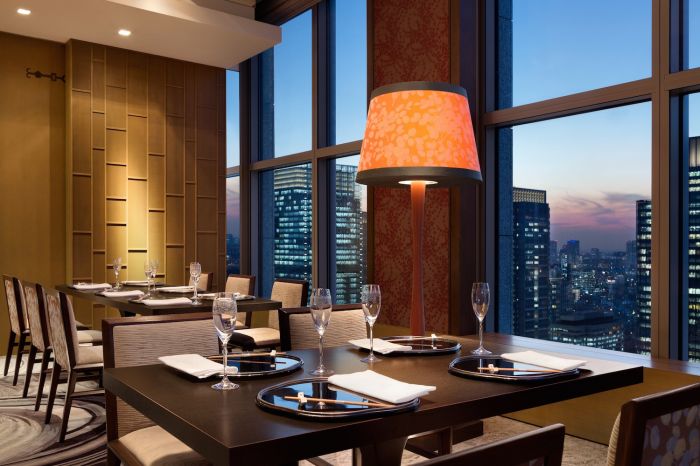 Photo Credit: Shangri La Tokyo
Pack up your personally-designed glass and head for dinner at the Shangri-La Hotel in the center of Tokyo. Steps from Tokyo station, this hotel is a lovely little stay right in the center of everything and offers one of the best dining experiences in Japan. This five-star hotel hosts a number of restaurants, but for the best Japanese cuisine head upstairs to Nadaman, where the restaurant offers a beautiful view of the city and a modern, but relaxing, atmosphere. It offers a number of dishes that will be familiar to Americans, but are given a more authentic twist, showing visitors what Japanese cuisine really has to offer. I highly recommend the yorokobi dinner course, which allows you to sample a little of everything from the menu.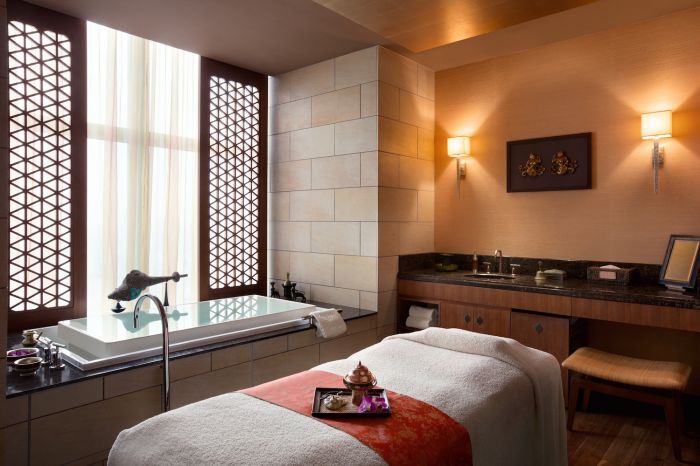 Photo Credit: Shangri La Tokyo
If you have some time before or after dinner, book a massage at Chi, the hotel's award-winning spa to unwind from your day. Their services start with a foot bath and massage as you sip on revitalizing tea, before you move to the table for a sleep-inducing, full-body treatment. After, spend the night in one of the property's 200 rooms or suites which are elegantly appointed and surprisingly large for something one might find in the center of Tokyo. End your evening at the Horizon Club, a lounge reserved exclusively for Horizon Club or Shangri-La suite guests. Enjoy a nightcap on the 37th floor amidst a backdrop of the Tokyo cityscape and glittering lights below.

Luxury Vacations by Justluxe