All Images Credit The Royal Portfolio
The Wild Kingdom Adventure of South Africa's Kruger Park its Most Opulent Safari Resort, The Royal Malewane
Every country has a national treasure. Something that is to be preserved for future generations and for all to admire. Few and far between have a world treasure, a place that is of unsurpassed significance to mankind. South Africa's Kruger Park is such a place. This unspoiled God's gift to man is the size of Wales and filled with natural beauty of mountain ranges, all manner of fauna and flora, open plains and rivers. Kruger Park's most spectacular inhabitants are its brilliant wildlife including elephants, giraffes, rhinos, hippos, and birds of prey and beauty. And of course, there are the big cats from cheetahs, leopard, to the king of the wild, prides of lions. Nowhere on earth rivals the Kruger Park and its most luxurious respite to take in all of the majesty that the Krueger Park has to offer is the Royal Malewane. WATCH AMAZING VIDEO BELOW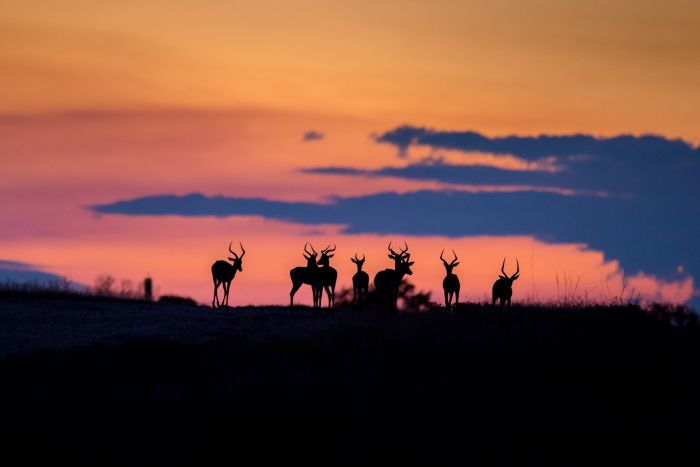 There are many ways to take in the beauty of the Kruger Park from day trips to lesser accommodations, but for those with the means, the Royal Malewane offers an experience like no other. This is literally the king of the jungle as far as luxury resorts with an impeccable British colonial décor and style, amenities, and guest treatment of a bygone era. There are only eight accommodations in the Main Lodge creating a level of exclusivity and an incomparable level of service which is why the Royal Malewane has become a haunt of celebrities, heads of state and the well-to-do including Nicolas Sarkozy, Bill Gates, as well as Oprah Winfrey, Elton John, Richard Gere, Bono, and Justin Bieber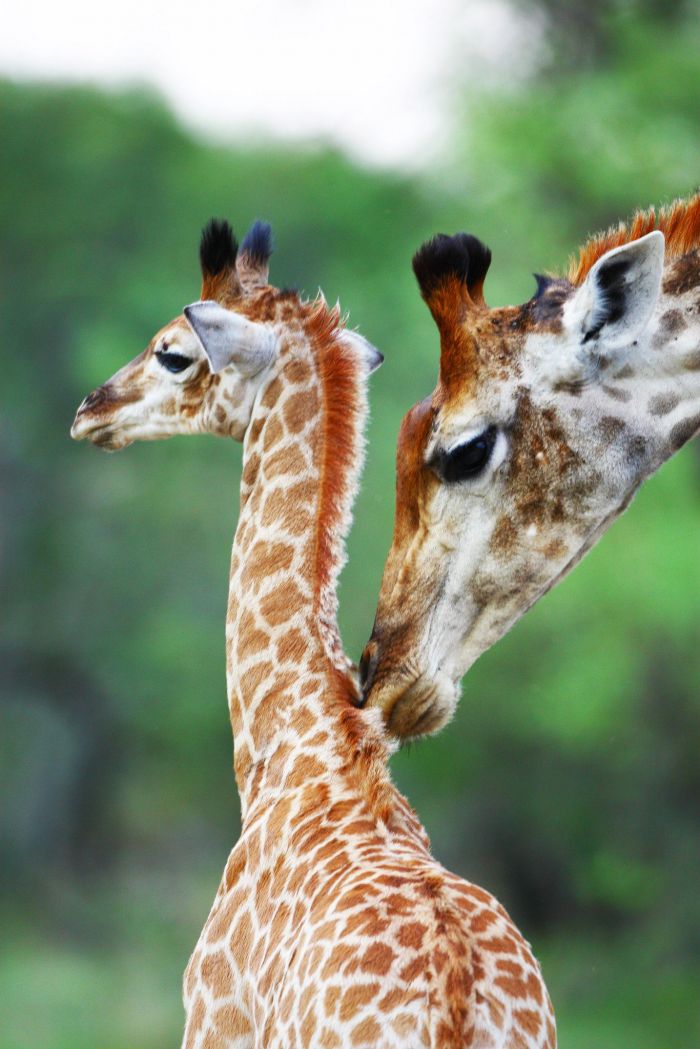 Thankfully, over 125 years ago, South Africa's forefathers set aside Kruger park as a national treasure. The park is 7500 square miles in size, as big as Belgium, in a pristine reserve where animals roam free. Around the park, game reserves, such as the Thornybush private game reserve where the Royal Malewane is located, have been developed with vast lands of their own. The fences separating the parks and reserves have been removed allowing animals to roam through an even larger area and, at times, right up to your villa.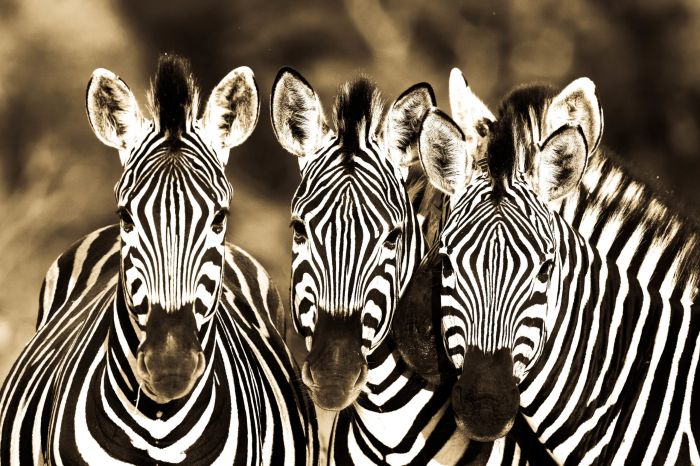 As incredibly beautiful as the Royal Malewane may be, the reason that guests go there is for the abundant wildlife. This is the land of the Big 5, the trifecta of the safari, that any self-respecting safari enthusiast is after. The big five animals are the lion, leopard, Cape buffalo, elephant and black rhino and was a term coined an eon ago by big game hungers as the five animals most difficult to hunt on foot and that presented the most danger. Today, thankfully in most of the parks the hunting is only for the experience of seeing these regal beasts up close and where the only shooting to be done is with your camera. These animals can still be quite illusive and difficult to find in the wide-open Kruger Park. As a result, finding them is due in large part to the talents of your tracker. Royal Malewane happens to have the most skilled team of trackers, guides, and rangers in Africa.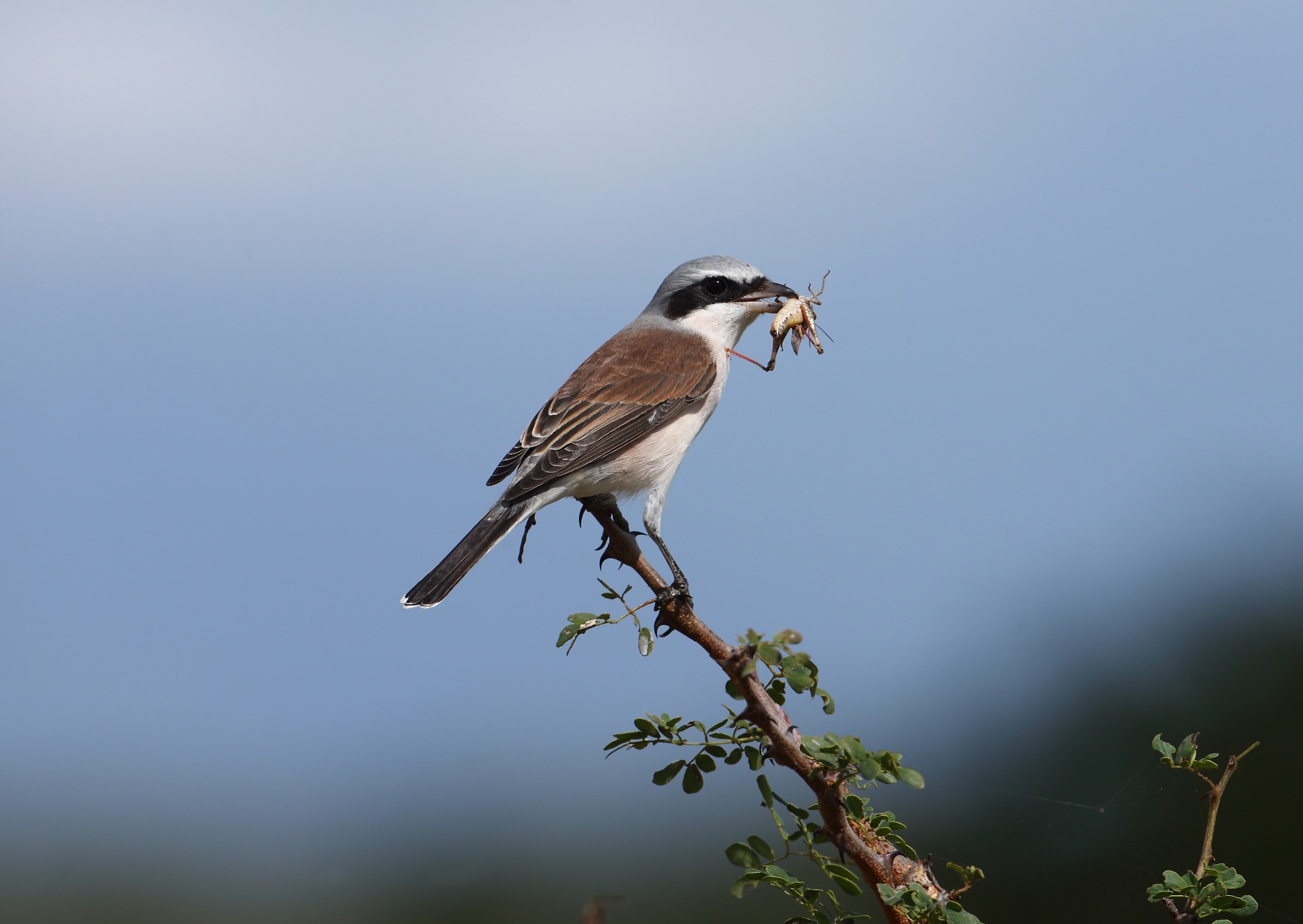 Beyond the Big 5, there are 145 mammals of all types in the Kruger Park as well as 300 species of bird. This is a bird watchers paradise with beautiful rare birds at every turn.
The African Safari is an adventure of a lifetime and arguably nowhere is better to experience it that at Royal Malewane. There are two included safari's per day and guest will return home full of memories of incredible sightings. Guests may come upon a pride of lions fattening themselves on a fresh zebra kill as you literally hear the bones crunch and the gory scene of real life on the safari. Elsewhere elephants cool off in pond water, hippos submerge in lakes then reappear and expose their enormous yawning jaws and tusks, or the menacing rhinos as they graze and lift their massive head and horn with a glare that says don't come any closer. In addition to seeing giraffes, wildebeests, impala and zebras,one of the most exciting experiences is finding the ever-deceptive leopard as it dangles high in a tree limb with his fresh kill of an unfortunate spring buck.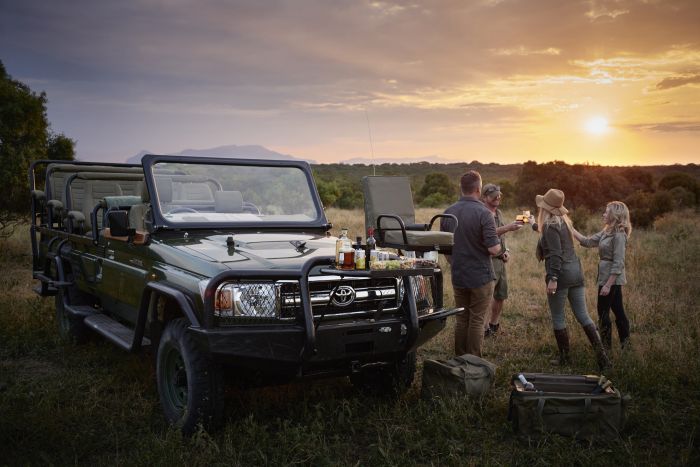 The safaris are three to four hours and the Kruger Park is so massive, no two outings are ever alike. The adventure includes the guide and tracker and no more than six guests with unobstructed views from the open-air Land Rover as nature plays out in a scene almost too beautiful to imagine. This a true adventure yet does take a break from the creature comforts. After the evening adventure, you and your fellow comrades break for snacks and sundowners, sipping on your gin and tonic as the sun begins to set over the savannah.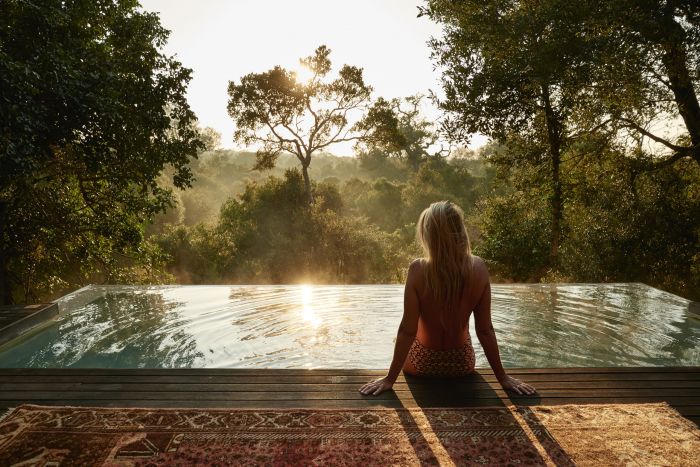 Royal Malewane is the brainchild of Liz Biden, arguably South Africa's most renown luxury hoteliers and the driving force behind The Royal Portfolio which includes other tony resorts in Cape Town, Franschhoek and Hermanus. For Royal Malewane, Biden wanted to create an intimate space for her loved ones to come together in in a sumptuous accommodation while taking in the wild nature of Kruger Park. She did just that and then saw the opportunity to convert her respite into a luxury lodge for the select few. Well that's just what it feels like now and where each guest feels special and an extra VIP.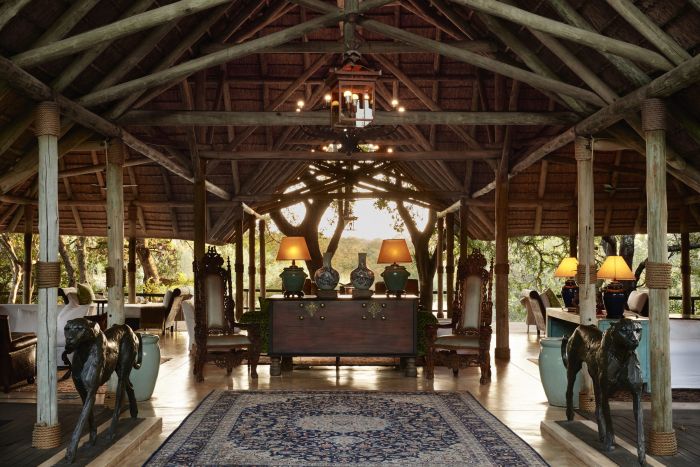 Upon entrance, the gravitas of the place beings to set in. A greeting party of your guide, resort manager and staff await with introductions and a warm welcome as if you are in a royal greeting line and that treatment of you as if you were a member of the royal family continues throughout the stay.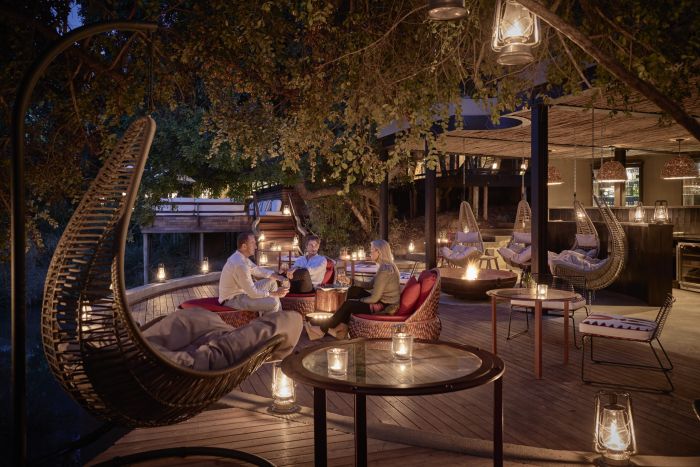 The décor is British colonial yet is completely Liz Biden with the most lavish of mix of bold colors, exotic fabrics, African tribal artifacts, Persian carpets, oriental vases as well as an engaging collection of sculptures and works of art. The elegant colonial-styles lobby offers an open-air thatched roof space with views on to the wilderness and is where guests gather for cocktails or to leaf through a coffee table book. Adjacent are wide open terraces and a bar overlooking a watering hole for pachyderms, antelope, and heron. Further along is the dining area with tables spread out along an open room to take in more incredible views of the landscape while enjoying a scrumptious gourmet meal.
Biden has the gift of impeccable taste, an eye for beauty and her ability to create comfortable spaces that are regal yet warm. This attention to details transfers beyond the design and décor and is found throughout the guest experience from the dining, spa, service, and activities.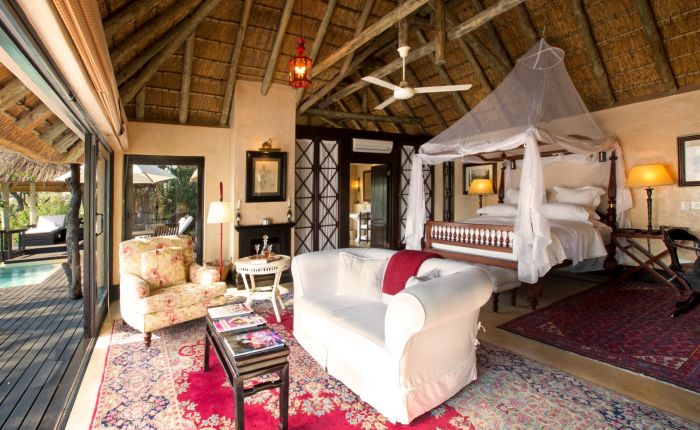 A few yards away over a suspended board walk are the accommodations. The six luxury suites could not be more opulent with the continuation of Liz Biden eye for gorgeous décor. King-sized mahogany canopy beds with muslin draping, floral print furnishings, riveting wall art, bamboo throne chairs, bouquets of fresh cut flowers, and a fireplace come together to create a space that is rich and luxurious. The bathrooms are decadent as well awash with limestone surfaces, walk in showers, oversized Victorian clawfoot baths, and Molton Brown toiletries. The complimentary amenities continue with an inclusive mini bar, garment washings, and turndown service.
Guests will invariably choose to spend as much time as possible in the outdoor living space offering a sprawling veranda with table ideal for and en suite breakfast. The indulgence is completed with an outdoor shower, thatch roof gazebo with chaise lounges and a private infinity edge pool. The accommodations are situated overlooking the savanna and a watering hole while also offering complete privacy to enjoy the African sunshine. However, you'll want to think twice about leaving your favorite fruit outside as a vervet monkey set on a robbery may have set its sights on it as well. Guest are often treated to a very up-close and personal experience with elephants who often choose the filtered water of your pool and you'll see them dip their trunks in the water and get their fill before heading out into the bush. The villas are elevated so one need not worry about a dangerous intrusion, but it does set a platform to take in all of the nature that surrounds.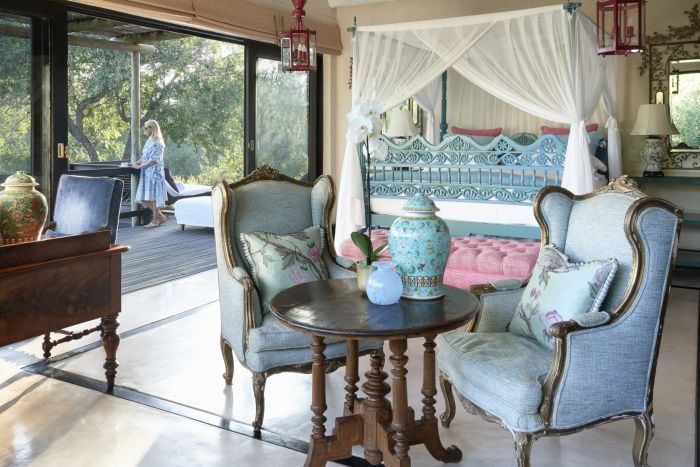 For families or friends on holiday together, the Royal Malewane offers two-bedroom suites complete with their own personal staff and private guide and vehicle. The Africa House is an exclusive hideaway that sleeps 12 with six bedrooms and even more facilities and amenities. Royal Malewane has also recently opened The Farmstead which offers three Luxury Farm Suites or three-and-a-half-bedroom private villa and the next level of VIP service with a private chef, housekeeper and butler, as well as safari vehicle, ranger and tracker.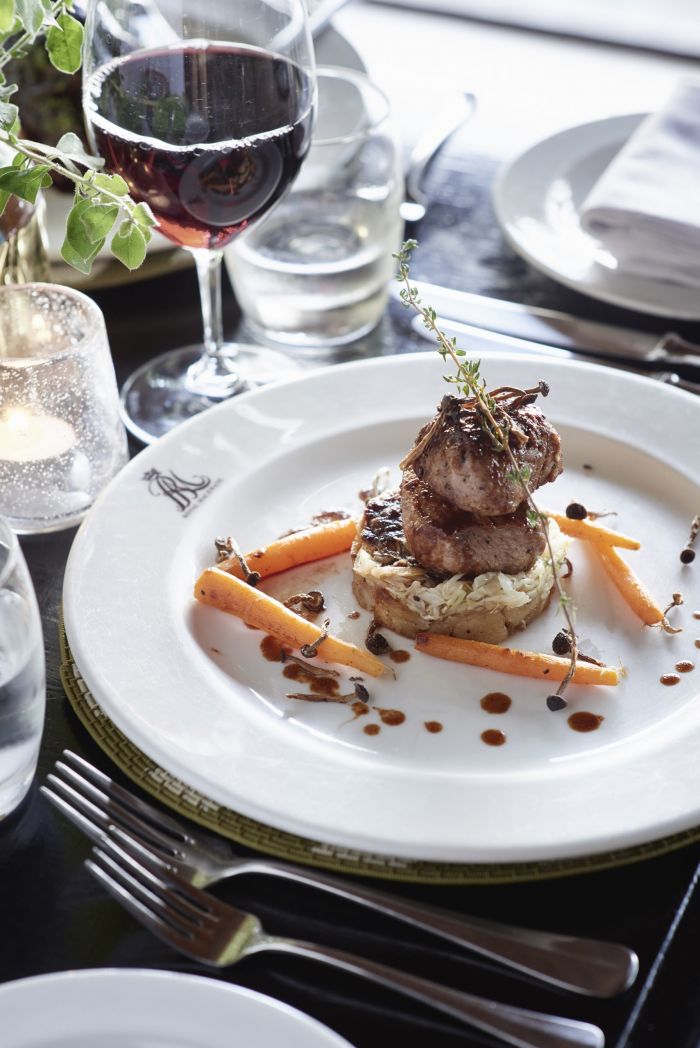 When it comes to the dining experience, Royal Malewane feels more like dining with a private chef with extensive gourmet dining options that cater to each guests' preferences as well as when and where to have the meal. Most guests will dine in the restaurant area overlooking the savanna while others will opt for a romantic candlelit meal en suite.
Dinner offers a decadent meal six-course dinner paired with fine wines with a focus on the top South African wines from their extensive wine cellar. The menu varies widely from with offerings such as ponzu steak or pan-seared tuna with all meals included in the nightly rate.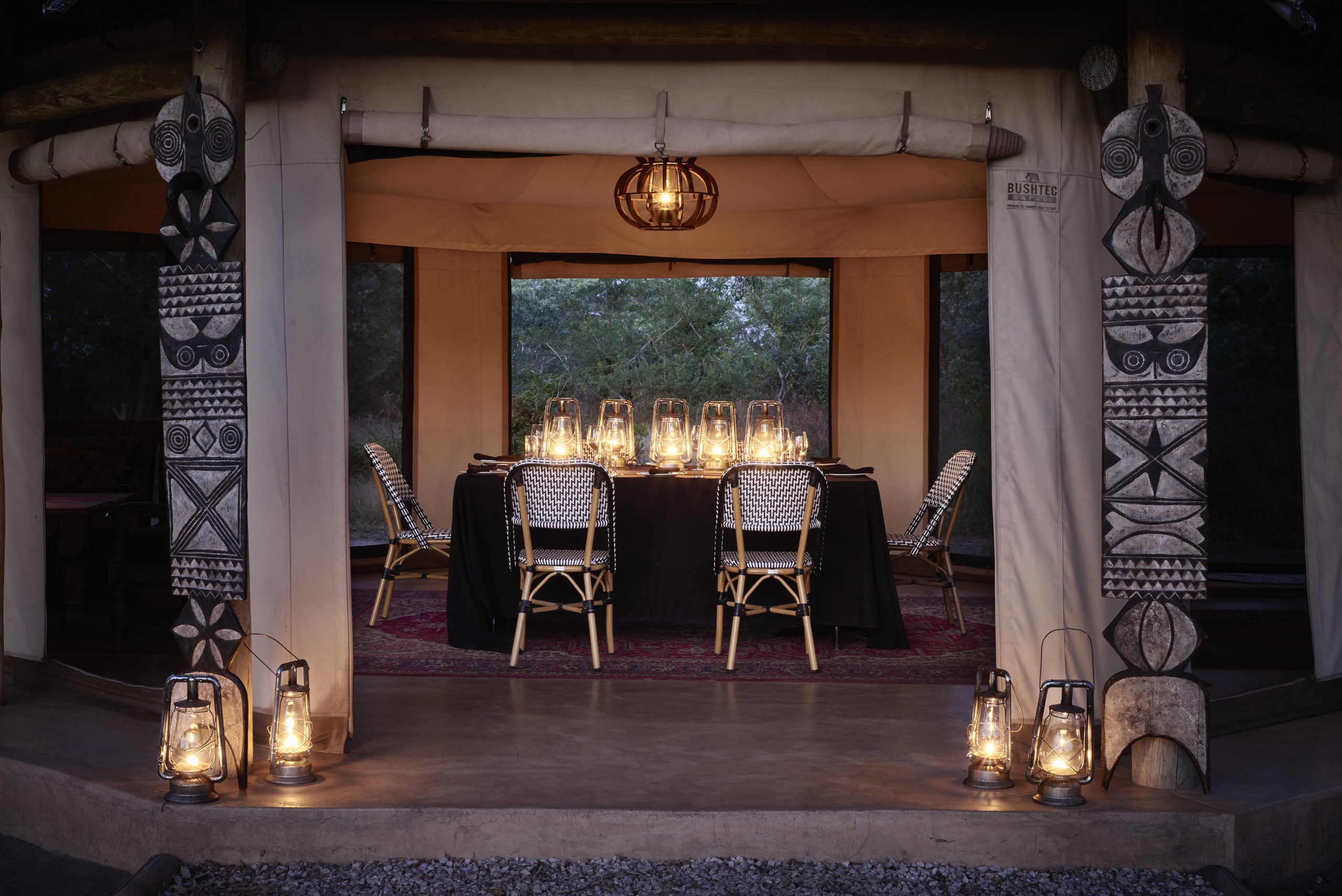 One of the most memorable dining experiences is the Bush Dinner under the stars. After a safari outing, guests will gather along with their ranger for a truly unique dinner in a remote location where a sea of lanterns lights the grounds and leads up to a tented dining pavilion. Guests enjoy predinner cocktails while star gazing as a nearby a bonfire crackles and embers that light up the sky. The staff of the hotel entertains guests with their beautiful voices singing and then sharing their exotic tribal dance where guests are encouraged to join in. This is a braai or bbq where the succulent meats are cooked over an open wood fire then served communal style. It's a truly magical evening followed by a long table dinner with other guests and staff as well as the wonderful meal.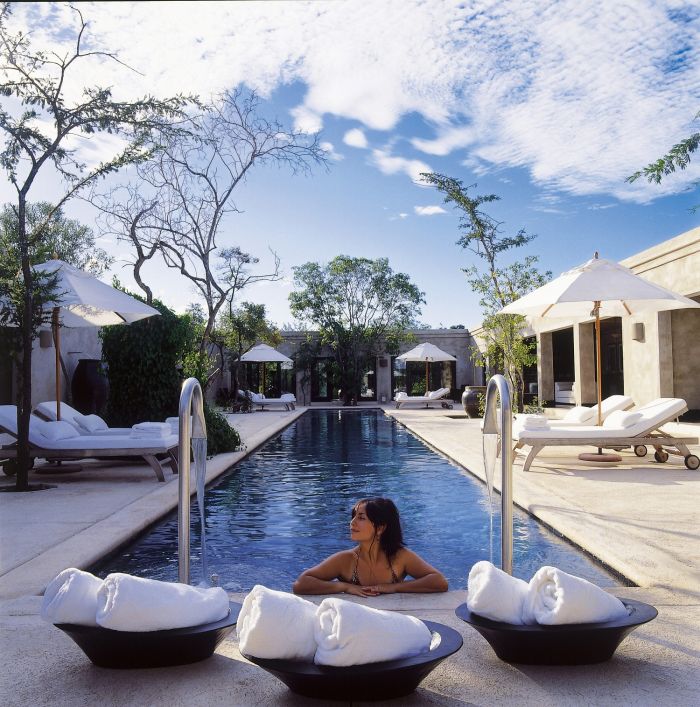 To take your safari adventure to the next level, guests will want to indulge in The Waters of Royal Malewane, Bush Spa. The spa treatments are divine, in private casitas and treatment rooms with a steam room and hot and cold Africa baths awe well as a lap pool with daybeds. Signature spa treatments include the Royal Thaba Massage — a deep tissue massage in which the African knobkerrie stick is used to revive muscles and relieve tension.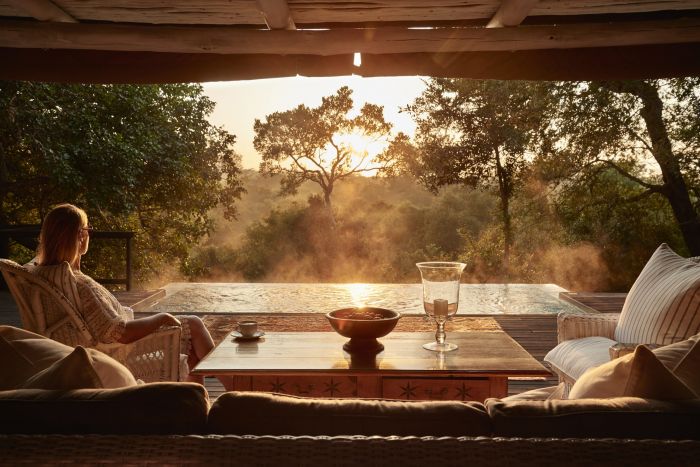 The Royal Malewane is the epitome of the African Safari adventure. It has it all from impeccable accommodations, meals and service as well as its most memorable feature, an abundant offering of close up wildlife encounters. Conde Nast recently named Royal Malewane as on of the top 20 resorts in the world and there's a reason why every purveyor of luxury travel has named Royal Malewane as the preeminent safari experience. When it comes to luxury safari experiences in South Africa, the Royal Malewane stands alone.