Whether looking to relax under swaying palms on a sugar sand beach or fill sun-soaked days with more cultural pursuits, Jamaica is paradise perfected. A glamorous jet-set escape and discreet A-list hideaway for decades, former residents of note include everyone from Errol Flynn and Noël Coward to Sir Winston Churchill, while Mick Jagger's rather palatial home can still be spied in the hills above Ocho Rios. Perhaps most famously, British novelist Ian Fleming penned all 14 of his James Bond novels at his former residence turned exclusive villa resort, GoldenEye.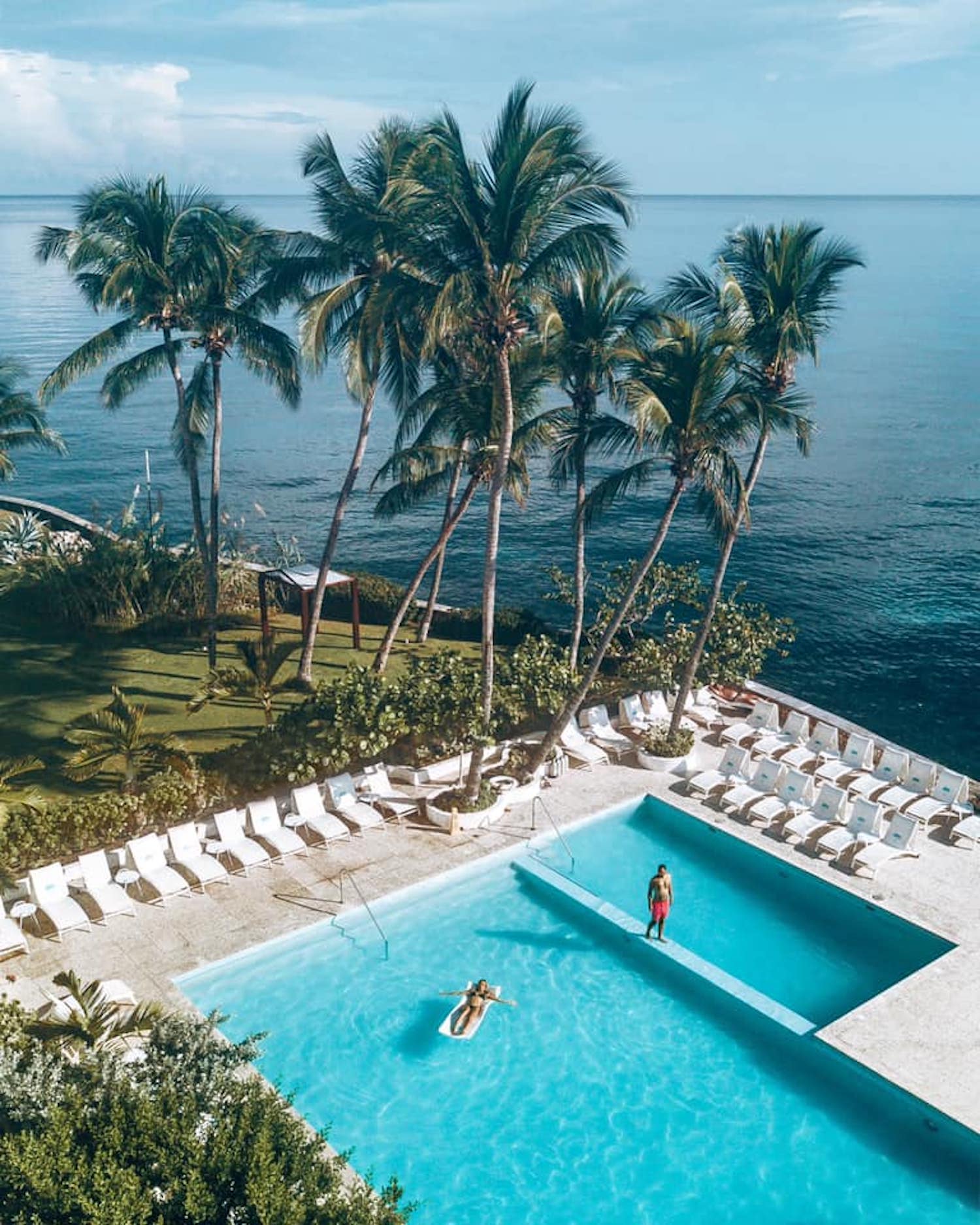 Today, the rugged beauty and chic seclusion of Port Antonio on the northeastern coast draws music industry stars like John Legend and Alicia Keys, who have penned hits in the private recording studio at hilltop hotel, Geejam. Negril and Montego Bay could perhaps be described as more tourist-oriented areas, but the former fishing village of Ocho Rios (called "Ochi" by locals Dr. No was filmed here in 1962) sits in a sweet spot between all three in Saint Ann Parish.
Just a few minutes east of the resort town and opened in 1949 by Abe Issa, "the Father of Jamaican Tourism," the elegant Tower Isle hotel became a local hot spot hosting a glittering who's who of guests over the years from Princess Margaret and Truman Capote to Mohamed Ali. Still family-owned and operated, and later rebranded Couples Tower Isle, it offers a sophisticated and centrally located place to stay.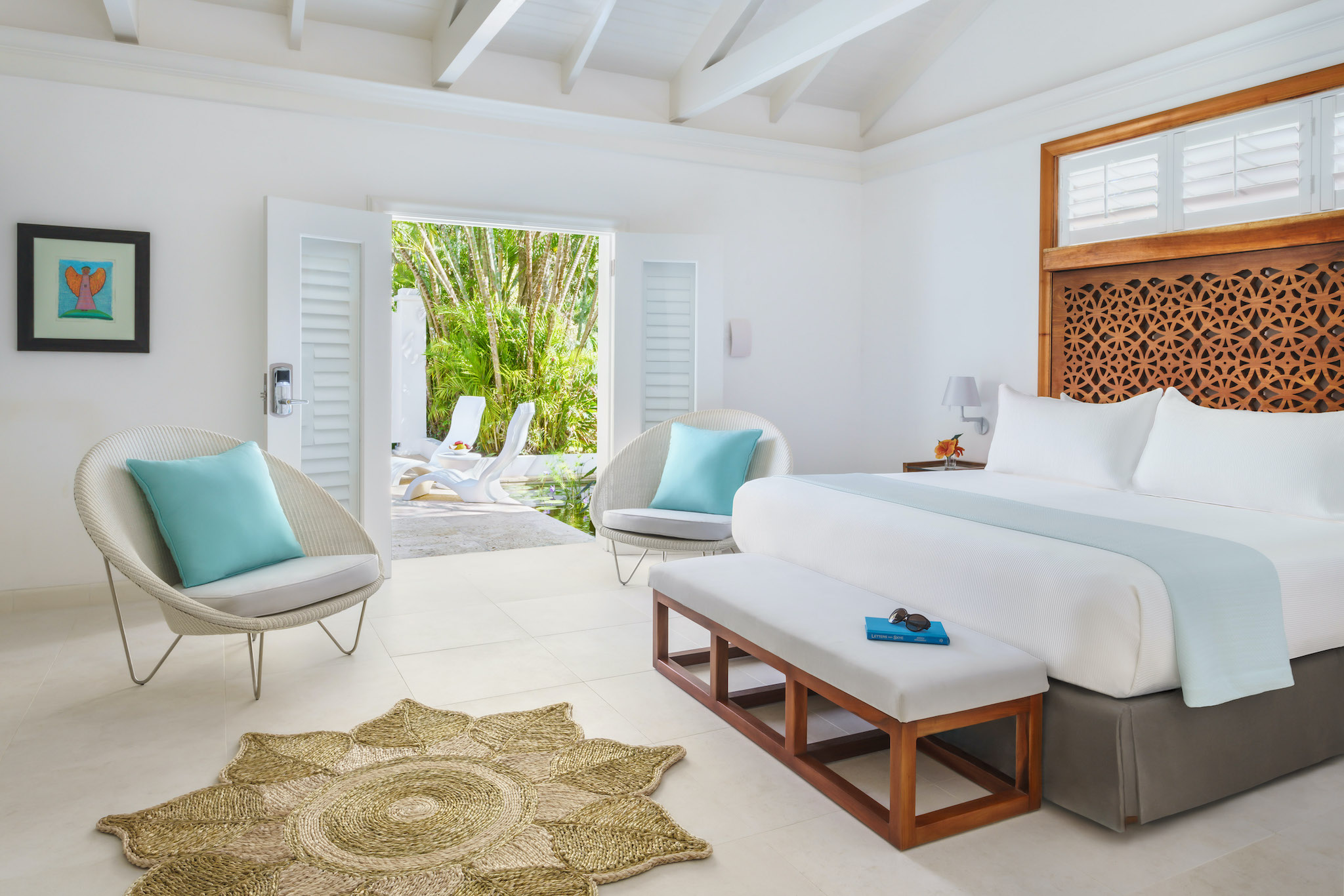 Set on 19 acres where tropical gardens meet a pristine private beachfront, the property was beautifully updated in 2008. Details of which were overseen by family member and designer Jane Issa to include colorful prints and original artworks throughout rooms and public spaces by Jamaican painter Beverly Oliver and acclaimed ceramic artist Jean Pearson.
The 226 rooms and suites at Couples Tower Isle enjoy ocean and garden views, but eight more secluded Oasis Spa Villas were added in 2018 and have been in high demand ever since. Spacious and tastefully decorated, the king-sized beds are plush and the private plunge pools absolutely fabulous. A major perk of a villa stay is the unlimited spa treatments that can be booked and enjoyed at the nearby Oasis Spa.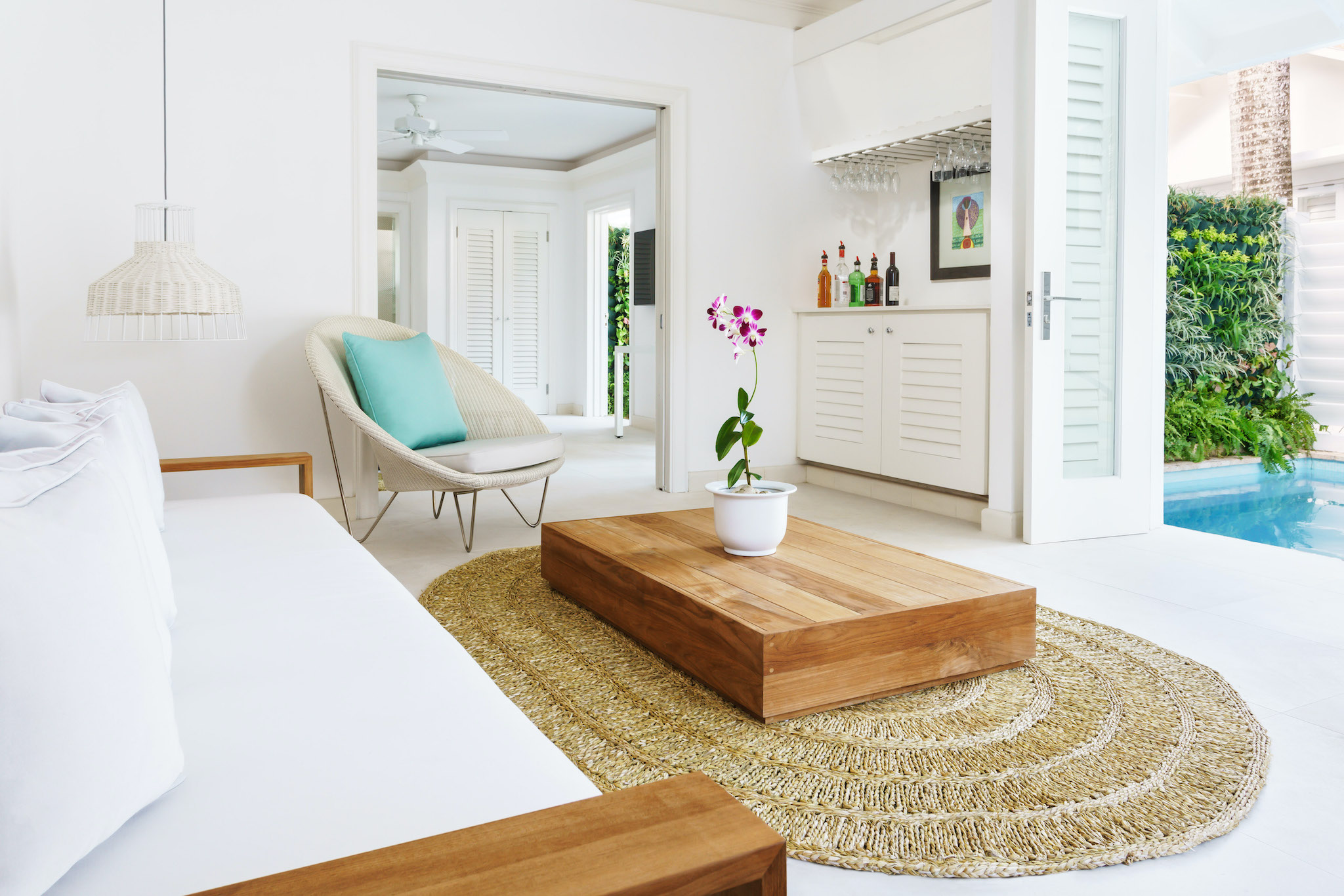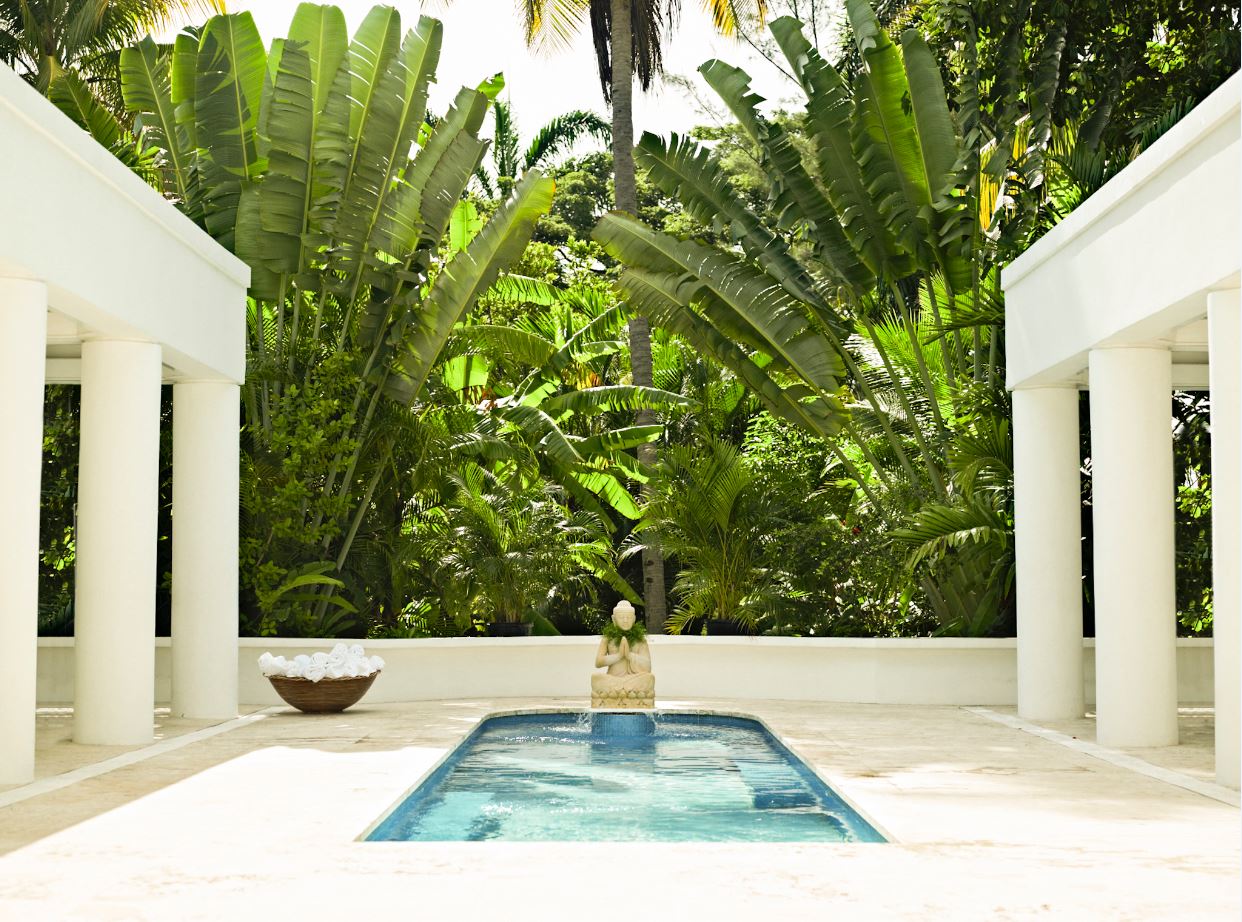 A gorgeously serene space steps away from the villas (so you can pop over in your robe), it features an outdoor buddha plunge pool and relaxation lounge. Currently, massages and salon services such as manicures and pedicures are available with facials and body scrubs using local ingredients like lemongrass and sugar cane returning when restrictions allow.
Celebrated as the birthplace of reggae, highly regarded for its flavorful cuisine and world-class rum, Jamaica is a destination that offers many cultural experiences that are well-worth leaving the resort to soak up. Anyone comfortable driving on the left can rent a car to get around the island, although most visitors opt to jump on a tour or hire a driver for the day with a reputable firm such as Paradise Travels.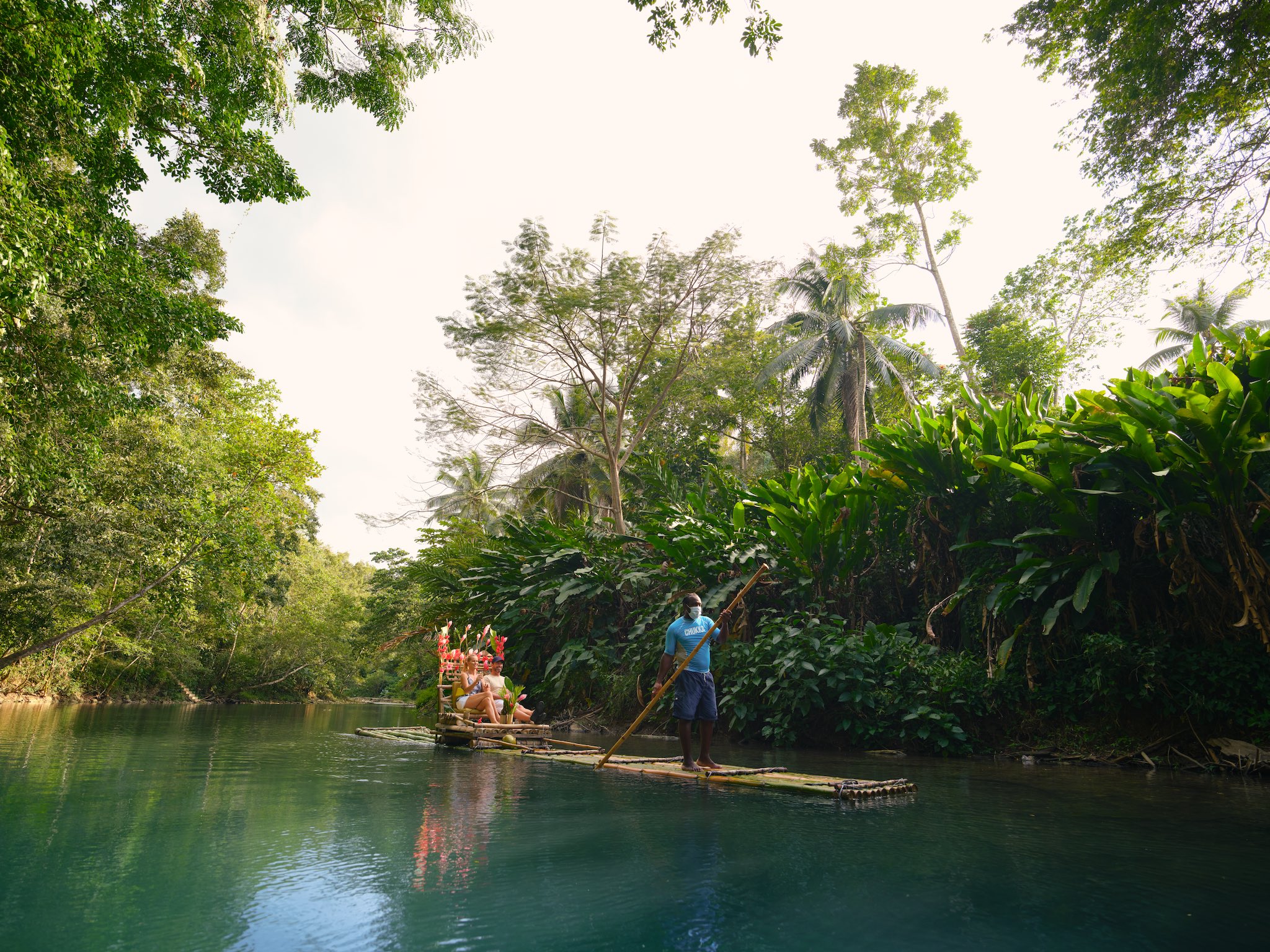 A pleasant way to ease into things on the first morning is by taking a reggae rafting trip with Chukka Caribbean at Lethe Village, a former banana plantation in the hills of Hanover near Montego Bay. Sip Prosecco while being gently guided along the Great River on a traditional bamboo raft before swinging back into Trelawney Parish for an under-the-radar rum-tasting experience at Hampden Estate.
Located in the Queen of Spain valley near Cockpit Country, the old-world distillery was established in 1779 by the Stirling family – Scottish transplants who built the adjacent Great House and working factory whose production process follows 18th-century pot still distillation techniques. Thanks to varied flora and fauna and limestone aquifers in the region, Hampden's product is high in ester and regarded as the "grand cru of Jamaican rum."
The majority is exported to Europe with the waitlist for barrels sometimes topping two years although Hampden has begun exploring the aging process with limited releases, including its 8-Year Overproof Rum and Trelawny Endemic Birds Series.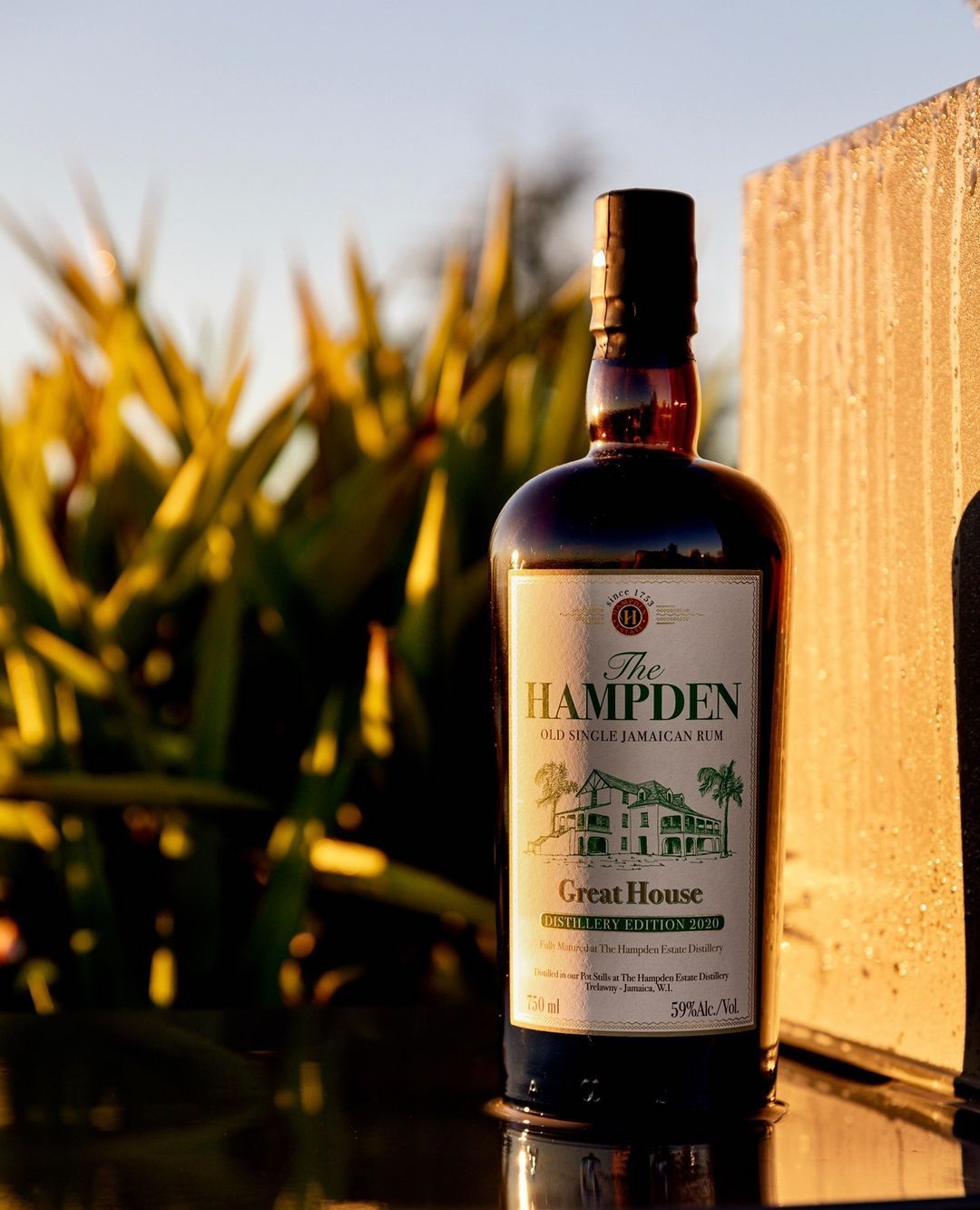 A visit to Hampden includes an informative talk about the history of Jamaica, the Stirling family and rum production before a hardhat tour of the distillery, along with a peek inside the original fermentation house. A lunch of jerk chicken and festivals (a traditional cornbread fritter) and tasting session follows. During the Christmas Rebellion in 1831, slaves and Maroons burned many of the great houses across Jamaica but Hampden's owners paid their workers and were also known to treat them well, and as a result their house was spared. Today it's used for special events by the current owners whose flock of resident peacocks, including feisty patriarch, Edward, add to the romantic ambiance of the grounds.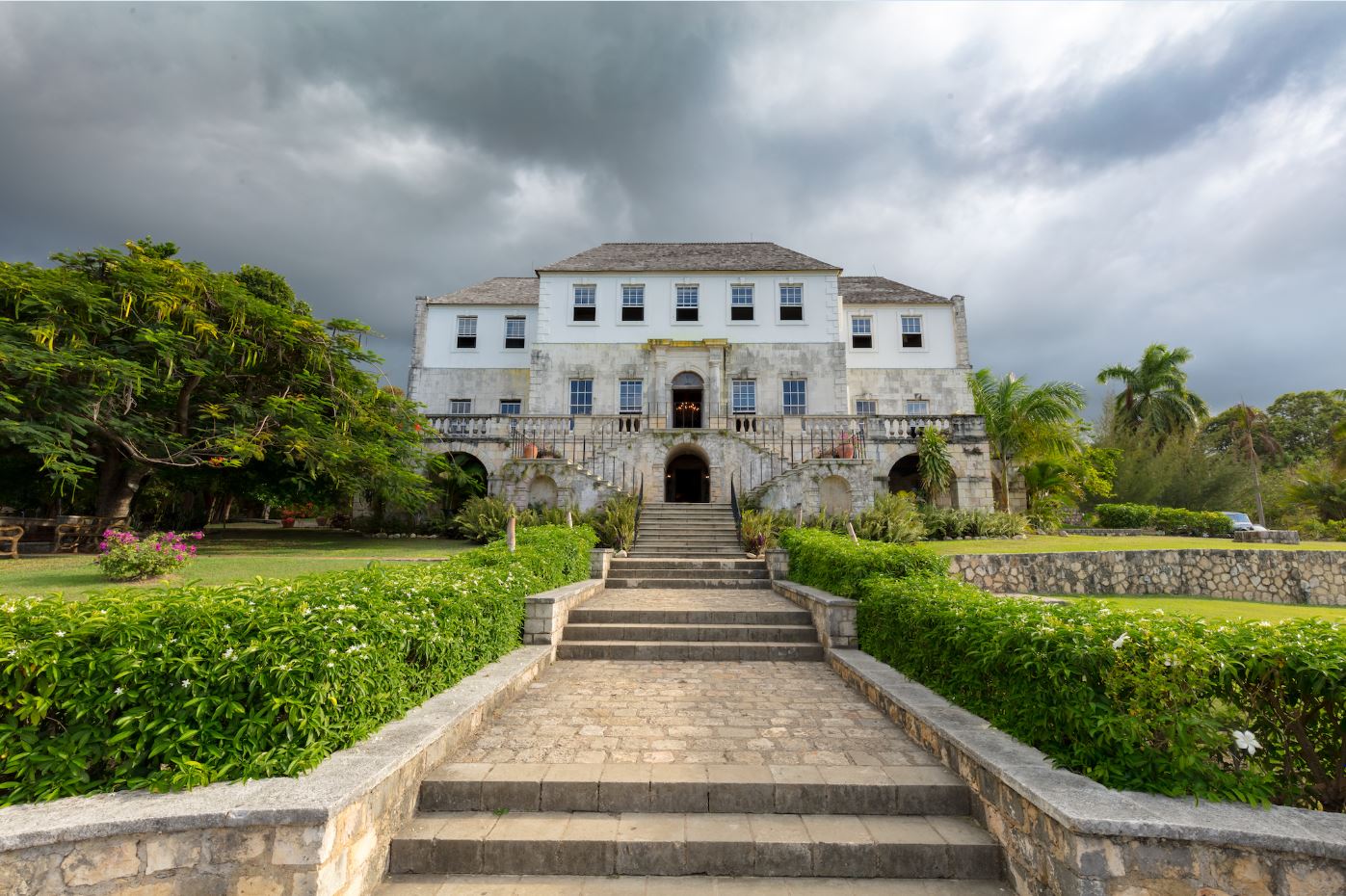 Another fine example of colonial-era architecture is the Georgian plantation house, Rose Hall Great House. Located just outside of Montego Bay it was fully restored in the 1960s, now tours and the museum offer a chance to learn about another fascinating period of Jamaican history with tales of the European bourgeoisie and wicked plantation mistress 'white witch' Annie Palmer delighting and scaring in equal measure.
Fans of Johnny Cash might prefer to visit Cinnamon Hill Great House next door, which was purchased by the country music legend in the early 1970s and owned until his passing over forty years later. Both locations are purported to be haunted. Golfers less interested in ghost hunting can tee off at one of two courses here instead, including the White Witch 18-hole championship green designed by Robert von Hagge and Rick Baril.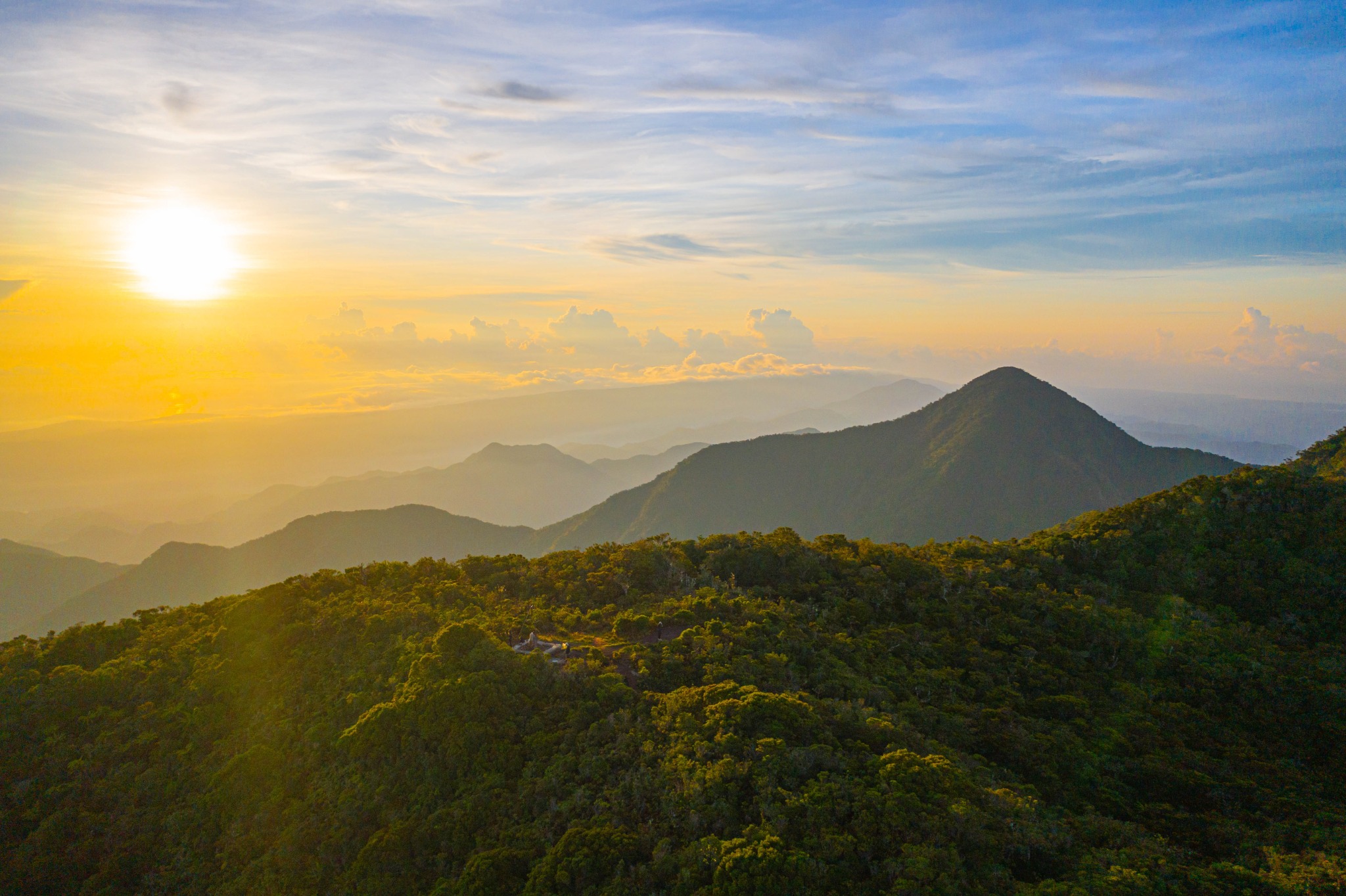 Back at Couples Tower Isle, when making plans for what to see and do next, several excursions are included with a stay there and range from a visit to nearby Dunn's River Falls, a guided shopping tour of Ocho Rios, and a catamaran cruise. With the resort being around an hour by car from Kingston, the Bob Marley Museum, National Gallery of Jamaica, and The Kingston Midtown Arts District are worth carving out some time to visit in the capital city. Notable spots for coffee tours and tastings include Craighton Estate, which is just outside the Blue Mountain State Park and about a two-hour drive from Ocho Rios.
For many, discovering local food is a significant part of any travel experience and when it comes to Jamaican cuisine there are plenty of standout spots to sample classics like jerk chicken, patties and Rastafarian dish, Ital stew. Destroyed by a fire in late 2019, Piggy's in Port Antonio is famous for jerk and was frequented by cast and crew members from the latest Bond movie, "No Time To Die", including Daniel Craig who also launched a fundraiser to help rebuild the beloved shack.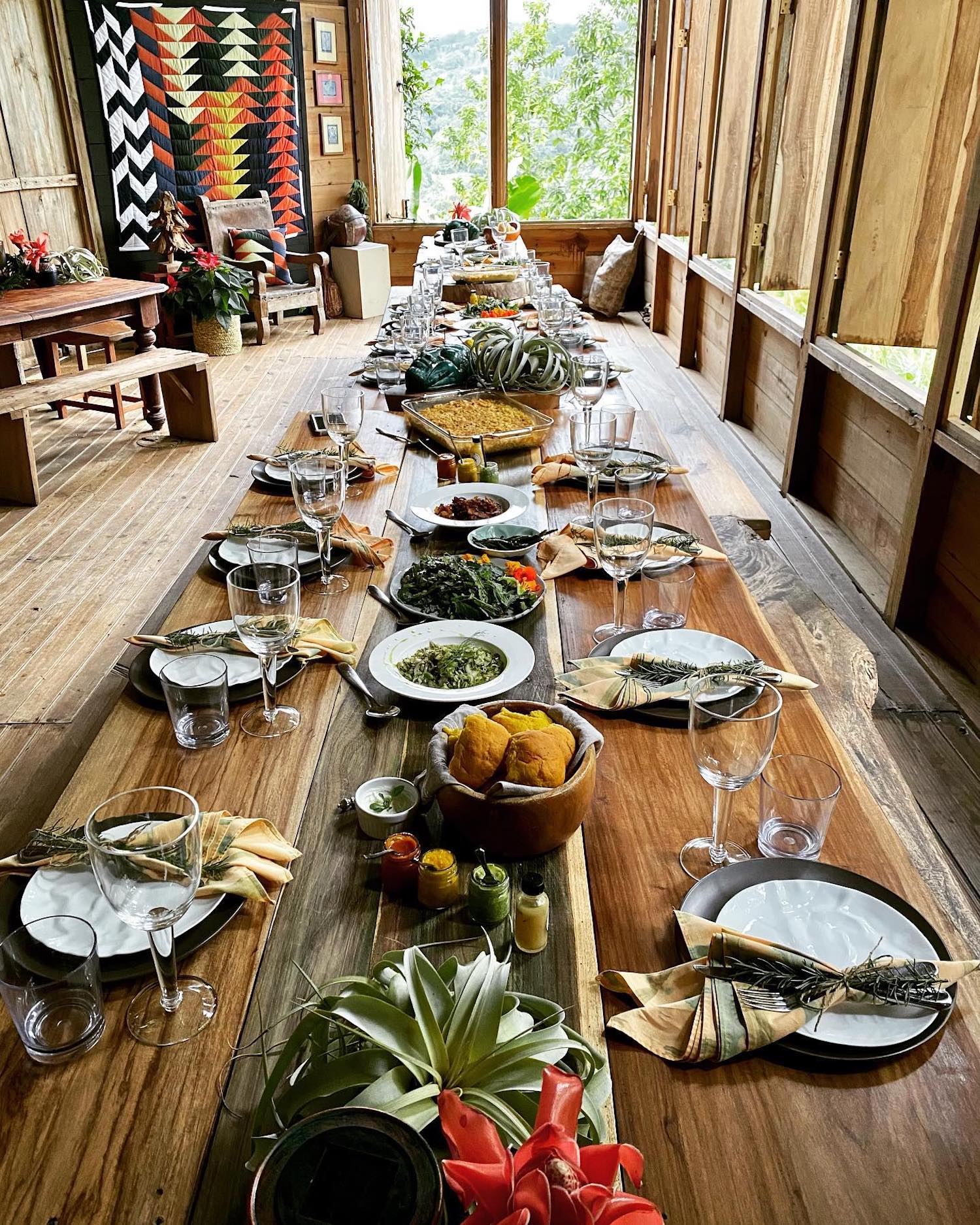 For authentic homestyle dishes in the heart of Ocho Rios Miss T's Kitchen is a must-visit. For a very special hyper-local experience, book ahead for a seat at one of Christopher and Lisa Binns' seven-course lunches on their 15-acre ZionItes farm in the hills of St. Ann. And, when visiting the Blue Mountains, be sure to make reservations at EITS Café, whose dishes are all made using produce grown from an onsite garden.
Back at Couples Tower Isle, get gussied up for a fine dining experience at the resort's glamorous Eight Rivers (dress code: elegant) or a romantic last night waterfront dinner at Asian-fusion restaurant, Bayside.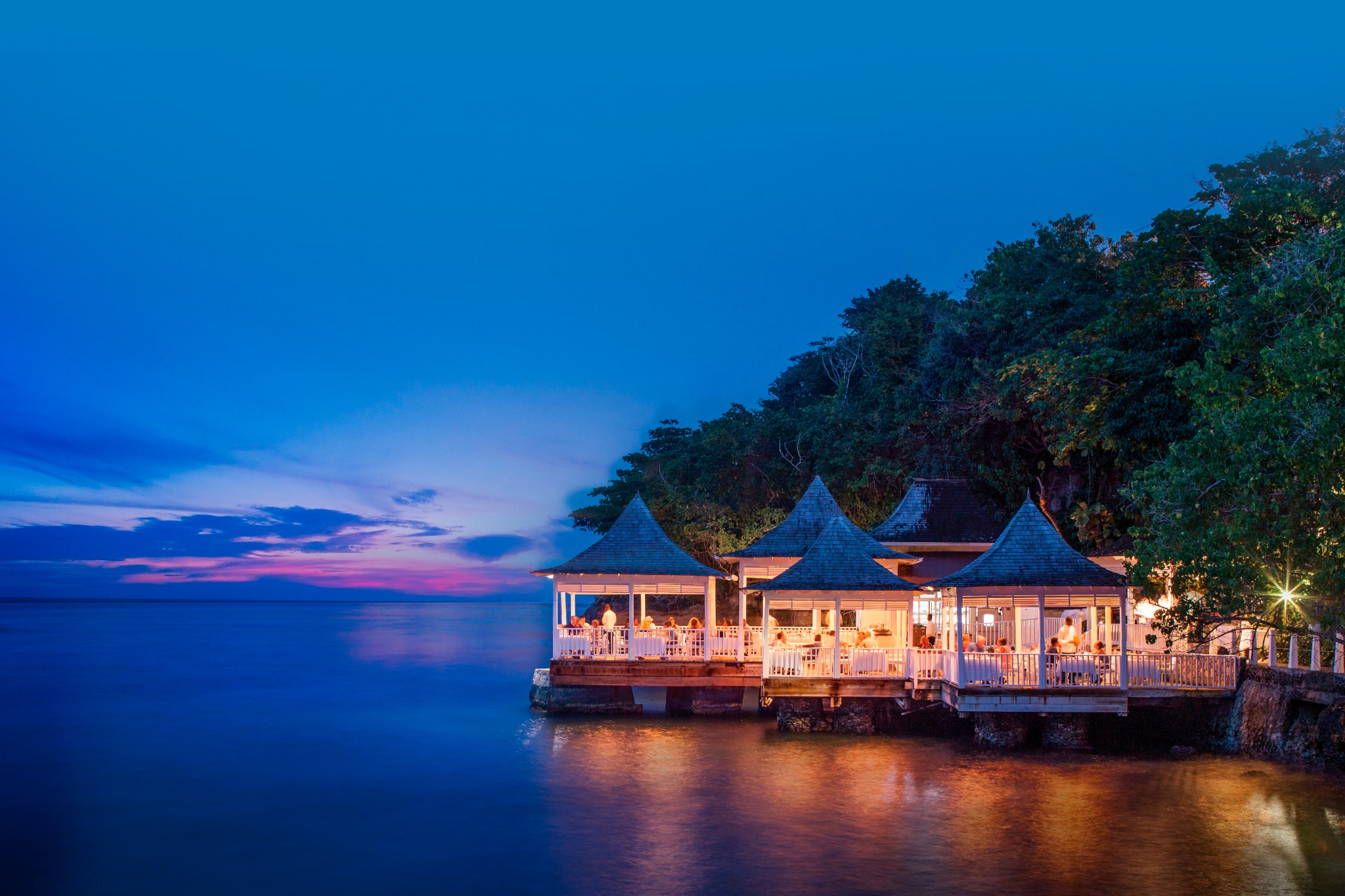 With such a pretty and relaxing setting, spending at least one full day at Couples Tower Isle and making the most of those unlimited spa services is recommended. Hit the tennis courts, explore underwater on a scuba dive, sail a Hobie Cat, or simply while away an afternoon at the beach or one of the swimming pools.
While some might be hesitant about the requirements currently required to plan and take overseas trips, the Jamaican Tourism Board has made applying for an online travel authorization easy and stress-free to navigate. Negative antigen tests are required within three days of departure and almost all hotels in Jamaica, including Couples Tower Isle who also covers the cost, now offer approved testing services on property for guests with same-day results before they head back home.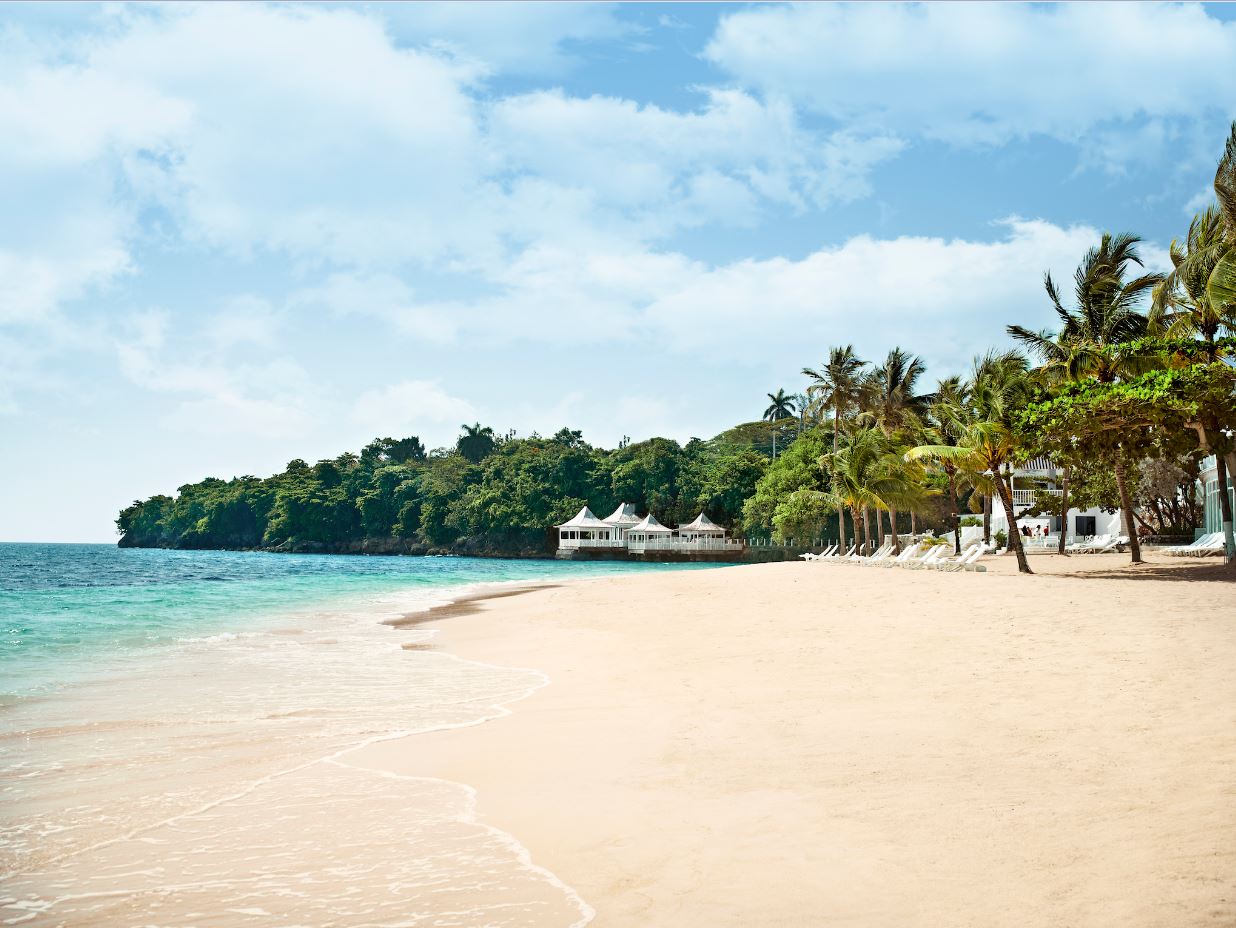 Most international arrivals land at Montego Bay; from there, chauffeured transfers can take anywhere from one to three hours or more by road, depending on traffic and where hotels and villas are located. A faster option is by helicopter with Kingston-based charter company Captain's Aviation, whose fleet serves regions such as St. Elizabeth and Port Antonio, along with select resorts including GoldenEye. Private jets can land at all three airports, including the Ian Fleming International in Ocho Rios but due to increased demand, spaces can be limited; towards the end of 2019, every slot across the island was booked solid.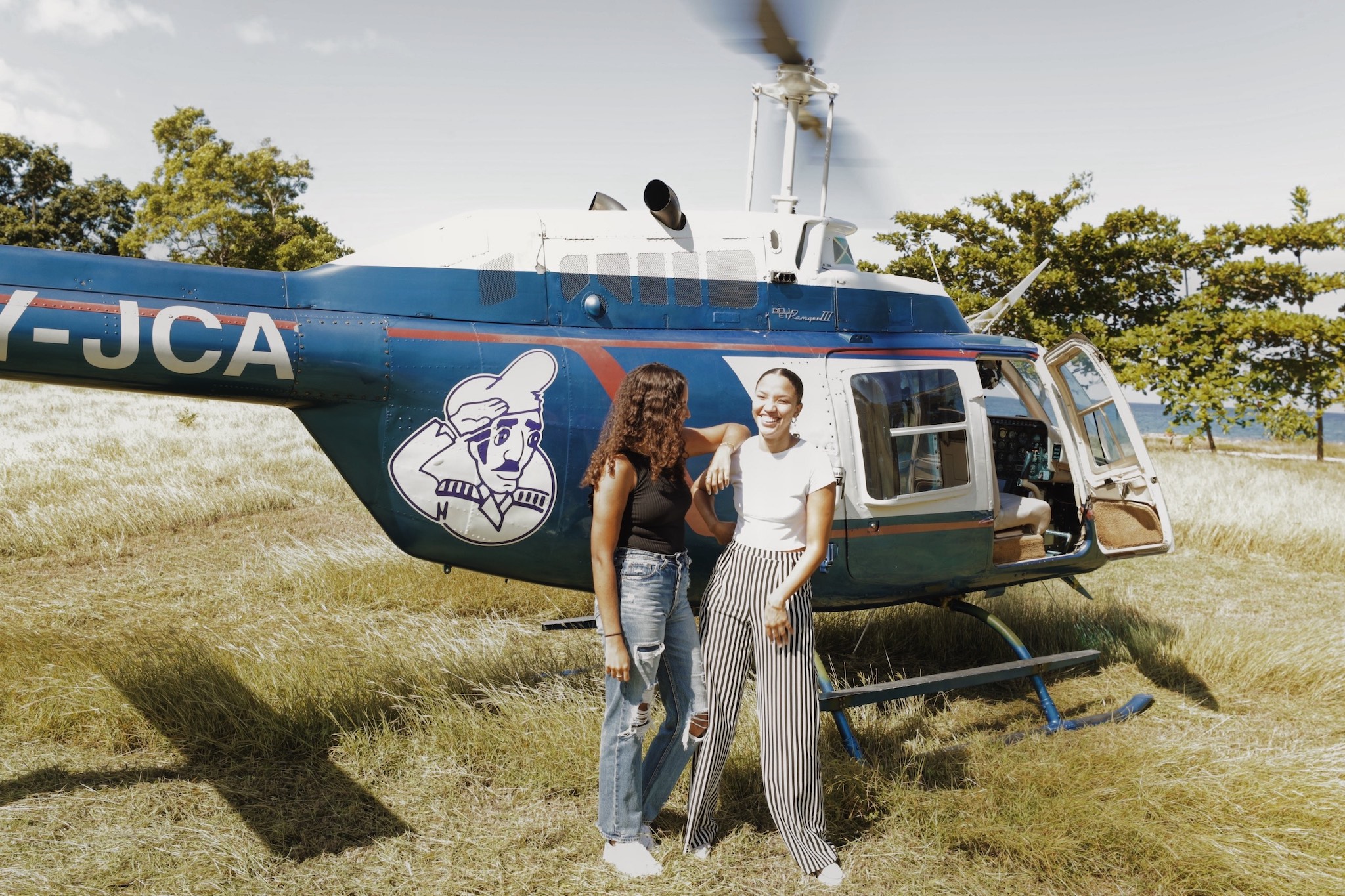 When flying commercial, arrange the 'Meet & Greet' arrival and departure service with VIP Attractions. Available at Montego Bay and Kingston airports, it includes fast track through security and club lounge access where comforts range from an in-house spa and high-speed Wi-Fi to a complimentary bar with light snacks and drinks. Just enough time to catch up on emails and enjoy one last rum punch before takeoff.
Check out visitjamaica.com for the latest travel advice and information.
Image credits courtesy of Couples Resorts, Jamaica Tourism Board, Justin Alford/Hampden Estate, Stush in the Bush and Captain's Aviation.