Caicos Dream Tours
Should you ever find yourself in picturesque Turks & Caicos, there's truly no better way to experience the crystal clear waters and unique underwater wonders than a full-day or half-day excursion with Caicos Dream Tours. A quick glimpse at the Turks & Caicos Tourism site gave me an intriguing overview of what I could expect during my first visit to this popular Caribbean destination, and I was eager to jump headfirst into this idyllic island lifestyle.
We booked a private charter for the group with Caicos Dream Tours, and met the friendly captain and his first mate bright and early one morning just outside of the stunning Seven Stars Resort and Spa, where we were staying. Seven Stars proved to be an impeccable home base with its dreamy beach views, posh private cabana experience, and inviting swimming pools — all perfectly situated in this tiny pocket of paradise. We bid adieu to our beloved five-star hotel for a few short hours to set sail for a day of fun and adventure.
Of course, it goes without saying that chartering a private boat for the day is the ideal way to enjoy paradise because you can customize the experience to the needs and wishes of your group. Drinks were flowing, music was pumping, and the wind was blowing through our hair from the moment we stepped foot on the boat. There was no shortage of fun-filled memories and epic photos of the sparkling blue water and we definitely caught a rare glimpse at the lively inhabitants of the glittering blue ocean, too. We spotted dolphins, stingrays, and baby sharks before we docked the boat to snorkel and swim among the aquatic life for a few leisurely hours.
Caicos Dream Tours specializes in snorkeling, so if you want to see the stunning sea creatures and colorful coral down below, they're the perfect partners to guide you. They provide all of the equipment, knowledge, and encouragement if you need it (I did!) to make the most of your time out on the water. The boat is also equipped with an adult-sized slide and small diving platform for those who want to make a splash — and capture Instagram-worthy content, while doing so. Perhaps the highlight of the entire voyage is the earnest, upbeat energy and merriment of the crew, whose sole mission is to provide an incredible time for everyone on board.
Our day continued with an excursion out to Little Water Cay, better known as Iguana Island, where the water is possibly even prettier than what we cherished at Grace Bay Beach. A gaggle of large lizards calmly came out to greet us, and even politely stepped aside as we respectfully explored their home turf. This tiny island is a sensitive nature reserve, and definitely not to be missed if you're visiting Turks. We capped off the day with a delicious beachside picnic and an epic photoshoot on the very sand that Victoria's Secret models recently posed on, and toasted our time in Turks.
Caicos Dream Tours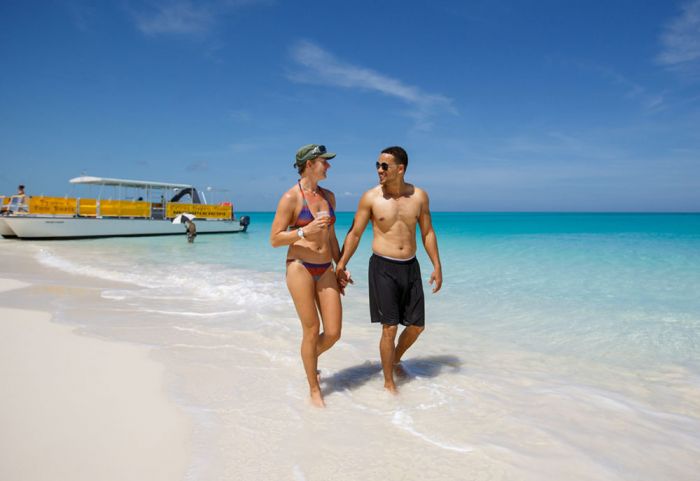 Caicos Dream Tours