By The Wknder Jun. 12th, 2018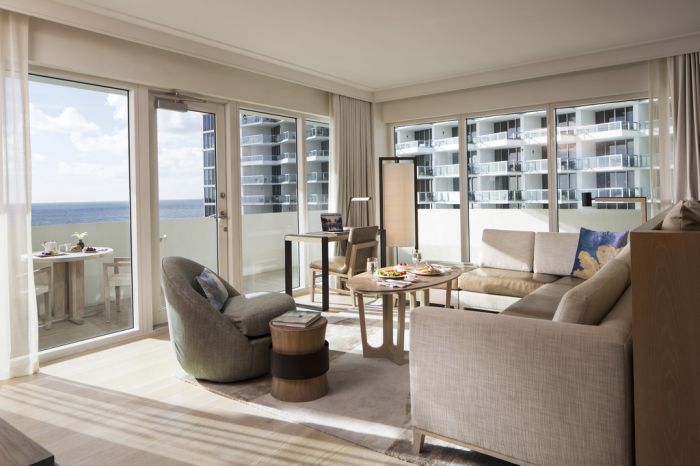 Image courtesy of Nobu Hotel Miami Beach
With all things health and wellness trending for many travelers, it is no surprise that some of the world's leading hotels have responded to this trend accordingly. While many reputable hotels provide the obligatory spa and gym combination, an elite group of hotels and resorts have taken a far more holistic approach to wellness-based hospitality. They have done so by centering on concepts of mental and physical health within the ethos of their brand identity. One new property sets the standard for integrated wellness is Nobu Hotel Miami Beach.
The recently opened, 206 room, beachfront resort is the brainchild of legendary Japanese chef and visionary, Nobu Matsuhisa. With an eye for design that is as refined as his palate, Matsuhisa - in partnership with Academy Award-winning actor Robert DeNiro - has expanded the Nobu mark of excellence beyond his famous eponymously named restaurants and into the world of hospitality. Nobu Hotels make up a collection of sleek, design-focused properties around the world that are anchored of course, by Nobu restaurants, but driven by Matsuhisa's passion for wellness and zen focused design traditions. Holistic wellness is key to the Nobu Hotel Miami Beach experience. By indulging the mind and empowering guests to connect with their innermost selves, every facet of the hotel inspires renewal.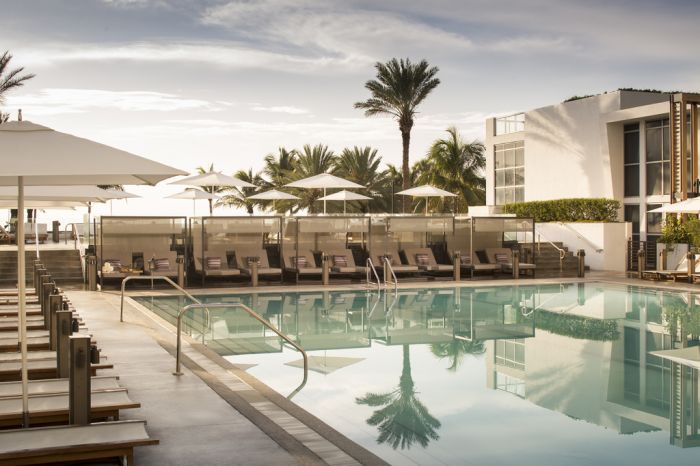 Image courtesy of Nobu Hotel Miami Beach
Much like their first hotel, which opened in 2013 at Caesars Palace in Las Vegas, Nobu Hotel Miami Beach follows Nobu's signature hotel-within-a-hotel concept, this collaborative approach to hospitality development has allowed Matsuhisa to perfect the marks of distinction that are singularly Nobu. In Miami, the brand's third outpost, the hotel finds itself at home inside of the famed art deco landmark resort, Eden Roc. Occupying the original Eden Roc tower designed by Morris Lapidus in 1956, the Nobu hotel perfectly pairs Eden Roc's iconic Art Deco revival architecture with Matsuhisa's refreshingly feel-good, yet contemporary and minimalist aesthetic. Throughout the property, hotel architect David Rockwell, of the Rockwell Group, has expertly incorporated tenets of Japanese architecture and the traditions of zen design.
The entire hotel, including its spacious 203 rooms, three penthouse suites, zen suites, guest-only rooftop curvilinear pool, an art collection curated by Peter Brant of The Brant Foundation, all draw inspiration from textures and forms found in nature. Subtle details point to Japanese-inspired aesthetics. Subtle tones and natural hues are brought to life with luxurious touches such as silk-screened cherry blossom accent walls, natural wood platform-style beds flanked with translucent paper lanterns. Natural materials such as stone, wood, and woven grass wallpaper complete the overall design, and details such as yoga mats in every suite, create a sense of balance which is central to the ethos of Nobu hotels. The hotel's spectacular oceanfront location serves as the main the inspiration behind Rockwell's vision of a contemporary Japanese beach house; at peace with its surroundings, yet worlds away from them. Guests of Nobu Hotel Miami Beach experience a true sense of serenity and calm in a city known for anything but.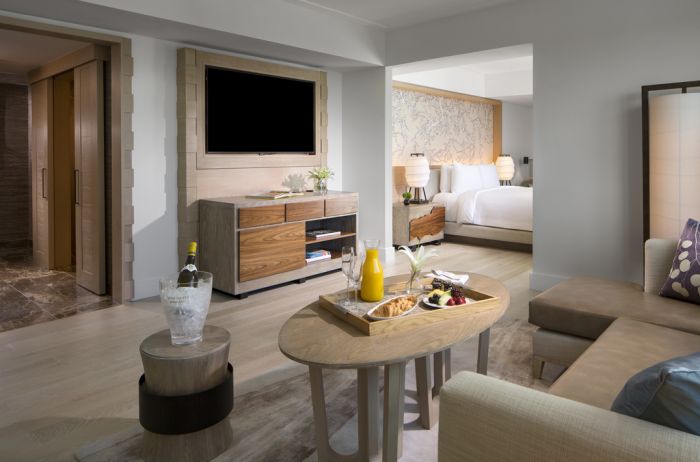 Image courtesy of Nobu Hotel Miami Beach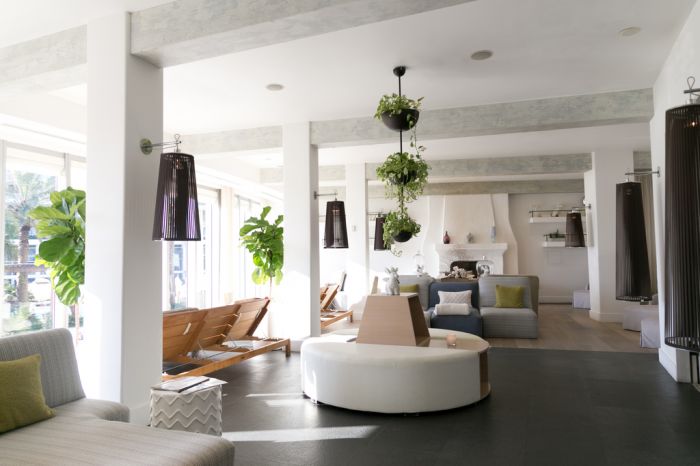 Image courtesy of Nobu Hotel Miami Beach
When designing each of the rooms, Matsuhisa worked alongside Rockwell to ensure that the spaces would give guests an immediate sense of place and peace. This feeling extends beyond design and into the daily activities of your stay. Guests of Nobu Hotel have exclusive access to special perks, including room service by Nobu, access to the private adults-only Nobu pool - in addition to the property's three other pools that are shared with Eden Roc Hotel, Natura Bissé bath products specially formulated for Nobu Hotel and special stretching rituals along with ten extra minutes are automatically added to spa services at Esencia Wellness, the hotel's on-site spa. Nobu Hotel offers other amenities such as rooftop yoga instruction, ocean view fitness classes, steam rooms, plunge pools, and a state-of-the-art (cross fitter friendly) gym overlooking the pool and the turquoise waters of the Atlantic ocean just beyond. It is the hotel's relaxation room however that truly steals the show. Post-workout or spa session guests can head over to a spacious and luxurious, plant-filled, private room where the only task that awaits is to do absolutely nothing, except lounge by the whitewashed fireplace with a magazine and a cup of herbal tea or infused water. All while taking in views of the pool area with glimpses of the ocean.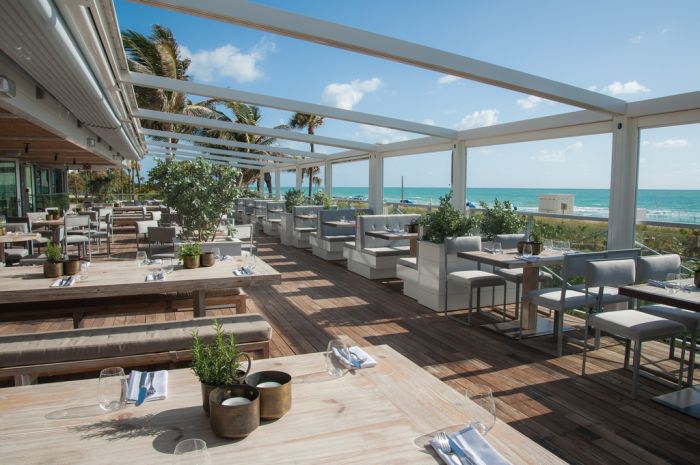 Image courtesy of Nobu Hotel Miami Beach
As the name might imply, the real highlight of any stay here is, of course, the many food options right at your doorstep. While dinner at Nobu is an evening must, no day of health and wellness would be complete without an equally nourishing lunch to match. Visitors to Nobu Hotel Miami Beach should look no further than the new Malibu Farm Miami Beach. An east coast expansion of the wildly popular original Malibu location, the celebrity-studded organic farm-to-fork eatery by Chef Helene Henderson has just opened its doors to the public in a gleaming new space directly overlooking the Atlantic ocean. Diners can choose from a well-edited selection of healthy and organic dishes ranging from grass-fed beef sirloin, vegan coconut tofu with seasonal vegetables, pea and pesto couscous, a grilled salmon burger with olive aioli, and locally caught fish with seared radish, arugula, and salsa verde. At Malibu Farm Miami Beach, every effort is made to ensure that each dish is prepared using local ingredients wherever possible. "I have been more than impressed by the variety and quality offered up by the organic growers and farmers of South Florida," says Henderson, "and have worked with our Miami chefs to craft a menu that highlights these offerings with locally-sourced ingredients." For gluten-free guests, a wood-burning pizza oven serves up cauliflower and zucchini crust pizzas, and for the healthy traditionalist, there are classic wood-fired pizzas to choose from featuring a range of fresh and organic toppings. And because it's still a vacation we're talking about here, Malibu Farm Miami Beach features a full bar with a menu of organic and plant-based cocktails and fresh juices.
The combination of zen-focused design and wellness-related amenities is a winning combination and in Miami, there is no other place that brings the two together quite like Nobu Hotel Miami Beach.
Quentin Smith
Discovering the best of international luxury travel, wellness trends, culinary arts, and hospitality design. ...(Read More)