By Diane Sukiennik & Michael Reiss Feb. 26th, 2019
Photo by Michael Reiss
There are so many reasons to be here now at the South Beach Wine and Food Festival or plan for next year's blowout celebration of all things culinary. First, who doesn't want to be in South Beach in February. Sunshine and balmy breezes win out over snow in most folks scorecard. You are almost guaranteed perfect weather to stroll the food stalls planted in the surf and sand of this iconic international destination, that is Miami Beach, Florida. Second, if you follow the food scene, you will be seen with all your "fav" celebrity chefs. You'll be able to savor, sip and selfie with the Food Network stars who have helped you up your culinary game.
But where to begin, with 350 chefs and over 100 events packed into a long weekend, the choices are endless. You can peruse the program and decide between lunches, dinners and seminars galore, or you can choose the best of the festival at their signature tasting events to sample the widest variety of food and beverage offered in one location.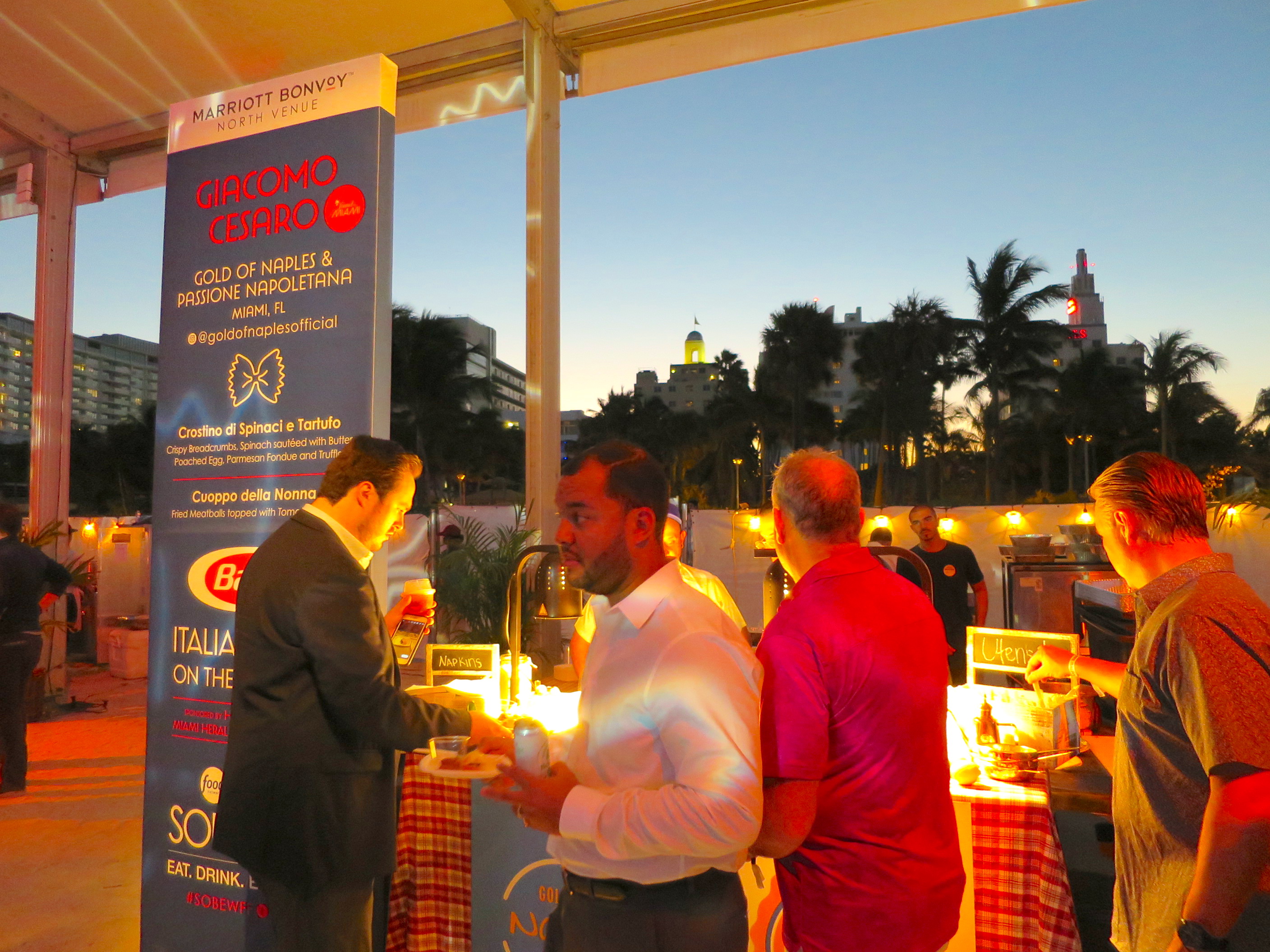 Photo by Michael Reiss
We decided to go this route with our first event on Thursday evening being "Barilla's Italian Bites on the Beach" hosted by Giada De Laurentis.
With more than 30 of the nation's chefs each offering their bite of la bella vita--accompanied by specially selected beverages, we came hungry with high expectations, and we were not disappointed.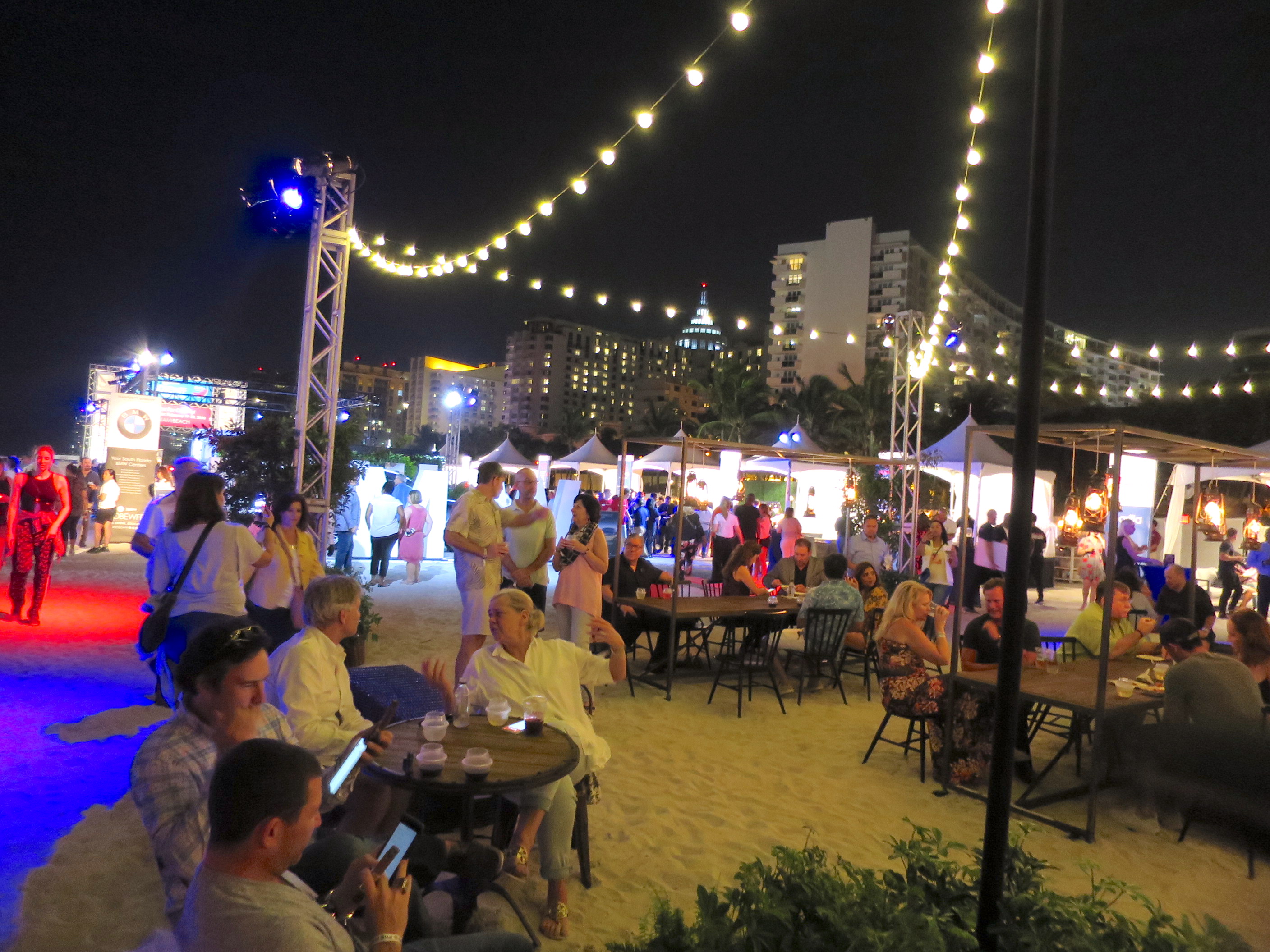 Photo by Michael Reiss
The beachside tent was decked out to impress with twinkling lights, comfortable seating areas and groovy DJ selections.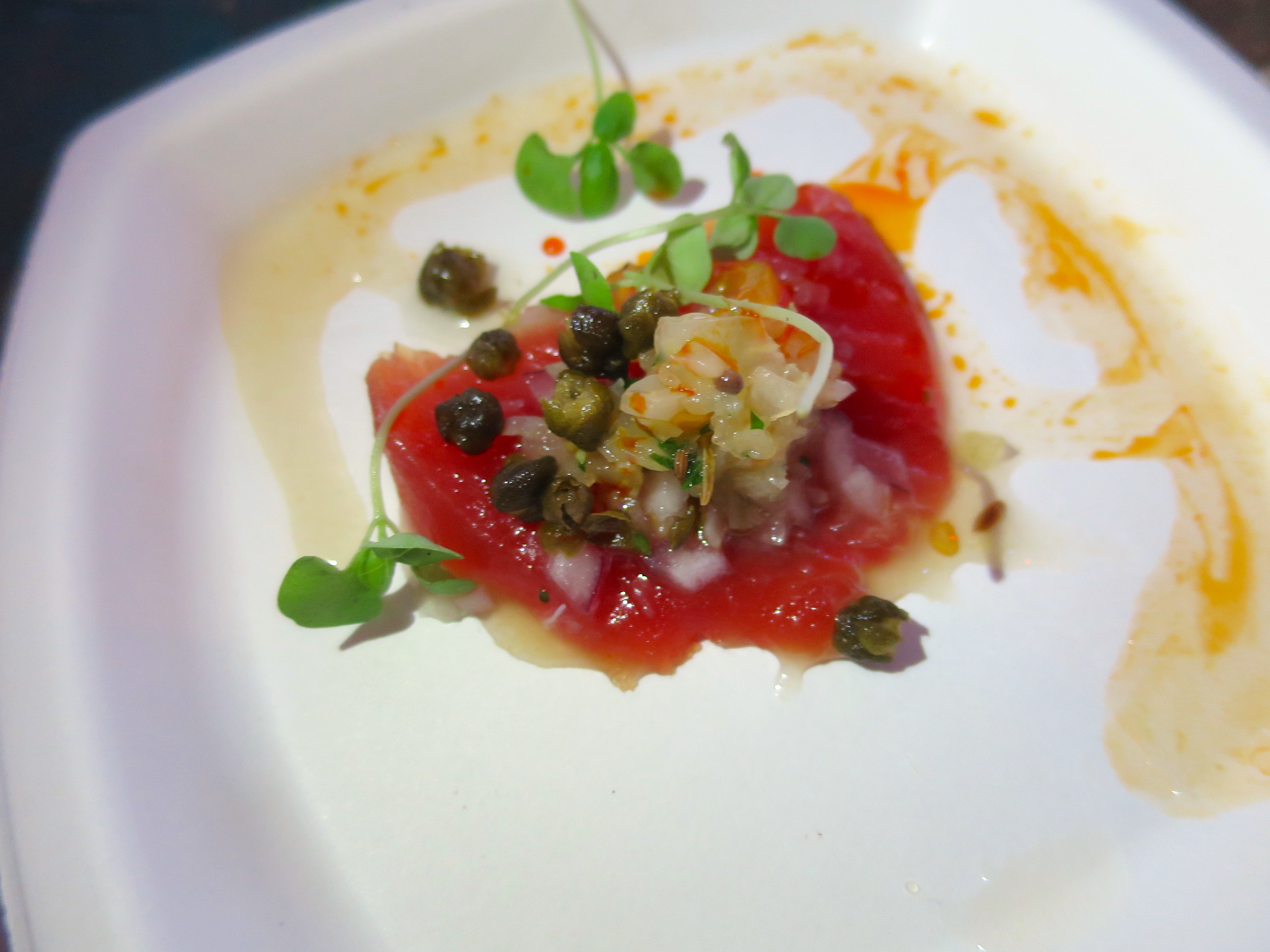 Photo by Michael Reiss
Among the many delectable bites, the 'Tuna Crudo with Heirloom Tomato Consommé, Chili Oil, Fennel and Basil' by Michael Chavez of Terra Mare Restaurant in Ft. Lauderdale was memorable.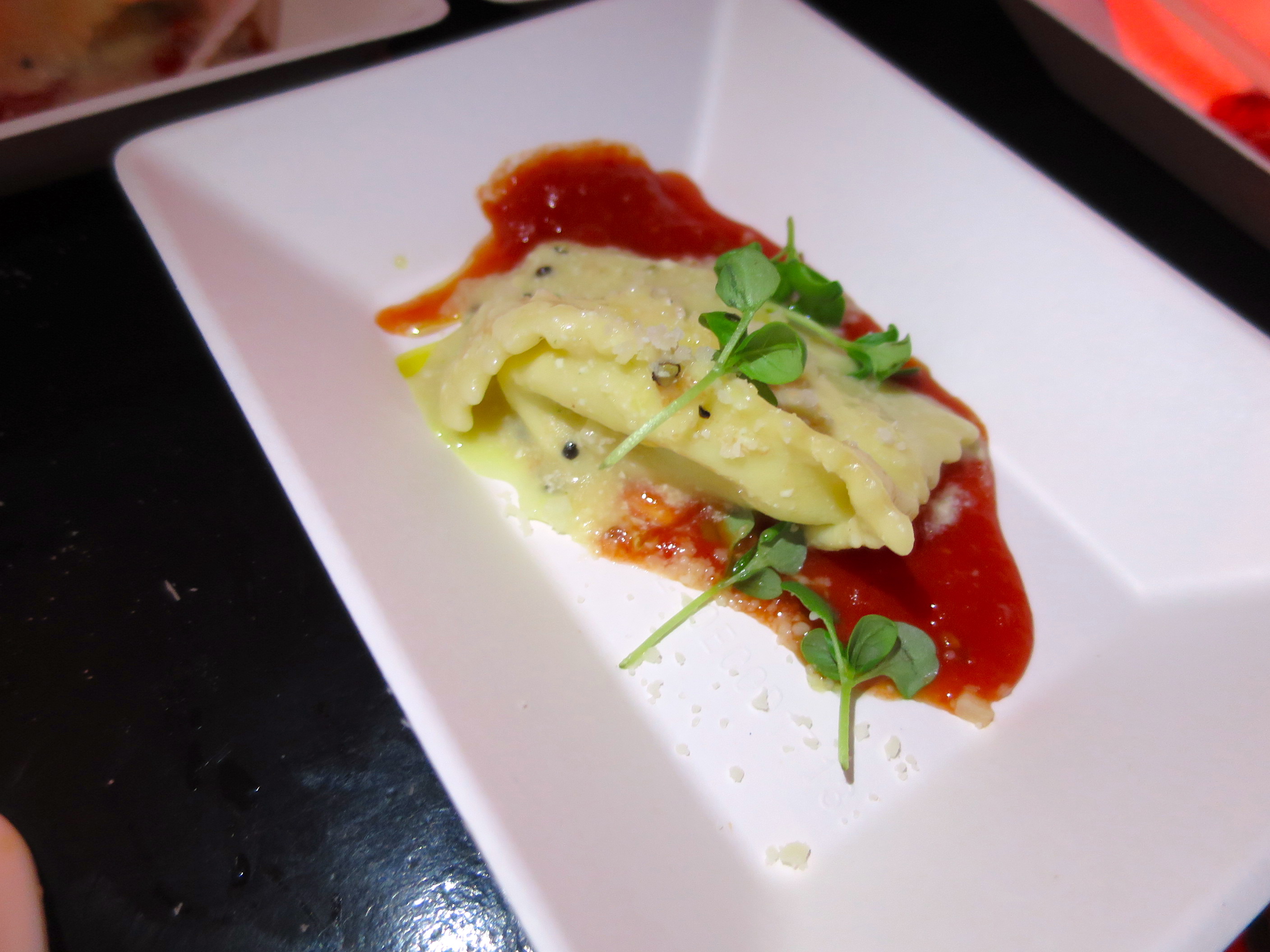 Photo by Michael Reiss
Also, notable was the 'House made Whipped Ricotta Agnolotti' by Chef Laurent Tourondel of LT Steak & Seafood at The Betsy Hotel in Miami Beach.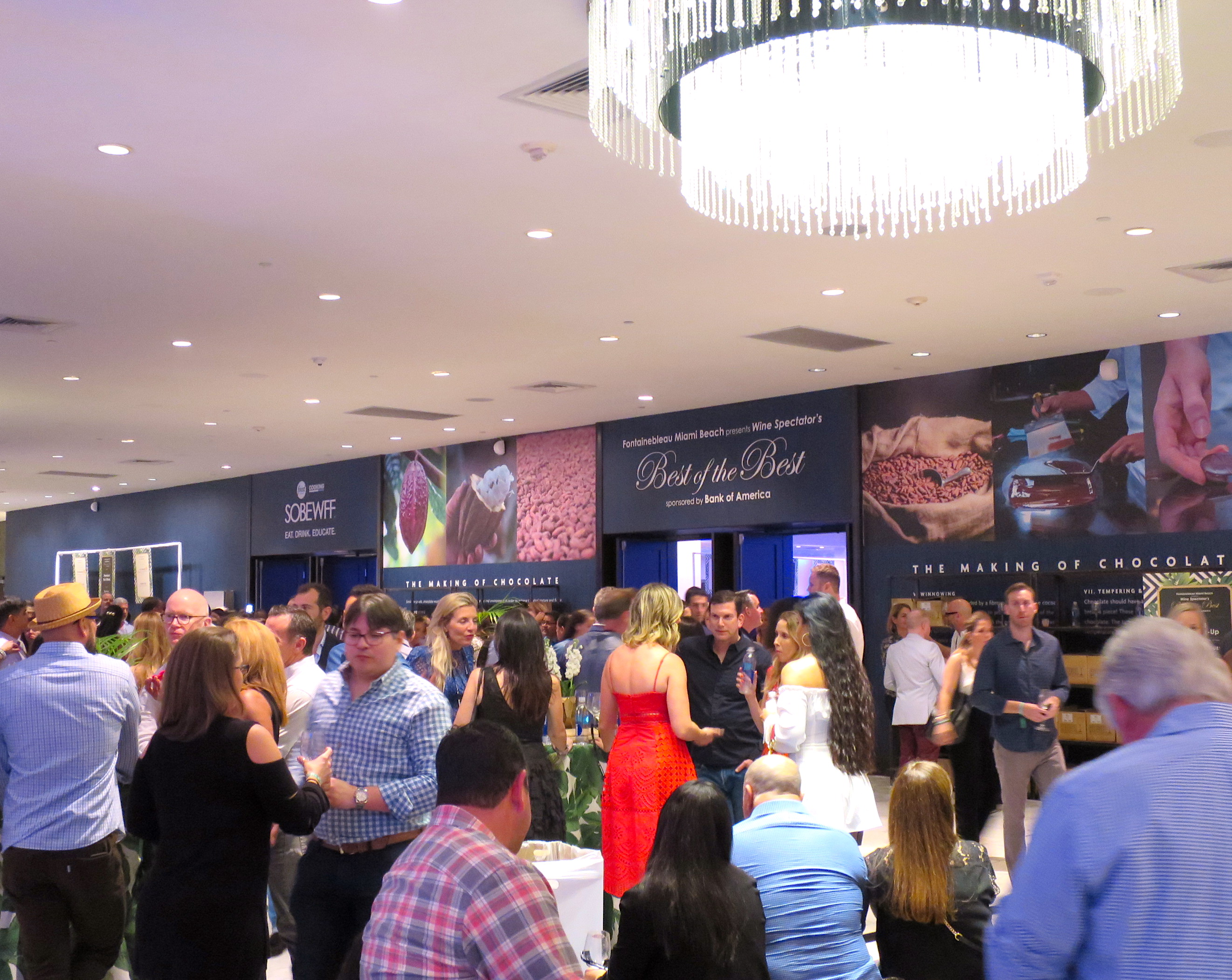 Photo by Michael Reiss
Friday evening at the Fontainebleau Miami Beach was the venue for the 'Wine Spectator's Best of the Best' event. To live up to this lofty promise, 60 of the nation's top chefs offered gourmet bites to pair with over 100 wines rated 90 points or higher by Wine Spectator. The event exuded luxury. Think lobster, caviar, foie gras, and prime beef aplenty not to mention the top names in Champagne and wine.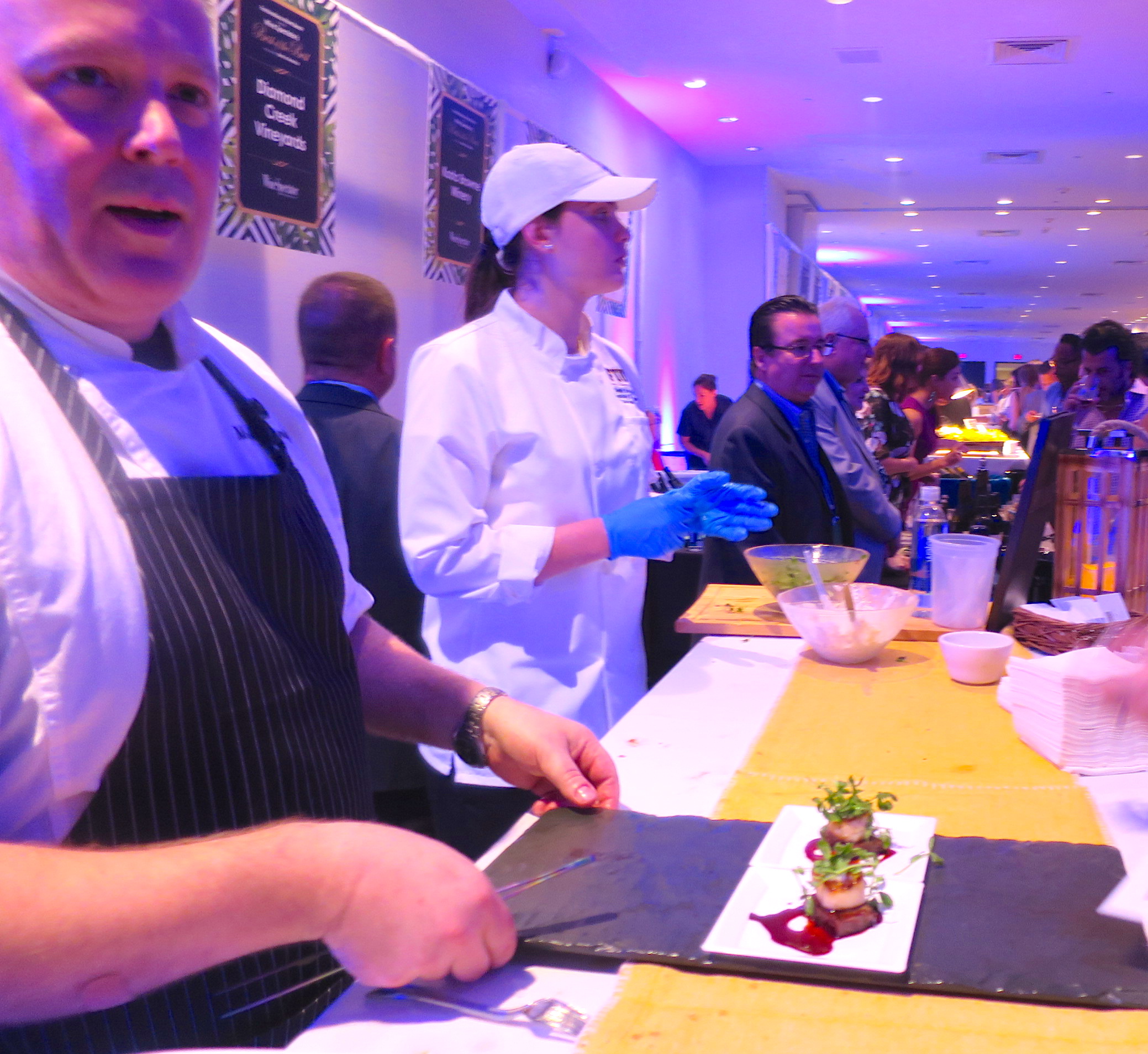 Photo by Michael Reiss
Chef Mark Fleming from The Forge in Miami Beach impressed the crowd with his "Seared Scallop and Braised Short Rib, Red Wine Sauce and Sauce Gribiche."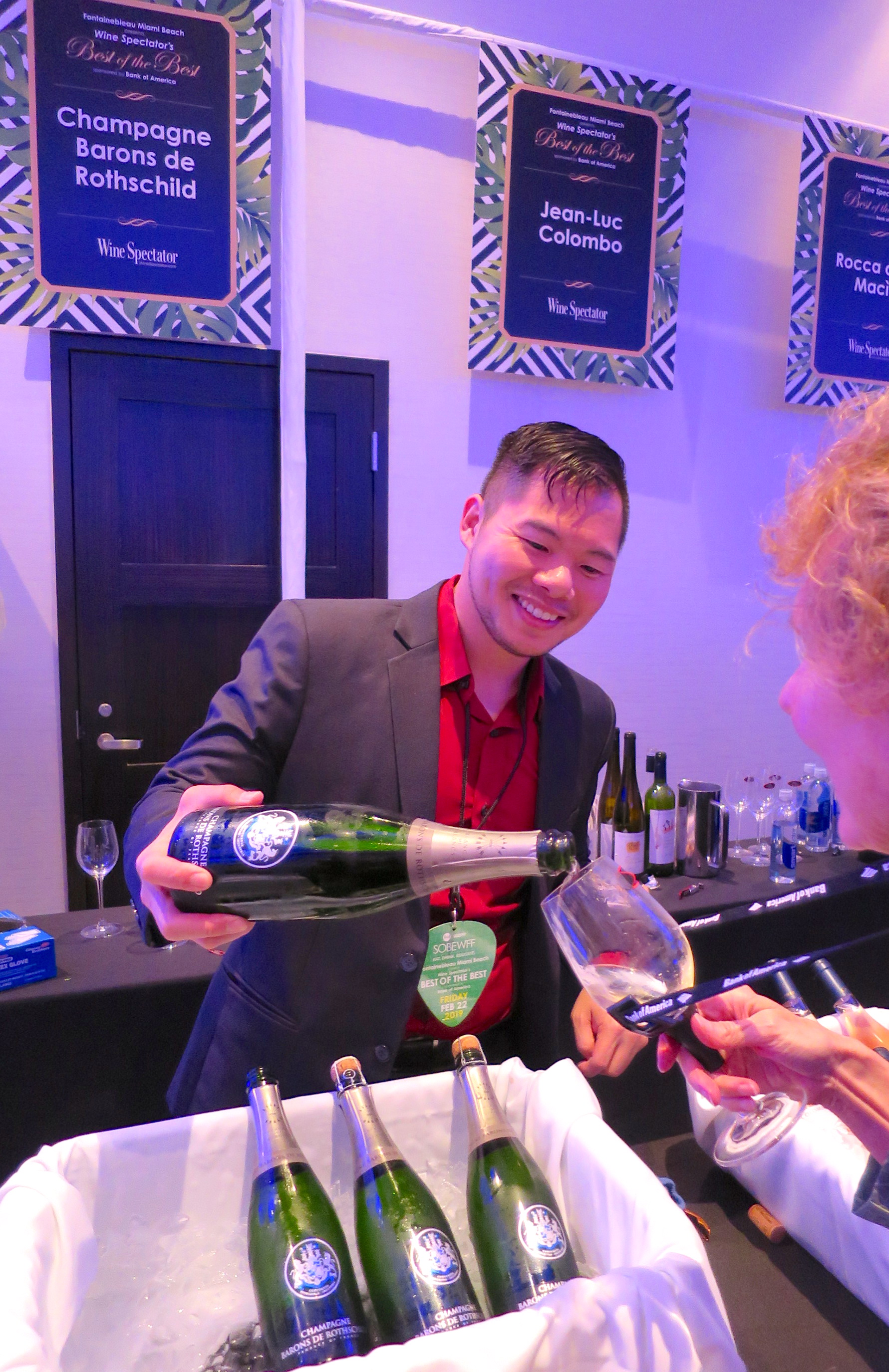 Photo by Michael Reiss
Champagne Barons de Rothschild was a perfect pairing. In addition, the opportunity to chat with award-winning chefs, winery owners and winemakers enhanced the tasting experience. The setting was opulent, the live music was vibrant and set the tone for a grand affair.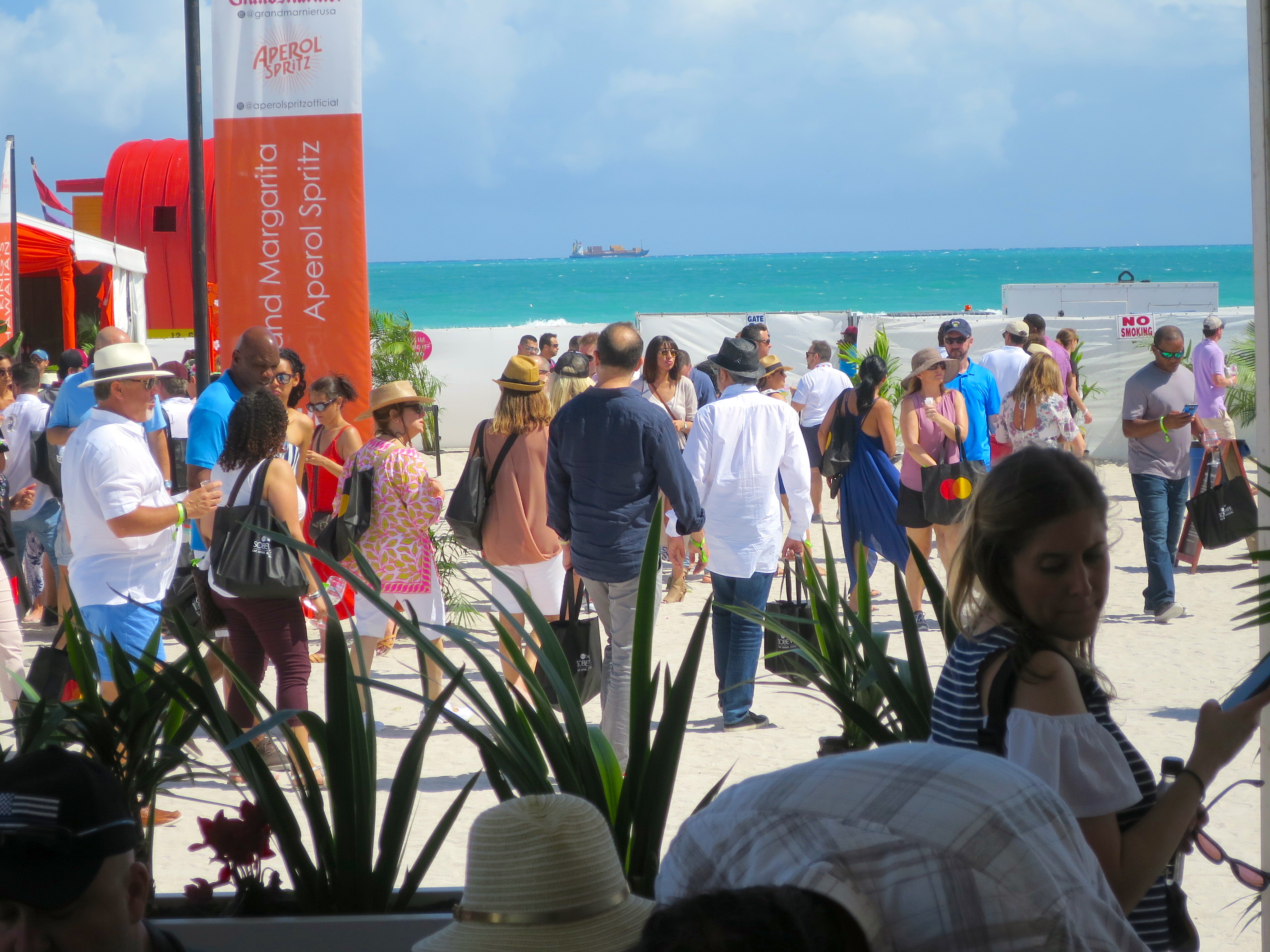 Photo by Michael Reiss
Noon on Saturday heralded the opening of Goya Foods Grand Tasting Village. Back on the beach, sand in your feet, sampling more than 50 restaurants and all manor of beverages is one great way to start a weekend. Between sips and nibbles, catch the culinary demos up close and personal as all-star Food Network and Cooking Channel chefs and authors dished out some tasty tips. Save some gourmet gusto to repeat this epicurean exercise again on Sunday with a new round of talent ready to tease your taste buds.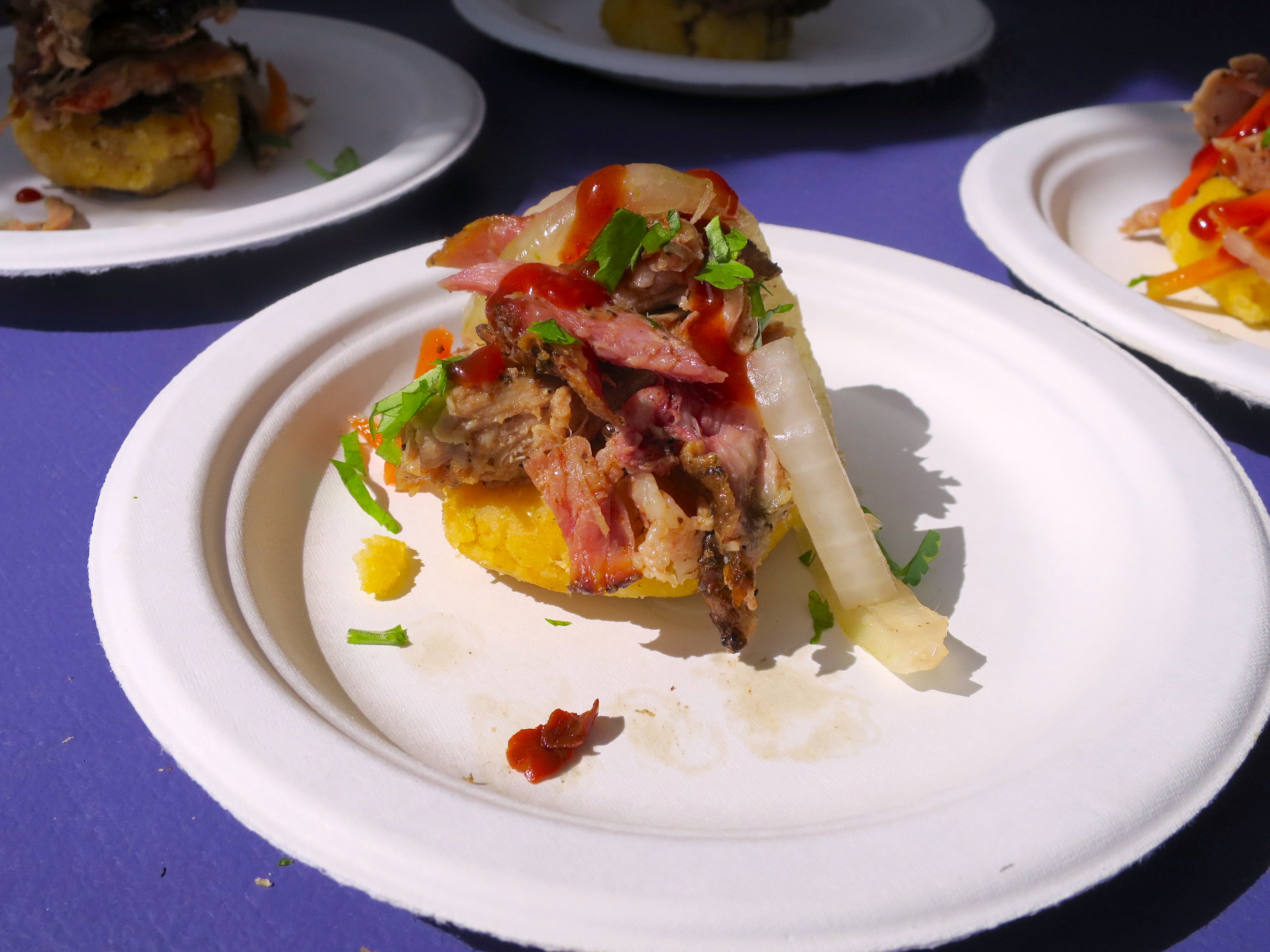 Photo by Michael Reiss
One of Saturday's favorites were "Low and Slow Pork Shoulder Over Arepa with Crispy Pickled Vegetables" from Hickory Sticks BBQ & Catering in Ft. Lauderdale.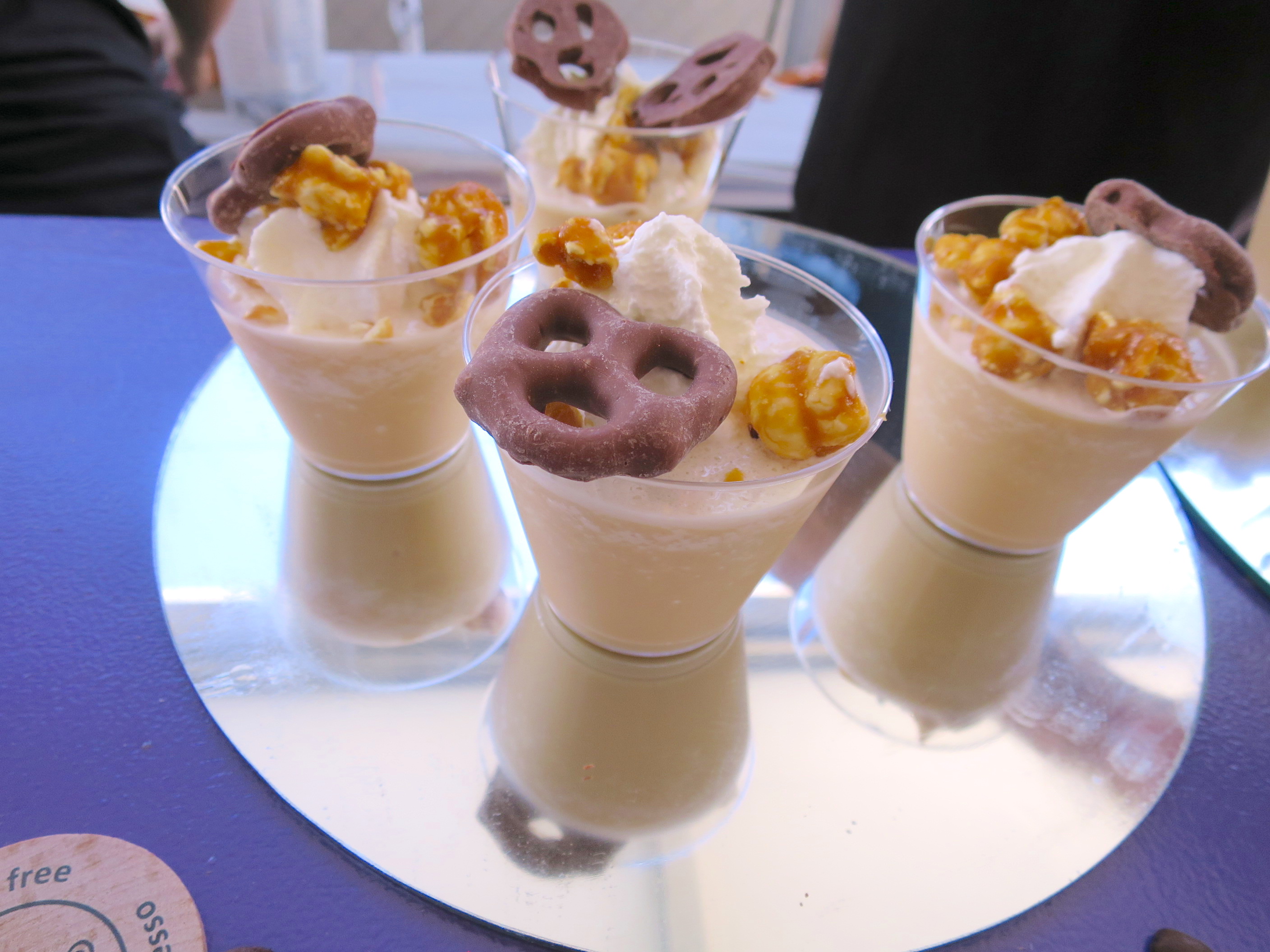 Photo by Michael Reiss
Another favorite was the delectable "Frappe Caramel" from Pascal Pinault of Craft Café in Miami Beach.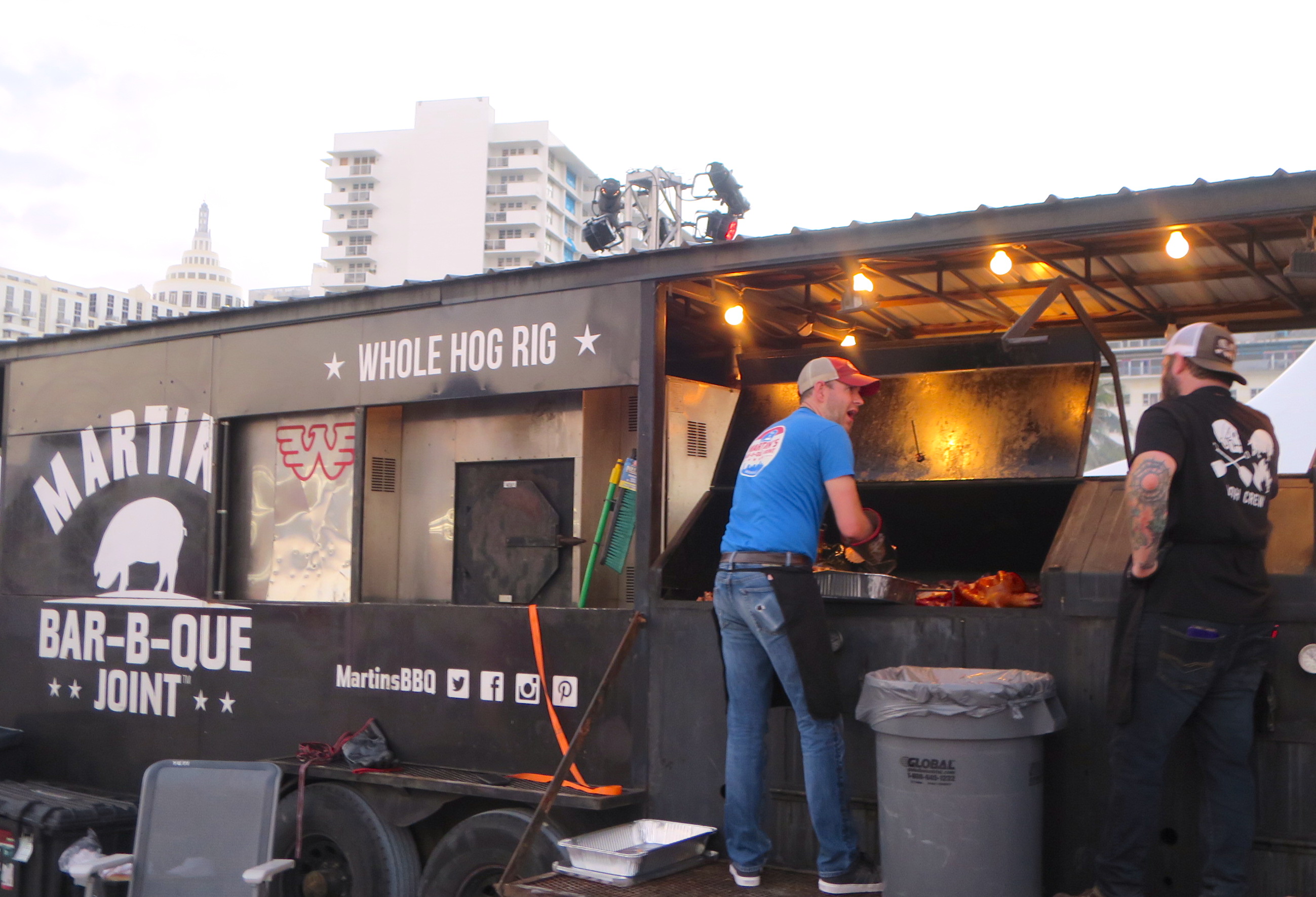 Photo by Michael Reiss
What could be more anticipated than the "Beachside BBQ" hosted by Guy Fieri on Saturday evening? More than 30 top grill masters were on hand to turn up the Miami heat and tempt us with all manner of toothsome morsels.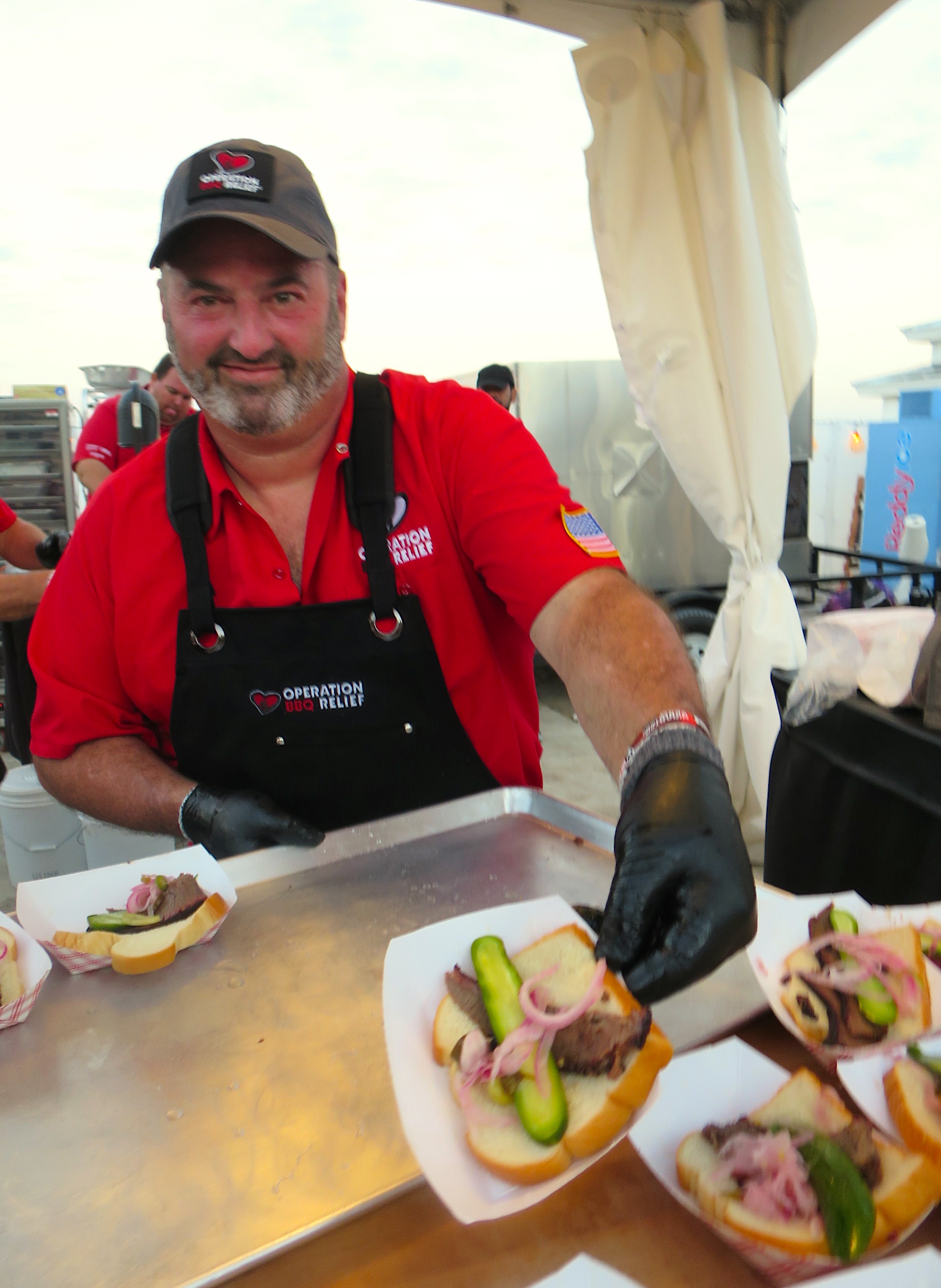 Photo by Michael Reiss
Diane Sukiennik & Michael Reiss
Diane Sukiennik is an internationally recognized writer, coach, keynote speaker, consultant, educator and licensed therapist. She is the author of The Career Fitness Program: Exercising Your Options, 11th edition, Prentice Hall, the most widely used text in colleges and universities in the subject area. A self-proclaimed 'leisurologist,' she speaks French and Spanish, is an avid world traveler and...(Read More)