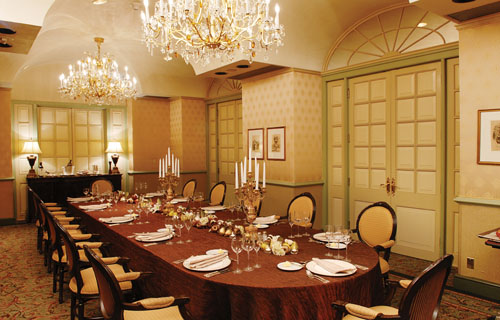 Hotels
It's jazzy. It's elegant. It's unmistakably New Orleans. The Royal Sonesta Hotel is right where your heart desires to be - in the French Quarter where the air is alive with atmosphere and originality. Celebrate the culture and friendliness of this rare and wonderful walking district.
Accommodations
Architecturally, the Royal Sonesta stands regally as one of the most beautiful examples of traditional French Quarter design. Charming gabled windows, French doors and wrought-iron balconies create a wonderful sense of place within this elegant hotel. Offering spacious, comfortable and inviting guest rooms (including 25 lush suites), the Royal Sonesta treats its guests to sensational views of the tropical courtyard or French Quarter, and surrounds them with the latest amenities.
Dining
Begue's Restaurant: This Four-Diamond French Quarter landmark offers extraordinary French and Creole specialties, prepared by a renowned Chef. Don't miss the famous Sunday Champagne Brunch, equally popular with guests and local residents. Open daily for Breakfast at 6:30 a.m. followed by Lunch until 2:00 p.m.


Desire Oyster Bar: One of the most famous - and most photographed - restaurants in New Orleans, with an unbeatable Bourbon Street location and renowned "Desire" sign above the entrance. Experience the energy and the ambiance of this lively street side bistro, which features doors that open directly onto Bourbon Street. Open Daily from 11:30 a.m. - 'til. Lunch Menu Dinner Menu


Irvin Mayfield's Jazz Playhouse: Formally the Mystick, this world-class music destination is bringing Jazz back to Bourbon Street. Grammy-nominated, Billboard Award winner Irvin Mayfield invites you to his Playhouse to enjoy the best jazz in town. With a grand opening on March 21, 2009, performances will be held 8 pm - 'til. Serving your favorite cocktails and appetizers.


Le Booze: A favorite meeting place for locals to meet and greet - in one of the best spots on Bourbon Street. Cigars and snacks available. Open Monday - Thursday, 2:00 p.m. - 'til. Friday - Sunday, 12:00 p.m. - 'til.


Royal Cafe: located in the lobby, Royal Café proudly offers Starbucks® premium coffee and Tazo® tea, along with freshly baked pastries. And if you're not in the mood for coffee, choose a flute of one of the select Champagnes! Open daily at 6:00 a.m.


Daiquiri Delight Shop: A place for every exotic concoction you can imagine in a bright and casual atmosphere, reminiscent of an old ice-cream parlor, but with more kick! 10:30 a.m. - 'til.


Meetings & Events
The perfect place. The perfect space. From business meetings to weddings and social events, the Royal Sonesta Hotel New Orleans creates memorable experiences that inspire and delight. The unique and architecturally exquisite setting provides the artistic backdrop for any size group event -- from 10 to 500. With 20 function rooms, 20,000 square feet of meeting space and a state of the art Board Room, the hotel offers incomparable event expertise from savvy event planners. At Sonesta, Food is Art, and every event is enhanced through food that is locally inspired, chef-driven and creatively presented. From the latest in meeting technology, to customized menus and themed decor, your event is sure to be one that your guests will never forget.