By Steve Mirsky Mar. 8th, 2017
Photo Credit: Sean Pavone / Shutterstock.com
Take a right from Times Square's Father Duffy Square, down West 47th Street and you will find a four-star boutique hotel rising nine stories above the surrounding chaos. The Sanctuary Hotel NYC has been completely transformed from an early 20th-century hotel to a modern luxury Buddhist-themed retreat.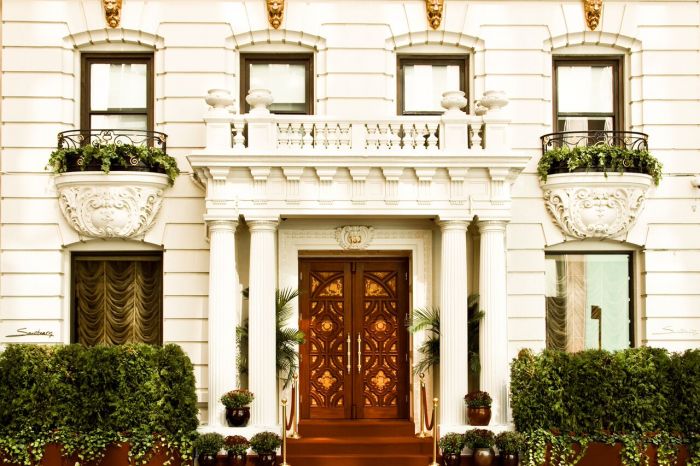 Photo Credit: Sanctuary Hotel NYC
Although its original architectural facade remains, modern touches were added to Sanctuary's street level exterior like piped-in music, glass awnings, and opaque glass block windows. The oasis of tranquility concept is readily apparent from the moment you open their intricately massive carved wooden front doors and enter their opulently decorated lobby.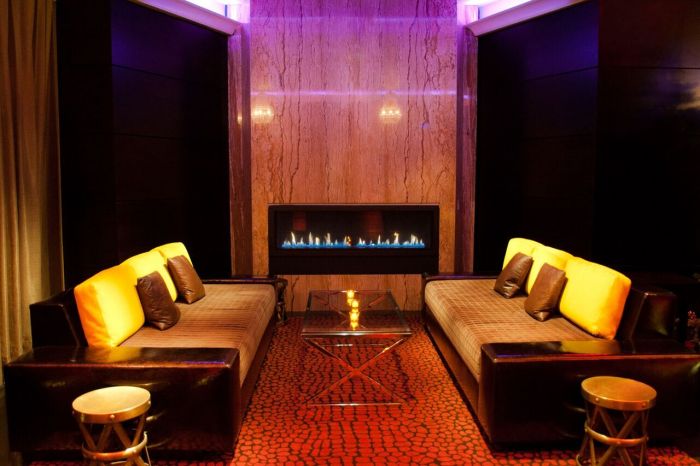 Photo Credit: Sanctuary Hotel NYC
An illuminated glass floor guides you to the lavish lobby lounge featuring a glowing fireplace set with tiger skin travertine tiles. Warm yellow leather cushions grace the couches, while deep orange leather wall panels surround the elevator bank and guestroom hallways. Custom made furnishings showcasing a deep brown and Cognac color palette are enlivened by surrounding design elements like lavish terrazzo tile with brown glass chips, honey onyx, and shades of brass.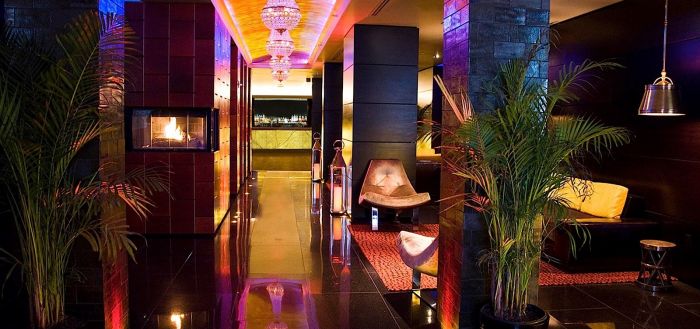 Photo Credit: Sanctuary Hotel NYC
The ambiance in many ways replicates the allure and comfort of a private living room with inviting nooks for lingering and touching base. A full bar to the front serves up specialty cocktails and tapas, while a museum-like display of Buddhist statuettes cluster in the corridor leading to guestroom floors. Pictures that are also Buddhist-themed grace walls throughout the property.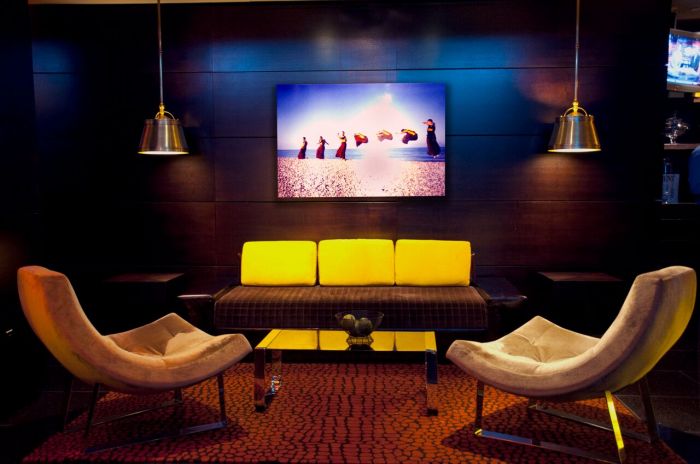 Photo Credit: Sanctuary Hotel NYC
The Zen-like vibe continues upon checking into rooms, richly appointed with plush beds dressed in high thread count European linens, framed with chocolate leather headboards. Crystal chandeliers, glass-walled showers, marble counter tops, and leather-printed wall tiles round out the decor while quarried marble window ledges and cream leather curtains maximize brightness and light when you want it. Décor accents of smoked glass, honey onyx, and brushed brass add a chic vibrancy.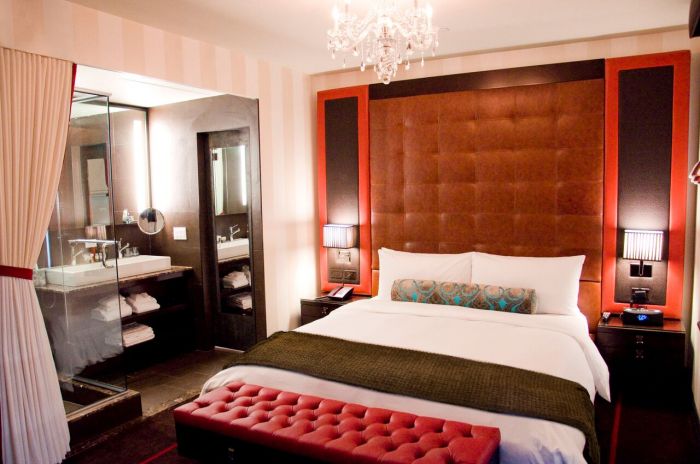 Photo Credit: Sanctuary Hotel NYC
But like any world class property, an extraordinary setting must be matched by stellar service to make it a true five-star experience. Sanctuary Hotel NYC ensures this crucial formula adds up with their S.T.A.R.™ Program (Service Tailored to Any Request). Inspired by warm hospitality synonymous with European boutique hotels of the same caliber, S.T.A.R. elevates attentiveness beyond concierge to having a personal assistant that not only helps plan your daily itinerary but arranges for things like warm cookies and hot tea orgluten-free breakfast delivered to your room. S.T.A.R. staff also stand ready as personal shoppers helping you pick an outfit for that no-holds barred night out.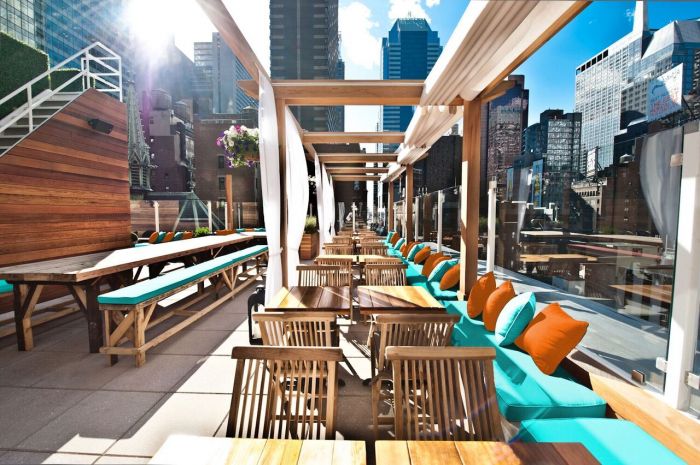 Photo Credit: Sanctuary Hotel NYC
Enter the card-coded elevator to Sanctuary's ninth floor and you've arrived at Haven Rooftop Restaurant & Lounge. Boasting unparalleled views of the Manhattan skyline, Haven's year-round rooftop transforms to accommodate the seasons with a fully retractable roof and year-round furnishings. Chef Madison Belem's French-inspired menu, along with an innovative and ever-changing cocktail menu created by award-winning mixologist Isaac Grillo, make the Rooftop a destination for residents and tourists alike. Indulge in dishes like Mussels & Frites and Filet Mignon accompanied by craft libations like Safe Haven or a Cloudtini as the bright lights of Times Square pulse through the surrounding skyscrapers in the background. Plush seating areas and intimate cabanas complete this perfect escape from the ordinary.
Photo Credit: Sanctuary Hotel NYC
Accessible via Sanctuary's lobby and a separate street entrance, Tender Bar & Grill offers an upscale sports bar experience complete with elevated pub-style menu and multiple flat panel TVs broadcasting the latest sports games. You can truly blur the lines here between game and date night dining on Black Cod or Rigatoni Bolognese and world-class sushi while hoisting a cold one and keeping track of the score.
Steve Mirsky
I firmly believe that distinctive cuisine and life-changing travel experiences are best savored by those driven by curiosity rather than solely on the recommendations of wine connoisseurs, gourmands, and jet setters. Classic hotels, signature boutique properties, and epic dining experiences provide some of the best opportunities for an authentic introduction to new cultures and cuisine. I shar...(Read More)