By Carin von Berg Feb. 14th, 2017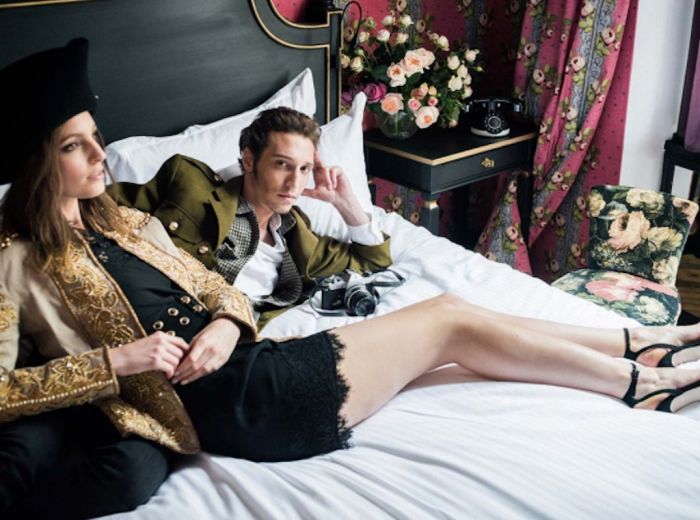 Photo Credit: Hotel De Jobo
Tucked away on a non-descript sidestreet in Paris' hip and trendy Le Marais neighborhood, Hotel de Jobo beckons lovers like a naughty, but very chic, sex-shop. Think more Ki De Montparnesse than West Hollywood's famed—but tacky—Pleasure Chest. The edifice itself is sleek and sexy with a black laquered exterior, gilded lighting and a fluttering of exoticly colored tapestries dressing the windows. Even if you are checking into the hotel with a tried-and-true lover or your spouse, there is something about Hotel De Jobo that makes you want to conjure up an illicit and spicy affair.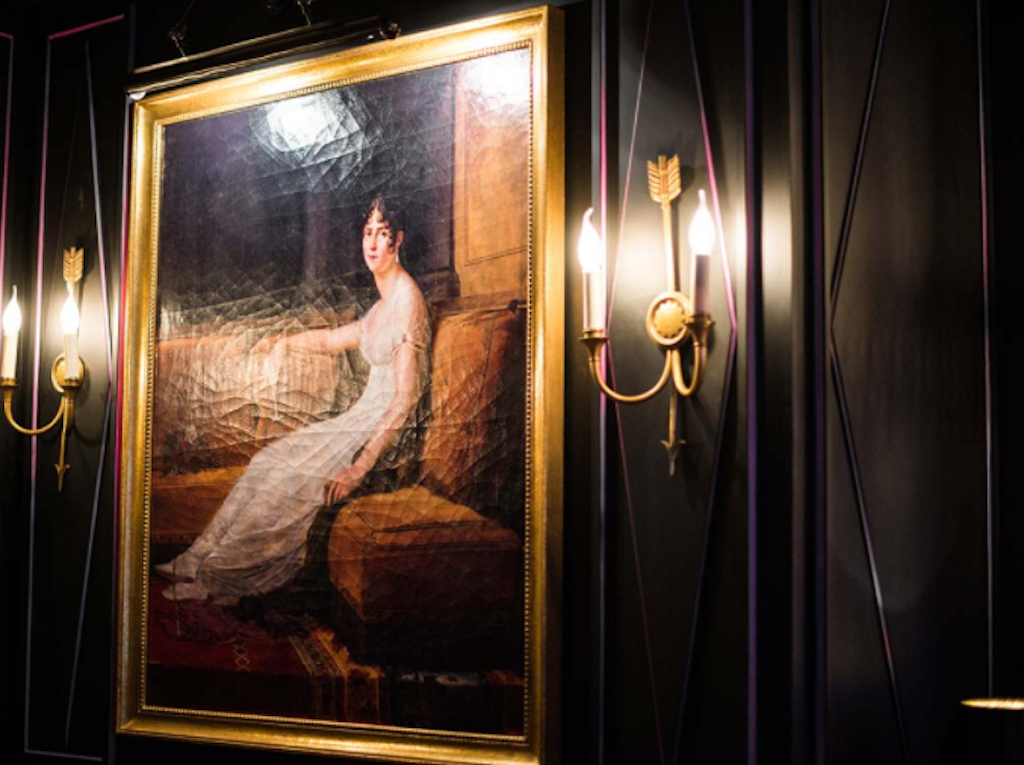 Photo Credit: Hotel De Jobo
So just who is this JOBO you ask? Hotel de Jobo is named after Rose Tascher de la Pagerie, nicknamed Josephine Bonaparte and known as JoBo to her closest friends. Interior designer Bambi Sloan felt JoBo to be the perfect modern muse for the hotel's decor as she was a passionate lover, wife-mistress, and trendsetter. As a reaction to the Revolution and the Reign of Terror, the fashionable and aristocratic subculture dubbed The Incredibles and The Marvelous practiced the mantra "Live life to the fullest." Josephine was their idol and admired for her impeccable and alluring fashion sense as she was extremely avant-garde for her time with her interior design ideas, elegant dress, eccentric collections and creative endeavors.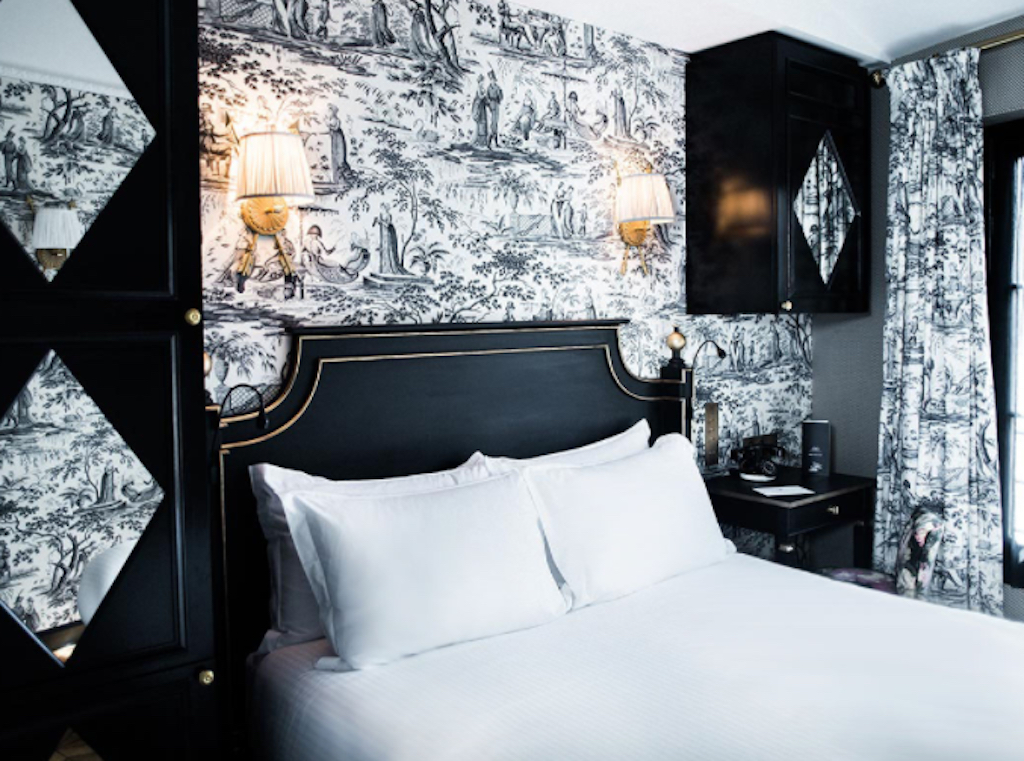 Photo Credit: Hotel de Jobo
The intimate and classically Parisian Hotel de Jobo features 24 charming and elegant rooms spread over four floors and arranged around a hidden courtyard. The rooms are dimly lit with adjustable mood lighting and showcase reprints of period wallpapers in floral tones of red, mauve, black and white in addition to cheetah print and bold stripes, luxury bedding and Italian showers and bath with mosaic tile. The Single rooms are best for a solo getaway with an extra large twin bed, while the Double Classic and Deluxe Superior rooms feature a queen bed and are perfect for a romantic and luxurious lovers' retreat. For the truly lucky and extravagant, book the very spacious Junior Suite with a king size bed for a longer getaway and more room to play.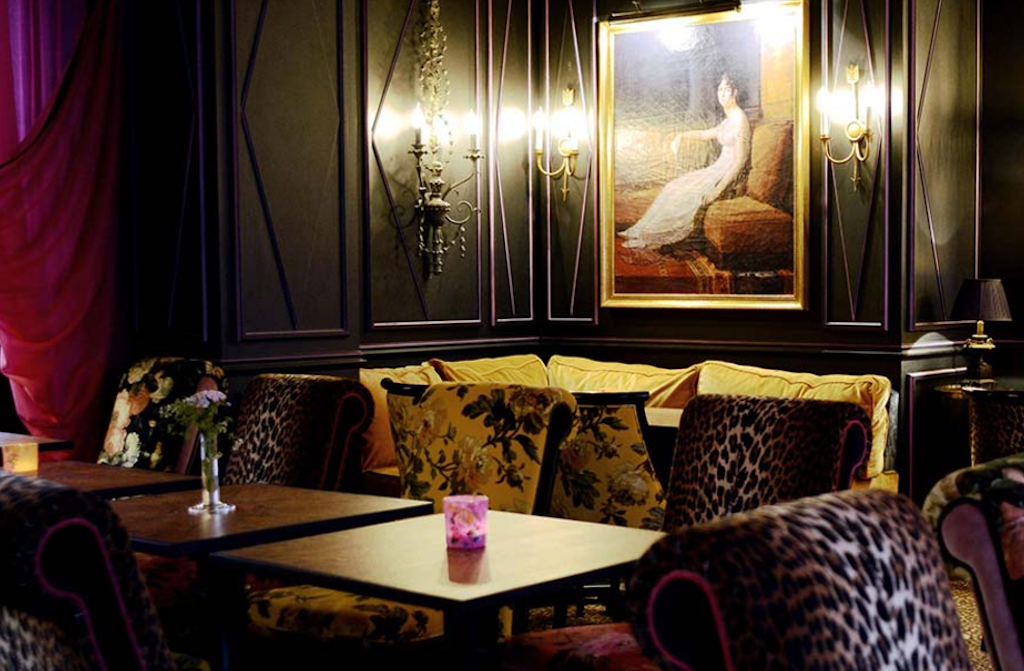 Photo Credit: Hotel de Jobo
Once your stomach starts to growl with hunger, head down to the lounge and bar to renew your strength with a selection of seasonal gourmet dishes such as Laguiole's Maison Conquet charcuteries, fine cheeses from Maison Bordier and Noir de Bigorre ham. Quench your thirst with a selection of fine teas or wine or imbibe in a hand-crafted cocktail or flute of fine champagne.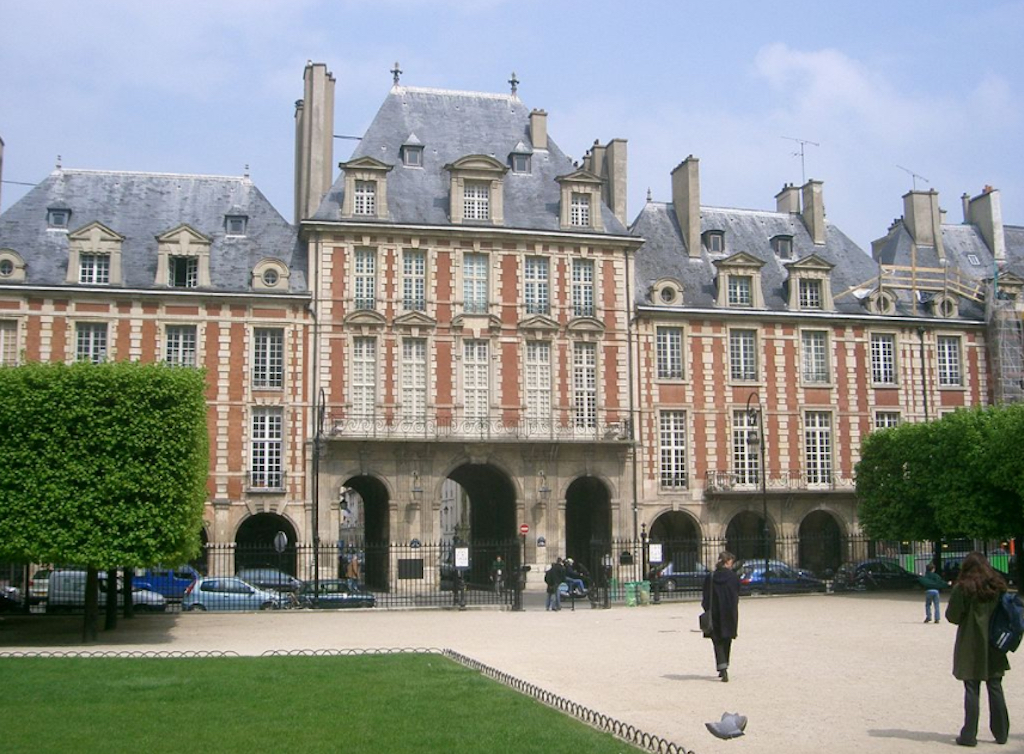 Photo Credit: Wikipedia Commons
If you are ready to venture out into the world, Place de Vosges is a few blocks away from Hotel de Jobo. Place des Vosges, originally Place Royal, is the oldest planned square in Paris. Structured around two pavillions, Place des Vosges separates the third and fourth arrondissements and its composition epitomizes 17th century architecture at its finest. As you walk along the arches bordering the square, you will discover many gourmet restaurants, shops and art galleries. Le Marais is one of the few districts in Paris that is open on Sundays which makes it a perfect location for shopaholics. Chains like Maje, Kooples and Sandro are plentiful in addition to unique shops like Surface To Air, Florian Denicourt, Vintage Bar and Fleux.
Carin von Berg
Carin von Berg lives in Los Angeles and writes about food and wine, luxury travel, beauty, fashion and luxury products. She is the editor-in-chief of Luxlife Magazine and the author of the novel Gucci Girl. In her spare time, she works as a lifestyle model when she isn't traveling to some exotic, luxury destination or dining in the latest hot-spot. ...(Read More)