By Sean Hillen May. 19th, 2022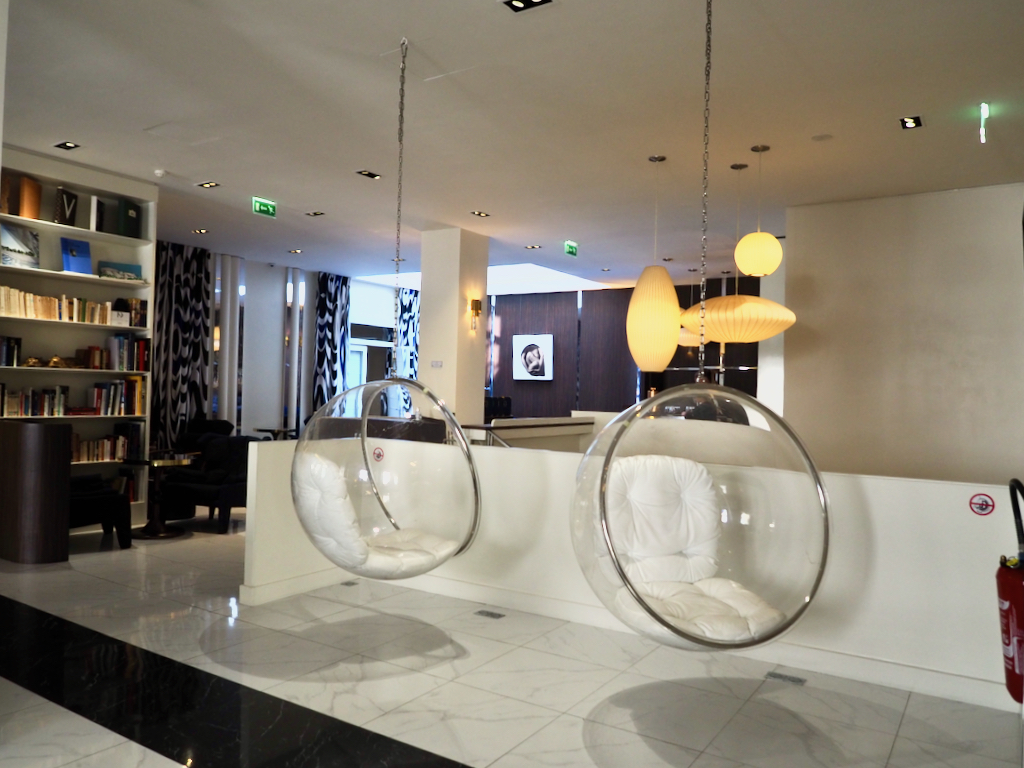 Columbia Hillen
Named after a novel by French author Guy de Maupassant, Hotel Bel Ami in Paris evokes a bold sense of fun and funkiness in the very heart of Saint-Germain-des-Prés, the historic Left Bank neighborhood that was once home to musicians, artists and writers.
Eclectic in its design, it is owned by B Signature Hotels and Resorts, and can best be described as avant-garde, thus reflecting the spirit of creativity that abounded in this vibrant 6th arrondissement.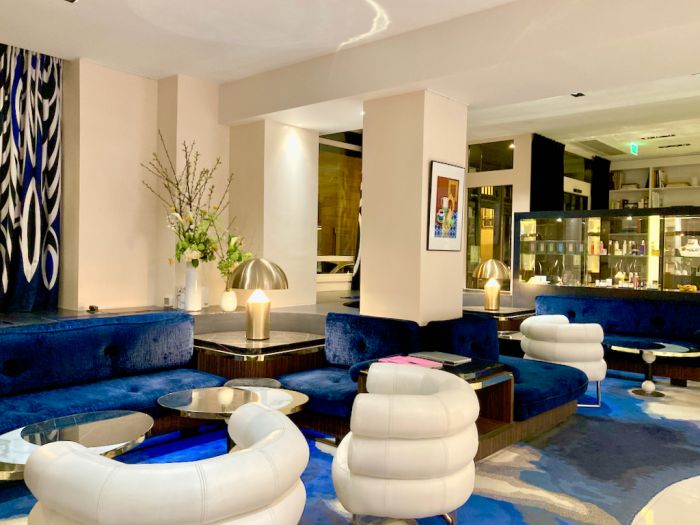 Columbia Hillen
In fact, this 5-star hotel, which opened almost 20 years ago, occupies a former 19th century printing house that published the first copy of 'Bel Ami' in 1885. It is also only a few minutes' walk from 'Café de Flore' and 'Les Deux Magots,' popular rendezvous restaurants for literary icons such as Jean Paul Sartre, Simone de Beauvoir, Marguerite Duras and their free-thinking existentialist circle, not to mention Ernest Hemingway, F. Scott Fitzgerald and James Joyce.
The hotel's spacious front lobby, which flows seamlessly into a lounge and bar area, is a riot of color comprising a checkered marble floor and soft cloth blue armchairs that reminded my companion of tasty meringues. White floor-to-ceiling shelves are stacked with books, many related to fashion, art and design. Nearby are glass cases filled with ornaments including perfumes, jewelry and cosmetics.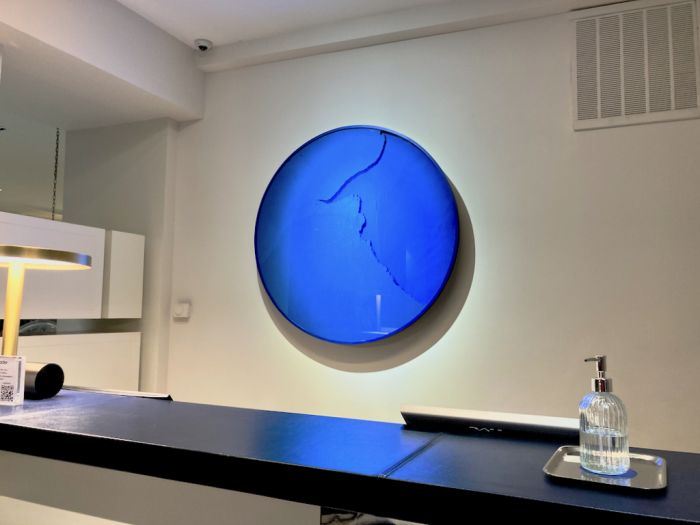 Columbia Hillen
Bold and innovative art installations also include the ever-changing 'blue sand clock' by Marcel Merida behind the concierge desk and two SIlvera bubble armchairs hanging from the ceiling in the lounge. Paintings, sculptures and textured abstract works by artists Aude Herlédan and Ced Vernay adorn the ground floor.
It is here in this informal space that guests mix and mingle, enjoying drinks and snacks on glass-topped tables throughout the day and well into the evening.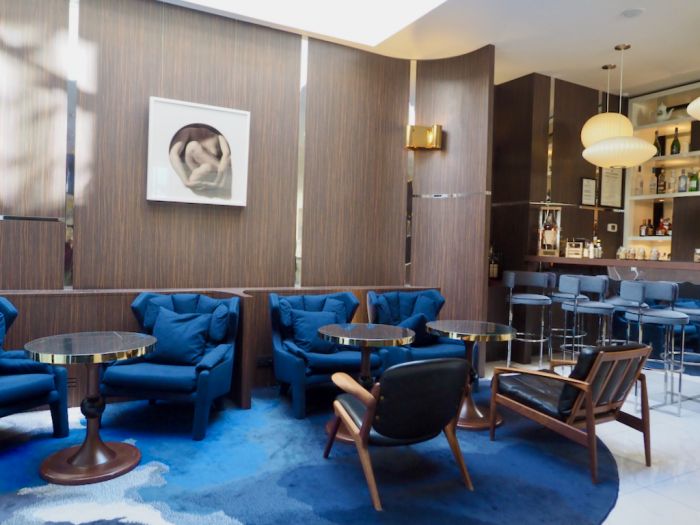 Columbia Hillen
No doubt, architect and designers Géraldine Prieur and Pascal Allaman had a sense of playfulness in mind when they went about their work, creating an ambience that one writer described as "equal parts classic mid-century modernism and hyper-colorful retro-futurism."
With 102 rooms on four floors, Hotel Bel Ami attracts a diverse clientele. One evening, for example, I witnessed a group of Brazilian men excitedly watching a soccer game in a room off the lobby and several young American women chatting amiably about fashion in another public area.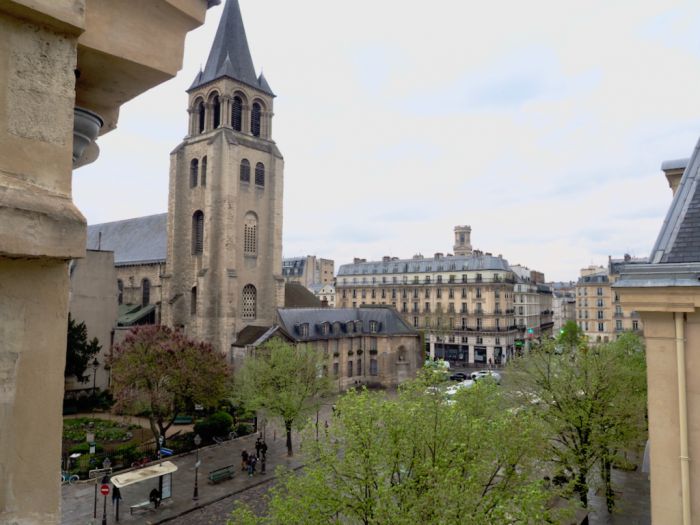 View from one of the bedrooms over Saint Germain des Pres. Photo by Columbia Hillen
Our room, 330, featured a courtyard view and reflected a bright, uplifting color scheme, predominantly green and ash gray. Boldly, the glass doors of our wardrobe were tainted rose. Furnishings and amenities included a writing desk, Nespresso coffee maker, flatscreen TV and a walk-in-shower with comfy robes and slippers. Double glazing meant we were not troubled by Parisian traffic outside.
A Maison Flamel branded spa - founded by Samer Zaklaria, a young designer from Saint-Germain-des-Prés, named after Parisian alchemist Nicolas Flamel - located down a short set of stairs under the lobby, offers a choice of relaxation. I enjoyed a short sauna followed by a massage by Beatrice while my companion opted for a special facial treatment that uses oxygen to detoxify cells. The hotel also has a small fitness center.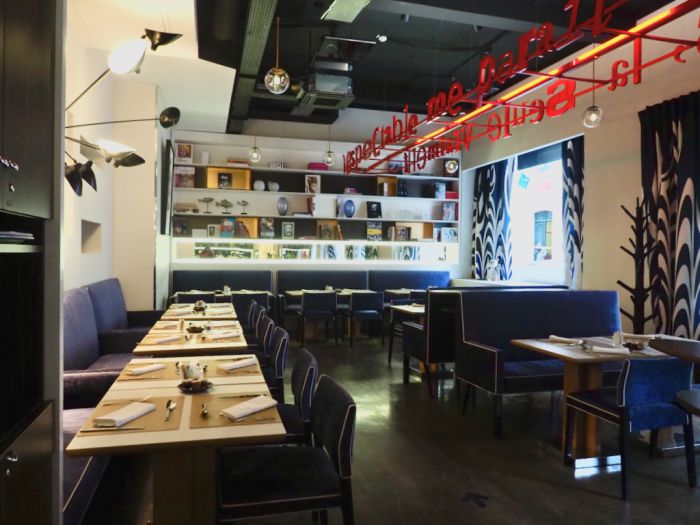 Columbia Hillen
For events, Salon Maupassant - with multiple configurations - can accommodate groups of five to 80 people, complete with sound and projection equipment, while Salon 1885 is more suited to committee meetings.
During our stay we had breakfast one morning in Le Bel Ami Cafe where the atmosphere is lively and the food selection generous. And on a different morning, feeling somewhat bohemian reflecting the mood of the hotel, we woke up to the aroma of coffee and hot chocolate after being served breakfast in our room.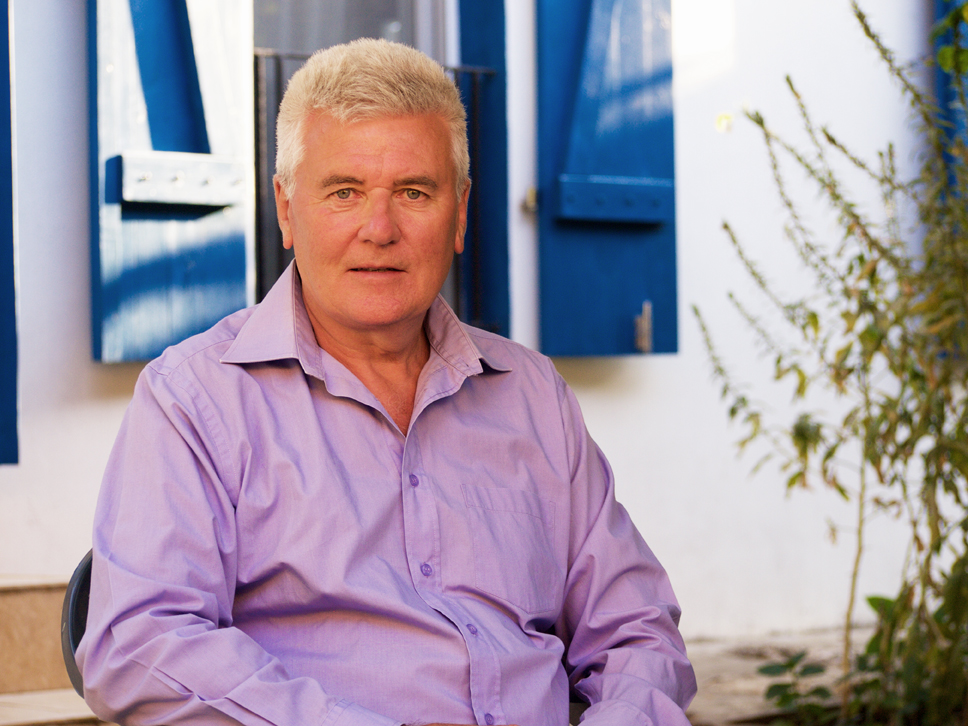 Sean Hillen
Sean Hillen has been an international journalist and editor for over 30 years and published author. His contemporary novel, 'Pretty Ugly' is an intriguing ride through the murky undercurrent of the lucrative cosmetic industry http://www.seanhillenauthor.com/  Sean's writing experience spans several continents - in Ireland, for the national daily The Irish Times and in England, as foreig...(Read More)