By Touring & Tasting Jun. 22nd, 2011
Named "pietra santa" (sacred stone) to honor its granite and limestone soils, Pietra Santa Winery is a family run estate that produces artisanal wines and olive oils. The winery is located in the foothills of the Gabilan Mountain Range in the magnificent Cienega Valley — just 25 miles inland from Monterey Bay.

For wine tourers, Cienega Valley is truly a road less traveled. A maritime influence from the Pacific Ocean benefits the land by creating a moderate climate with fresh coastal winds that cool grape vines. The first vines were planted here in the 1850s by Frenchman Theophile Vache who recognized that the exceptional terroir would yield outstanding fruit. The land was purchased in 2005 by John, Phyllis, and Cort Blackburn, who have been farming in the surrounding area for almost 50 years. They fell in love with the beauty of the valley and its impressive vineyards.


"It was just too special to resist," Phyllis says. The estate's diverse terrain possesses multiple microclimates providing ideal conditions for several grape varieties. Currently, 120 acres are planted to Pinot Noir, Chardonnay, Pinot Grigio, Merlot, Sangiovese, Zinfandel, Dolcetto, and Cabernet Sauvignon. The estate's oldest vines are 105-year-old Zinfandel.

After an easy drive from Monterey, Carmel, Santa Cruz, San Jose, or Silicon Valley, visitors are delighted to discover the beauty of Cienega Valley. Pietra Santa has recently remodeled its tasting room, which is located on the winery's main level, with a VIP tasting room upstairs. "I want people to come share our vision and enjoy the wonderful wines that Alessio makes," Phyllis says.

Winemaker Alessio Carli firmly believes that wine is only as good as the grapes it comes from. He has worked for Pietra Santa since 1998 when he helped with the design and construction of the winery. Alessio is delighted with the terroir and works closely with Cort who has been farming since he was quite young, making quality their top priority.


A native of Siena, Italy, Alessio also makes Pietra Santa's olive oils. He oversaw the construction of the winery's olive oil pressing room and the installation of the Italian Peralisi press — a top-line olive mill, rare in California. He produces organic Extra Virgin Olive Oil exclusively from Pietra Santa's 25-acre olive grove planted to five varieties of olives including Leccino, Coratina, Frantoio, Itrana, and Pendolino.


Visitors to the tasting room can sample the different oils and learn about the nuances of their flavors. There's even lemon infused olive oil and rosemary infused olive oil to be used in marinades, salad dressings, and more.

With such beautiful views, savvy wine tourers are encouraged to use the picnic area in front of the winery. There's also the Dickinson House, a beautiful prairie style house on the property designed by Burley Griffin Jr., a protégé of Frank Lloyd Wright. Tours of the house, vineyards, winery, and oil pressing room can be arranged for visitors who call ahead.

In Phyllis' words, "Visitors should plan to spend some time here to enjoy our wonderful wines along with our views. It's truly special here at Pietra Santa."

WHAT TO BUY:

'09 Signature Collection Amore Pinot Grigio White peaches, mineral notes, hint of lemon, grapefruit $24

'09 Estate Pinot Noir Lavender, wild strawberries, raspberries, Bing cherries $18

'07 Estate Sangiovese Cranberry, Bing cherry, anise $18

'05 Signature Collection Cabernet Sauvignon Subtle plum, pomegranate, ripe black cherries, blueberries, chocolate $50


CONTACT:
Pietra Santa Winery
10034 Cienega Rd.
Hollister, CA 95023
831.636.1991
PietraSantaWinery.com
Tasting Room Open Wed–Sun 11 a.m.–5 p.m.

SPECIAL NOTES: Prviate tours by appointment, barrel tastings on the first Saturday of each month, olive oil tasting.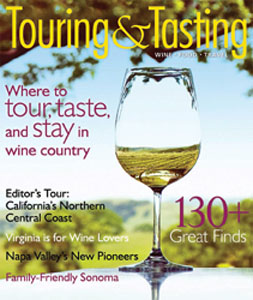 Touring & Tasting
Established in 1995, Touring & Tasting offers an array of compelling marketing opportunities through its biannual, nationally distributed magazine wine club services weekly e-newsletter print newsletter and Website, TouringAndTasting.com. Touring & Tasting's Wine Club delivers an incomparable assortment of premium, hand-selected wines to a broad spectrum of motivated wine consumers. We offe...(Read More)