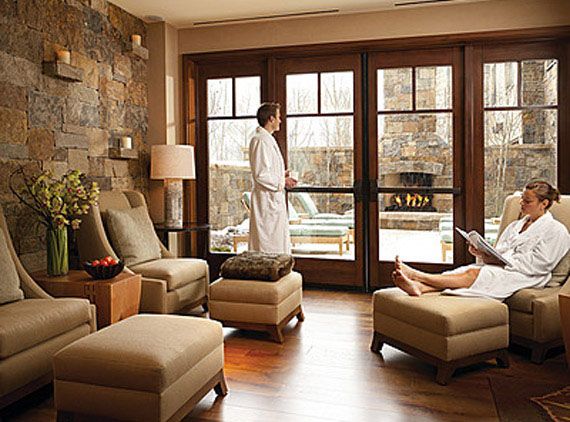 Photo Credit: Chad Chisholm & Four Seasons Resort Vail
Kevin Hitt has been practicing his craft for 11 years. A massage therapist at the new
Four Seasons Resort Vail
Spa, this talented therapist is changing the face of his industry one client at a time. Originally from Dallas, Hitt has traveled the world picking up training and inspiration along the way which he pours into his clients with the kindness and compassion others only hope to achieve within their careers.
Kevin has been at the Four Seasons Resort Vail since the long-awaited resort and spa opened in 2010. Previously the Treatments Manager at the nearby Arrabelle, Hitt made the transition back into massage therapy. With his love of the mountains and active clientele, Kevin has made his home in the Vail Valley for the last four years. His wife, a massage therapist at Ritz Carlton Bachelor Gulch, and he met while in Switzerland. The couple and their two children enjoy the European feel of the Colorado mountain town.

Kevin began his journey into massage therapy after a personal injury. A double backflip gone wrong while skiing sent him home to the states from Europe to recover and recoup. After experiencing the healing effects of the art, Hitt received his own massage therapy licensure and dove head first into the industry. His clients? The Dallas Cowboys.

"I enjoyed the challenge of working on 350 pound linemen who pushed their bodies to the limit during their training," Hitt recalled of his Texas experiences, "Working on them two or three times a week was a great challenge, making me use everything I had in my tool box of techniques and pushing me to learn more."


Hitt's love for continued education is a life long endeavor. Traveling to Thailand to learn Thai Massage technique from two masters and specializing in Asian modalities makes him a standout in his field. Well-rounded due to his worldly experiences and thirst for knowledge, Kevin is well versed in treatments and massage alike.

Being one of the few male therapists in the field, and the only full-time year-round male massage therapist on staff at Four Seasons Resort Vail, has come with its own challenges. "The clientele we see now are more experienced and knowledgeable about massage services. I'm changing perception (about male massage therapists) through experience," Hitt mentioned about men and women alike sometimes being hesitant to having a male therapist.



"I naturally have a firmer pressure, so many of my specialties are therapeutic." Many times first time clients will book first-available therapists and be lucky enough to have Kevin be available - few turn back.


With a 10 percent male-to-female ratio in the current massage therapy industry, male therapists are becoming more and more requested. Kevin is a particularly valued and skilled male therapist with such a vast knowledge of his craft. Continuing on his self-propelled search of new techniques and continued education, special requests are often deferred to Hitt within the Spa.

"My goal is to be aware of the intimate space within the spa, providing my clients a refreshed view of the day, the ability to brush cares away, and bring them into a space which they can relax," Kevin shared of his own personal philosophy.

Whether enjoying the Skiier's Massage, seeking a Thai Massage, or therapeutic services, Kevin Hitt is a spectacular therapist choice at Four Seasons Resort Vail. To make a reservation with Kevin, you can call the spa at 970.477.8600 or by visiting FourSeasons.com.

This post originally appeared at Examiner.com.