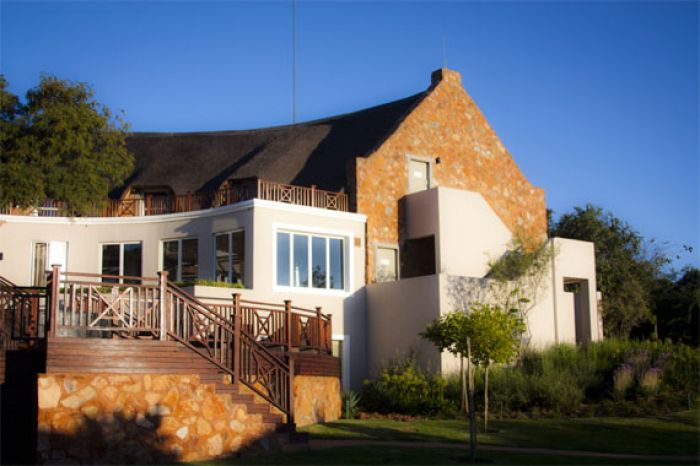 Photo Credit: Stefanie Payne & Mount Grace
A five-star spa oasis just an hour from hectic Johannesburg
In retrospect — knowing that my immediate future included countless days bouncing from the seats of souped-up 4X4's on many miles of broken African roads — I should have saved my session with an expert
massage therapist
until the end of my trip.
But, I couldn't help myself. Once I stepped onto the grounds of the Mount Grace Country House and Spa in Magaliesburg, South Africa, I was powerless to resist the beckoning of the super-luxe spa. With an outdoor infinity pool falling effortlessly into the plains and a variety of hydrotherapy pools hidden beneath alcoves of lush greenery and the brightest of natural floral arrangements, there is boundless relaxation to experience prior to even setting foot into the private spa rooms.



After checking in, I enjoyed a quick steam to help open my pores (great before a facial,) before being taken away by my massage therapist, Mandisa, into the double massage room where my friend and I would meet our afternoon bliss. Five-hundred thread count sheets neatly tucked into the teak wood of the raised massage tables, bath robes that hug your body like you are diving into a cloud, the sound of the songbirds pouring into the room from small open windows that usher in the breath of fresh air.



It was heaven, and again, this was before the treatments even began. "How's the pressure?" Mandisa said as she worked pure African shea into my upper back. "Perfect" (I am not sure whether I only thought this or said this aloud, I was completely entranced). Onto the indoor hydrotherapy service that observed one of my all-time favorite wellness practices, Thalassotherapy — a combination of marine elements used to provide whole wellness. In layman's terms, it is a whirlpool bath filled with therapeutic healing potions from the neck down, and a pressure point massage from the neck up.



My "Radiance Renewal" facial with a brow tint add-on (an impulse buy) left my skin happy and glowing—just in time for dinner at the Rambling Vine restaurant where a very seasoned sommelier poured me a glass of the delicious native Pinotage. I know, "no drinking after services." But fortunately, I was in South Africa, and they don't believe that there. Score.



I finished my spa day with a dip in the pH neutralizing brine pool (providing the equivalent benefits of four hours of sleep!), a warm-up in the heated flotation pool, and a 10 second dunk in the cold rock pool (brrrr) which helps to increase blood circulation.

With a spa menu offering everything — from prenatal services and waxing to a nail spa and treatments for men — there is a way for each member of your traveling posse to relax at this enchanting oasis. And that just covers my report on the spa, the rest of the hotel offers entertainment for literature lovers and foodies alike. Visit MountGrace.co.za to learn more.