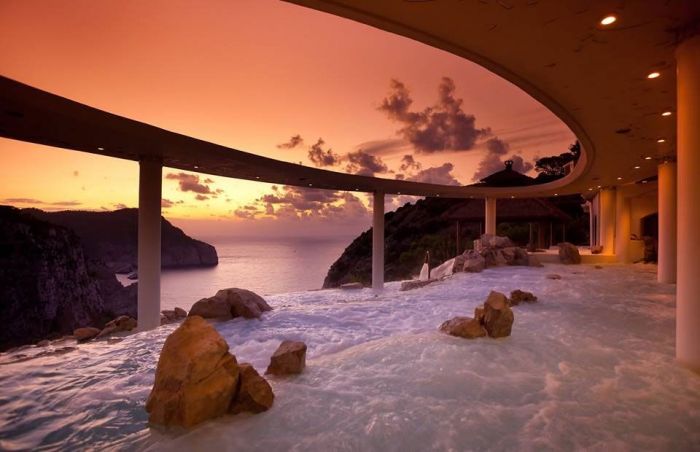 Photos Courtesy of Hacienda Na Xamena
Ibiza, the sexy bohemian land brings images of clubs, topless beaches and hedonism. But what does the island actually have to offer? Simple; whatever you want it to, including a romantic, private getaway. The perfect blend of nature and luxury, Ibiza has long been known for its wild nightlife and parties, but it is also a magical place to relax and regroup.
Hidden on the North side of the island in a nature reserve is the small 75-room boutique hotel called Hacienda Na Xamena. This luxury enclave boasts everything you need for the perfect honeymoon. Need some enticing? Here are seven reasons to escape to Hacienda Na Xamena:
The View
Suspended on a cliff overlooking a picture-perfect ocean, you can get a surreal view from almost anywhere in the hotel. The water is the color of deep sapphires, dotted with lush green vegetation and the white walls of the hotel.
Sexy Sunbeds
Part of a successful vacation is getting a beautiful, bronze tan. And luckily, here you can soak up the sun from the quiet pool area in a variety of different sunbeds. From the sun-focused rooftop beds to the shady enclaves, laying out with your sexy partner is a great way to spend the day.
The Sunset
One of the most beautiful things to see in Ibiza is the magnificent colors of the sun setting over the ocean. Watch the sunset from the roof deck over a glass of wine as the reds and yellows of the sky blend together before melting into the water.
The Spa
Boasting a unique spa experience called "Cascadas Suspendidas," the outdoor Thalasso Therapy Circuit pools were created exclusively for Hacienda Na Xamena and help relax and rejuvenate the body by using jets in a series of heated pools. A full body massage relieving ailments such as muscle tension and poor circulation is given at each of the pools that unobstructed ocean views.
The Service
The international staff is ready to assist you with whatever you may request. Friendly, cordial and always with a smile, my needs were fulfilled during our stay including having a car delivered to the hotel in less than an hour.
The Menu
From the breakfast buffet to sunset drinks and elegant dinners at Eden Restaurant, Hacienda Na Xamena has it covered. Don't feel like leaving the room? Room service has got you covered.
The Rooms
Sleek and modern yet comfortable, the rooms are elegant while still being sexy. The suites boast a sophisticated streamlined palette, not distracting from the views.