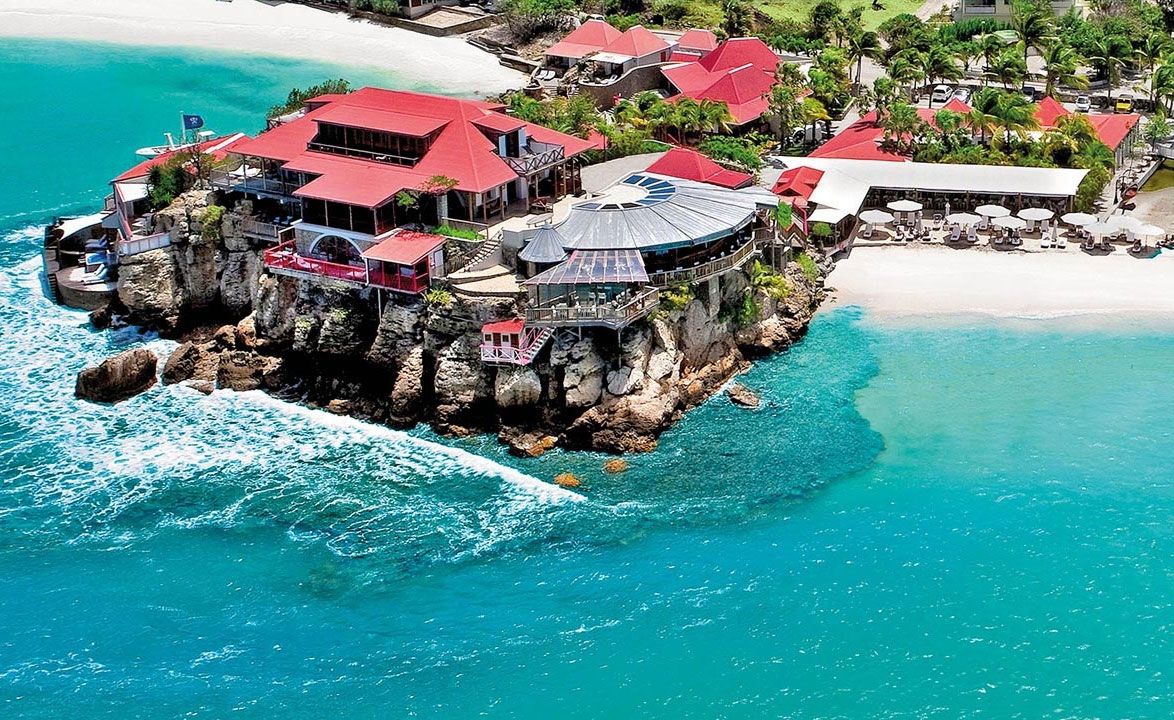 Photos Courtesy of Eden Rock
Our puddle-jumper flew over pool-blue water and red-tiled rooftops before threading its way through two jagged, green peaks, and as I gave a sharp intake of breath, landed perfectly on the second shortest runway in the Caribbean. An equally short drive later and we were being greeted by our personal butler at the door to Eden Rock's Villa Rockstar.
Welcome to Saint Barthélemy, better known as St Barths, France's most glamorous outpost. Probably the most sophisticated and exclusive of the Caribbean islands, St Barths packs a lot into its 13 square miles. It's the place to go if you're after pristine white-sand beaches, aqua-blue sea, stylish shopping and gourmet cuisine, all with a distinctly French flavor. It's where New York's power-players mingle with the Euro jet setters, Bill Gates holidays with family, Jay-Z and Beyoncé relax and Roman Abramovich throws his legendary New Year's Eve parties at his beachfront bolthole.
But it hasn't always been a playground for the rich and famous, some of the islanders can trace their roots back to the mariners from Brittany and Normandy who arrived in 1763 to work the land. The island was sold to Sweden in 1784 and soon became a free port. The Swedes sold it back to France in 1878 and although the island's fortunes have been mixed over the intervening years, St Barths' current good fortune came in the form of luxury tourism.
It began with the arrival in 1945 of the London-born adventurer and playboy, Rémy de Haenen. A few years later, he built the island's first hotel on the rocky outcrop that splits the perfect crescent of St Jean's beach in two. The hotel became a haven for his Hollywood friends; soon both the Rothschilds and the Rockefellers had bought property, and the island's transformation into an upscale tourist destination was underway.
Eden Rock remains one of the island's main draws, although it's changed since David and Jane Matthews bought the property from de Haenen in 1993 after spotting it from the deck of a friend's yacht. The original rooms on the rock are stuffed with antiques and paintings. Jane studied at the Slade in London and has brought her love of art to the hotel, not only in the suites and villas, but at the Eden Rock Gallery, which showcases local and international artists in collaboration with world-renowned galleries such as the Gagosian in New York.
There are suites in homage to some of the hotel's most famous guests. The Howard Hughes resembles a vast bachelor pad, clad in dark wood with three terraces, a private cinema and a sunken bathtub, while the Greta Garbo channels 1930s glamour with a huge double bed at its center crowned by an enormous, hand-stitched, white-leather headboard. And the chic and airy Beach Rooms and Garden Cottages are each uniquely styled with Philippe Starck-designed bathrooms, private Jacuzzi terraces and flawless ocean views.
And then there's the two ultra-luxe, beachfront villas. The two-suite Villa Nina comes complete with its own private art gallery which includes signed black-and-white Terry O'Neil prints of actors and musicians, and a revolving selection of colorful contemporary art. There's even a Matisse lithograph in the bathroom.
The four-suite Villa Rockstar lives up to its name, with an all-white, open-plan living area with a bar and pool table, perfect for throwing party. A line of daybeds overlooks the pool and Jacuzzi, and beyond there's a long table for al fresco dining under the stars. My Freddie Mercury suite boasted a spectacular circular bathroom lined with white-gold mosaic tiles. For wannabe rock stars, next to the cinema room is a fully-equipped recording studio featuring the console used by John Lennon to record Imagine, plus electric guitars and a drum kit—all in a sound-proofed space of course. If you want to go exploring, there's a convertible Mini Cooper and Kawasaki motorcycle in the garage, and a gym to work off the many gastronomic delights on offer.
Jean-Georges Vongerichten oversees the menus at Eden Rock's laid-back Sand Bar and the elegant On the Rocks restaurant, literally perched on the top of the rock with panoramic, floodlit views over the bay. You can feast on a mix of French, Asian and international flavors with dishes such as the avocado and gulf-shrimp salad smothered in a carrot-miso dressing, mahi-mahi sashimi, St Barths lobster tacos or wood-oven roasted catch-of-the-day. Wash it all down with a chilled bottle of Puligny-Montrachet wine. Shoes are optional at the Sand Bar and the island's dress code is luxe-bohemian.
Located on the property, guests can pick up a hand-embroidered Juliet Dunn kaftan or Melissa Odabash bikini, along with gems from their exclusive Stephen Webster collection at the Rock Shop. In Gustavia, the pint-sized capital where super-yachts line the harbor, quaint, candy-colored clapboard buildings house chic boutiques. You can pick up French classics, such as Hermès and Louis Vuitton and accessorize them with Cartier and Chopard. But there's also resort wear from Lolita Jaca and St Barths' own unique brands, such as Poupette, Ligne St Barth lotions and potions, and Bijoux de la Mer pearls.
The fact that it's small and relatively remote has helped St Barths keep its picture-perfect beaches unspoiled and development free. L'Orient is a favorite with snorkelers and surfers, and Saline and Gouverneur beaches on the south coast are bathtub calm, nothing but startlingly blue water and powder-fine white sand backed by untamed tropical foliage.
Idyllic Colombier on the island's northwestern tip is only accessible by a thirty-minute hike up and down a rough track. We cheated by taking Eden Rock's sleek motor yacht from Gustavia, dropping anchor in Anse du Colombier bay. Spotting a turtle, we jumped into the translucent water as it disappeared into the depths. Then, sipping on Champagne, we watched the sun set in a blaze of pink and gold. Afterwards, I surveyed Villa Rockstar's expansive bar. Should I indulge in a nightcap of peaty single-malt whisky or a cucumber-infused gin? I opted for artisan rum; I was in the Caribbean after all.