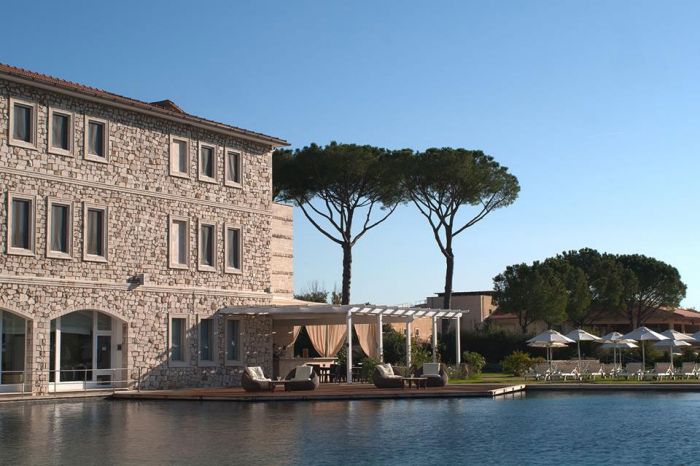 Photos Credit: Terme di Saturnia Spa & Golf Resort
As you drive up to Terme di Saturnia Spa & Golf Resort in southwest Tuscany, you'll see a large speckled building near a splashing waterfall, while at the same time smelling the faint aroma of rotten eggs. Welcome to the thermal baths of Maremma. Since ancient times, this region among the Grosseto hills has been home to numerous underground sulfurous hot springs lauded for their health-giving qualities for skin, respiration, blood circulation and rheumatic ailments.
In this region sits the five-star Saturnia, owned by Antonella Manuli, which has been attracting visitors to its grounds for generations. The hotel is home 128 guestrooms, a spa, fitness center, meeting facilities and an eco-friendly, Bermuda grass golf course. It is the only one designed by American architect Ronald Fream in Italy.
With five accommodation options, including two grand suites and 11 executive rooms, the hotel offers plenty of choices. Our spacious upper-floor deluxe room overlooked a grassy inner courtyard resplendent with olive trees and a trellis festooned with pink and red roses, a most tranquil retreat.
One of the property's best assets is its much-heralded healing waters. Located in a large open space, the bathing area consists of a large central pool with threads of nutrient-rich algae floating on top and a network of smaller, Jacuzzi-like tanks around it. Housed a few steps away are sauna and steam rooms along with a 54-room spa. At the facility, an airy relaxation room with comfy sofas and chaise lounges overlooks the pools and surrounding countryside. Treatments in the spa are diverse with some lasting several days comprising a regime of exercise, such as Pilates, physiokinetic therapy, facials and frequent mud applications.
There are three notable massages: The Saturnia Amber in which balls of ancient fossil resin from the Baltics are used to help relax and detoxify the body; the Gold Experience, using a mix of 24-karat gold, silk and ginger help stimulate production of collagen and elastin, as well, as a scrub to exfoliate the skin; and the Emotional Four Hands massage. The therapy is done by two masseuses working together in harmony.
We enjoyed dinner in a cozy corner of the hotel's Michelin-star All'Acquacotta restaurant, with the food prepared under the guidance of young chef Alessandro Bocci. To start, guests are treated to breads boasting five different varieties—saffron, chamomile, unsalted Tuscany-style, red onion and focaccia with tomato and oregano. They were accompanied by a miniature porcelain carafe of zesty olive oil called La Maliosa, named after the daughter of the owner and from groves on the Manuli family estate. For a main course, try the seared deer terrine, which is a crumbly meatloaf nestling on a layer of bread, accompanied by black cabbage, potatoes, cream of leek, crispy polenta and raspberry sauce. The dish is a gourmet version of the traditional Tuscan dish, crostino.
An award-winning retreat, CNN named the property one of their top 20 spa retreats fin 2014, while its golf course was recognized by GEO certified by the Golf Environment Organization.