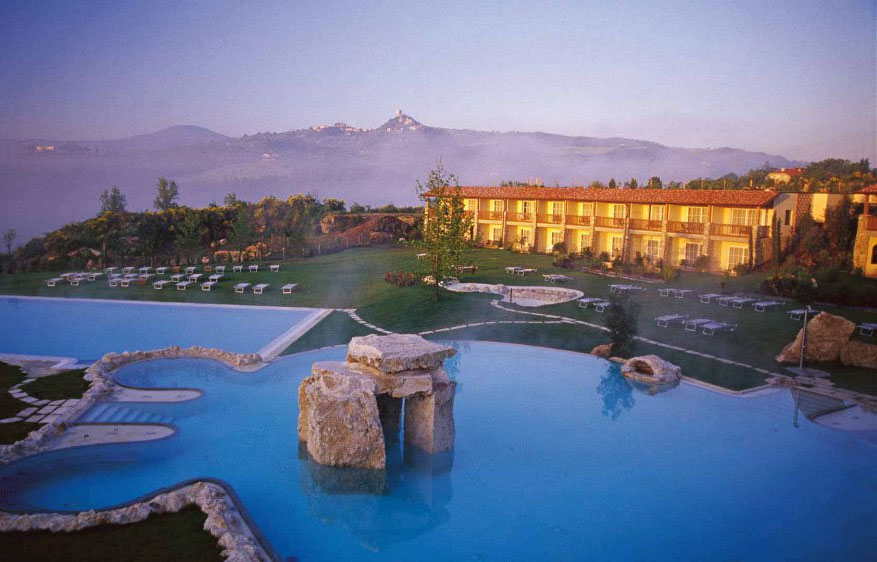 Photo Credit: Adler Thermae Spa Resort
I recently completed a marvelous one-week Tuscan trekking trip with Hedonistic Hiking, and a luxury stay in an exclusive spa-hotel was a much-needed break following the excursion. My guest and I sought out the help of the five-star Adler Thermae Spa Resort, a wellness property in Tuscany, to help us revive our tired bones. The hotel is located next to the small hamlet of Bagno Vignoni, a town with a population of 35.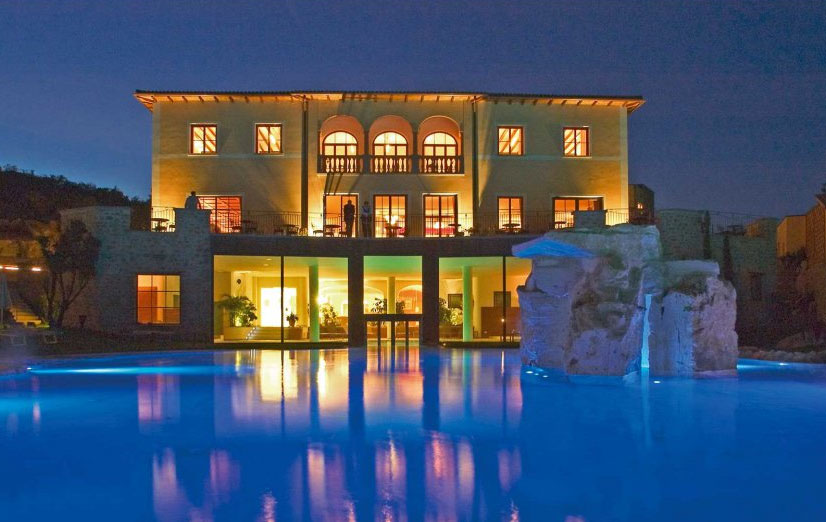 Photo Credit: Adler Thermae Spa Resort
We figured if the early Etruscans and aristocratic Romans stopped here to take the waters at the famous bath in Bagno Vignoni (other prestigious visitors included Lorenzo the Magnificent and Pope Pius II), then it should work out nicely for us. And it did. The Adler Thermae is part of a small luxury hotel chain that originated in the Italian Alps. It is owned by the Sanoner family who claim seven generations of experience in the industry. Although the 10-year-old, Mediterranean-inspired hotel has 90 rooms, it feels more like you're just rambling around a friend's swanky-yet-unpretentious villa.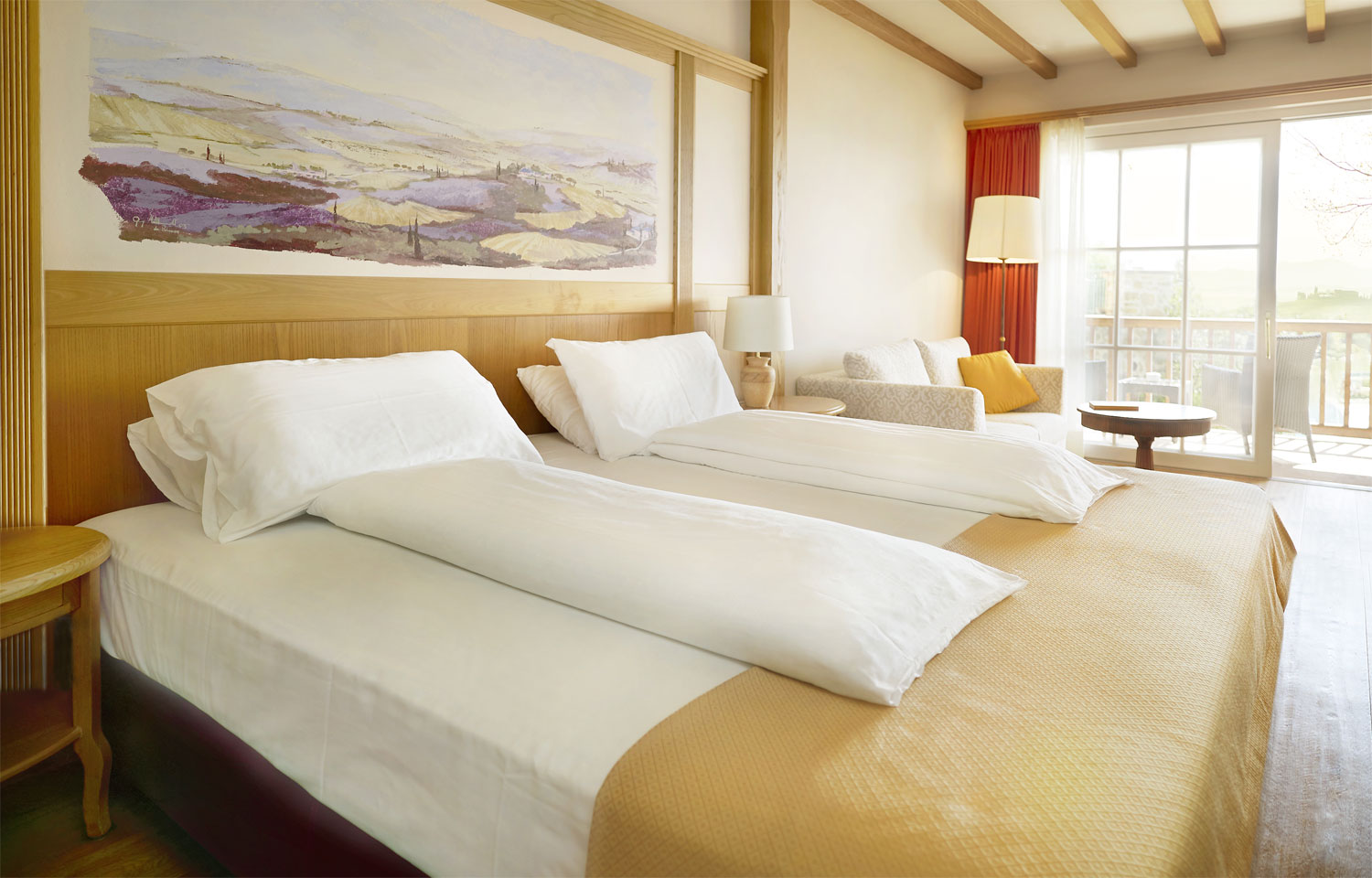 Photo Credit: Adler Thermae Spa Resort
The property offers soothing, cream-colored limestone walls, high ceilings, striking arches and fabulous fresh floral arrangements. The stylish suites are all similar, with floor-to-ceiling glass doors, comfy beds, cozy sitting areas, roomy bathrooms with separate showers, a deep soaking bath, satellite TV, a mini-bar, and complimentary Wi-Fi. The only thing you have to worry about is whether you'd prefer a private balcony or a terrace for taking in the panoramic views. Kudos for the generous, full-sized, bathroom spa amenities, so no need to schlep hair and bath products from home!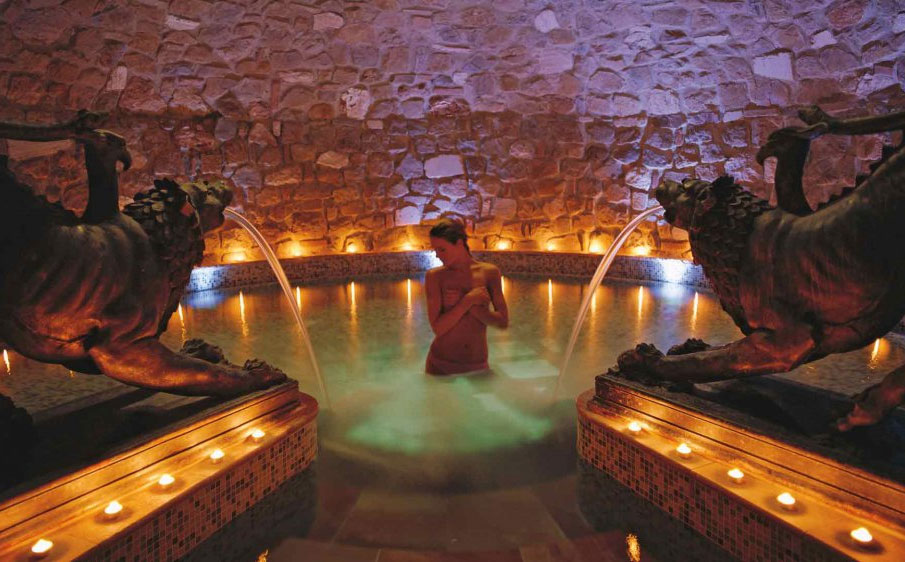 Photo Credit: Adler Thermae Spa Resort
As lovely as the hotel is, the secret ingredient here is in the water, namely the hotel's two pools that are fed straight from the healing, thermal spring waters of Bagno Vignoni. We spent the whole first day "treatment-surfing" to sooth our aching, scrunched muscles from our endless flight. The thermal pool has various temperatures, jets and waterfalls, making it a nice starting place for your day of pampering. Then head to the steam sauna filled with Tuscan herbs and the Etruscan sauna with salt steam that works wonders on your clogged nasal passages.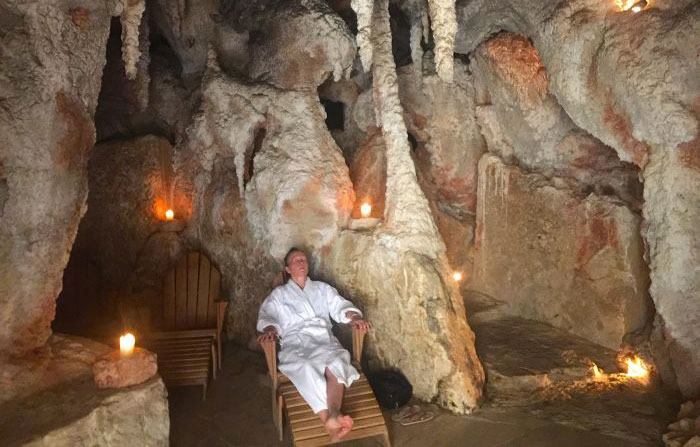 Photo Credit: JRN
Inside the Cave of the Philosopher you'll discover a steamy grotto filled with dramatic stalactites and stalagmites. Follow this up with stint in an authentic olive-wood Finnish sauna on the lake, where the ice-cubes are infused with scented essential oils, leaving us in a state of womb-like relaxation. Throughout your stay, should you wish for a cozy place to dose off for a couple of hours, the upstairs quiet room is filled with the world's most comfy waters beds.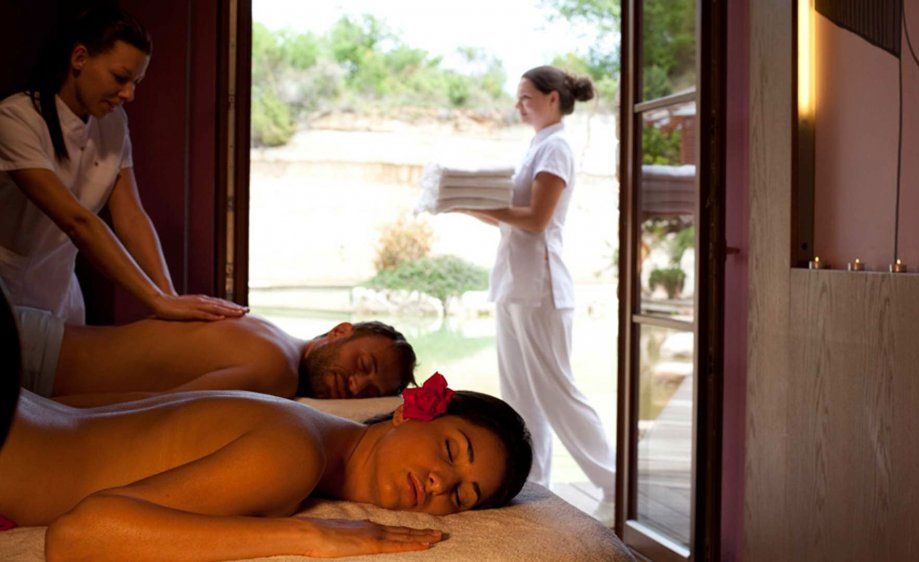 Photo Credit: Adler Thermae Spa Resort
To achieve a total Nirvana-ish state of calmness, the treatment menu is filled with an enticing selection of facials, body treatments, and massages utilizing the Adler Spa Tuscany line of organic skincare products. Go local with a grape goodness package combining the "Brunello Ritual," a decadent wine bath and regenerating grape seed oil massage, as well as an innovative, anti-aging facial using the stem-cell extract of the grape. Or try internationally popular treatments like a holistic Haki or Ayurveda treatments, and Criolipolysis sessions for fat loss. The expansive spa boasts 21 treatment rooms and a dedicated team of impeccably-trained therapists.
If you book your spa program before your arrival not only do you get first dibs on popular time slots but they also offer an early-bird price discount. Should you tire of doing absolutely nothing, the Adler offers a slew of both in and outdoor activities. There is a fully equipped, state-of-the-art gym with daily exercise classes including yoga in thermal water, TRX suspension training, water spinning classes and Pilates.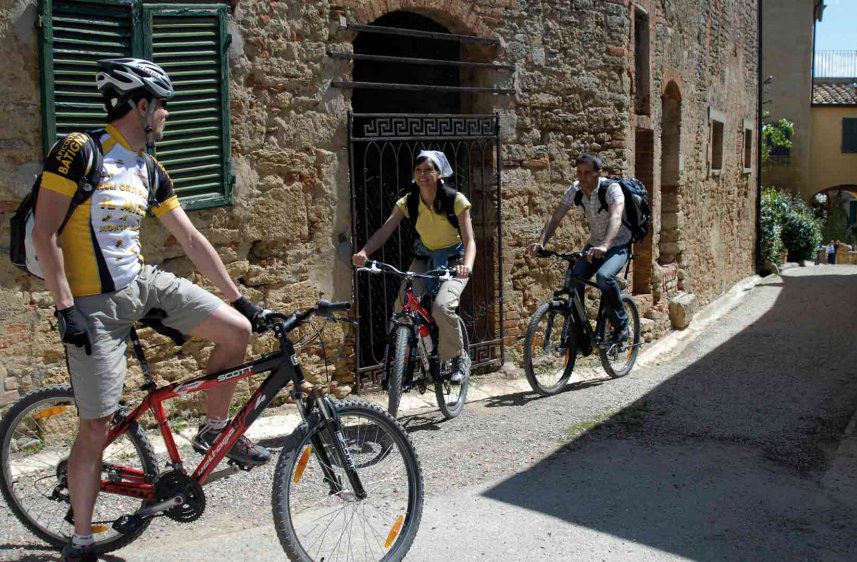 Photo Credit: Adler Thermae Spa Resort
As tempting as these were, the weather was great so we took advantage of their unique hiking program. These fun, energetic excursions offer the perfect way to explore the beauty of the surrounding UNESCO Site. Many hikes integrate the local food scene, such as the informative trek to one of the few remaining saffron producers in San Quirico, complete with a three-course saffron lunch in the old farmhouse. Or venture to the Adler's new winery Tenuta Sanoner to enjoy the hypnotic views of Val d'Orcia while tasting outstanding Aetos wines. Cooking classes, featuring Tuscan peasant food, are held in the winery's showcase kitchen. There's also walking tours such as the Crete Senesi program that includes a truffle hunt and lunch with white truffles.
Rates begin at around USD $265 a night and include a daily breakfast buffet, afternoon snack and a four- to five-course dinner highlighting the local produce and herbs plucked from the hotel's garden.