Photos Credit: Bali Floating Leaf
There are few places as entrenched in spirituality, health and wellness as Bali. As such, few places are more suited to a yoga and meditation retreat. This beautiful Indonesian island has its fair share of luxury havens, but critics seem in agreement as to which one is best.
Bali Floating Leaf is "the premiere retreat center with the best personalized service," according to VOGUE. Condé Nast Traveller considers it one of the "world's best yoga and wellness retreats," and Harper's BAZAAR brands it "the number one choice for luxury oriented, eco-conscious travellers." So what exactly makes Floating Leaf so special?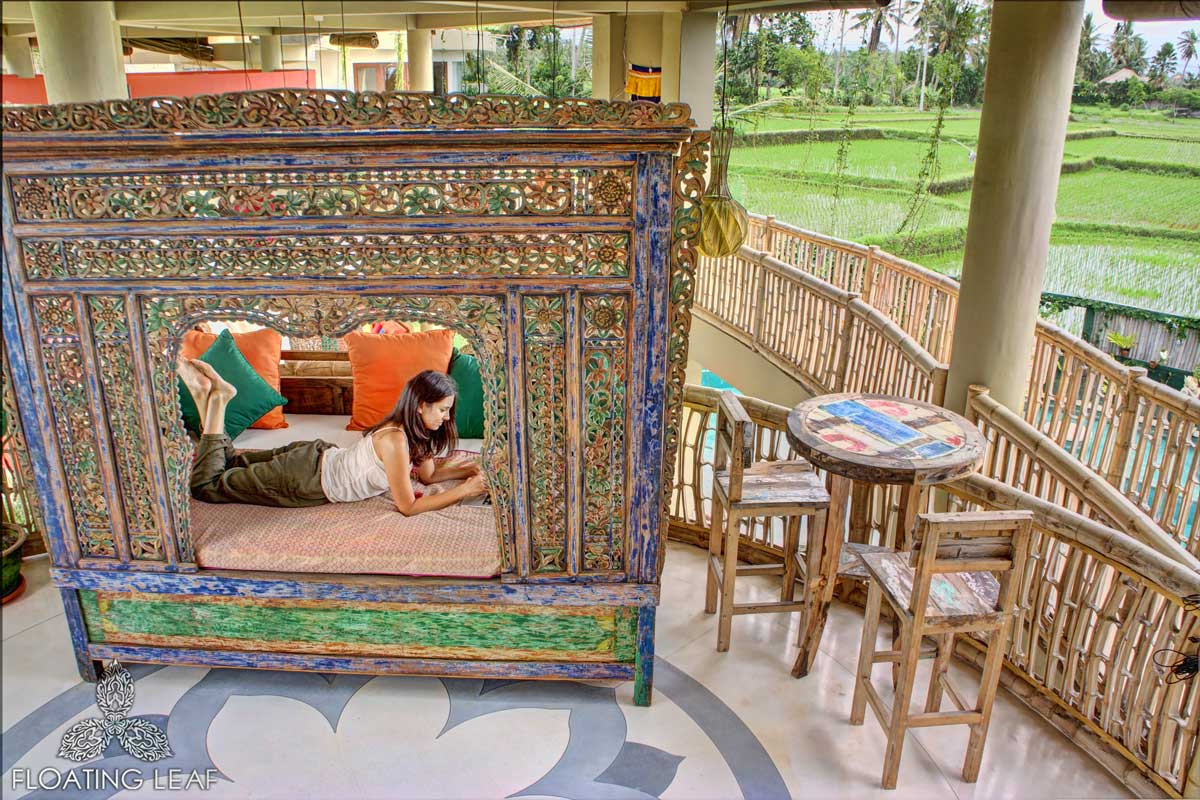 Since I began travelling last June, one thing I've learnt is that I have an extremely restless, fretful mind. The idea of a yoga and meditation retreat sounded like something I would seriously benefit from—but I'm not flexible and my prior attempts at meditation were exasperating. Are these types of retreats only suited for people who've already mastered the art of holistic wellness? I decided to find out.
So, with my mother in tow, I arrived at Bali Floating Leaf for four days of a yoga and meditation retreat called 'Coming Home To Your Body'. Here's my takeaway.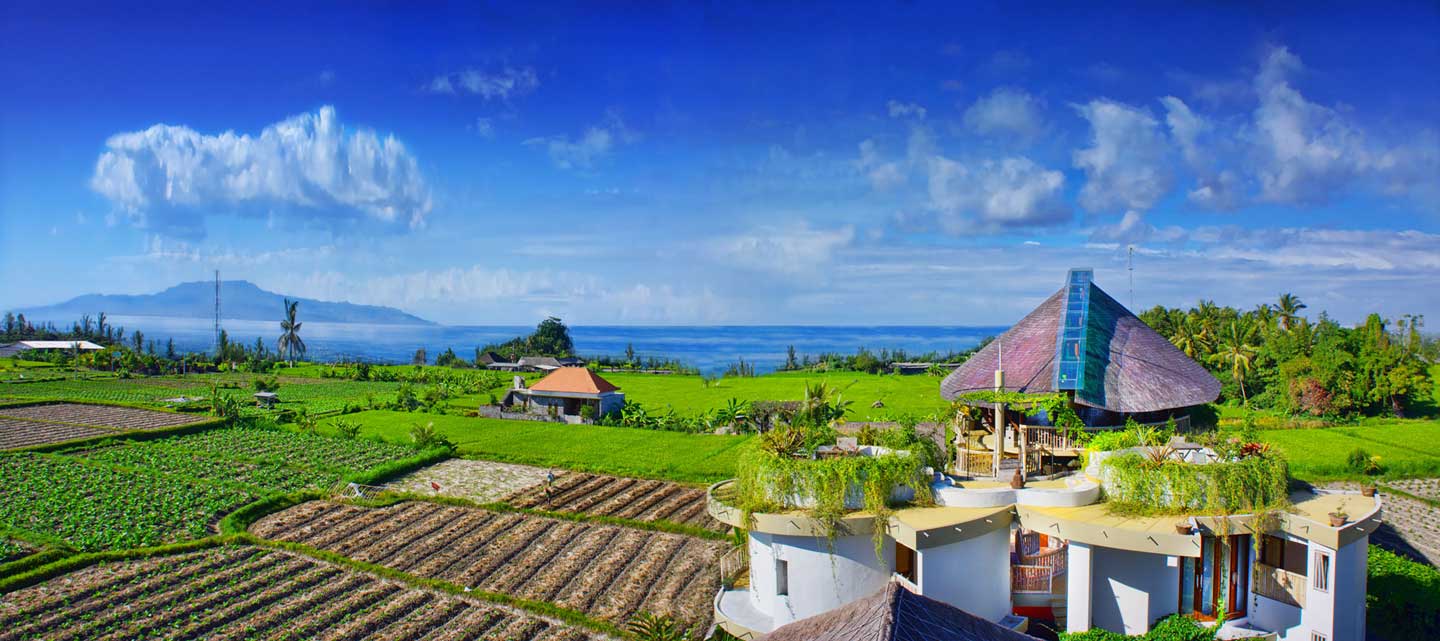 An Ethical & Sustainable Resort
The main thing that sets Floating Leaf apart from other luxury retreats is the sense of community that pervades it. The staff are exclusively Indonesian, and all are provided with decent wages, health insurance (for them and their families), educational opportunities and a retirement fund. You get the sense that the staff love working here; I've stayed at some exceptional resorts since traveling, but never have I experienced service with such genuine smiles.
"Eco" and "ethical" are buzzwords in Bali, but Floating Leaf has put their money where their mouth is. The owners of Floating Leaf, Mikaku and Putu Doliveck, worked hand-in-hand with local villages to ensure that the Balinese heritage and culture would only benefit from the retreat, and local customs and courtesies are always observed. At its core, Floating Leaf is somewhat of an educational facility, and giving back and community outreach plays large part in forming the retreat's identity.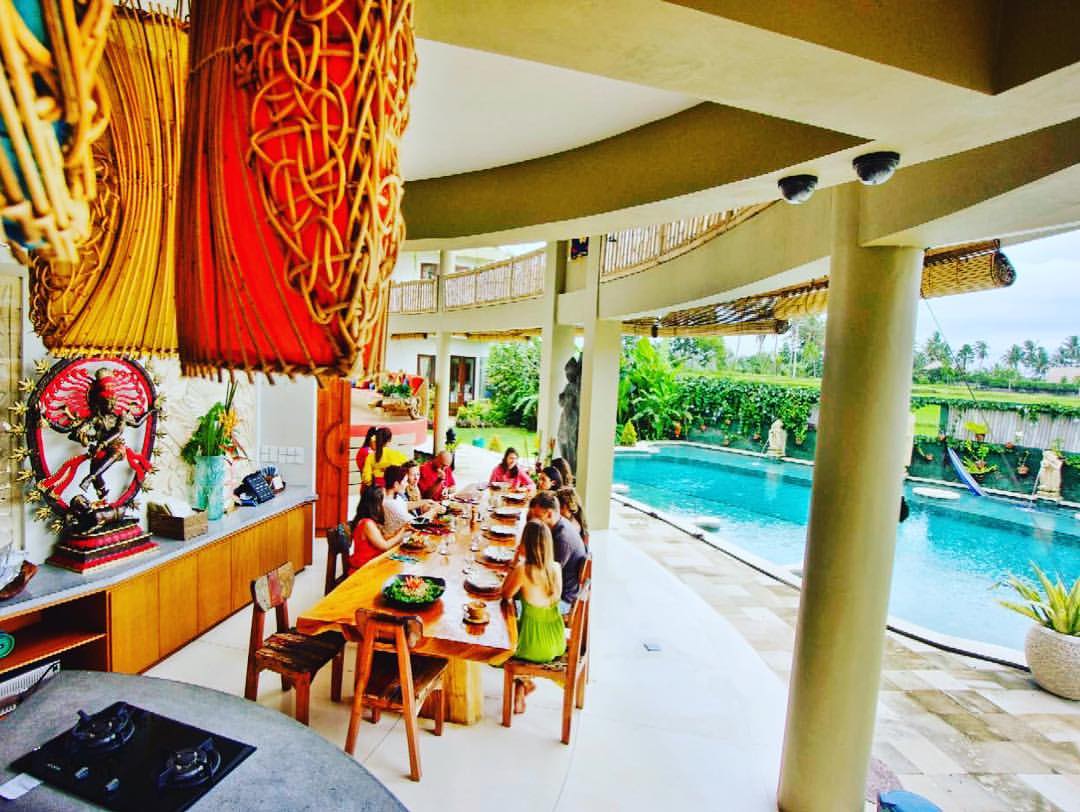 Sustainability is literally built into the foundations of the retreat: the rooms are round, preserving building materials; the toiletries biodegradable; the materials recyclable and the food organic. This meticulous approach to sustainability was designed not only to reduce the retreat's carbon footprint, but also to help guests feel connected to nature. The partly open-air bathroom is one example of this: having a shower while gazing out at rice fields and feeling the warm Bali breeze on your skin is a uniquely memorable experience.One of the standouts of the retreat facilities is the 17-meter Healing Pool, which is partially made up of salt water and thus requires much less chlorine than customary. There are lotus platforms in the pool for yoga or meditation, and the loungers and water-hammocks are perfect for relaxing after a challenging Pilates session. Which brings me nicely onto the next part…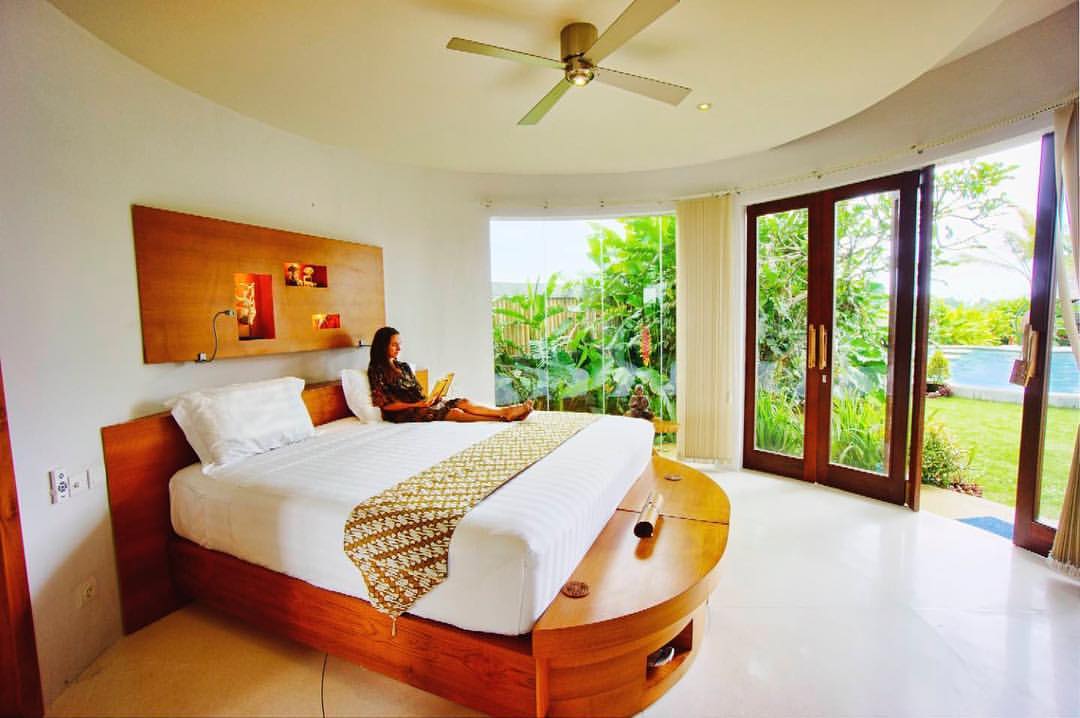 A Holistic Retreat
Despite its beautiful surroundings and luxuriously tranquil environment, Floating Leaf is first and foremost a retreat: most guests come specifically to experience a range of holistic healing treatments like yoga, meditation, and various Ayurvedic treatments. Floating Leaf plays host to several different types of retreat throughout the year, but my stay encompassed the Coming Home To Your Body package.
Hosted by two Australian women (Cassie, a yoga teacher, and Jessica, a Physiotherapist and Pilates teacher), the Coming Home To Your Body retreat uses yoga, Pilates, meditation, mindfulness and neuroscience to help guests reconnect to their bodies and feel a sense of inner stillness. This was the part that intrigued me most; it was also the part that I felt most apprehensive about.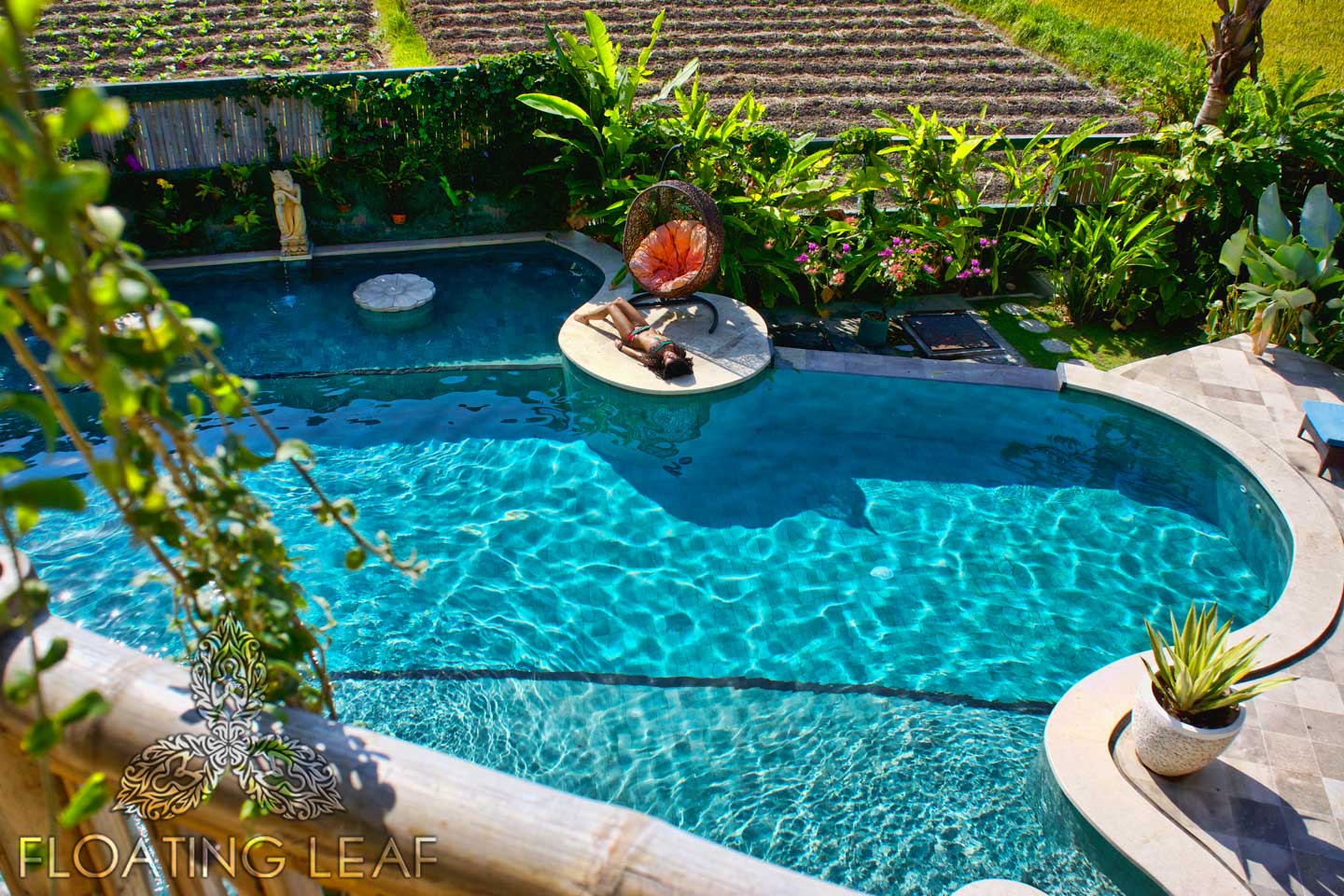 My last efforts at meditation had been futile. I'd never been more been aware of the interminable whirring of my mind—for one hour my brain spun questions around, provoking me with pointless concerns and vague, shadowy stresses. So it's fair to say that this time the pressure was on—not something that's usually conducive to meditation.
But something was different at Floating Leaf. It might have been the setting: a yoga sanctuary on the top floor that provides sweeping views of the Indian Ocean and Mount Agung. Or perhaps it was the calming guidance of Cassie and Jess, which allowed me to relax and, when my mind inevitably ran away with a thought, not to worry about it but to focus on my center of breath.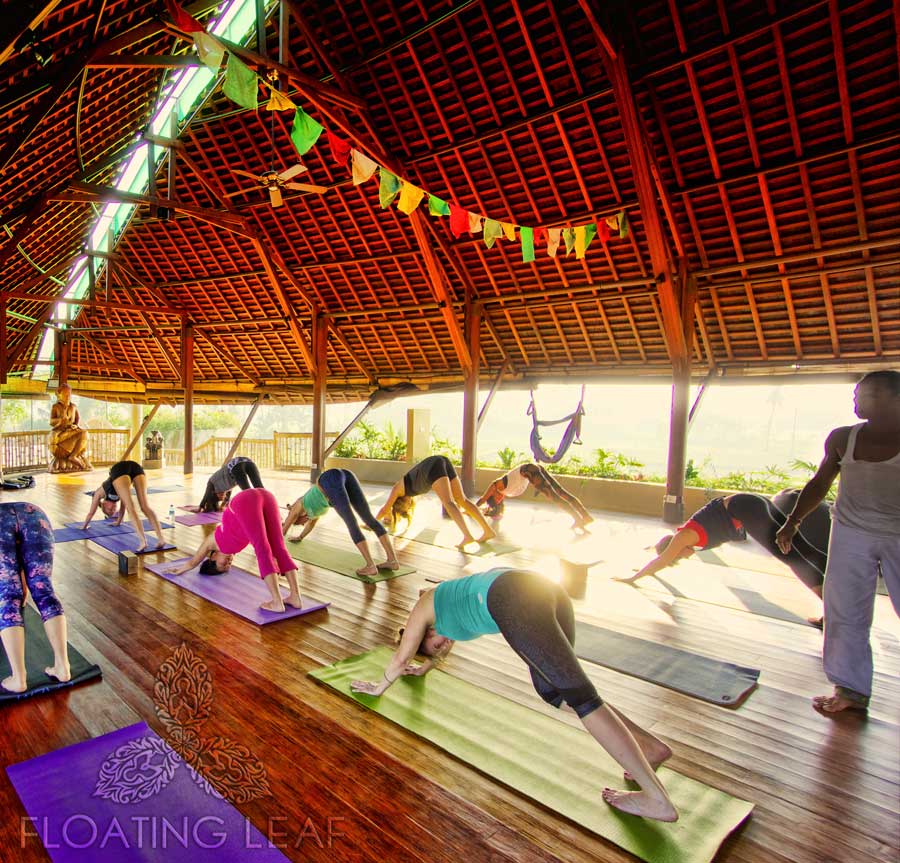 Whatever the difference was, it worked. For the first time ever I managed short bursts of being wholly in the present, a state of consciousness that triggered fleeting feelings of utter contentment. They didn't last long—no more than ten seconds—but the thing with meditation is that once you've experienced it, you know you can get there again. The retreat showed me a glimpse of what it can be like when you master the art of the quiet mind... and as with anything worth having, it takes time and practice to get there fully.
Floating Leaf embodies all that is good about Bali: the beauty, the culture, the nature, the mysticism. The kindness; the going the extra mile, the sincerity, the honest smiles. It's no secret that luxury retreats in Southeast Asia are a dime a dozen, but at Bali Floating Leaf there's a genuine sense of serenity infusing the resort. If you're looking for an ethical retreat, luxurious comfort and heartfelt authenticity, it's doubtful you'll find better.