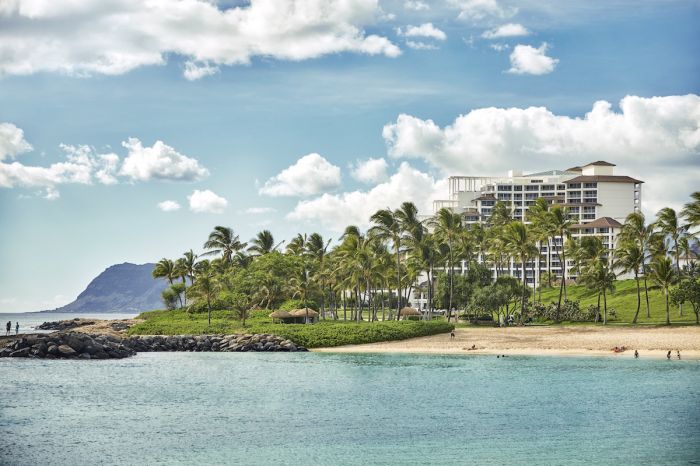 Photo Credit: The Four Seasons
On luxury vacations to Hawaii in recent years, one had to make the choice between being close enough to Honolulu to savor its myriad delights, (therefore getting lost in the crowd of the many other tourists) or decamping to a more remote location boasting great natural beauty, but minimal attractions beyond the gates of the hotel. The 50th state's newest luxury resort however, the Four Seasons O'ahu at Ko Olina, offers elite travelers the best of both worlds, being both close to Honolulu yet sited in an ideal location offering all the luxury and privacy of a world-class beach resort worthy of the legendary Four Seasons name.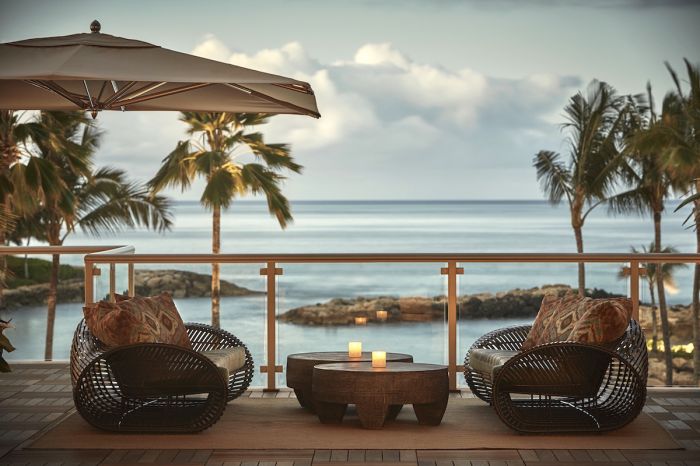 Photo Credit: The Four Seasons
Oahu is of course the island Honolulu is situated on, Hawaii's most dynamic locale, and Ko Olina is widely recognized as its most beautiful spot. Until now however it has not boasted a five-star beach resort, a category that didn't really exist outside the crowded, if beautiful, confines of Honolulu's high-end Waikiki Beach. And an in-town experience simply doesn't compare to what the Four Seasons has achieved in Ko Olina: a blend of Hawaiian tradition, contemporary luxury, world-class cuisine, and an incomparable beachfront setting that is utterly exclusive and relaxing thanks to its location just 35 minutes outside of downtown Honolulu.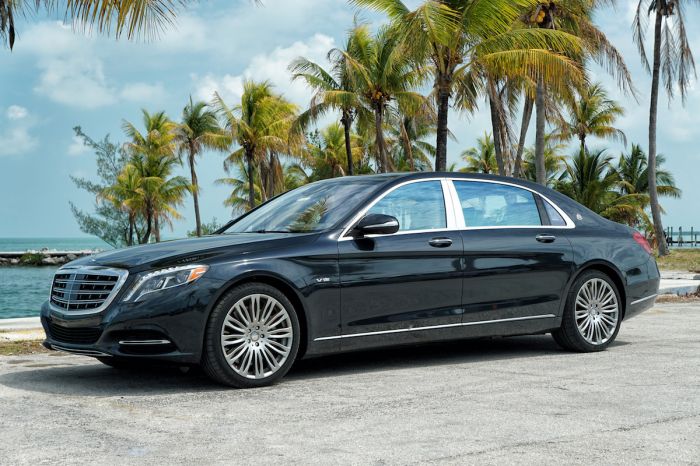 Photo Credit: Mercedes-Benz
The tone is set from the start by the hotel's incredibly luxurious house limousine, a Mercedes-Maybach S600, the pinnacle of stately motoring. The $200,000 vehicle has a 523-horsepower 6-liter V12 biturbo engine, i.e. the heart of sports car, with a handcrafted, exquisitely appointed interior akin to a private jet. Available by exclusive booking to guests of the Ko Olina property who want to truly experience a Four Seasons arrival in style, or explore Honolulu in regal fashion, the gorgeous Maybach is just one more masterful touch indicating that no expense was spared in creating the ultimate Hawaii getaway here.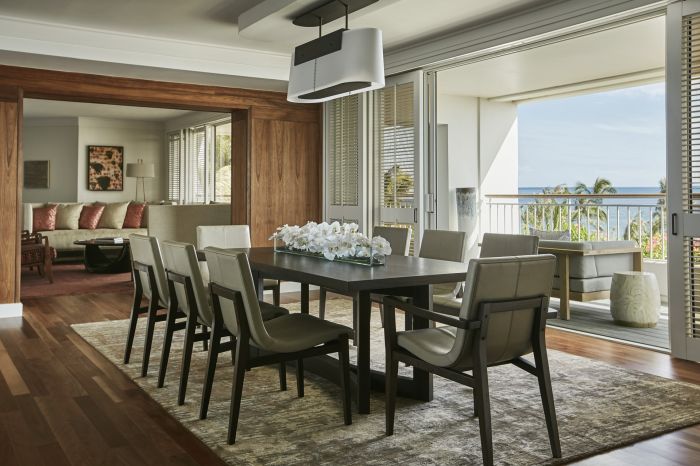 Photo Credit: The Four Seasons
With 371 airy, light-filled guest rooms including 55 stunning suites, fantastic views of the Pacific, and an opulent average of 640 square feet per room, the hotel's layout gives the feeling of a private enclave, enhanced by "Kama'aina" (native Hawaiian) style open air public spaces. The decor emphasizes and complements the natural beauty of the area with artful use of traditional local woods and details like banana leaf headboards on the bespoke Four Seasons signature beds. Spacious private lanai terraces furnished in tropical style seamlessly blend indoor and outdoor living and making the most of the beachfront locale. Marble bathrooms offer two vanity sinks, deep soaking tubs and walk-in glass showers.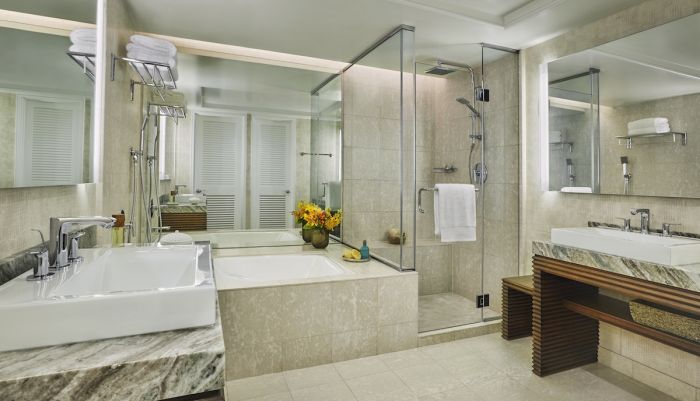 Photo Credit: The Four Seasons
The ultimate accommodation at the posh property is the fourth-floor Presidential Suite, which has exclusive access to the private rooftop Sky Terrace, overlooking the blue waters of the Pacific, the white sand beaches of the Ko Olina Lagoons and the Waianea mountain range where it meets the ocean. The two-bedroom, 3,840-square-foot layout is equipped with luxe amenities including a multimedia room and an oversized master bath that's more like a private sanctuary. Other top-drawer suites include the three-bedroom Residence, the 17th-floor Penthouse and the Pacific Suite featuring a private outdoor lanai with a private Jacuzzi and garden area. Decor throughout is contemporary Hawaiian luxury with a clean, modern feel. There are of course state-of-the-art HD televisions in every room but it's pretty hard to compete with the incomparable views.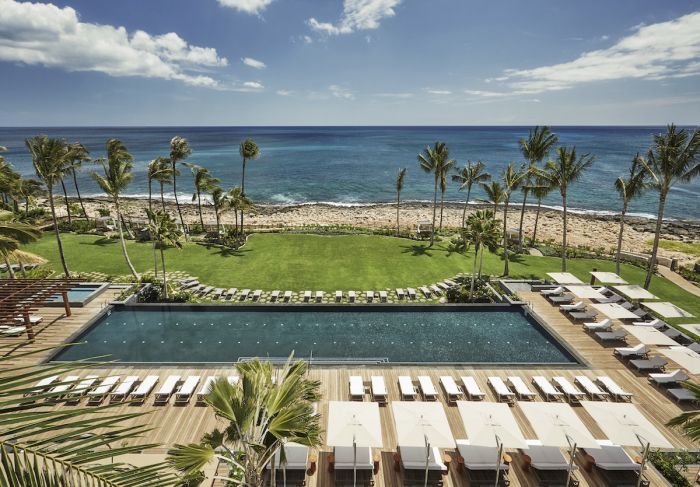 Photo Credit: The Four Seasons
The property features two family-friendly pools tiered down to the beach, but a more private retreat can be found at the adults-only quiet ocean beach and infinity pool with perfectly furnished cabanas that can be reserved in advance. Friendly attendants see to your food and drink needs with alacrity at these elegant open-fronted structures. There's also an outdoor lap pool at the Naupaka Spa & Wellness complex, featuring a 35,000-square-foot Naupaka Spa as well as 10,000-square-ft. health club. Inspired by ancient Hawaiian healing traditions, the Napuka Spa offers innovative treatments incorporating local indigenous practices. And rounding out the recreation features are an on-site tennis centre run by Jim Courier Tennis and special access to the nearby Ko Olina Golf Club.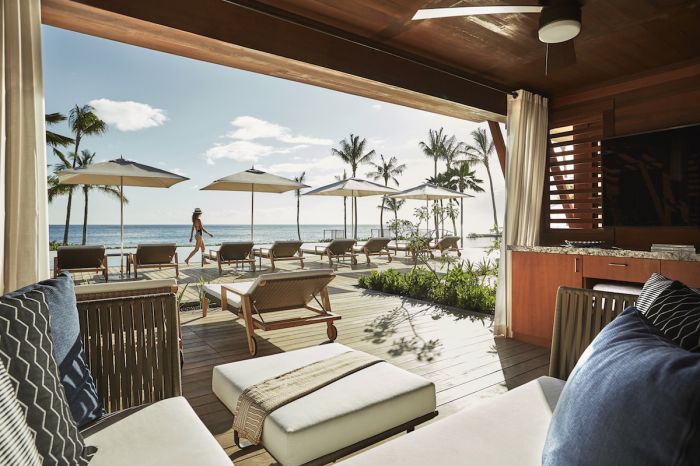 Photo Credit: The Four Seasons
Last but not least there is the property's amazing food and beverage program. There are five different restaurants and bars in all offering a variety of indoor-outdoor settings. Standouts are the Fish House, a "line-to-table" seafood eatery with multiple outdoor decks overlooking the beach and an impressive selection of fresh catches; and Noe, a stylish Italian restaurant cooking up homemade pasta and sauces, flavored with an abundance of fresh herbs, produce and seafood. At Noe Chef Ryo Takatsuka aims for a "Capri-meets-Oahu" vibe with a fresh take Southern Italian classics influenced by the setting. Many of the Italian wines on offer at Noe have never before been available in Hawaii. Dishes not to miss include Maccheroni pasta with king crab, spinach and lemon; and Lobster Catalana, with potatoes, onion and fennel.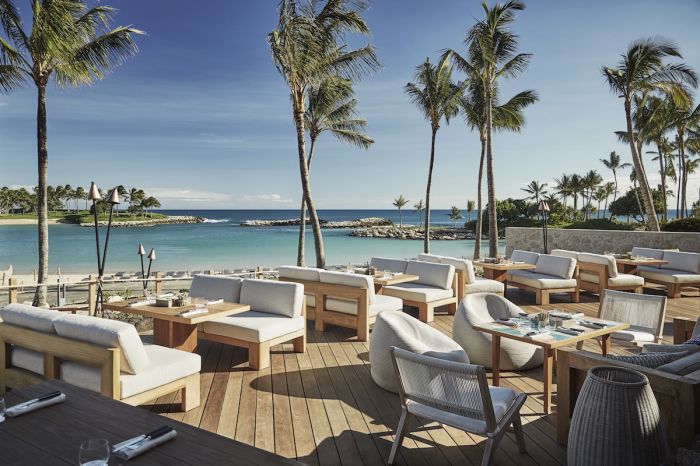 Photo Credit: The Four Seasons
The Four Seasons Oahu at Ko Olina is adjacent to the Lanikuhonua ("where heaven meets earth") Cultural Estate and nature preserve in the resort community of Ko Olina, which means "place of joy". At Ko Olina the Four Seasons has truly created something special, that not only does justice to its privileged location but to the hallowed brand's iconic name. All in all, a masterpiece that we recommend visiting at the earliest opportunity.