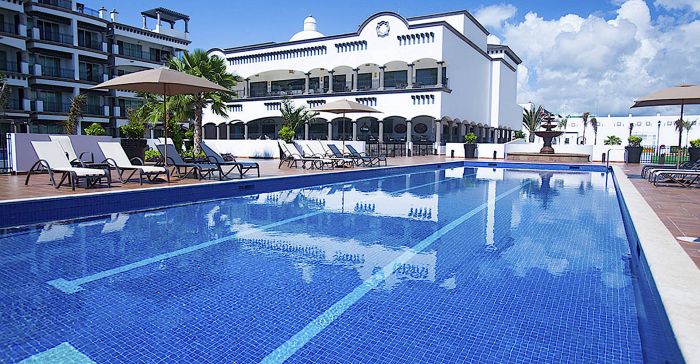 The Grand Residences Riviera Cancun
The Grand Residences Riviera Cancun ain't your grandmother's all-inclusive hotel experience. Past unhappy memories include competing with swarms of people desperately trying to flag down a beleaguered waiter to bring you a watered-down drink since you can't leave your place in the mediocre buffet line. At the same time you're trying to keep an eye on your pool chair since you left your book and hat there, hoping to save one of the few shady spots you managed to score by waking up at 6:00 AM. Granted it was cheap, but also totally unmemorable and in no way was it a relaxing getaway.

The Grand Residences Riviera Cancun
But I recently discovered The Grand Residences Riviera Cancun, the iPhone X of Mexico's all-inclusive hotels. The exclusive resort is hidden in a sweet spot by Puerto Morelos, a fishing village located between Riviera Maya and Cancun. This five-star, sophisticated, all-suite hotel stunner, a proud member of the prestigious Leading Hotels of the World collection, sets a new standard for all-inclusive. With only 103 humongous, tastefully decorated suites, it can almost be considered a boutique property, since other resorts in the area have 500+ rooms.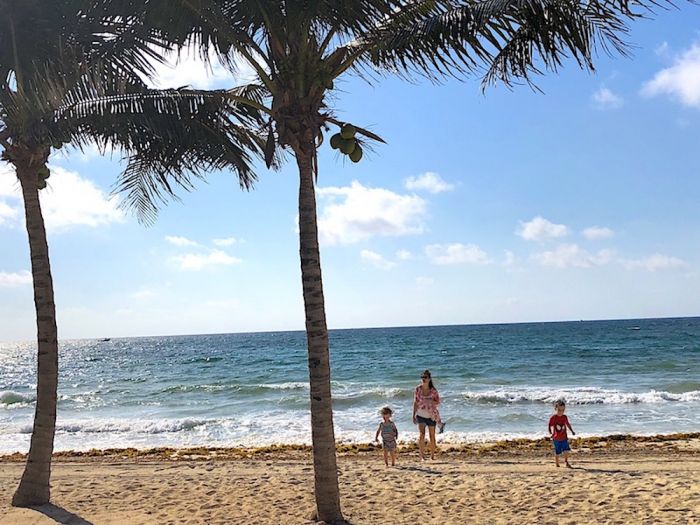 JRN
All suites come with beach views and private outdoor terraces and range from 1-4 bedrooms. As gorgeous as the accommodations were, I was wowed by the never-failing, warm, gracious service provided by the whole staff, starting with a complimentary pick-up from the Cancun airport where my friendly driver whisked me off to the property in a private black SUV.
As soon as you enter the hotel you're offered a perfect Margarita, capably made by my soon to be best friend, Modesto, a master mixologist. With spiced salt rimming only half the glass, you can drink it with or without the salt. That's just one example of their attention to detail!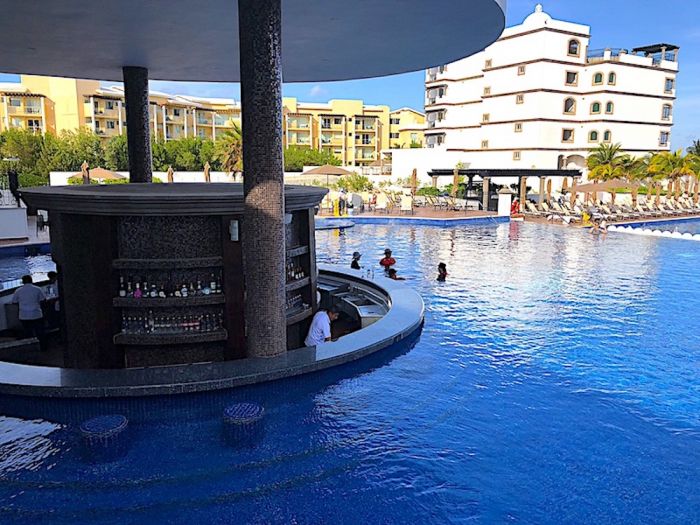 JRN
The resort has three massive pools including a children's pool and an adults-only pool complete with a swim-up bar. Curmudgeon that I am I was thrilled that there was only a handful of kids when I was there- and a welcome lack of hard-core spring break debauchery. The property bumps up against the beach, so you can walk along the white sandy beach for miles or just jump for joy in the warm Caribbean waves.
No need to wake up at the crack of dawn to nab a pool chair since there are literally endless chaise lounges available in the sun, shade or in between. Just point out the one you want to one of the obliging pool attendants who totally spoil you by offering chilled towels, fruit popsicles, sunscreen, creative lil' umbrella cocktails, extra towels, a spritz of Evian Facial Spray or anything else that your little heart desires.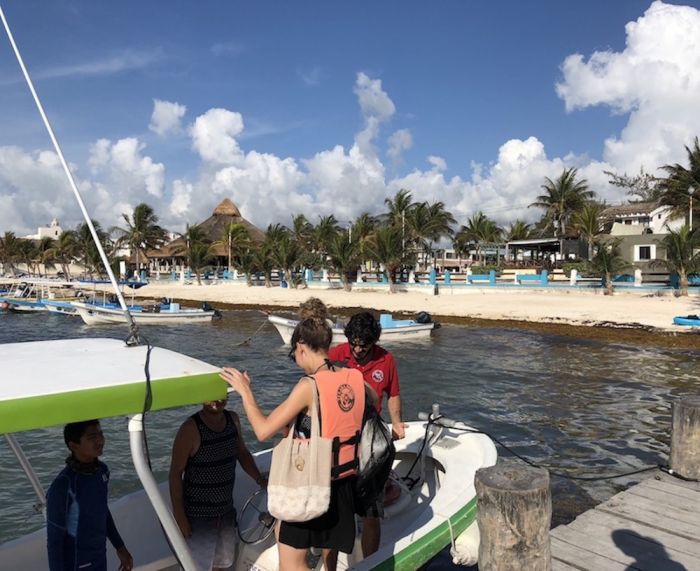 JRN
Getting a little antsy? The resort offers a range of activities from tennis, snorkeling, and bike tours to Yoga, Zumba, salsa dancing or Spanish classes. Foodies can partake in afternoon high tea, cooking classes. I learned tons at the Tequila tasting, where Javier, the resident sommelier, teaches you everything you need to know about tequila, from how to properly sniff it (unlike sniffing wine you put your nose outside the glass to avoid the alcohol fumes) to identifying the unique flavor profiles for ranging from fruity to smoky.
Check out the day's offerings posted daily at the activity center where you can also rent life jackets, beach toys, boogie boards, and snorkel gear. I was so happy pool hopping that I could have stayed on property the whole time except then I would have missed out on some incredible snorkeling. After picking up our gear at the activity center we piled in the van for a short drive to our boat. Minutes later we were snorkeling over the world's second largest barrier reef, which is alive with a kaleidoscope of tropical fish, as well as some bizarre-looking lobsters that were as long as my arm! They took us to two different spots, which were home to completely different marine species.
Need some additional pampering?
The hotel's full-service spa offers massages, facials and nail and hair services. To soothe my sunburn I was tempted by the After Sun Body Wrap but after the cramped plane ride, I opted for a classic Swedish. After my massage therapist, Rosie intuitively searched every last sore spot and gently rubbed them into submission, I immediately decided that a massage-a-day was in order.
Don't want to come home with extra poundage from the gourmet food offered 24/7? Head to the state-of-the-art gym, also open 24/7 to work it off. I know which I find more tempting;)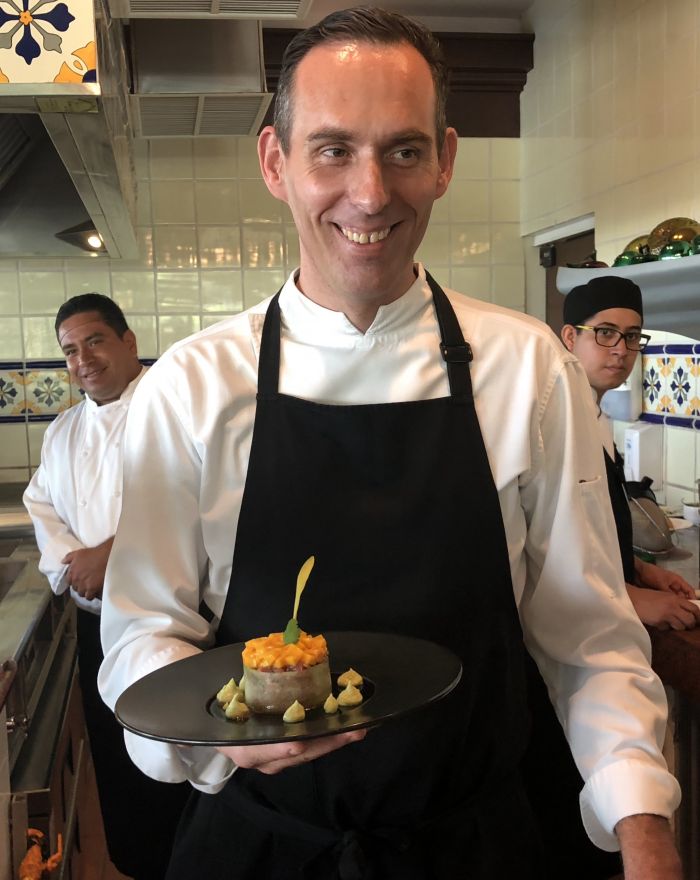 JRN
Speaking of food, it's no wonder that the cuisine here is such high quality since their award-winning chef, Yann Cozic hails from France, although he married a local girl and has lived here for about 20 years. Over the years he has perfected his Mexican cooking skills which he often combines with surprising French twists. One perfect example is his decadent hot avocado dessert mousse. He'll probably kill me for this, but if it's not on the constantly changing menu, pull him aside and beg him to make it for you…it's life-changing!
I picked up many helpful tips during his cooking class. The first was to order a flute of the local Mexican "champagne" which paired well with my note-taking. I learned the easiest way to peel fresh ginger is with a spoon and if you flash freeze tuna before chopping it up for tartare, it will retain its pink color.
But the best one was when Chef Yann revealed that the secret to their signature guacamole is the addition of finely chopped green apple.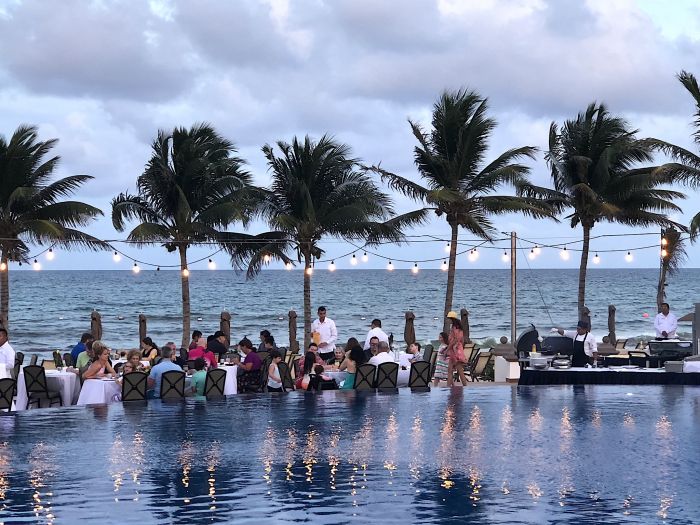 JRN
Although there are only two main restaurants, plus the Heavenly Beach bar, which I frequented for tasty poolside treats and live jazz, the menus change constantly and they offer many special themed meals. Don't miss the magical beachside BBQ dinner where the palm trees are strewn with angel lights.
El Faro Grill specializes in sparkling fresh seafood, prime steaks and some decadent desserts in a romantic candlelit setting. Take in the live chef-show at the open kitchen or enjoy the ocean sunset views.
For the real deal in Mexican cuisine, Flor de Canela offers a regional culinary experience. I'm still dreaming about my pristine lobster in garlic butter, although the suckling pig and charro beans looked tempting, and you can't go wrong with any of the traditional Mexican standards.
They make a mean taco and their poblano soup is not to be missed. I was drooling over their special Taco Tuesday dinner.
JRN
The extensive buffet breakfast is attractive, starting with fresh smoothies and a counter laden with tropical fruit and homemade pastries, as well as all the usual American and Mexican breakfast items (think made-to-order omelets, puffy pancakes, and chilaquiles served with a side of refried beans). All good choices but my favorite way to kick-start the day was to head over to the corn tortilla maker and have her grill me up a few, topped with melted cheese, mushrooms, and salsa.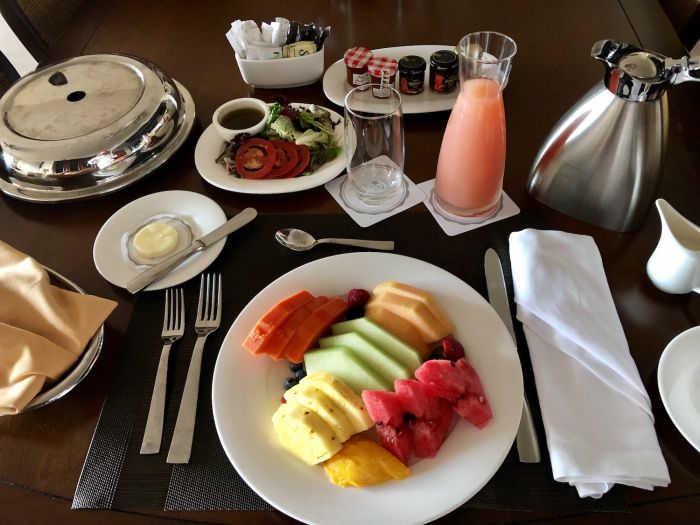 JRN
That's when I could force myself to leave my outdoor Jacuzzi, where I was could take in the beach view in private while enjoying my morning espresso and fruit plate, cheerfully delivered by room service. Piggy that I am I often indulged in two breakfasts!
As for the suites my only complaint is that it took about 20 mins to turn off all the light switches before going to bed. (Hint: add a master switch in each room for those of us who don't want to wander around the 1,421 sq foot residence in search of switches. Or next time I could stay in the 3,832 sq ft. Four Bedroom Presidential Suite and call the butler to do it for me!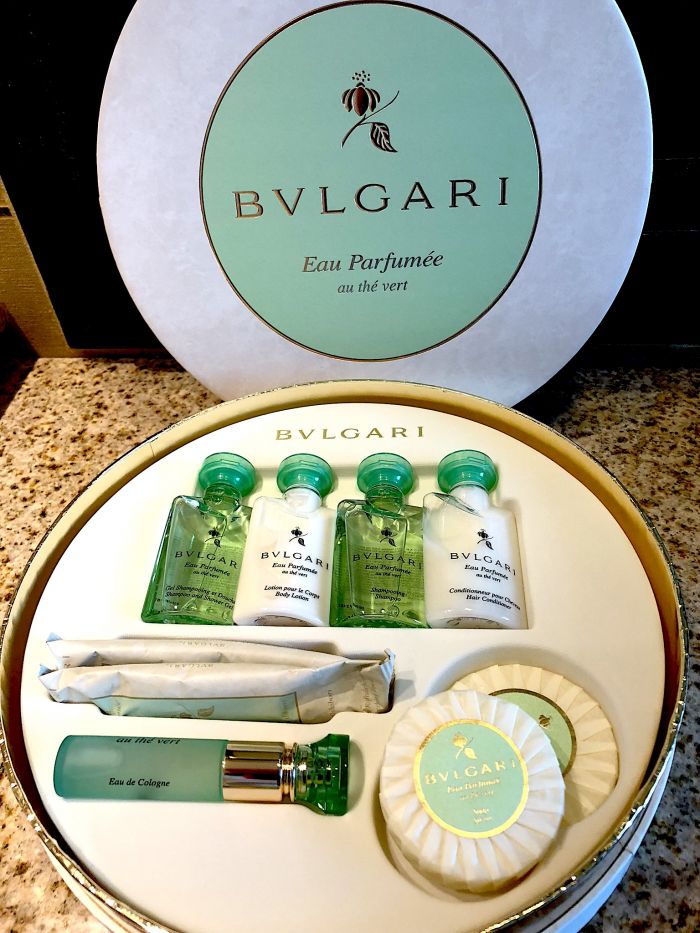 JRN
The master suites are designed with soothing colors, in a relaxing contemporary Yucatan style, and are equipped with a full kitchen, a sizeable private terrace, flat-screen TVs, Jacuzzis (my suite had both an indoor and outdoor one;) and free Wi-Fi access. Just a sampling of the suite amenities include a DIY laundry room with full-sized washer/dryer, well-stocked drink selection in the fridge, a welcome bottle of top-shelf tequila complete with salt, lime and shot glasses, a selection of fruit, nuts, and bar nibbles, Nespresso machines for your morning coffee and full-sized bottles of pricey Bvlgari bath products. Shhhh…don't rat me out, but when I tucked away a bottle of the fragrant green tea shampoo to bring home, it was promptly replaced.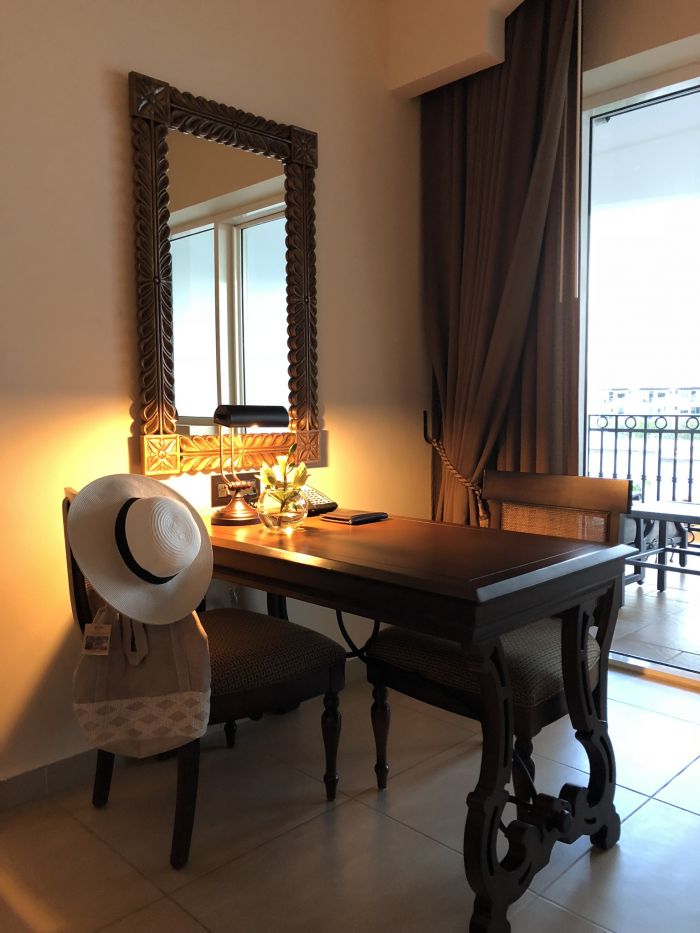 JRN
There are even prezzies for you to take home, including a colorful beach bag, a traditional necklace, and the most adorable handmade little wooden creatures that are placed on your bed instead of boring old chocolates.
One of my major complaints during my travels centers around the pillows. Sometimes they are too hard, too soft, too high…well, you get the idea. So I loved the 3-D pillow menu where you have about mini-samples of various pillows to choose from for your sleeping pleasure. Simply brilliant!
The take-home lesson from my stay at The Grand Residences Riviera Cancun is that if you've never been a fan of the all-inclusive resort, it might simply be because you didn't choose the right one.