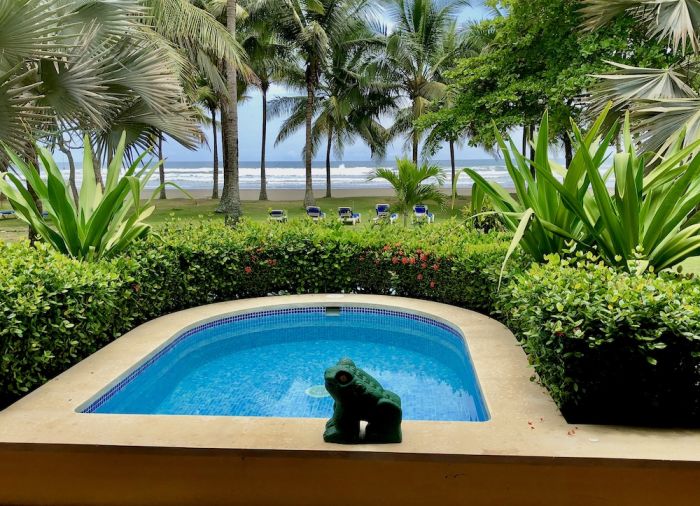 Private plunge pool-JRN
Alma del Pacifico Beach Hotel & Spa: this stylish beachside resort is my new "happy place".
I'm not sure if it was the tasteful riot of color that greets you at every turn (like walking through a Diego Rivera mural), the peachy location smack dab on Esterillos Beach, or the caring staff that treats you like an honored guest, but throughout my stay at Alma del Pacifico you couldn't slap the happy grin off my face.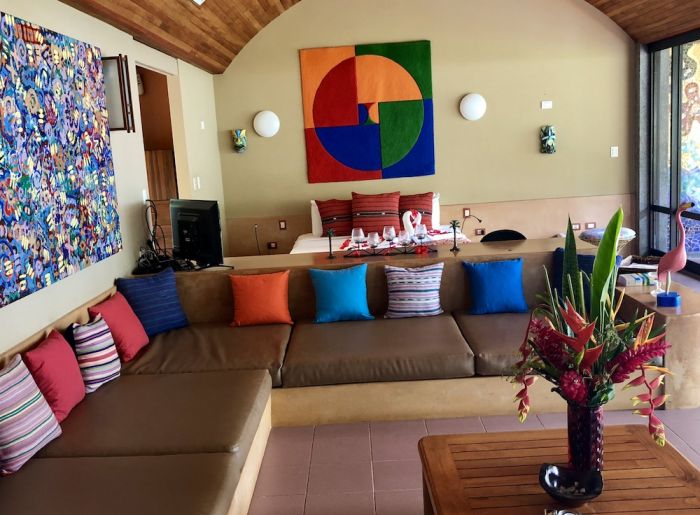 Rainbow colored suite-JRN
The 20 spacious, beachy bungalows hidden behind 8-foot high, brightly painted walls ensure optimal privacy for you to enjoy your personal indoor/outdoor rain shower, tropical garden, and plunge pool. The vibrant villas are strewn with contemporary paintings, mosaics, tapestries, and fresh flowers, plus the fantasy towel creatures on my bed could rival Crystal Cruise's finest.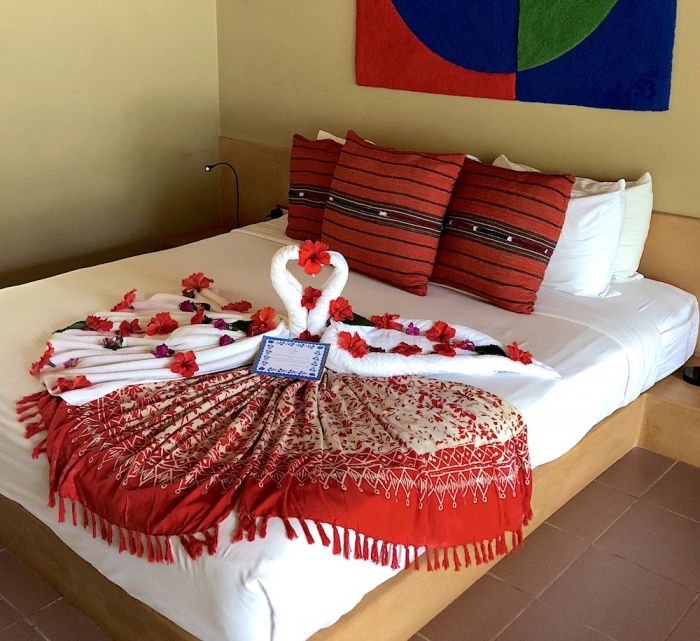 Fantasy towel swans-JRN
Large flat screen TV's, I-pod docks, a mini-fridge stocked with complimentary drinks, fresh fruit, and a plethora of candles, magazines and books are just some of the modern conveniences. Swim in either of the two mosaic pools surrounded by lush jungle flora, sparkling waterfalls, wander around the gorgeous gardens- an attraction in their own right, unwind in the outdoor Jacuzzi or take a sunset stroll along the near-empty sandy beach.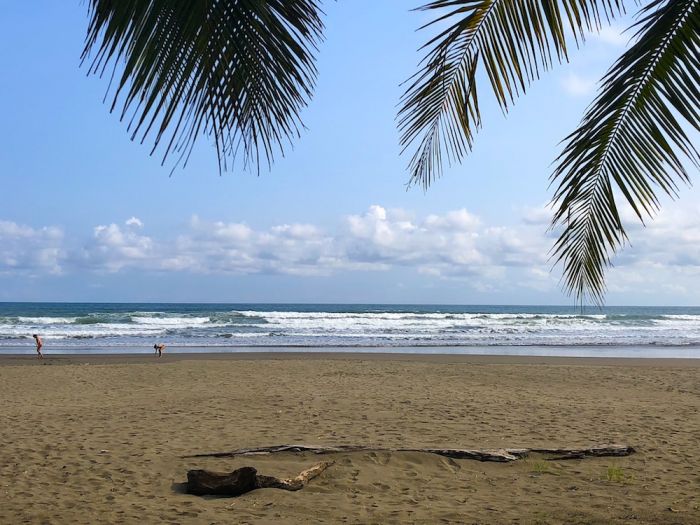 Near empty beach-JRN
Alma's seaside spa consists of four restful treatment rooms, which represent the four elements of Feng Shui. The spa menu has a roster of classic massages, wraps and facials. I can confirm that the Healing Tranquility Massage certainly lives up to its name, while the more exclusive treatments using local ingredients, such as their Costa Rican Coffee & Spices Scrub, made from coffee, sugar, ginger and cinnamon and orange essential oil sounded good enough to eat.
Mosaic Restaurant offers picturesque ocean views to pair with their healthy food featuring sustainable ingredients, many of which are plucked fresh from their organic garden. They source the finest local free-range chicken and beef, including a variety of fish caught right in their backyard ocean. The catch-of-the-day will then be prepared "your- way" be it grilled, sautéed, or blackened with a choice of sauces including a spicy wasabi vinaigrette or mango salsa.
Typicio meal-JRN
I could barely waddle away after polishing off the traditional Casado, a huge plate of rice, black beans, plantains, salad, tortilla, and either chicken, beef, pork, or fish. Casado translates to "married man" since this is what most wives serve their husbands when they came home for lunch. Obviously Tico's believe that "the way to a man's heart is through his stomach!"
The breakfast menu had everything from American standards to local treats including a gorgeous tropical fruit parfait, fluffy banana pancakes anointed with rum and granola, and a traditional, well-prepared Tico breakfast, fit for a farmer tilling the back 40.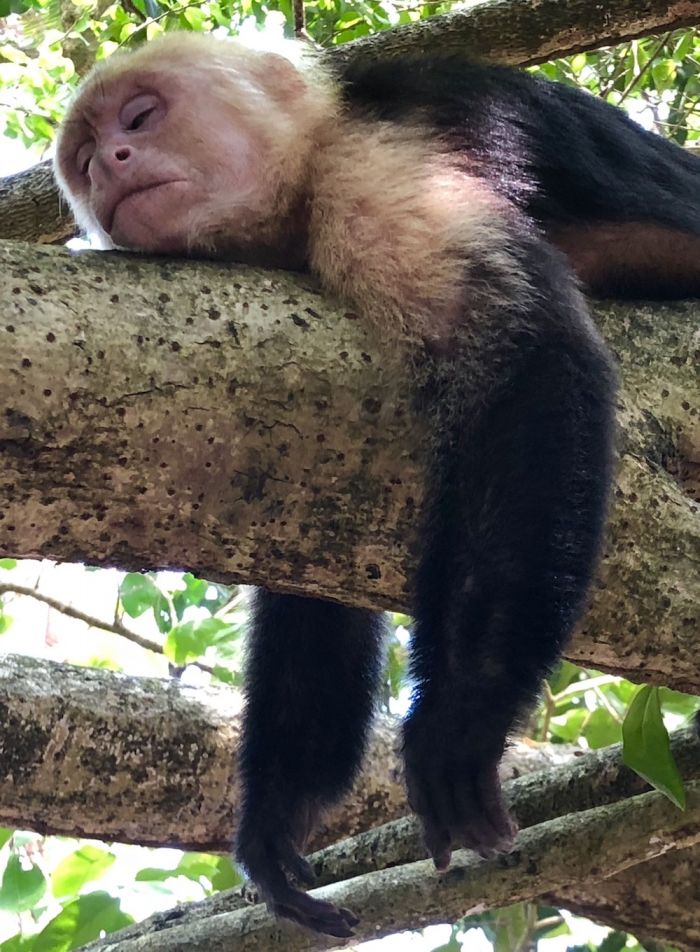 Sloth-like monkey in Manuel Antonio National Park-JRN
Off-Prem: Manuel Antonio National Park
The t-do side trip is the 45-minute drive to Manuel Antonio National Park, which Forbes considers "one of the world's most beautiful parks". The dense rainforest, abundant wildlife, namely various species of monkeys, iguana's and the crowd-pleasing sleepy sloth, as well as the hundreds of birds species, make this park an extremely popular tourist attraction. You can take a self-guided hike through the forest trails but to fully appreciate the park's natural wonders hire a professional guide with a high definition telescope for your viewing pleasure.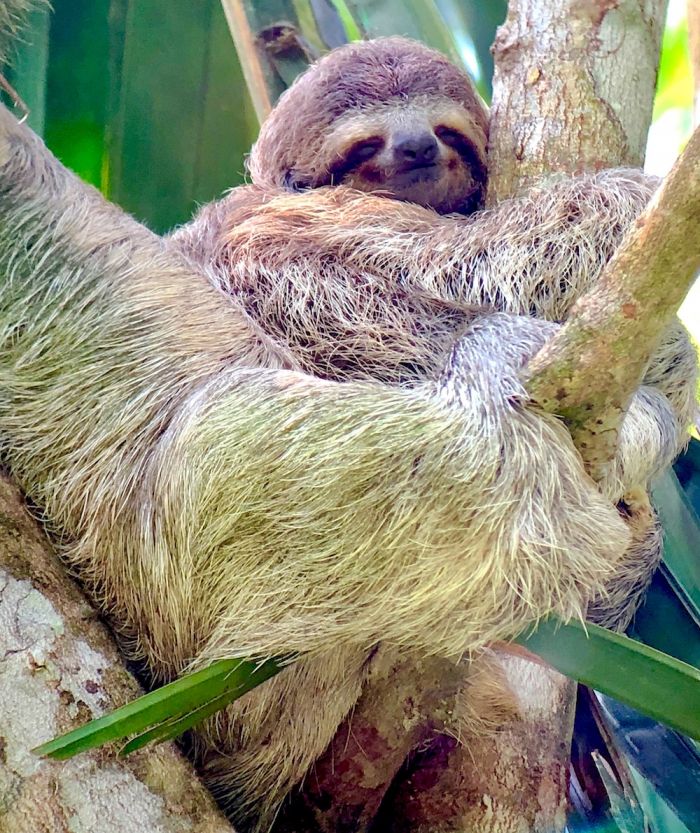 My first sloth sighting in Manuel Antonio -JRN
Tip: The park is also home to some gorgeous beaches so don't forget to pack a swimsuit, snorkeling gear and bring your own picnic. Playa Manuel Antonio is known for its spectacular views, but a bit further down the main trail is the white sandy, Playa Espadilla Sur, which is way less crowded and no slouch in the beauty department either. Keep an eye peeled for dolphins and whales that might join you for a swim.
Alma del Pacifico Beach Hotel & Spa is a member of Small Distinctive Hotels, a collection of eight upscale, boutique hotels in Costa Rica's most beautiful & exclusive locations.