Photos Credit: W South Beach
W South Beach Is How A Miami Vacation Should Be Done
It's no secret that Miami doesn't do "low-key." This vibrant city where neon is king and colorful Lamborghinis sit neatly parked next to glossy Rolls Royces on Collins Avenue is the kind of place that turns heads by its mere existence. You want understated luxury? Look elsewhere.
Of course, this bold confidence is what attracts us to its streets and makes us hungry for more. With every white sand beach, high-end hotel and envy-inducing meal prepared by some of the nation's best chefs, the city begs to be pursued…in that hard-to-get kind of way. It's the chase that keeps us coming back.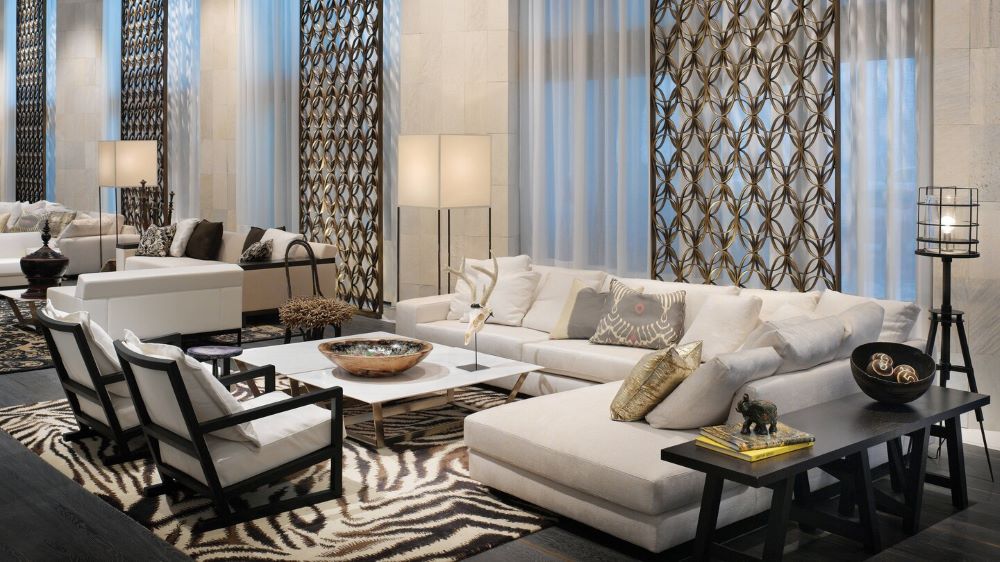 Resting on the southern tip of Miami is South Beach, a destination made famous by its world-class beaches, pastel-colored buildings, Art Deco designs and all-night parties. It is also home to the four-star W South Beach, a modern hotel boasting views of the Atlantic from every room (the only property that can actually say that). In this city that flirts with you from the moment you step off the plane, the W South Beach holds its own and may even cause you to do a double-take.
We recently visited the resort to check out its offerings, dine at its restaurants and soak up the sun at WET pool. Upon arrival, guests are met under a white awning sitting beneath its beautifully-designed, 20-floor façade, it's a quick taste of what's to come. In the lobby, the chic Living Room is decorated with dark metals and woods paired with white sofas and zebra-print rugs. It's quintessentially Miami mixed with the W's unique style. Here is also where you'll find the front desk, W's boutique store, various lounges and the property's dining offerings.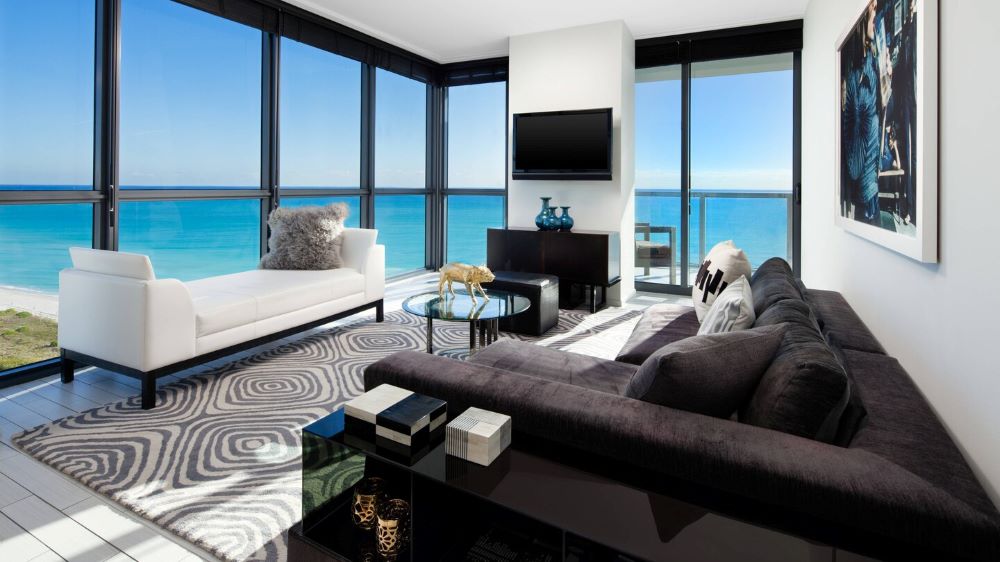 With 408 guestrooms including the newly-redesigned E-WOW Penthouse and E-WOW Ocean Escape suites, you can't go wrong with whichever accommodation you choose. Brought to life by award-winning designers Yabu Pushelberg and Anna Busta, the guestrooms and suites feature sophisticated touches such as white ceramic flooring with wood grain finishes, high ceilings, custom-designed furniture, spa showers and art by Grammy-nominated rock photographer Danny Clinch.
Outside on your private balcony, you'll be treated to cozy chairs, loungers or outdoor plunge pools (depending on your room choice), all overlooking SoBe. Pro Tip: Order the berry-topped waffle with handmade whipped cream for breakfast and enjoy it while soaking in Miami's warm breezes on your balcony—you won't regret it.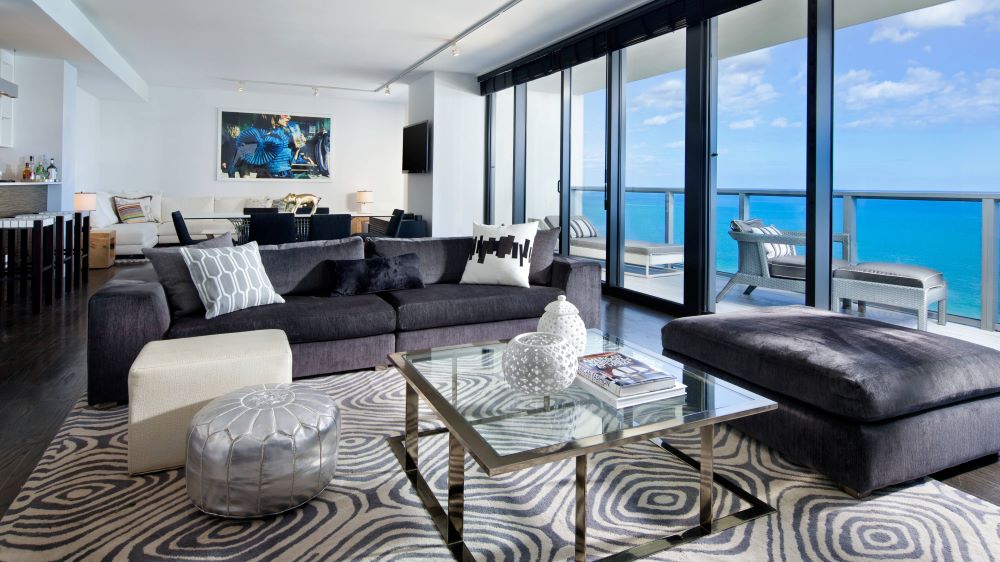 While every guestroom is a great choice, it's the hotel's suites that are the its pièce de résistance. Ranging in size from the 746 square feet to the 2,954-square-foot, three-bedroom penthouse with 180-degree views, these accommodations may just be the only way to really experience South Beach. The most lavish residence, the penthouse, features a large living room with custom bookshelves lining its walls, an extensive art book collection, dining room, custom $80,000 sectional sofa and outdoor terraces off every room. Modest? Not this suite.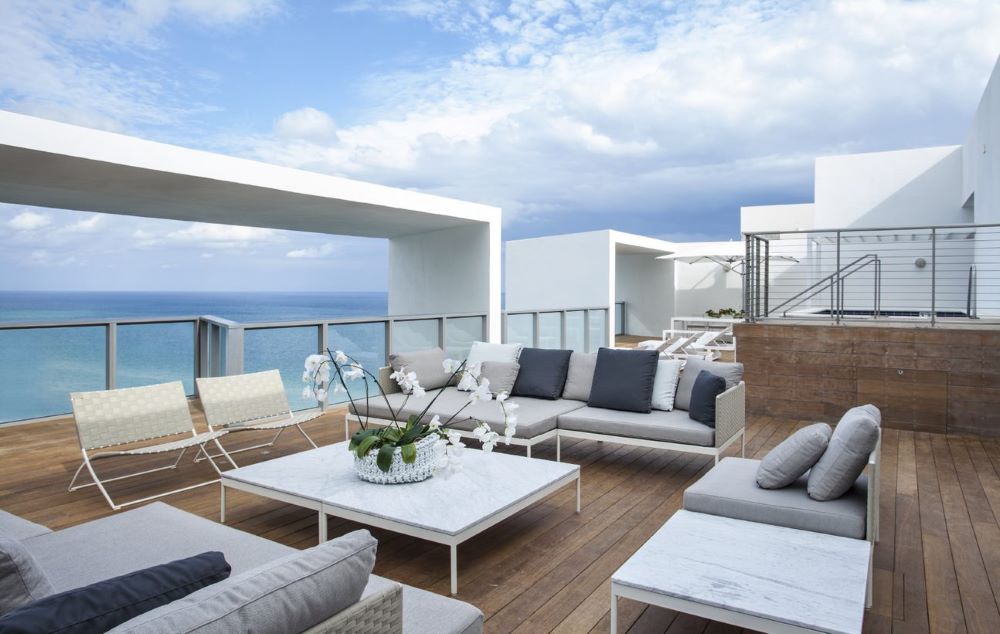 Contrasted against dark hardwood floors, the monochromatic color scheme offers an air of sophistication with a touch of sexiness. In the kitchen, guests can cook up their own meals on top-of-the-line appliances juxtapositioned against custom designed Italian cabinets. Outside, a private plunge pool and four overwater hammocks really drive home that "wow" factor.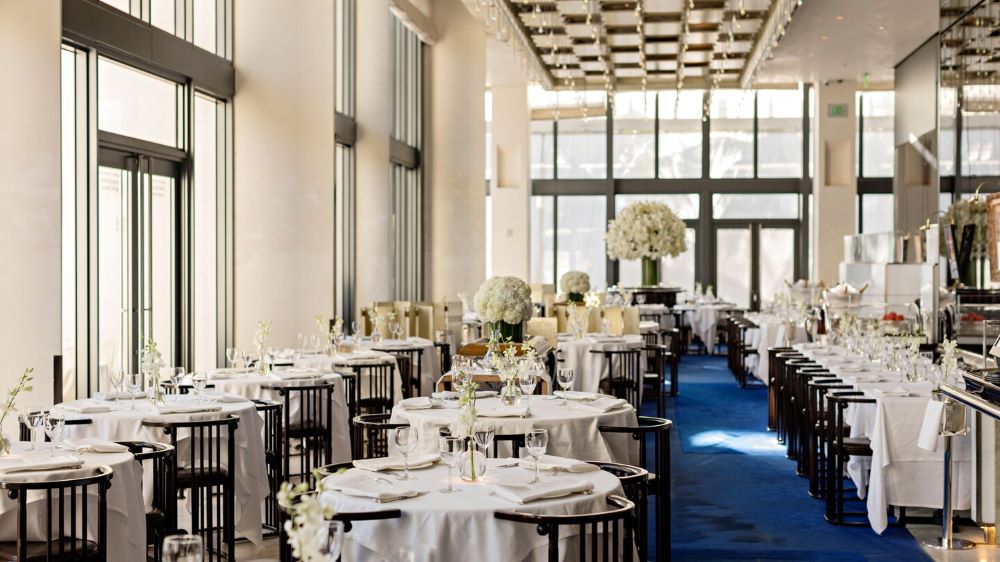 Around the hotel are five food and beverage offerings including The Restaurant W South Beach boasting classic American fare with a South Beach twist; Irma's, an outdoor eatery serving tiki-style cocktails and light bites; and the iconic MR CHOW offering Beijing cuisine led by Executive Chef Hing Fung Matt Chan. Inside, MR CHOWs is a piece of art in itself. With floor-to-ceiling windows, striking white walls, fresh floral arrangements and white tablecloths, the restaurant is elegant without feeling stuffy. Overhead, a 125-foot gold-leaf and Swarovski crystal chandelier designed by Chow himself hangs above guests.
While the fare itself is worth the visit, it's the theatrical shows on display each night that will be one of the biggest highlights of your trip. From the Champagne trolley to the duck carving and noodle demonstrations, there's never a dull moment while dining. During the handmade noodle show, guests watch as a pasta thrower, slaps, tosses, cuts and creates the restaurant's signature noodles from the middle of the room. It's a fascinating behind-the-scenes look that you won't want to miss. Enjoy MR CHOWs with a significant other, there's a warm and playful atmosphere that makes it the perfect date spot any night of the week.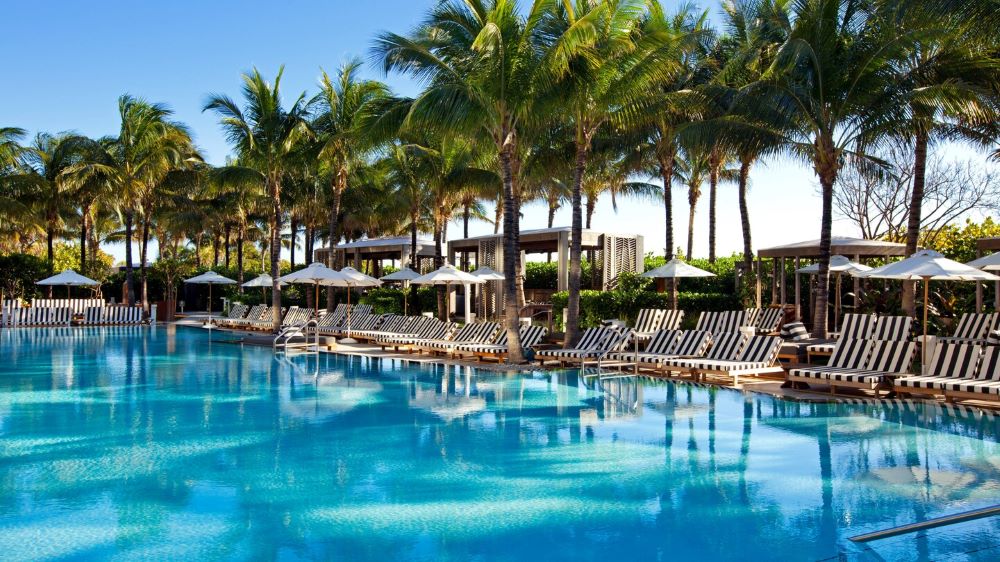 When not dining, head outdoors to one of two WET pools and enjoy the sun on plush lounge chairs or reserve a cabana for the afternoon. Around the main pool are nine private cabanas and a larger VIP option; all are filled with flatscreen TVs and outdoor showers. Located next to the main pool is also miniWET, an adults-only oasis hidden away behind lush greenery. This quaint area is rarely crowded, making it a nice place to sneak away with your loved one to enjoy each other's company.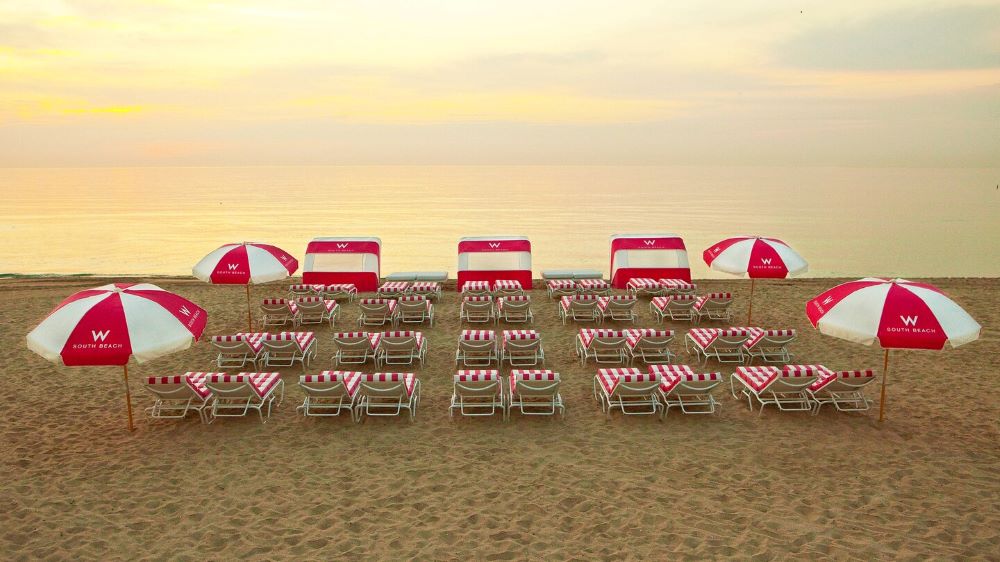 Guests can also head to SAND, the W's private section of beach filled with red-and-white striped lounge chairs and amenities. Beach Ambassadors are also on hand to make sure you have everything you need from umbrellas to towels, cocktails and food. There's also a play area for children offering beach toys for your littlest travelers and kite surfing or jet ski rentals for you. Can't decide between the pool or beach? Easy, do both in the same day, they are just steps away from each other.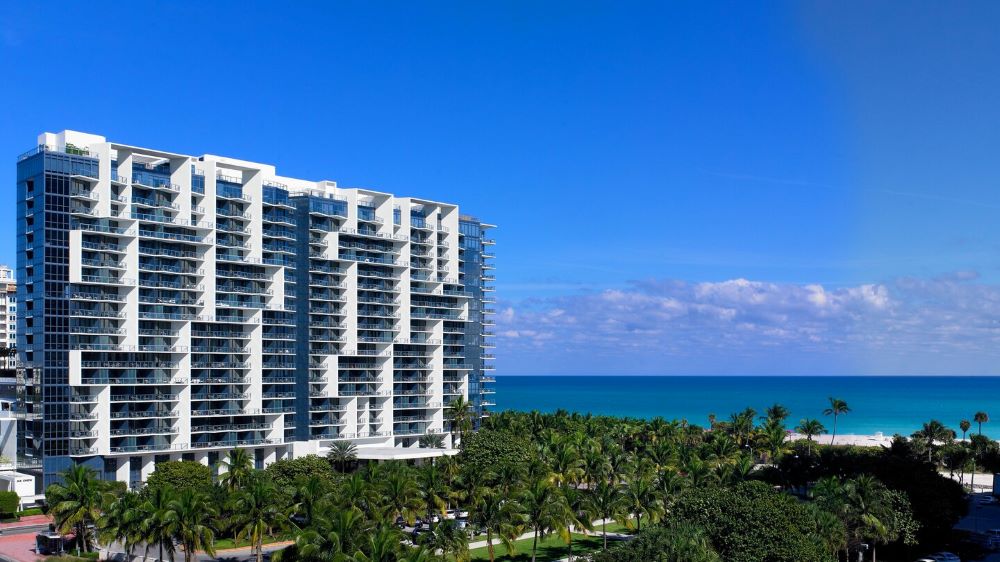 During your stay, the W's "Whatever, Whenever" service means that you won't have to worry about anything. After check-in, you'll receive a text from your personal concierge who can take care of any requests you may have including making dining reservations, suggesting local nightlife hotspots or reserving a private car to show you around town.
From its welcoming staff to its wonderfully-crafted cocktails, sophisticated-yet-trendy vibe, and its central location to many of the area's best attractions, everything about W South Beach will make you fall even harder for this city. Whether it's your first time in South Beach or your 100th, head to the W South Beach and experience the perfect blend of grand luxury and spirited youthfulness. If you're still not convinced, we're already planning our next visit to the property. See you soon, SoBe.