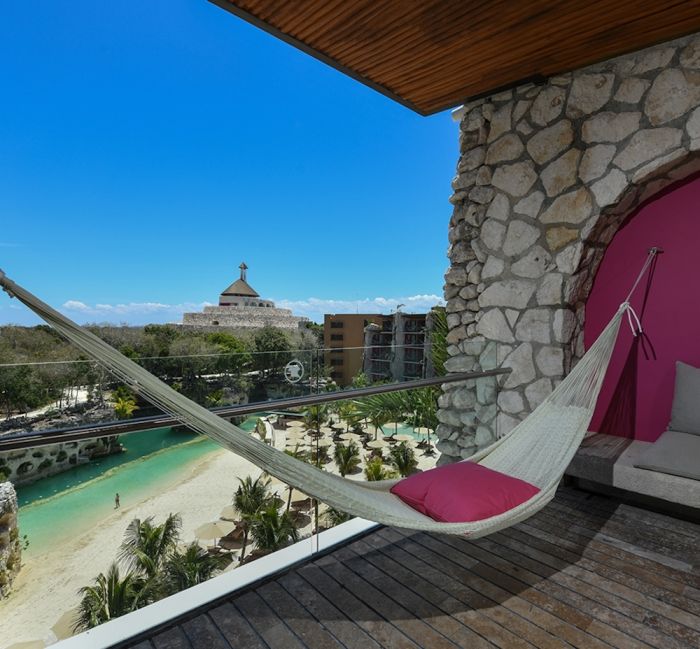 Xcaret Mexico
We could all use a little (ok, a lot of) spiritual and wellness help after these past two years. Self-care took a back seat along with travel and socializing. So getting back to your sense of self and reinvigorating your soul now needs to be in the driver's seat. And I've got just the destination that is teeming with spiritual and wellness activities - led by an actual Shaman - to reignite and restore your inner flame.
Xcaret Mexico, located south of Cancun along the Riviera Maya, is putting wellness front and center as a core offering. This luxury hotel celebrates the spirit of Mexico while nurturing your individual spirit. You'll be blown away by the property itself, a AAA 5-Diamond property, that has some of most unique landscape I've ever experienced in a beach resort.
The resort is built among ancient Mayan caves, dotted with underground rivers and cenotes that showcase the natural beauty and history of the region. Cenotes, known for their emerald green waters, feed all of the resort's waterways adding to its magical beauty. You'll find hammocks and lounge chairs tucked away into caves and hidden inside coves that are the perfect spot for a little R&R and a lot of privacy and seclusion.
The resort's 900 suites are spread across themed buildings representing the universal elements of the Mayan culture: Spiral, Wind, Water, Earth and Fire. There are a number of room configurations, views, and amenities for guests to choose from, but every guest room combines the important features of comfort and luxury. If you really want to treat yourself, opt for concierge service. I returned to my room after a long day of exploring to find a hot bubble bath waiting for me thanks to my intuitive concierge.
And while many guests come to enjoy this pristine stretch of beach, the resort is gaining a following for its unique health and wellness offerings, all based on ancient Mayan methods, traditions, and materials.
Wellness Activities
You'll want to start your day with sunrise yoga on a secret beach on the resort, tucked among the caves, surrounded by lush tropical plants. More experienced or curious yogis can join a 50-minute Yoga Bio Ashtanga class to learn the practice of conscious breathing through simple techniques that activate the organs and provide vitality.
The resort's Shaman, Beto Cuevas, leads a number of spiritual ceremonies rooted in traditional Mayan practices and designed to rebalance your body and soul.
Education about these new spiritual journeys is all part of the experience. Sound healing therapy, a practice for many civilizations, is used to restore balance to the body and mind. Laying prone in your most relaxed state on a yoga mat under a canopy of indigenous trees, you'll listen to a variety of sounds the shaman makes using natural instruments, all played in different rhythms and frequencies. These sounds lead your brainwaves to a state of relaxed consciousness. After the session, you'll feel soothed and rejuvenated and if you're like me, you'll have experienced some very personal visions that leave you with a feeling of great comfort and peace.
Cacao (yes, as in chocolate in its natural state) was medicine for the early Mayans and Aztecs, and used to open the heart and lift the mood. The Shaman leads guests in a traditional cacao ceremony as he explains the history and benefits of eating raw cacao beans, as ancient preparation techniques are demonstrated, followed by a ceremonial tasting.
Not for the faint of heart but highly recommended is partaking in a temazcal ceremony. Another ancient tradition, it's part meditation, part sweat lodge, that will purify your body and take you back to a feeling of rebirth. The Shaman's guided meditation soothes your soul while the heat of the cave purifies your body inside and out.
To really get your blood flowing (and maybe to work off a few of the prior evening's margaritas), I highly recommend challenging yourself to the 4.5 kilometer calisthenics circuit. You can go alone or engage one of the resort's fitness instructors to guide you along the rainforest path that is dotted with exercise stations. There are two treats waiting at the end of the circuit - a slide into one of the resort's cooling cenotes and a refreshing smoothie bar.
Muluk Spa
No wellness trip would be complete without a day, or three, in a luxury spa. Xcaret Mexico's Muluk Spa aims to nurture guests' health through the therapeutic effects of water. As you await your treatment, you'll relax in the open-air relaxation lounge where emerald green cenotes flow through the space. The resort's hydrotherapy circuit is one of the best I've experienced, designed to get your blood flowing to relax and reinvigorate the body as you move through hot and cold stations capped off by a ludic pool with water jets for your feet, waist, neck, shoulders and my favorite, the bubble bed. Treatment rooms, 21 in total, are tucked away, carved into the property's natural caverns.
Muluk Spa offers rituals and healing journeys based on ancient Mayan traditions and practices. Many of the spa's skin and body treatments use local products like honey, cacao, cinnamon and clay, all ingredients used by ancient civilizations for their beneficial and healing properties. The Ikal facial uses honey as its central ingredient, known for its properties to moisturize, nourish and repair the skin while providing beneficial amino acids, vitamins and proteins. Clay, used in the Ksakir facial, was a staple of ancient Mayan civilizations to eliminate toxins while offering a deep cleansing of the skin and soul.
Sensorial journeys encourage guests to disconnect for the stress of daily life. The spa's float tank is said to be equivalent to six hours of deep sleep as the body rests and floats in zero gravity. A mud bath has detoxifying and anti-inflammatory properties to soften the skin.
The spa's Ayurvedic journey is derived from the thousand-year-old practice of India, which approaches health from an integrated and personalized point of view. Ayurvedic massage is a unique experience that balances the brain hemispheres through synchronized movements.
Guests looking for more therapeutic experiences can participate in guided Qi Yo, an ancestral approach that unifies body and mind to achieve emotional, mental and spiritual benefits.
Dining
It's rare that an all-inclusive resort offers such exclusive culinary experiences and Xcaret Mexico will please any palate with its 12 distinct dining destinations.
The cosmopolitan restaurant Ha' celebrates the resort's focus on water with an amazing fountain display. You'll enjoy elevated Mexican cuisine created by Chef Carlos Gaytán, the first Mexican chef to receive a Michelin Star. The 9-course tasting menu and wine pairing is an experience unto itself. And yes, fine dining is part of your wellness journey.
In keeping with its commitment to wellness, Bio is the resort's fine dining vegan and vegetarian restaurant by renowned plant-based chef Miguel Bautista. The menu is inventive and imaginative, even for kids. If you've never eaten vegan food in an underground Mayan cave, this is the place!
Xcaret has made a commitment to improve the all-inclusive resort dining experience and has partnered with some of the country's (and the world's) top chefs to offer guests a more elevated dining experience. Chef Franco Maddalozzo is the signature chef of Fuego, Italian cuisine spiced up with a touch of Mexico. XIN-GAO, under the helm of Chef Arzapalo, offers Asian cuisine married with the Caribbean in the styles of Teppanyaki, Robatayaki, Fusion, and Omakase. There are many more options from casual beachside dining to international buffets to curated coastal menus. For an authentic Old Mexico experience, enjoy dinner and a show at Teatro del Rio.
Xcaret Resorts and Transportation
Xcaret is located 40 miles south of Cancun in the heart of Riviera Maya, only 10 minutes from Playa del Carmen. Airport transportation is included. The adjacent Xcaret properties include family-friendly Xcaret Mexico, adults-only Xcaret Arte, and La Casa de la Playa boutique hotel. Guests have access to all Grupo Xcaret parks: Xcaret, Xel-Há, Xplor, Xplor Fuego, Xavage, Xoximilco, Xenses and Xenotes. Shuttle buses run every 30 minutes to Xcaret, Xplor, Xplor Fuego and Xenses parks, and the concierge can arrange additional transportation. Round-trip transportation to Isla Mujeres is provided by Xcaret Xailing.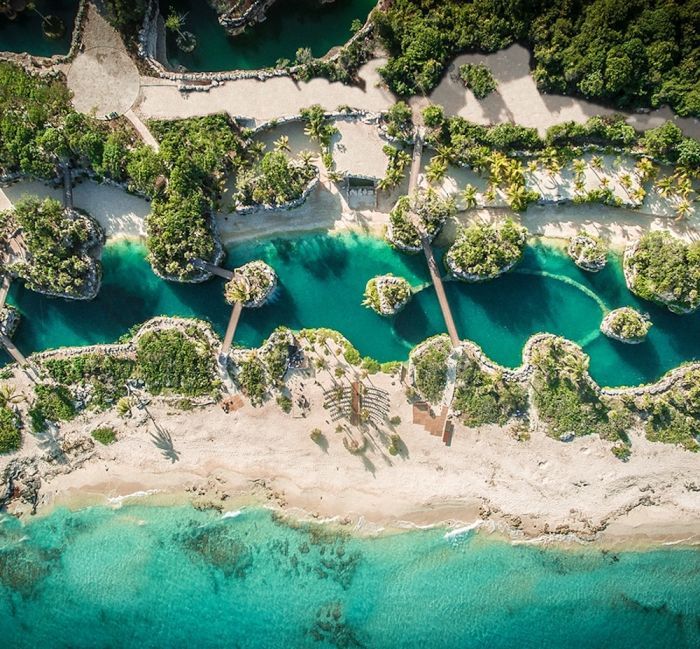 Xcaret Mexico
The emerald green cenotes run throughout the resort.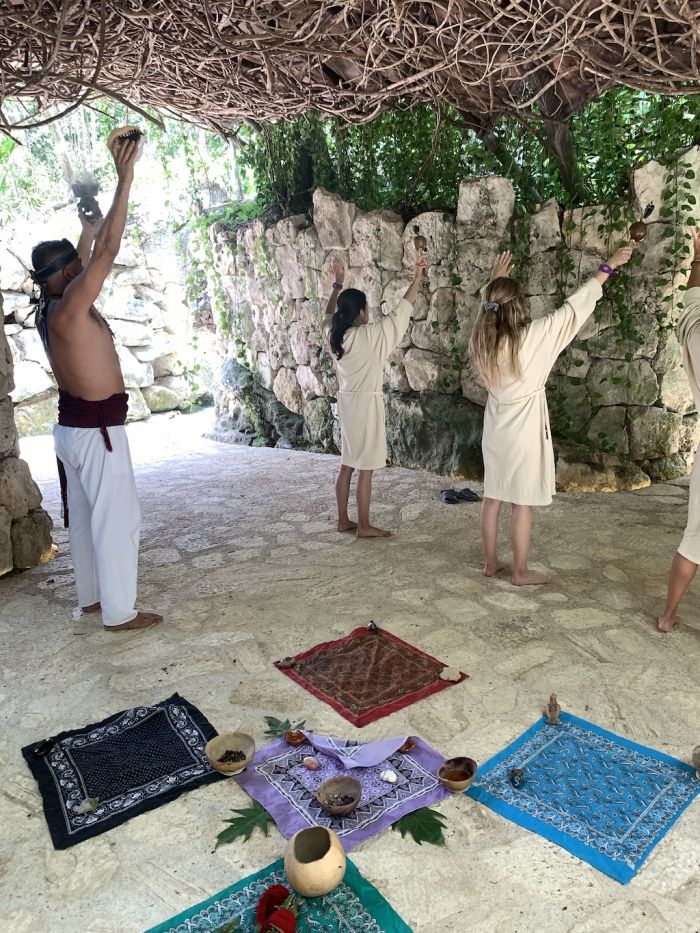 Beth Graham
Taking part in a sound healing ceremony led by a Shaman at Xcaret Mexico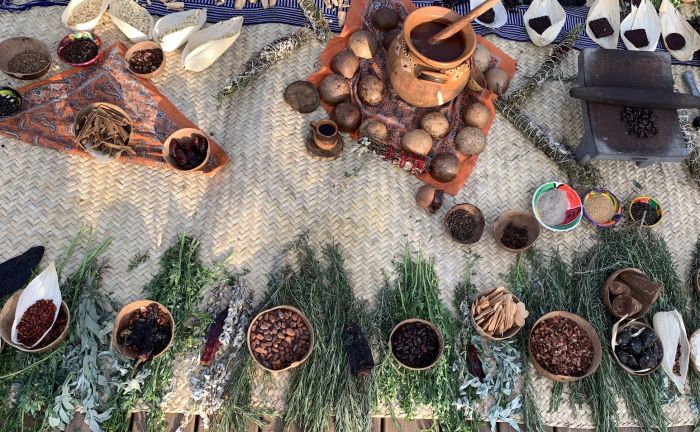 Beth Graham
Guests can learn the ancient healing properties of cacao in a ceremonial tasting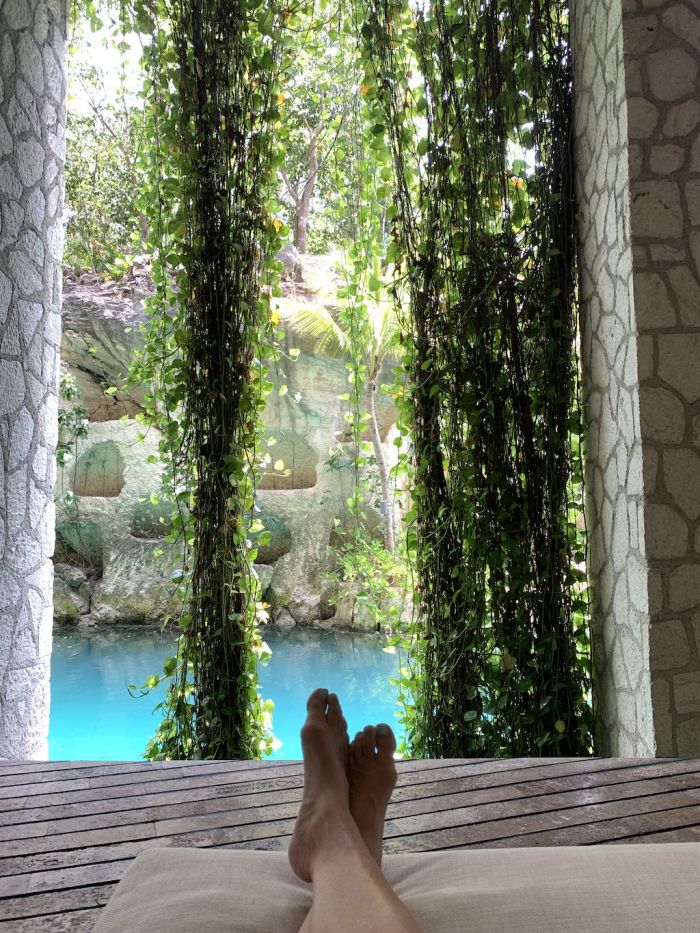 Beth Graham
The relaxation lounge at the Muluk Spa surrounded by water
Xcaret Mexico
The Muluk Spa offers a range of relaxing treatments including couples massages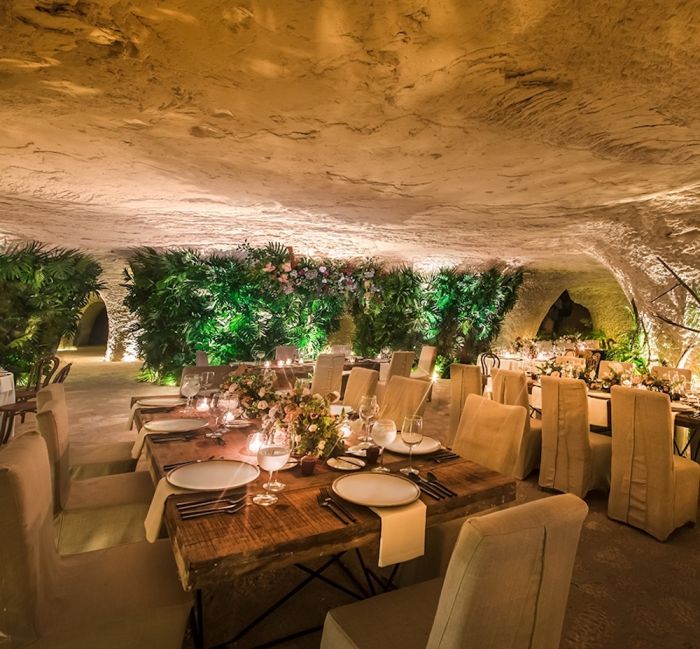 Xcaret Mexico
The resort's vegan restaurant lets guests dine inside a Mayan cave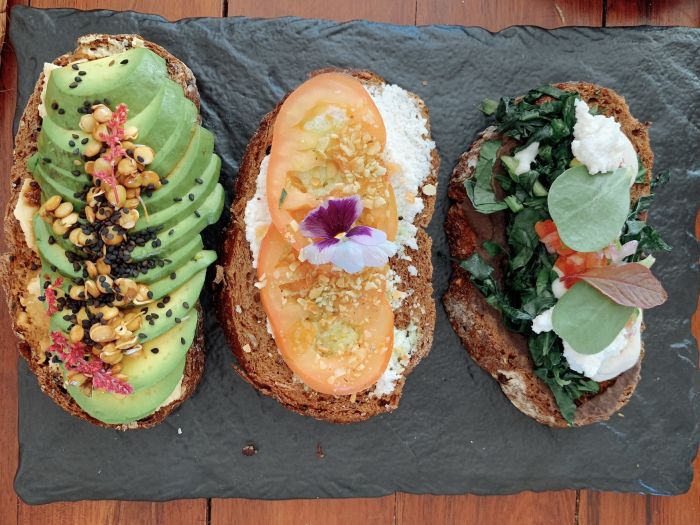 Beth Graham
Healthy dining is on the menu at Xcaret Mexico