Family Fun at Ocean Edge Resort & Spa
Sep. 25th, 2009 | Comments 1 | Make a Comment
Luxury Resorts:
Family-friendly. That's one of the best ways to describe Ocean Edge Resort & Golf Club, which occupies 429 pine-scented acres on a majestic bluff overlooking Cape Cod Bay in Brewster, Mass. Everywhere you look - there are families and their children enjoying all that this picturesque resort has to offer. We recently spent three days sunning and funning here, and if you're seeking a first-class resort that caters to you, your children, and grandchildren look no further -- this is it. (On the other hand, if you're honeymooners or romance-seekers searching for one dedicated adult pool, where you can nap, read a book or otherwise enjoy peace and quiet - you're not going to find it here.) There are six pools - six, count 'em - and all are open to the entire family. "We are very big on families," explains Matthew Burek, assistant manager, who took us on a tour of this massive property. "In fact," he said, "We do a booming business during February vacation because of our indoor pools - they're a big draw." And there's no doubt about it -- your kids will love the cannonball contests.
Besides the six pools, the historic New England retreat offers hot tubs, bicycle rentals, cardio room and tennis complex. It also provides many activities, such as popular outdoor movies shown at the pool, for kids and parents; tidal walks; croquet, golf, tennis, spinning and swimming lessons; and yoga and Pilates on the beach. "Ocean EdgeVenture," a key recreational program at this property, also organizes day and night activities, including croquet matches and kite-making, for children ages 4-12 from its own clubhouse through September 1, while teens enjoy junior tennis and golf clinics. You can even pick up the 26-mile Cape Cod Rail Trail at Ocean Edge, with trails leading to the Cape Cod National Seashore and Provincetown (it's perfect for biking). Complimentary shuttle service ferries guests throughout the resort, and to area beaches and attractions. Set aside time for "Wine Down Wednesdays," when the resort hosts a complimentary wine or champagne reception, complete with hors d'oeuvres, which is open to guests and the public from 5-7PM on Wednesdays. These receptions take place on the terrace of the Mansion, which is a fantastic place to watch the sunset.


Make It To The Mansion
The centerpiece of the resort is the 1912 Victorian-style Nickerson Mansion, which is listed on the National Register of Historic Places. There are 90 hotel rooms and 29 two-and three-bedroom villas on the Mansion side, where guests have access to a 700-foot private beach, a USPTA-certified tennis complex, a fitness center and exercise studio. (The resort has plans to build a new $2 million fitness facility in the near future.) If you're seeking the most luxurious accommodations, this is the side of the resort you'll want to reserve.

The remaining 216 one- two- and three-bedroom villas are situated on The Villages side of the resort, overlooking Ocean Edge's new Nicklaus Designed golf course - the only Nicklaus-designed course on the Cape. These villas offer fully-equipped kitchens, dining areas and living rooms with pull-out double sleeper sofas. Room rates, in general, range from $295 for a one-bedroom villa, to $1800 for a luxury waterfront townhouse.

The Mansion also features numerous function rooms, and a brand new 5,000-square-foot ballroom - the largest luxury ballroom on Cape Cod -- where we witnessed a beautiful wedding reception taking place. If you want a distinctive Cape Cod wedding - complete with pictures on the beach -- this is the place for you. Additionally, the resort gives a linden tree or its seedlings, to every couple who marries at the resort. "The linden tree, which is synonymous with good luck and fortune, is the perfect symbol and gift, to bestow upon two people embarking on a new life together," said Robert Newman, general manager.


Service With A Smile
Have you ever had a memorable meal where everything you tasted hit the spot? That was exactly our experience at the 1890 Restaurant in The Mansion, which seats 40. From the moment we sat down, Maitre D' Sean Sullivan took us under his wing, and made sure every morsel was magnificent. And it was. We started with the property's signature pecan-cranberry bread, which Chef Philip Flath assured us was terrific for breakfast. (We couldn't agree more.) From there, we indulged in some of the best scallops we have ever tasted in our life - pan seared scallops topped with a drizzle of balsamic vinegar - scrumptious. Then, don't miss any opportunity to eat the signature Nickerson Salad - a symphony of Boston Bibb lettuce, caramelized walnuts, and figs in a Dijon vinaigrette. We both opted for the delicious swordfish entree ($30), which we requested with sides of roasted potatoes, grilled asparagus and sautéed mushrooms. We eat in a lot of first-class restaurants, and this is one we're going to be talking about for years to come -- book your reservation as soon as possible. And while you're at it, don't miss the wildly popular Fenway Cake dessert - a chocolate mousse cake with caramel sauce and vanilla crust with a few popcorn accents, to remind you of your Fenway outing. It's a thrilla in vanilla (and chocolate).

Maitre' D Sullivan also took great care of us throughout our visit, and we know that he did this for us, as he would for any guest. For example, he went the extra mile, bringing us more of the pecan-cranberry bread, and milk for morning coffee. That is a young man who is going places.

Other restaurants include: the Zagat-rated Ocean Grille where Chef Michael Gregory prepares regional American cuisine with ingredients from the resort's own herb garden; English-style Bayzo's Pub with billiards (try the lobster ravioli); Linx Tavern for indoor/outdoor dining at the golf clubhouse; Reef Café for indoor/outdoor casual dining and three poolside Snack Cabanas.

No Such Thing As Too Much Golf
The resort's "Unlimited Golf," means that you can enjoy limitless rounds on the 18-hole Nicklaus-designed golf course - where players can tee off from dawn until dusk and save up to 60%. Also included are cart, use of the practice range, yardage book, daily breakfast, and accommodations in a one-bedroom villa. Want to bond with your kids? There are even family tee times after 4PM where kids under 10 years old can swing away on the greens for free. Valid through November 29, 2009, nightly rates start at $235 for single occupancy and $305 double occupancy.

All things considered, with all of its amenities, Ocean Edge Resort & Golf Club is a whole in one.

For more information, visit www.oceanedge.com or call (800) 343-6074.

By Debbi K. Kickham and William D. Kickham. Esq.
JustLuxe Contributors
Marketingauthor.com
Featured Luxury Hotels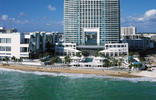 Fort Lauderdale, United States
The Westin Diplomat Resort and Spa
REFRESH UNWIND The Westin Diplomat Resort & Spa offers a refreshing way to...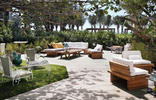 South Beach, United States
W South Beach
Glamour, location, style. Playful, energetic, whimsical. In a beachfront oasis...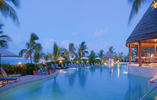 George Town Exuma, Bahamas
Grand Isle Resort & Spa
Welcome to your own private Caribbean paradise! Grand Isle Resort & Spa offers...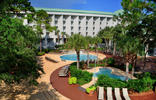 Hilton Head, United States
The Westin Hilton Head Island Resort & Spa
Nestled amid lush landscaping along a pristine stretch of white-sand beach, The...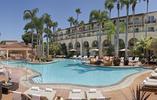 Dana Point, United States
The Ritz-Carlton, Laguna Niguel
The Ritz-Carlton, Laguna Niguel premiered as the first luxury beach resort...
Sedona, United States
The Sedona Rouge Hotel and Spa
The Southwest United States was once part of a vast domain of little known...