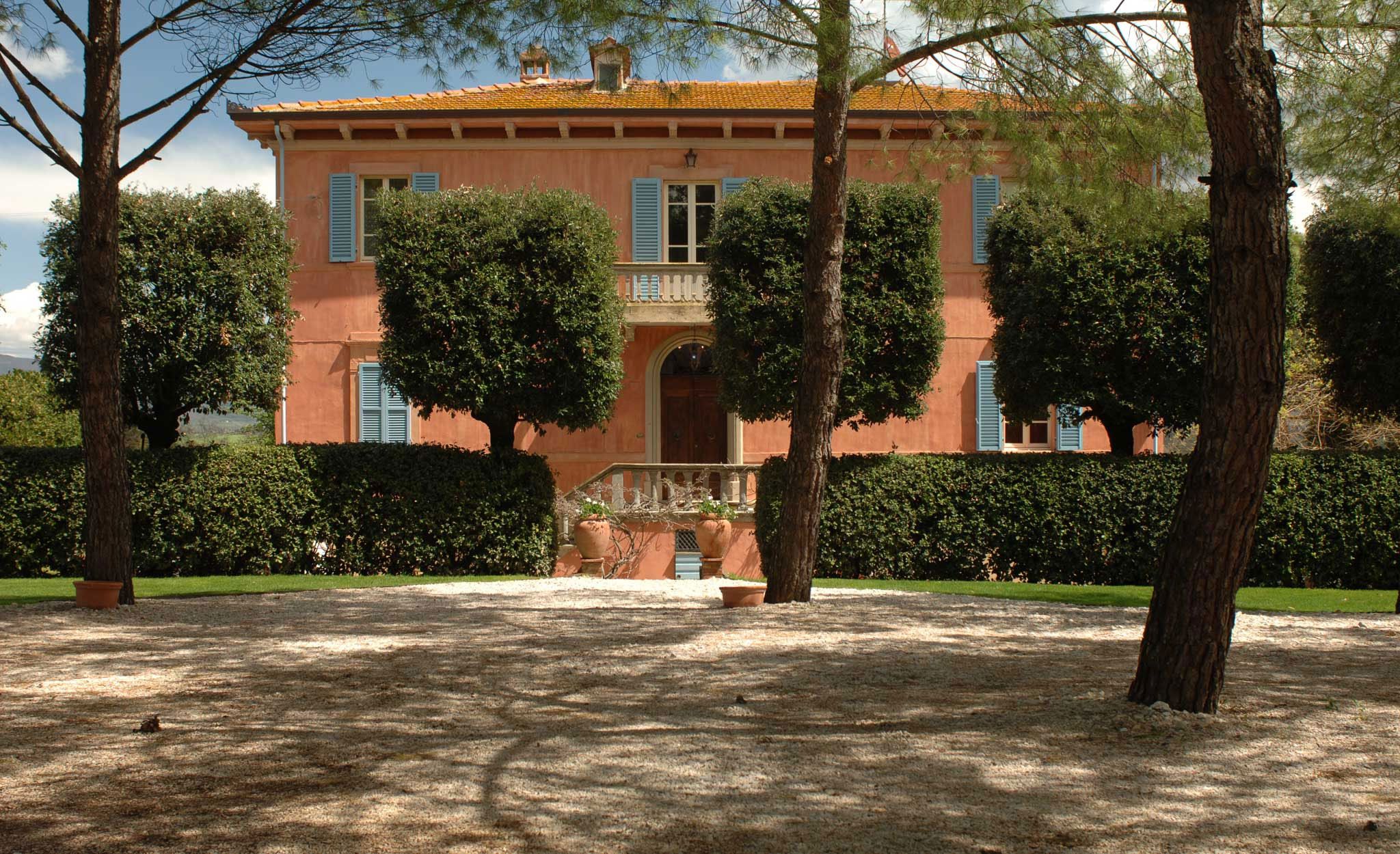 Photos Credit: Villa Fontelunga
Evening sunlight wove its golden threads through lace curtains as wood pigeons cooed from a branch opposite my second floor window at Villa Fontelunga in Tuscany. Nestled on a hill overlooking the Chiana Valley, the scene seems like one created straight from a painter's palate. It was easy to imagine author Frances Mayes' enthusiasm in Under The Tuscan Sun, her book focusing on Cortona, a nearby town.
Villa Fontelunga (meaning eternal spring) is a nine-room residence which also encompasses two additional villas. As you head toward the home you are led along a winding rural road to a secluded, gravel parking lot bordered by leafy trees. Beyond a walk-through electronic gate set is a spacious terrace with large terracotta pots filled with jasmine, lavender and roses, overlooking sloping hills dotted with around two hundred olive trees. Each of the rooms are named after a precious stone, ours being turquoise. Others include Avorio (Ivory) and Ametista (Amethyst), with the colors reflected in the styling of the bedrooms.
While emanating classic Tuscany characteristics, Villa Fontelunga also reflects a modern interior featuring an open kitchen, intriguing paintings, a comprehensive library and a 24-hour honesty bar. One of the highlights of a stay here is the joy of breakfasts on its sunny open terrace overlooking the olive grove. The menu includes a selection of cheeses, hams, eggs and delicious local honey and breads. Although lunches are served periodically upon request, Philip, the property's interior designer, and his Italian partner Paulo, host three-course dinner parties for guests. Knowing the immediate area extremely well, Philip and Paulo can advise well on local places to dine.
Since this is the kind of laid-back place you go to escape your normal day-to-day life, there's no TV in sight. For the sport enthusiast, there's a small outdoor swimming pool (complete with sweeping swallows in season), a tennis court, outdoor Jacuzzi, complimentary mountain bikes and delightful countryside pathways providing attractive jogging trails.
Paulo and Philip also own a second property consisting of several villas in a tranquil location a few miles away at Borgo 69 (meaning small hamlet or village). There is currently the two-bedroom, two-bathroom Villa Gallo and the one-bedroom Villa Galletto, with a swimming pool in the walled herb garden between them. They hope to have twelve apartments there both for sale and rent within two years. The pair also host special events such as weddings and birthday parties at their property.
There is much to see and do in the vicinity of Villa Fontelunga, with the historic city of Arezzo to the north, the wine region of Montepulciano to the south and Cortona to the east. Siena, famous for its Palio horserace, and the villages of Lucignano and San Gimignano in the Chianti hills sit in the west. For shopaholics, the outlets, a spacious shopping center 45 minutes from the property, includes many of the world's leading brands.