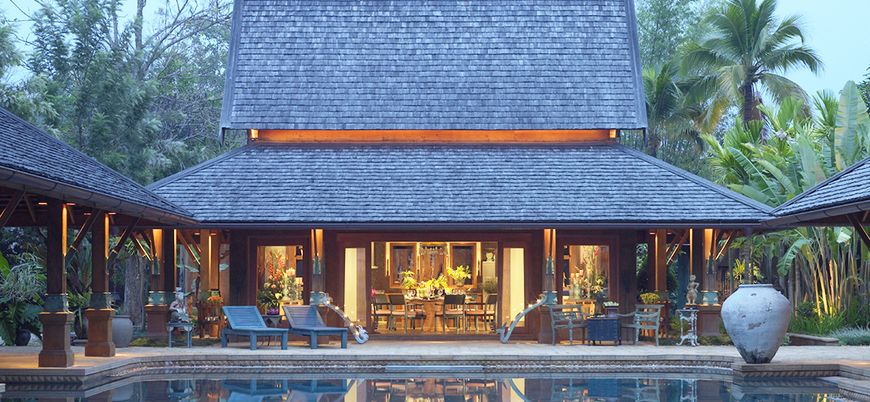 Photos Credit: LuxeNomad.com
There's nothing quite like the excitement of booking a vacation, and finding the perfect accommodation is a big part of that. No matter your destination, you will find countless luxury hotels to make your dream getaway a reality, from Santorini's glamorous Grace Hotel to the star-studded Sri Panwa in Phuket. But for discerning travelers who want a little something more, designer villas might be exactly what you need to take your getaway to the next level of luxe. Not only do villas offer the space and privacy you simple cannot get from a hotel room, but many also offer bespoke service and special amenities you will absolutely love.
Price
First things first: the cost. From a practical and economical standpoint, a villa is a cost effective alternative to a hotel. If you're traveling with your family or a large group, the cost of booking a villa instead of multiple rooms at a luxury hotel can be significantly less - and the more people you get to tag along, the lower the rate will be (and the more fun!). Many luxury villas can be booked for less than $100 a person, per night, which simply cannot be beat by luxury hotel counterparts. Be sure to book during low season to get the rest possible rates.
Privacy
Say goodbye to hectic hotel lobbies and screaming kids at the pool! Many villas are located in private enclaves, taking you away from the crowd to enjoy your time with your friends and family in quiet solitude. Villas are ideal for romantic honeymoons (no need for a do-not-disturb sign) as well as family vacays, because they give you all the privacy you could ever need with an unparalleled sense of homeliness. Some villas are even located on a private beach like Villa Padma, or within luxury gated communities like Villa Sereniti.
Space
Villas are like your own home away with lots of living space and lounge areas at your disposal. Whether you stay in a cozy one-bedroom villa or a 13-bedroom party pad, many villas come with expansive terraces, multiple dining areas, and generous space to relax with a cocktail or a good book, from sun drenched poolside daybeds to oversized cozy couches. If you're traveling with a group or your kids, everyone can enjoy the privacy of his or her own bedroom and bathroom. Villas are almost always larger than even the best suites at a luxury hotel, which means you're getting more space for every dollar you pay. The best part is you don't have to share it with anyone but your friends and family.
Because villas offer more space and privacy, they are great venues for weddings and private events. Some are situated on huge plots of land and can accommodate hundreds of people, such as Podere Palazzo in Tuscany or Konaditya House in Bali.
Many villas are located in stunning locations so you'll be surrounded by the most breathtaking scenery. Whether it be an infinity pool that blends with the blues of the ocean or a bedroom door that opens to mountain vistas, villas are often designed to play off the surrounding natural scenery, such as Paros Memories in Greece.
Extra Amenities
One of the best things about luxury villas is the extra amenities you get all to yourself. Imagine lazing the day away at your own private pool, whipping up a meal in a state-of-the-art kitchen, or enjoying a massage in your exclusive outdoor spa pavilion. It's not uncommon for villas to feature a private movie theater room, game room, gym, and kids' playroom. Other fun amenities we've seen are a wood-fire pizza oven, stocked wine cellar, infrared sauna, poker room, Apple TV with Netflix, complimentary use of kayaks, the list goes on.
Some villas come with extra-special amenities if you're willing to pay a bit more. Blackrock Villa in Santorini has its own recording studio where Justin Beiber recorded, Villa Sawarin in Phuket has a par 3 golf practice green, and The Vineyard in Melbourne has a driving range plus a freshwater dam for swimming. For a villa that has it all, check out the over-the-top Praana villa at Samui's luxurious Panacea Retreats which has two infinity pools, a Muay Thai boxing ring, tennis court, koi ponds, a private nightclub, and more! Why leave?
Dining
Start your day with a hot breakfast prepared by your butler or chef, served as early or late as you desire at your poolside dining sala. Dining options are a huge advantage to staying in a luxury villa, as you can often create a personalized menu to fit your tastes and dietary restrictions. No need to worry about making a dinner reservation, just relax in your villa and have the chef take care of the rest. Some villas even offer cooking classes to teach you how to prepare local dishes!
Wherever your next vacation, from the Amalfi Coast to Tulum, chances are there's the perfect luxury villa waiting for you. We hope you enjoy every second of your paradise!