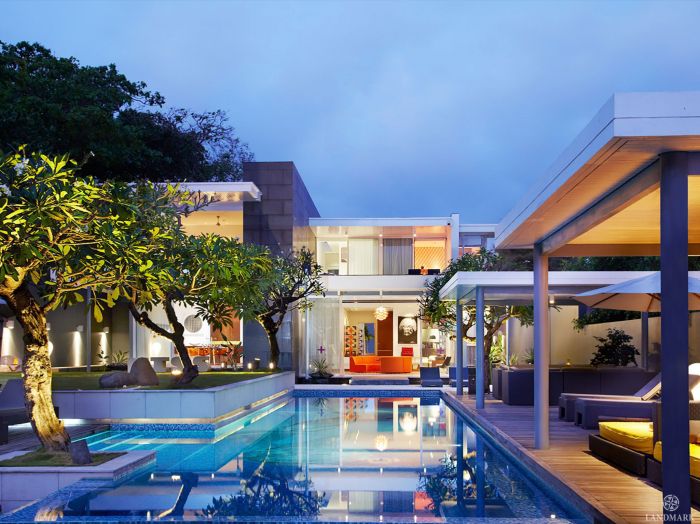 Photos Credit: Luxury Retreats
In a couple of weeks we'll finally be ushering in 2017, which means it's time to start mapping out your travel plans for the year. Although most of the country has experienced a warmer than normal winter, if you're like us, you're probably itching to escape to a sunny locale in the coming months. Always on the top of our travel lists, Bali is just the place to retreat to after the holidays because it is considered off-season (less tourists) and the weather sits at a comfortable 80-86 F degrees during the days. To help with your planning, we gathered together five of the most stunning and extravagant villas located around Bali.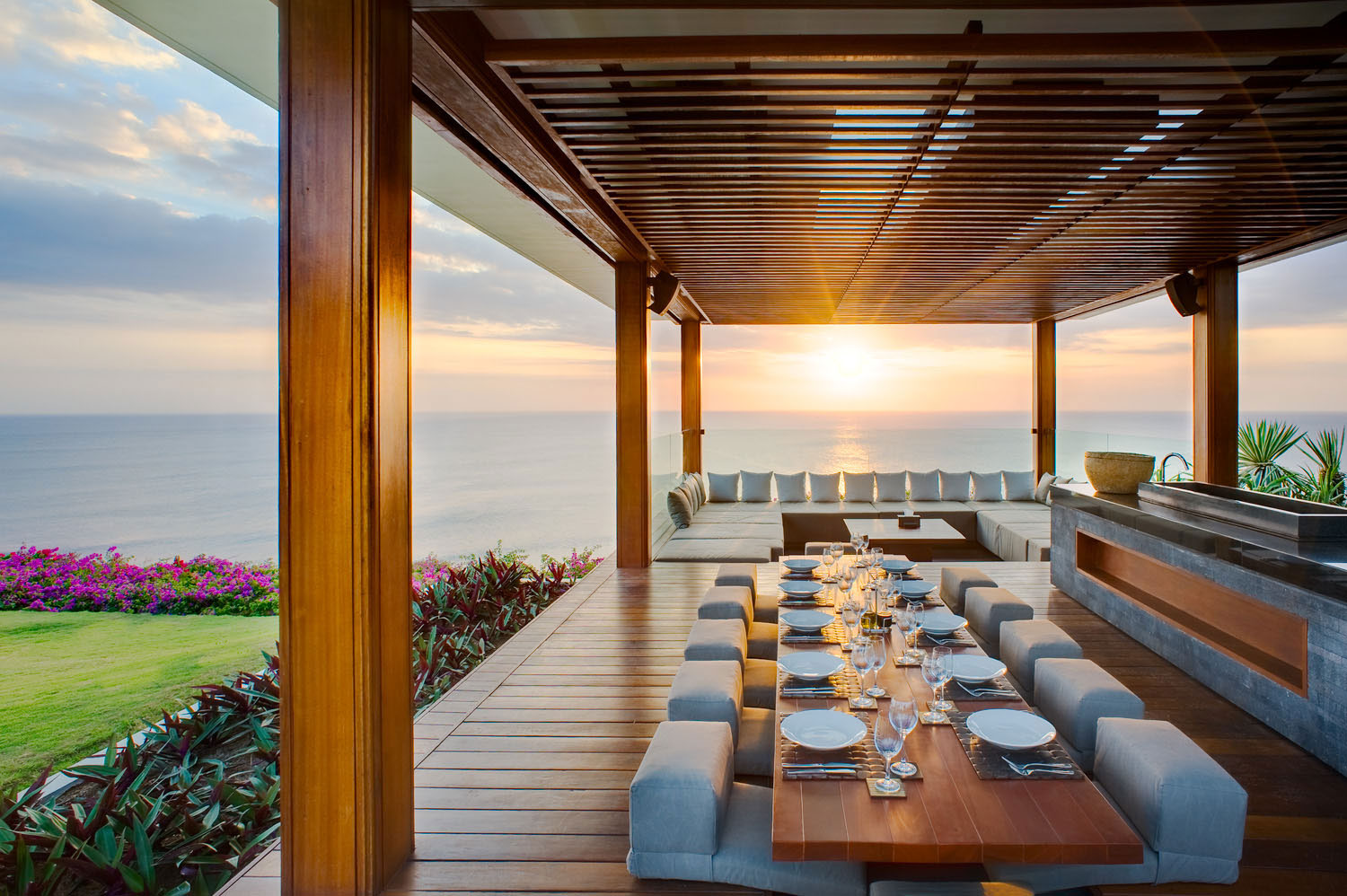 Villa Istana — Uluwatu
Villa Istana is only a 10-minute walk to Uluatu Beach, a hotspot for surfers known for its world-renowned surf breaks. The estate's open floor plan blurs the lines between indoor and outdoor living, giving guests a front row seat to all of Bali's natural beauty. With five bedrooms, the villa can accommodate up to 10 guests and there's also a children's room and game room to keep the littlest family members entertained. The main hub features vaulted ceilings, exposed wooden beams and plush sofas for lounging the day away. With an on-site chef, guests don't have to worry about cooking, all meals will be taken care of throughout your stay. Outdoors, the villa's 104-foot, infinity-edge swimming pool will most likely become your favorite place during the daytime. Guests can arrange for in-villa spa treatments or arrange for other island activities through your house manager. All bedrooms come with en-suite bathrooms and the master is located in a separate house with a private pool, living area and kitchenette.
Starting Price: $2,500 a night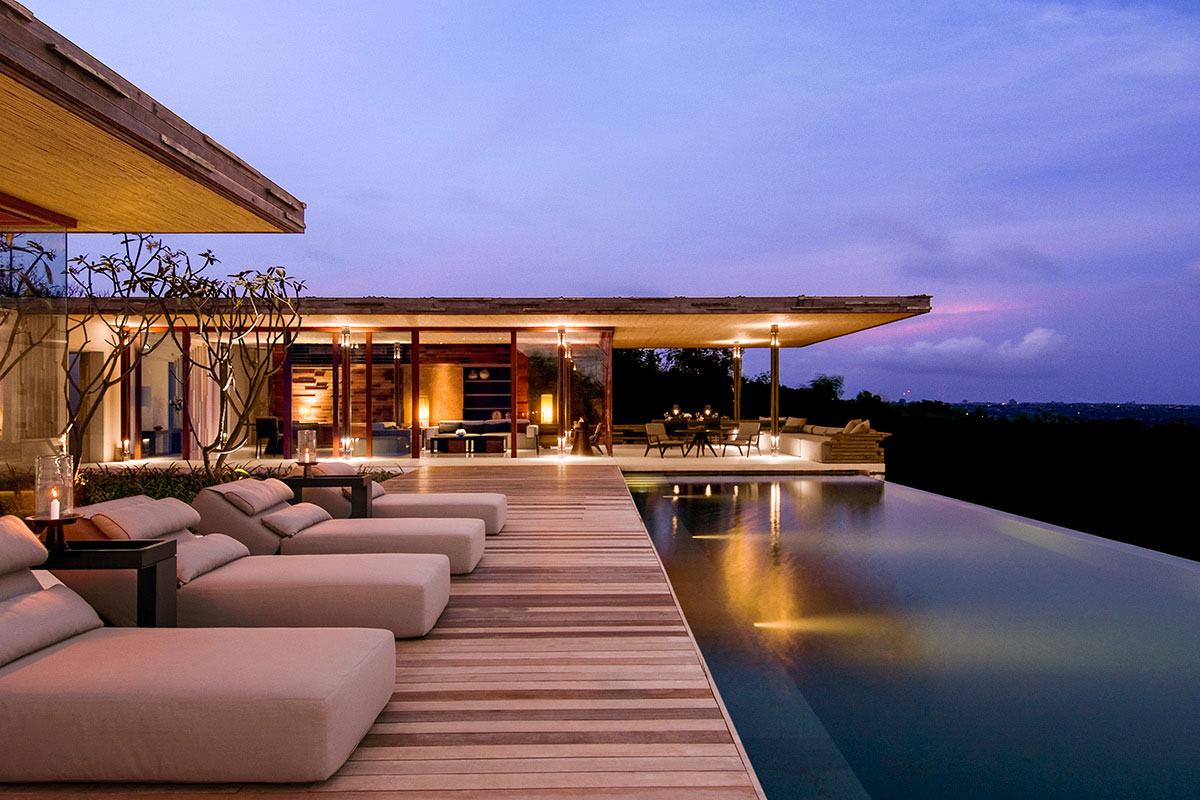 Uluwatu Hillside Villa — Uluwatu
Just like the above residence, Uluwatu Hillside Villa is located in the same famous surf spot in Bali and is nestled on a hillside overlooking the ocean. The three-bedroom home boasts modern interiors as well as traditional Balinese accents. The landscaped grounds are Zen-like spaces with water features interweaving between walkways and bridges. Outside, guests can lounge at the infinity pool on sun loungers or enjoy a meal on the al fresco dining table. Bedrooms come with king size beds, balconies and en-suite bathrooms with alfresco showers. While you can request villa-stocking prior to your arrival, if you'd rather not cook, there is also a restaurant on the premises to escape to for meals. Other amenities include a spa, full-sized gym and daily yoga classes.
Starting Price: $3,335 a night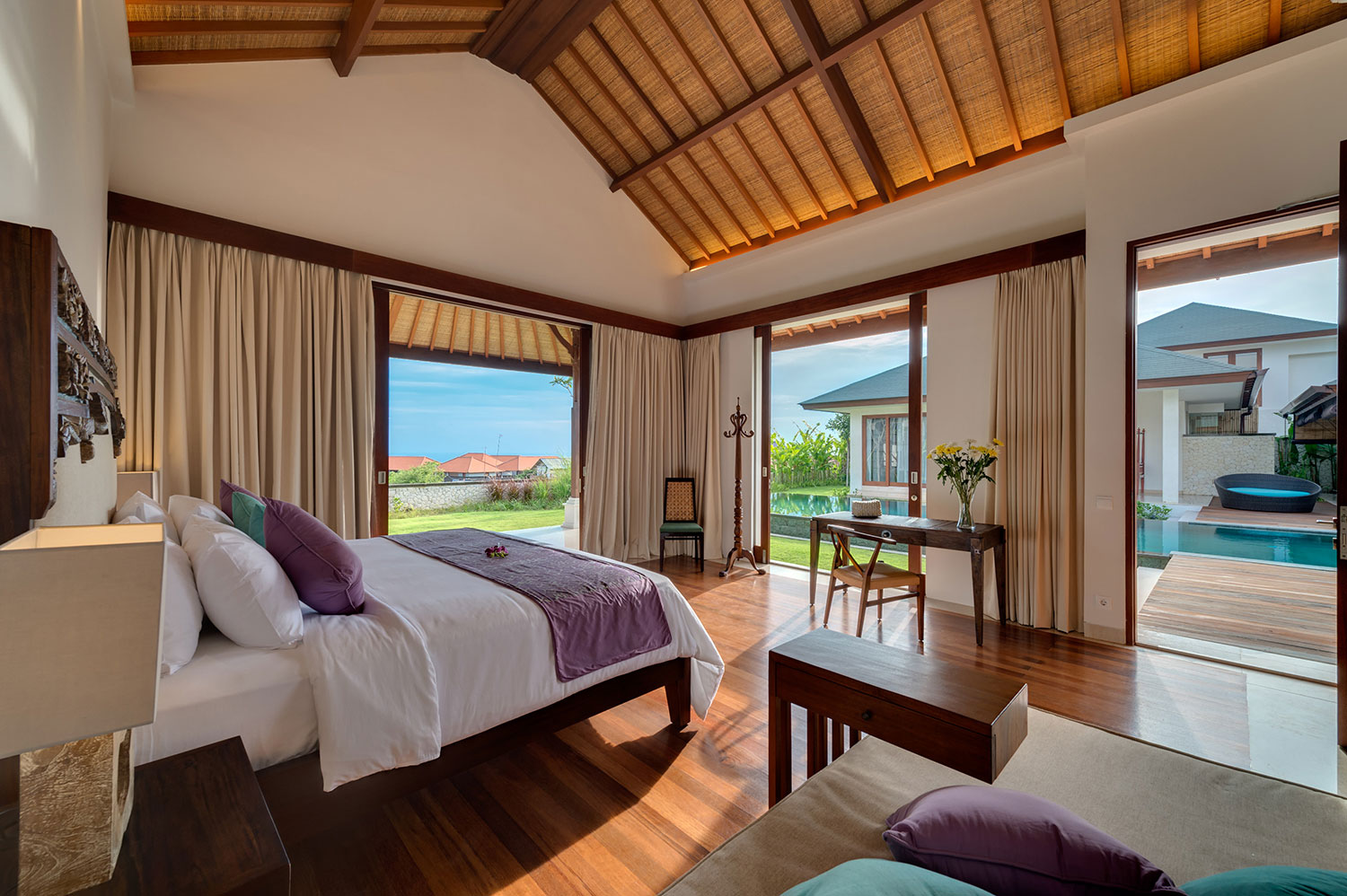 Pandawa Cliff Estate — The Bukit
The Pandawa Cliff Estate was designed by internationally-acclaimed architect Popo Danes and has 16 bedrooms spread over three homes: The Pala, Villa Rose and Villa Marie. Each residence comes with a fully-equipped kitchen, dining area, Wi-Fi and their own pools. Pala is the estate's largest villa and comes with its own spa treatment room, children's playroom and fitness center. Villa Rose is more contemporary and has four bedrooms while Villa Marie has a classic, traditional Balinese house feel with two master bedrooms. Aside from each home having its own unique amenities, the estate's offerings include a tennis court, squash court, spa and gym.
Starting Price: $5,941 a night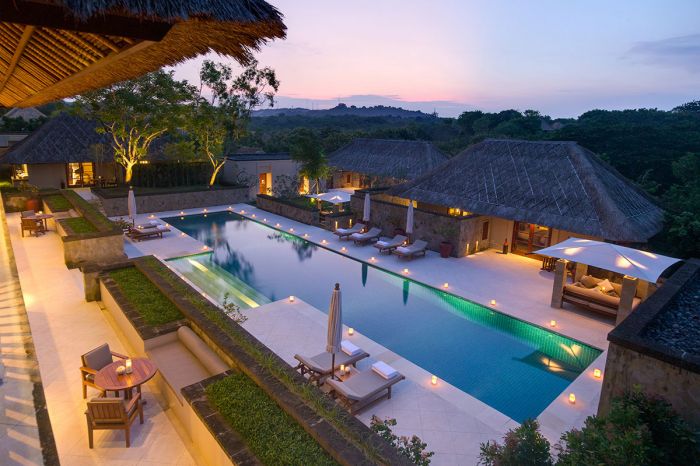 Amanusa Villa — Nusa Dua
Located among the jungles of Bali, Amanusa is a six-bedroom estate in Nusa Dua within close proximity to the town but far enough away for added privacy. The villa features a thatched roof, vaulted ceilings, and Indonesian-inspired décor. Along with a fully-equipped kitchen, dining area and library, the home also includes a private pool, terrace with loungers and a 10-person al fresco dining table. Of the six bedrooms, two include outdoor showers and all come with en-suite bathrooms, large windows and four-poster beds. As a part of the Amanusa resort, villa guests also have access to the property's other amenities such as a tennis court, beach club and various dining venues.
Starting Price: $5,000 a night
The Soori Estate — Tabanan
With 10 bedrooms and views overlooking the southwest coast, The Soori Estate is perfect for a family vacation. The villa sits on 1.2 acres of beachfront property and boasts six bedrooms on the ground level and two masters plus adjoining suites on the upper floor. Inside, modern, clean design mixes with neutral furnishings and décor for an understated luxury vibe. Guestrooms also come with oversized bathtubs and grand shower rooms inside spacious bathrooms. Outside, guests will find a private pool, outdoor pavilion with a Jacuzzi, al fresco showers, BBQ grill and even a helipad!
Starting Price: $10,000 a night