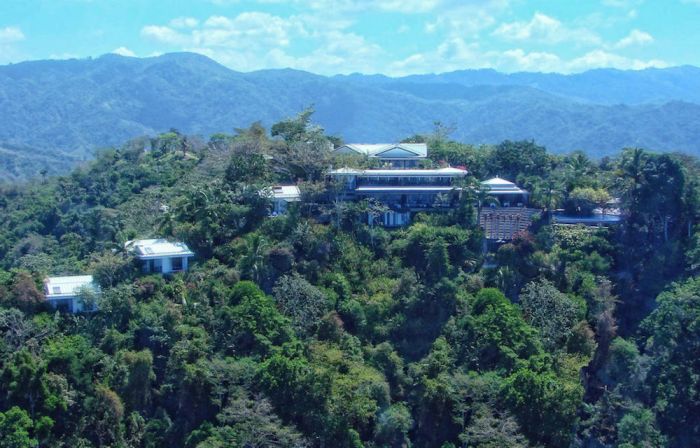 High on a mountain top-Villa Caletas
Perched on a mountaintop, almost 1,200 feet high, overlooking a fertile green rainforest backed by the shimmering blue Pacific Ocean, I'd venture to say that Hotel Villa Caletas is the only place in Costa Rica where you can take in this glorious view while sitting in a Greek Amphitheater, graced by eight ionic columns. Folks in the know flock to Caletas in time to order a drink from the martini bar and nab a primo seat; iPhones poised for a spectacular sunset shot.
During the summer, the evening concerts are held in the amphitheater, which are performed by some world's best classical musicians, are simply magical.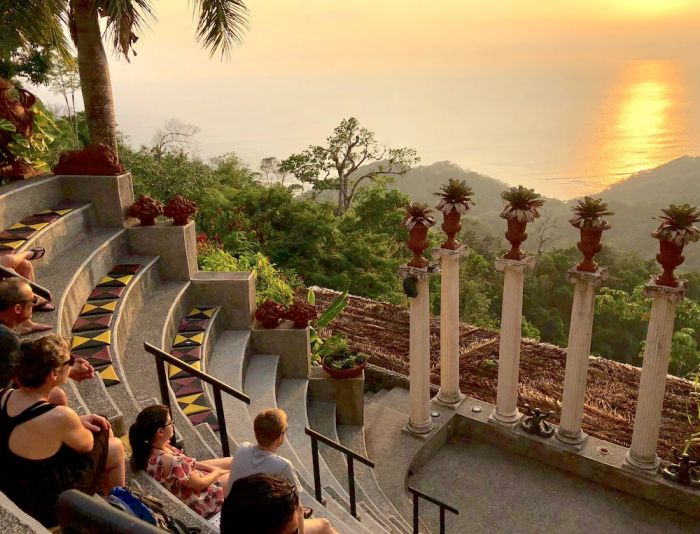 Greek Amphitheater-JRN
The rest of this French Colonial, Hellenistic, Victorian, Italian neoclassic, crazy quilt hotel, was created from the fertile imagination of its fascinatingly, unconventional, French owner, Denis Roy. Around 30 years ago, he was traveling the world while working as a successful interior designer. He took a detour to Costa Rica to visit a "special friend" during which time he came across some rather unappealing, overgrazed cattle farms on a mountain in the middle of nowhere, but there with a magnificent view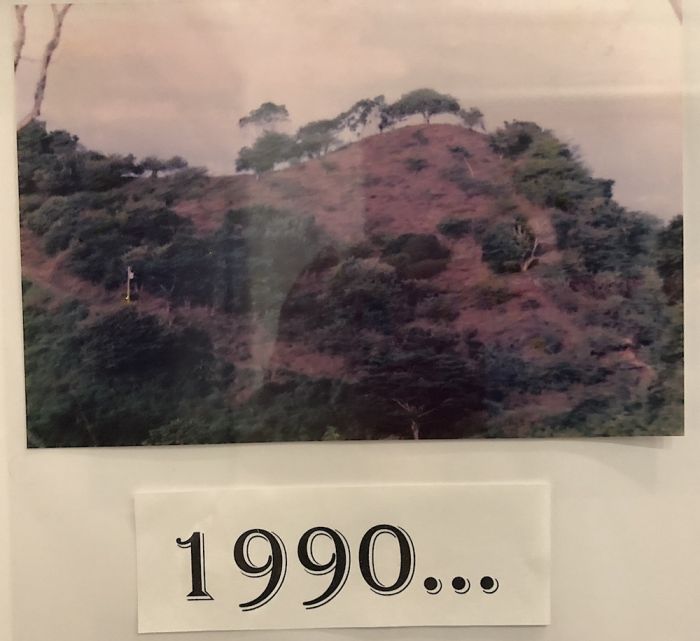 What Denis Roy first saw-JRN
It brought back memories of a place he had visualized as a child, "where one could breath the scent of the ocean and feel close to the healing sun". He bought all the land he could afford and began reforesting the 400 acres, creating the perfect setting for his dream hotel.
I had the pleasure of meeting Roy, whose eyes still light up while telling me how people thought he had lost his mind, trying to build a mansion on top of a barren mountain with no roads, water or electricity, so he "simply" hired 400 men to construct the 1.5 mile road down to the ocean and plant over 1500 trees.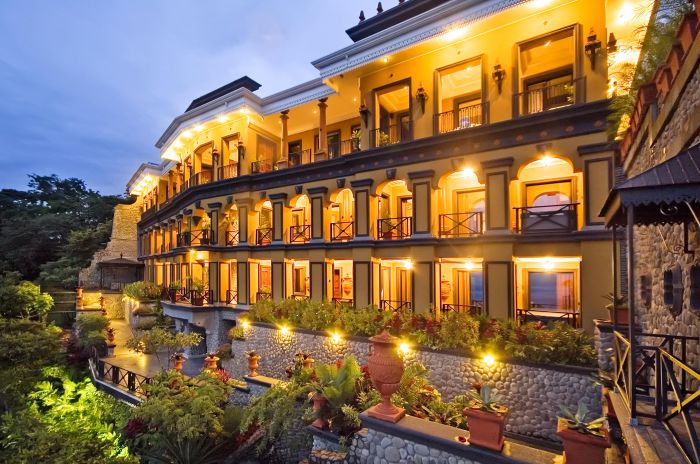 Zephyr Palace-Villa Caletas
Over the years, Roy has added on to his Shangri-la, which consists of 44 luxury rooms and villas scattered throughout the gorgeous landscaping, a Zen garden, a saltwater infinity pool that appears to flow into the ocean, two restaurants, a 24-hour fitness center with sweeping views, a full service spa, and a private beach.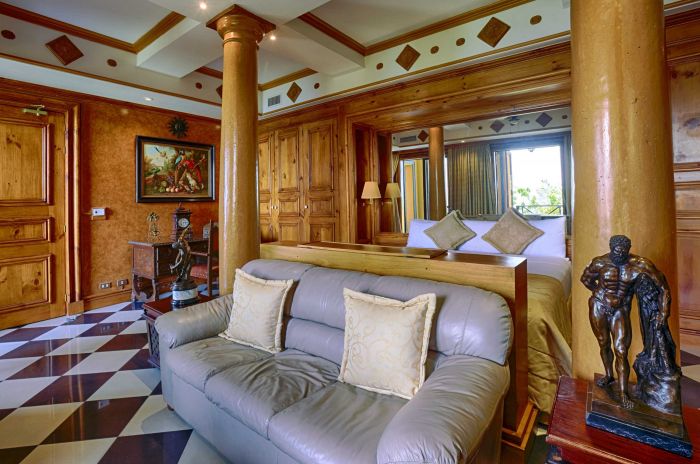 Antiuque filled suites-Zephyr Palace
Roy still felt something was missing…a palace perhaps? Hence he added the Zephyr Palace, an over-the-top (in a good way) stone castle, which houses seven themed suites. Although the majestic Imperial Suite, filled with classical style furniture of the XVIII and XIX century, and somewhat incongruously, a private gym, and the opulent Oriental Suite, decorated with antiques from Morocco, Tunisia and India, were both stunning, my pick would be the dramatic, straight out of Africa Suite, featuring a hand-painted mural of an African Savannah at the foot of the Kilimanjaro.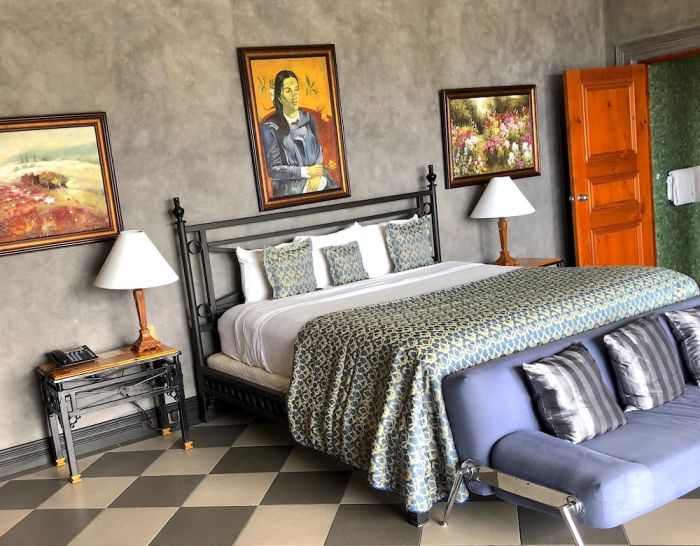 Orginal artwork lines the wall-Villa Caletas
My "junior" suite, which seemed big enough to be a "senior" was filled with original oils, gorgeous tapestries, and an indoor Jacuzzi. To say nothing of my outdoor Jacuzzi, nestled in one corner of my humongous private terrace. I sure miss relaxing in my hot tub, sipping a glass of bubbly, as I watch the sunset through the treetops serenaded by toucans.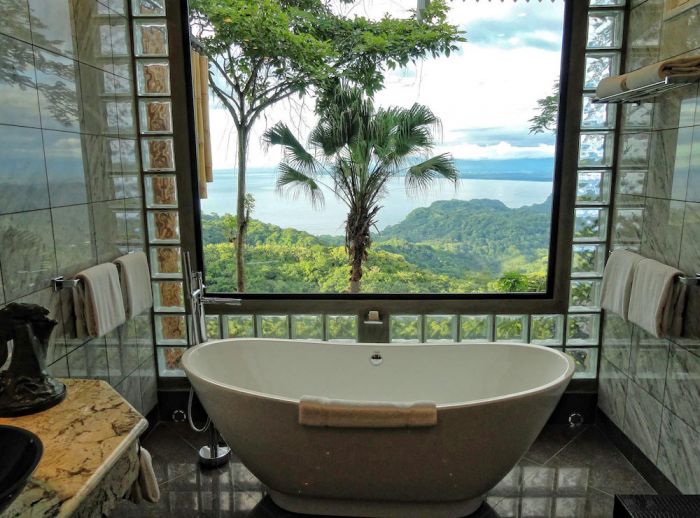 Best tub view ever-Villa Caletas
Of course, there were all the necessary modern conveniences such as flat-screen TVs, stereo surround sound, and wireless internet. Since some of the private villas were down the hill from the main hotel, complimentary golf carts were on call to whisk you around or deliver room service.
The Eden-like Serenity Spa, encircled with aromatic, tropical foliage, offers a variety of services, including Ayurvedic treatments or the popular couples massage. Don't miss the open-air yoga classes, held under the thatched roof palapa, where you might be down-dogging next to Roy, a major yoga fan.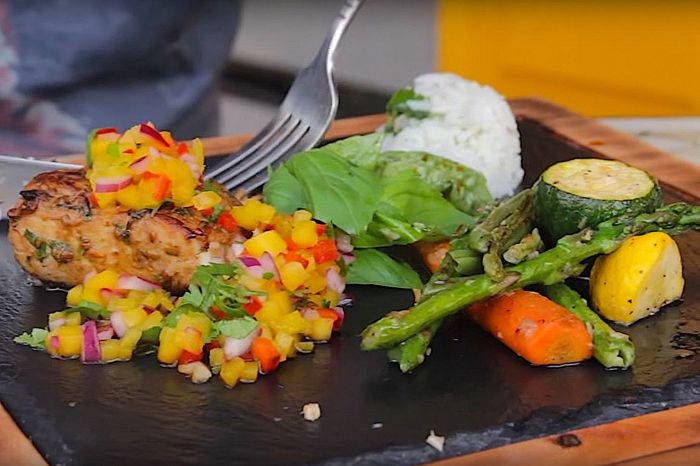 Lots of fresh, local veggies-Villa Caletas
While the meals served on the El Mirador terrace could have easily played second fiddle to the spectacular views, under the capable hands of Chef Fernando Adaniz the beautifully presented classical French and Costa Rica fusion cuisine can hold its own.
Although the menu features local beef as well as many vegetarian choices I couldn't resist the ocean fresh seafood options starting with an amuse bouche of avocado and salmon, a trio of ceviche, a perfectly cooked sea bass served with a zingy mango chutney, breaking for a garden fresh green salad before giving in to temptation with one of their home-baked sweeties.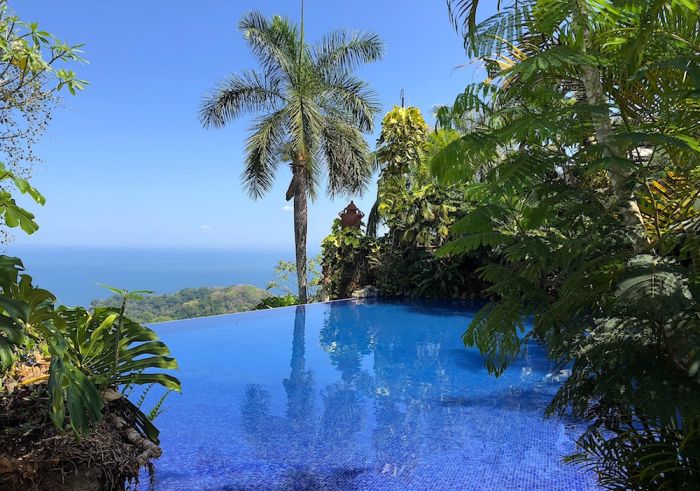 Infinity pool is calling me back-JRN
Sustainability could be Denis Roy's middle name since, per the Small Distinctive Hotels mantra, not only did he reforest the mountain but Villa Caletas also has a strong recycling program, utilizes solar panels, and grows their own veggies in a hydroponic garden.
Hotel Villa Caletas is a member of Small Distinctive Hotels, a collection of 8 upscale, boutique hotels in Costa Rica's most beautiful & exclusive locations.