jrn
Villa 1870, Corfu's newest entry into the luxury villa market is really very old. Although this grand mansion was built in 1870, it has just emerged from a total face-lift in 2018 and is now open for guests. The villa's makeover still shows great respect for its past but now provides discerning guests the finest comforts of the modern era.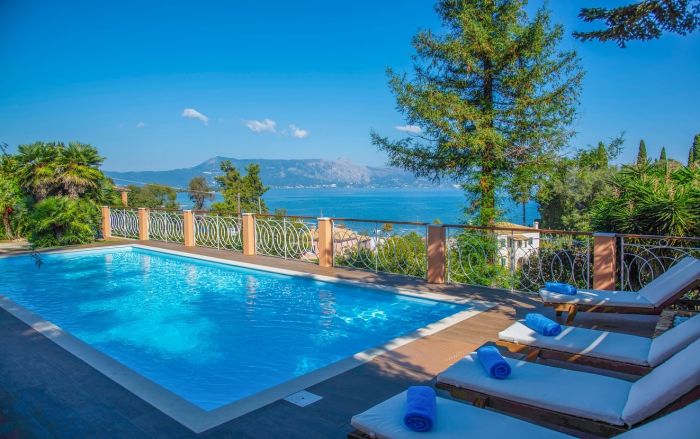 Heated pool year round courtesy of Villa 1870
This European-style villa was originally designed in 1870 by an English architect to serve as the grand home for a wealthy merchant's family. Nancy Siomou and Dimitrious Kyiakis, the exceedingly hospitable new owners, bought the villa in 2017 (where even though it was almost totally dilapidated, they fell in love with the unique architecture and "great cheekbones"). They worked 24/7 for more than a year, thoughtfully and meticulously renovating it. Their plan, which they carried out successfully, was to provide every modern comfort such as air-con, complimentary Wi-Fi and a 50-inch, flat-screen TV, while still keeping its wealth of historic Corfiot architectural details, including a dramatic 19th-century wooden door. Their attention to detail is apparent since even though every room is unique, they are all appointed with hand-selected antiques, brilliant crystal chandeliers, Venetian blinds, and impressive works of art.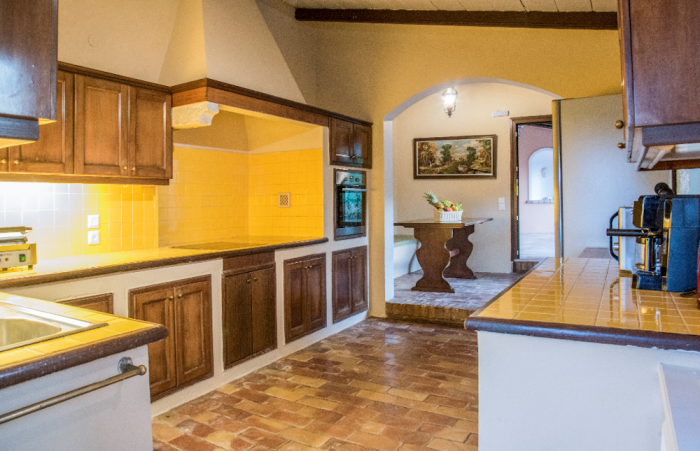 DIY kitchen -Villa 1870
Inside tip: Or, if you're like me, you'll be even happier to know that there is also a separate professional kitchen where the exceedingly talented, Chef Themes Iliabis is at your beck and call and will happily whip up all your meals beginning with fresh-squeezed O.J. and a perfect cappuccino to kick-start my brekkie.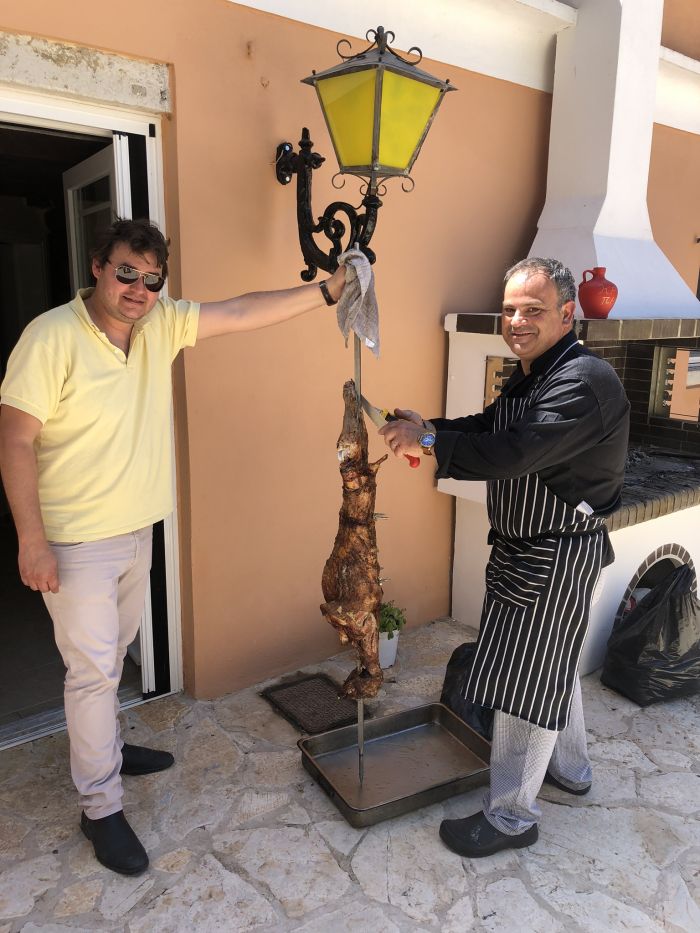 Dimitrious Kyiakis and Chef Themes with my Easter lamb, JRN
I was fortunate to stay here over Easter as the family kindly invited me to join them for what they call " just a traditional Easter meal" prepared by Chef Themes and what I call, "possibly one of the best Greek meals I've ever experienced."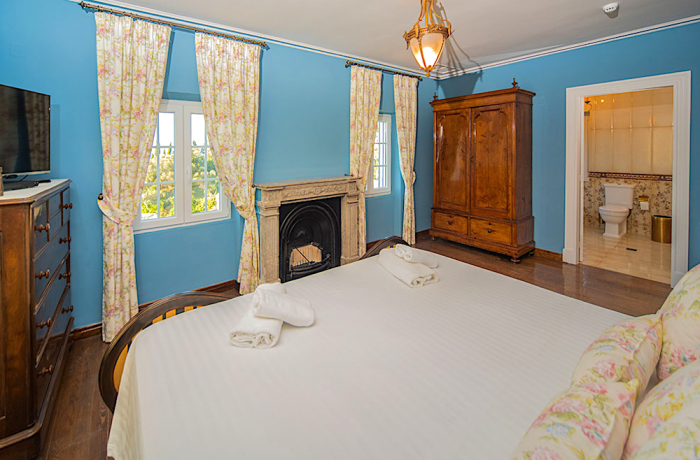 Antique filled bedrooms are all unique-Villa 1870
The five bedrooms and baths take over the next two floors, each is more exquisite than the last. I was partial to my master bedroom, with a gorgeous carved-marble fireplace and private bathroom, equipped with a rainshower and a double washbasin. All share the same instagram-swooning Ionian sea views.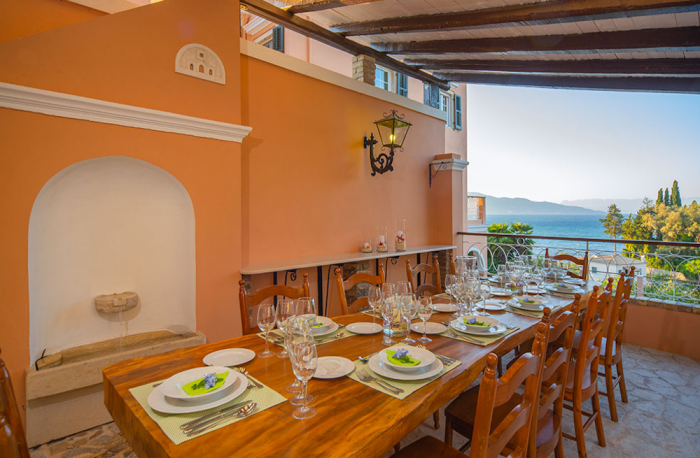 Who doesn't like alfresco dining when it has this view?-Villa 1870
And then there's the private grounds consisting of two acres of lush landscaped gardens, filled with stone pathways, shade trees and vibrant flowers, surrounding a huge salt-water pool, heated year round- a rarity in Corfu. Whether you swim a few laps, nap on the sunbed, fire up the Barbie, (or again, ask Chef to do it for you;) or take in the sunset while sipping wine that you've confiscated from the wine cellar- this is the stuff fond memories are made of.
Incredible Pampering
They had me as soon as I met my private executive chef, but it doesn't hurt there is also a daily housekeeper, and the Villa 1870 Corfu 9-seater minivan which is available to the guests, with a driver for airport/port transfers, or for sightseeing on the island. Plus, don't hesitate to ask any of the team to make bookings or provide insider suggestions for outings.