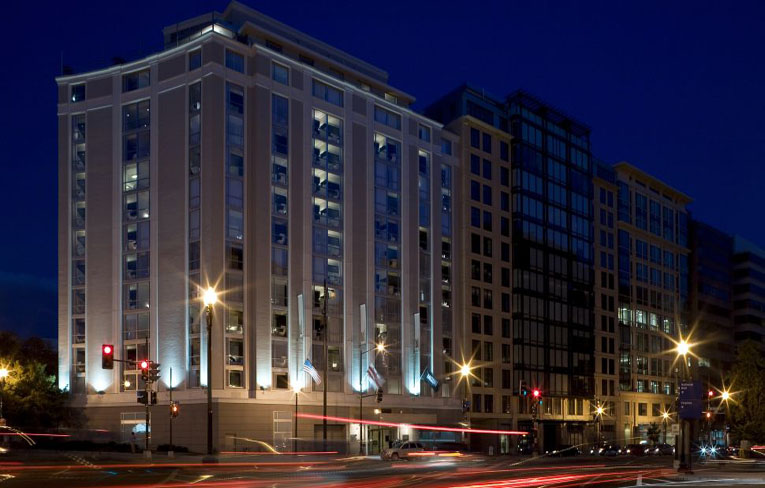 Hotels
At Donovan House, you hold the keys to chic style and worldly comfort. The entrance escorts you into a sleek environment, with clean surfaces, Asian imagery and edgy furnishings. Imagine holding very private social confabs in a circle of leather cocoons. Rest your eyes on yummy colors like avocado and plum. This is quirky genius, an atmosphere that's way way out of the box. Originality is part of the plan, like the nautilus-shaped cocoon showers in the rooms.
Accommodations
Now if all you really want to do is sleep, you may get distracted by the sleek, sexy luxury of your room. The décor at the Donovan House gets futuristic right. Think Kyoto's minimalism crossed with Berlin's edginess circa 2020. Tasty chocolate leather canopy beds, plum accents, clean white linens, Studio Gaia club chairs, and the pièce de résistance ? a spiral walk-in shower that could get you and the love of your life in a bit of a lather. A hip attitude to life and style permeates the rooms, outsmarting the usual trendy DC hideaways.
Dining
As great as the dining is in Washington DC, the restaurant at Donovan is pure genius. Celebrity chef, Susur Lee, thinks out of the Bento box. Take his sushi, for instance. Naturally, it's sustainable and flown in fresh. But there's always that flavorful surprise like jicama or pineapple. And Lee applies his culinary style and sensibility to cuisines from every corner of Asia. Chef Lee's culinary creations are performed by Executive Chef Jaime Montes de Oca, and performance art it is. A private dining area is available for social and business events.
Hotel Amenities
Donovan House has off-the-charts services & amenities. Our employees are famous for responding with alacrity and are ever-on-the-alert for individual preferences. We call it "one-of-a-kindness." The amenities are clean, pure and rich, loaded with luscious, natural ingredients.