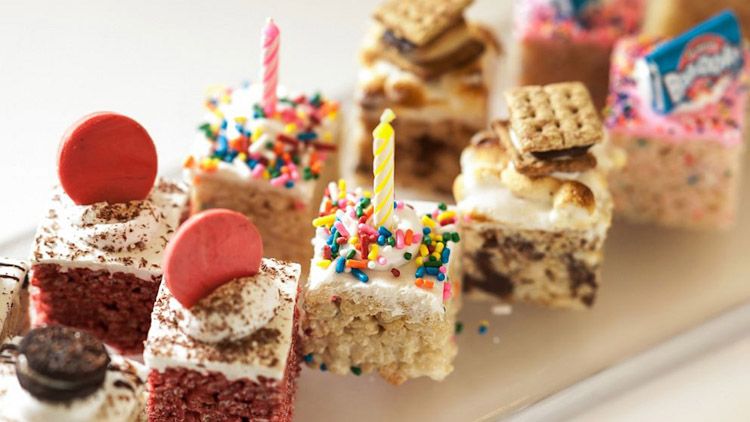 Photo Courtesy of Treat House
With cupcakes being basically an entire genre of reality TV these days and cronuts being scalped for five times their retail price, it's no wonder every food entrepreneur is out to kick-start the next big snack craze. This summer's assortment of frozen fruit cocktails, popcorn mousse and, most recently, "gourmet" crisped-rice treats is proof: Kiddie treats have grown up and gotten sophisticated. So indulge without shame.
Photo Courtesy of Treat House
"Krispy" Treats, Treat House
Who would have ever thought that the simplest no-bake dessert in the day-camp handbook would someday become gourmet enough to merit an Upper West Side store?
Treat House
owners Chris Russell and wife Jennifer — inspired by their kiddies, no surprise there — think so. They're going all-in on the gourmet version of the Krispie treat, offering 16 handmade flavors like Chocolate Raspberry and Caramel Sea Salt. Everything's made in-store...and if it's too early to start with sweets when you visit, there are breakfast bars too.
Photo Courtesy of Mallow Artisan Marshmallows
Gourmet Marshmallows by Mallow Artisan Marshmallows
Speaking of marshmallows, these days grownups can admit to snacking on the fluffy treats without even needing them to be part of some dessert. People who used to beg their parents for the bulk-size bags of Kraft minis can now indulge in handcrafted
Mallow Artisan
flavors like Lavender and Key Lime Pie. The melt-in-your-mouth handcrafted treats contain no artificial flavors or preservatives.
What would a summer sweets roundup be without everybody's favorite campfire treat? In this version, you don't have to roast your own marshmallows, nor get a lap-full of cracker crumbs. This is a fancy s'more you eat with a fork: graham cracker ice cream, blackberry marshmallow, and a gooey rich chocolate center.
Root Beer Float, Red's at Sea Crest
Another ultimate summer treat, the root beer float used to be a staple of ice cream parlors and soda fountains. While soda fountains are disappearing, this refresher has found a new position on frozen cocktail menus — especially ones that cater more to guys, like
Red's beachfront sports bar
in Cape Cod. No self-respecting Massachusetts man would sip a Pi?a Colada during the ball game — even on a record-breakingly hot day — but a root beer/ice cream concoction is fine, with or without the booze.
Photo Courtesy of Baked by Melissa
Stuffed Mini-Cupcakes, Baked by Melissa
Tiny multi-colored cupcakes are adorable enough in their own right, but when stuffed with fudge, peanut butter and other yummy fillings they became the half-dollar-sized diet cheat-of-choice for chic Manhattan ladies. These
Baked by Melissa
treats come ready-made in flavors like Peanut Butter Cup and Double Cookie. Plus, taking bite-sized indulgence to the next level, the "In Chocolate" line features flavors like Coffee Caramel and New York Cream, dipped in chocolate.
Photo Courtesy of Conrad New York
Booze-infused popsicles are a common enough summertime cocktail treat, but the problem is, they melt messily and rapidly. One Manhattan rooftop bar solves the problem by serving its frozen fruit pops in a large glass of Prosecco — so as your popsicle melts, it creates a delicious and well-chilled Prosecco spritzer. Your fingers will still get sticky, but you're far less likely to drop half your cocktail on the floor.
Popcorn Mousse, Caesars Atlantic City
Pastry Chef Deborah Pellegrino surprised some of her colleagues when she announced she'd be doing a popcorn mousse for a special event at the
Caesars Atlantic City
this summer. Mainly because how does that even work? No matter. The treat's resounding success and very distinctive buttery-popcorn flavor have made it a signature of Pellegrino's dessert presentations. Oh, and by the way...it's topped with toffee and bacon. She doesn't miss a trick.
Photo Courtesy of Havana Central
Liquor-Filled Empanadas, Havana Central
Latin America's ubiquitous street food takes a surprising twist in Yonkers, by way of Cuba. Not only does the mini-empire (4 restaurants in New York and counting) of
Havana Central
put empanadas on the dessert menu, but they also morph the mini-pie into a quasi-cocktail. You gotta chew to get to the booze. Flaky, buttery handmade pastries are filled with sinful centers and given mischievous names like Drunken Monkey (ripe banana, chocolate and Bailey's Irish Cream).
Photo Courtesy of Neuhaus
Neuhaus Pralines
Most of us associate the chocolate-nut praline with ice cream, or with folksy candy shops in Charleston where they're sold by the bag. In Belgium, candy makers do away with the nuts and add a soft center — and sometimes, they put a little liquor in it too. Belgian chocolatier
Neuhaus
sells a sampler box of 20 liqueur-filled praline candies...and just to underscore this product's gentlemanly luxury status, the box itself is leather. 
Photo Courtesy of Sticky
Rock Candy by Sticky
Sometimes the most basic candies don't need a liquor infusion or even a fancy preparation to elevate them to "gourmet" standing.
Sticky
, the Hollywood candy store known for custom-made candy displays, will make just about any kind of sweet for its celebrity and socialite clientele. The thing they're known for though is lollipops and rock candy...the simplest sugary suckers in the pantheon — hand-sculpted into rainbows, fruits, flowers and even monogrammed wedding centerpieces.