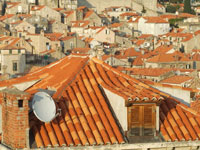 Things to do in Dubrovnik
The city of Dubrovnik with its cobblestone streets and red-tiled roofs makes an amazing sightseeing destination for visitors from all walks of life. Steeped in a rich and fascinating history, Dubrovnik is brimming with attractions. A holiday in Dubrovnik is great in spring, summer or autumn due to its mild Mediterranean climate. Start off at the picturesque old port where the turquoise waters of the Adriatic lap gently at the surrounding rocks where the 13th century walls tower above and the boats bob gently in the harbour, where shops, restaurants, cafés and bars will keep visitors whiling away the hours in the some of the most breathtaking scenery. Head to the historic Old Town, a UNESCO World Heritage Site, where the Stradun, the biggest, longest and widest street in Dubrovnik, which dates back to the 13th century is a major focal point, as is Onofrio''s Fountain while the Franciscan Monastery boasts one of the most beautiful Romanesque cloisters in Dalmatia.
For those who want to get out and admire the view of Dubrovnik from the sea, take a day trip by boat to the nearby islands of Mljet or Elafiti, while the secluded beaches, vineyards, olive groves and quaint towns adorn the island of Korcula, Dubrovnik''s most popular outlying island.
Travellers keen on doing plenty of sightseeing should purchase the Dubrovnik Tourist Card which provides discounts on car rental, taxis and boat rides as well as discounts at bars, clubs and restaurants around the city. The price of the card ranges from 50 HRK to 350 HRK, and the discounts range from 10% to 30%.