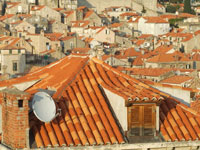 Dubrovnik Overview
Despite a turbulent history during which it has been occupied and conquered by a succession of its neighbours and European colonial powers, Dubrovnik is now a town at peace, allowing visitors to make the most of its historical architecture, white pebble beaches and crystal-clear sea.
Political upheaval has seldom kept tourists away from this uniquely lovely Adriatic port city; for centuries it has drawn those seeking fine accommodations, excellent cuisine, beautiful surroundings and recreational opportunities. George Bernard Shaw is quoted as describing Dubrovnik as 'heaven on earth'.
The old town, dating from the 7th century, is on UNESCO's list of World Heritage Sites. Enclosed by city walls built in the 13th century, the buildings represent a cross-section of medieval architectural styles and remain well preserved. Onofrio's Fountain, situated just inside the main entrance to the old city at Pile Gate, is one of Dubrovnik's most famous landmarks and a popular meeting place. The centre of the old town is the Stradun, its main street, which was originally a channel separating an island from the mainland, and was filled in to join two opposite towns into the merged city of Dubrovnik. There are numerous churches, monasteries and museums to explore; the old town also boasts plenty of restaurants, bars and shops; and the coastal belt is awash with marinas, coves and promenades. Most of the hotels and the best beaches are located north west of the old town at Lapad, as well as in Ploce to the north east.