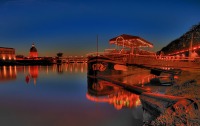 Toulouse Shopping
Shopping in Toulouse is focused in the downtown area, where there are a number of nice markets. Flea markets are held each Sunday near the St Sernin Basilica and the St Aubin Basilica, selling local food and produce and other assorted items. There is a great open-air organic produce market at the Place du Capitole.
The main shopping areas of Toulouse are the rue d''Alsace-Lorraine, which has many clothing and houseware shops. Rue Croix Baragnon and the rue des Arts are the best places to find antiques, and there are many upmarket boutiques on rue des Arts, rue Croix-Baragnon, and rue St-Antoine du T. Rue St Rome has many department stores, and you''ll find chic clothing shops in the rue de la Pomme.
Because of the many aerospace companies based in the city, items from Airbus and the Cité de l''Espace are popular Toulouse souvenirs.
Store hours in Toulouse are generally 9am to 7pm, and many shops close from 1pm to 3pm. Few shops are open on Sundays.