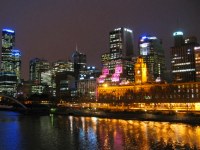 Best Restaurants in Melbourne
One of Australia''s more cosmopolitan cities, Melbourne has a diverse and exciting dining scene and eating out in this vibrant city can be anything you want it to be! With just about all types of cuisine on offer, the variety of cuisine in this city is astonishing and will see visitors coming back for more.
Although based on traditional British food, Australian cuisine has been strongly influenced by its Southeast Asian neighbours and elements of this can be seen in many Australian dishes. Travellers can enjoy sampling some of the most innovative and exciting fusion food in the world as Melbourne offers many of Australia''s top-class restaurants. Korean, Japanese and Thai eateries abound here, while in the city centre, William Street is the place to go for authentic Indian fare.
Head to Chinatown in Little Bourke Street for some authentic Chinese food, while Brunswick Street in Fitzroy boasts an eclectic mix of eateries where visitors will have a hard time choosing where to start. Downtown Melbourne is where the more low-key restaurants can be found, and the chic St Kilda and Chapel Streets is where the city''s trendoids can be found dining on the latest nouveau cuisine.