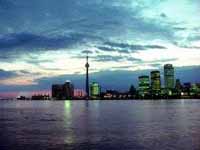 Best Restaurants in Toronto
Toronto is home to Canada''s most exciting restaurant scene, with over 5,000 eateries and a multitude of different cuisines reflecting the vibrant ethnic make-up of this city, Canada''s largest. Great news for diners is that there is a high proportion of good quality, great value restaurants - especially those offering ethnic food. There are fewer top-end restaurants, but enduring favourites like Truffles and North 44 are on a par with the best on the continent.
Certain cuisines cluster in distinct areas: College Street, better known as Little Italy, is home to the city''s best Italian restaurants and . For Greek food head to the Danforth area, while authentic Chinese joints are abundant in Chinatown. For a diverse selection of ethnic cuisine, check out King Street West, home to excellent Indian, Japanese and sushi restaurants, not to mention vibrant bars and nightclubs.
In general, Toronto offers good value dining. Tip 15-20% for good service. City law requires all restaurants, bars and pubs to be smoke-free, so don''t even think about lighting up.
Canoe
This trendy eatery is a must for anyone looking to impress, whether it be a business dinner or a romantic evening out. The minimalist décor, imaginative and inventive menu, and flawless execution will leave diners coming back for more. Flagship dishes include the seared Bluefin Tuna with broccoli hash, kumquat caramel and dandelion as well as the bacon wrapped Monkfish with smoked ham hock, white cabbage and porcini. Open for lunch and dinner from Monday to Friday. Open Saturday and Sunday for private events.




CUISINE:

International


STYLE:

Trendy


Address:

54th Floor, Toronto Dominion Bank Tower, 66 Wellington St.


Website:

www.oliverbonacini.com/canoemovie.html
Bangkok Garden
Established 25 years ago, the Bangkok Garden was one of the first Thai restaurants in Toronto with essential ingredients being delivered fresh from Bangkok to ensure authenticity. The lemon seafood soup is a great starter while the red beef curry, toasted cashew chicken, and Three Pagodas curry are all delicious. Open Monday to Friday for lunch and dinner. Saturdays dinner only, closed Sundays.




CUISINE:

Thai


Address:

18 Elm Street, Toronto


Website:

www.bangkokgarden.ca
360 Revolving Restaurant
Located in the world's tallest free-standing structure, the restaurant at the top of the CN Tower has floor-to ceiling windows and revolves slowly so that every part of this breath-taking view can be fully appreciated while dining in style. The food is not as high-flying as the location, but the experience is certainly a memorable one. The highlight of the dessert list is the chocolate version of the CN Tower. Reservations essential. No winter lunches.




CUISINE:

International


Address:

CN Tower, 301 Front Street West (Downtown)


Website:

www.cntower.ca
The Boiler House
Situated in a lofty industrial space in the trendy Distillery District, The Boiler House restaurant is renowned for being one of the best live jazz and blues venues in Toronto. Indulge in a fine evening meal from Thursday through to Saturday complimented with toe tapping beats. Soak up the chic urban atmosphere, with 22 foot wine racks, intimate private rooms and hand crafted heavy timber tables. Serving up contemporary Canadian cuisine in a warm, chic environment, the Boiler House restaurant is a good bet for a satisfying Toronto evening out.




CUISINE:

International


Address:

55 Mill Street


Website:

www.boilerhouse.ca
Truffles
Truffles continues to earn international acclaim and top awards on the culinary and service front, and dining here is a luxurious treat for gastronomes seeking indulgence. The soaring ceilings and well-spaced tables create an ambience of sophisticated lightness, and the quintessence of modern French cuisine is brought to the table with a light and fresh, aromatic style of cooking. Truffles' signature dish is the spaghettini with a light truffle sauce. Reservations required. Closed Sunday. Dinner only.




CUISINE:

French


Address:

Four Seasons Hotel, 21 Avenue Road, Yorkville (Downtown)


Website:

www.fourseasons.com/toronto
Vanipha Lanna
Vanipha Lanna is different from other Thai eateries in that it specialises in Lao-Thai cuisine from Thailand's northwestern Lanna region, and the flavours are permeated by the strong and spicy influences of Lao cooking. This colourful, vibrant restaurant attracts the crowds again and again with specialities like the grilled chicken and garlic in a lime-chilli sauce or the bamboo steamer of chicken and seafood dumplings. Reservations recommended. Closed Sunday.




CUISINE:

Oriental


Address:

471 Eglington Avenue West (Uptown)


Website:

www.vanipha.ca
North 44
Named after Toronto's latitude, North 44 has been one of the city's most genteel eating places for many years and is an experience in pampering. The artistic interior bathes diners in a warm glow, the food is superb and the service flawless. The seasonal menu is influenced by Mediterranean, American and Asian flavours and might include pepper and sesame crusted tuna, lamb shank or stuffed quail, as well as a few exciting pastas and pizzas. Desserts such as the lemon meringue mille-feuille are the best in town. Reservations essential. Closed Sunday. Dinner only.




CUISINE:

Modern Eclectic


Address:

2537 Yonge Street (Uptown)


Website:

www.north44restaurant.com
Senses
Senses is a combination of bakery, gourmet food retail outlet and fine dining restaurant that makes dining here an experience for the senses. The upstairs restaurant is delicately stylish and tastefully furnished with luxurious seating, excellent service and superb cuisine. The displays of smoked salmon and caviar in the emporium below prepare the taste buds for starters such as the goat's cheese empanada, or main dishes like the leek cannelloni stuffed with ground lamb, spinach and feta. Dinner Wednesday to Sunday; bar and bistro open daily.




CUISINE:

Modern Eclectic


Address:

318 Wellington Street West


Website:

www.senses.ca
Lai Wah Heen
The huge menu features the finest traditional and modern Cantonese dishes within the sophisticated setting of the Metropolitan Hotel. The menu offers a large variety of shark's fin and abalone dishes, as well as some of the best dim sum in the city, and delicious meat and noodle dishes. Service is attentive and food elegantly served. Daily lunch and dinner.




CUISINE:

Chinese


Address:

Metropolitan Hotel, 108 Chestnut Street (Downtown)
Bistro 990
Known as a Hollywood celebrity hot spot, diners can rub elbows with the stars while delighting in French country favourites such as traditional chicken liver pâté, half roast chicken with garlic mashed potatoes or Steak Frites in a shallot or Roquefort sauce. There are excellent value fixed-price menus available and an outstanding wine list. Reservations required. Closed Sunday. No lunch Saturday.




CUISINE:

French


Address:

990 Bay Street (Downtown)
Bellini's Ristorante
With dark wood, white linen tablecloths and soft ambient lighting, Bellini's Restorante serves delicious hearty Italian fare and is popular with locals and celebrities. Try the carpaccio of beef tenderloin with arugula salad, shaved Parmesan cheese and white truffle oil, or the delicate Truffle risotto with Arborio rice, woodland mushrooms, Fontina fondue and white truffle oil. Open daily for dinner. Open for lunch for tables of 25 or more. Reservations recommended.




CUISINE:

Italian


STYLE:

Business


Address:

101 Yorkville Ave


Website:

www.bellinisristorante.com
Travel guide by (c) Globe Media Ltd. By its very nature much of the information in this travel guide is subject to change at short notice and travellers are urged to verify information on which they're relying with the relevant authorities. We cannot accept any responsibility for any loss or inconvenience to any person as a result of information contained above.