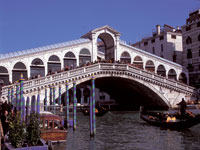 Best Restaurants in Venice
While Venice''s cuisine can''t compare with many other Italian destinations, it does have some wonderful restaurants featuring the cuisine of the . Near the Rialto Bridge, there is a string of restaurants with tables along the canal, where you can enjoy the quintessential Venetian practice of dining by the canal lights. The Dorsoduro area has the highest concentration of places where locals, especially students, go to eat.
One of Venetian cuisine''s most celebrated ingredients is cuttlefish, and its ink. This powerful black ink serves as an ingredient and a sauce in polenta (corn meal), risotto (rice), and pasta dishes. Despite the intensity in colour, the ink has an unexpectedly mild taste. Also popular in Venetian restaurants and bars is (Italian tapas), which is usually made up of small servings of fish, little sandwiches, plates of olives or even very small servings of regular full-course meals.
For fresh fruit, including chilled coconut, visit the street market stalls. If self-catering, the Rialto food markets are the best place to find fruit, vegetables and cheese; and a huge range of seafood, most of it fresh out of the lagoon.
Travellers looking for authentic Venetian cuisine and prices should avoid establishments with menus in six different languages displayed in the windows, and rather head away from the tourist centre to look for quaint and welcoming eateries tucked away in the city''s nooks and crannies.
Lineadombra
Enjoy sitting outside on a starry night, taking in a beautiful view of the Giudecca from the deck at Lineadombra, one of Venice's most modern restaurants. The bass fillet with potatoes and vanilla perfume comes highly recommended.




CUISINE:

Mediterranean


STYLE:

Trendy


Address:

Ponte dell'Umilta, Dorsoduro, 19


Website:

www.ristorantelineadombra.com
Il Refolo
This cosy pizzeria is located alongside the canal where diners can pull their boats in, sit under an umbrella at a shady table and feast on homemade crusted pies filled with roasted figs with prosciutto, amongst other exotic flavour combinations. Open for lunch and dinner from April to October.




CUISINE:

Pizzeria


STYLE:

Trendy


Address:

1459 Santa Croce, Campo San Giacomo dall'Orio
La Cantina
Not somewhere many tourists would know about, unless escorted here by a local, La Cantina is run and owned by the passionate Francesco who is temperamental yet obsessive about food. Come here for some indulgent and lip-smacking crostini piled with tongue, chopped pickle, smoked ricotta and layers of fresh horseradish shavings, washed down with a glass of local wine. Open when the owner feels like it - usually closed on Sundays and Mondays.




CUISINE:

Italian


STYLE:

Romance


Address:

Campo San Felice (Strada Nuova), Cannaregio
Cantinone-già Schiavi
This essential Venice restaurant is famous for its great wine selection from the Veneto region and for its flagship dish, (Italian tapas) made up of wedges of Mortadella sausage speared with curly, piquant Tuscan peppers and crostini topped with creamy tuna and shredded leeks. Cantinone-già Schiavi's lively atmosphere and warm and friendly locals is what Venice dining is all about. Travellers will love the food, prices and authentic Italian cuisine at one of Venice's best kept secrets.




CUISINE:

Italian


Address:

992 Fondamenta San Trovaso, near the Accademia Bridge
Ristorante Ai Quattro Rusteghi
The airy spaciousness of this Venetian restaurant owned by the local Rossi family, coupled with its wonderfully varied menu creates a wonderful dining experience. Located in the heart of the vity's Jewish 'Ghetto' of the Cannaregio district, this eatery is popular with both locals and tourists alike. Try the delicious homemade pastas with mouth-watering sauces, or the fish baked with tomatoes, olives, capers, potatoes, and white wine in parchment paper and then folded to look like a gondola. Indoor and outdoor dining available. Open daily for lunch and dinner.




CUISINE:

Venetian


STYLE:

Romance


Address:

Campo del Ghetto Novo, Canareggio 2888
Grand Canal
Located in Calle Vallaresso, this elegant restaurant belongs to the Hotel Monaco and Grand Canal, and serves traditional Venetian cuisine, including seafood and fresh vegetables. Celebrities such as Brad Pitt and Angelina Jolie have been spotted dining here and, only a few metres from the Vaporetto stop, the location is both convenient and appealing, with a very romantic terrace to sit on.




CUISINE:

Local


Address:

Hotel Monaco, Calle Vallaresso, 1325


Website:

www.hotelmonaco.it/customers/hotelmonaco/webhm.nsf/webpages/restaurant_hotel_monaco.htm
Ca' d'Oro (Alla Vedova)
Located away from Venice's tourists hub, you know Alla Vedova must be good because this is where all the locals eat. With marble counters, charismatic furniture, a cosy atmosphere and some of the tastiest Venetian cuisine in town, diners can feast on dishes such as the delicately grilled cuttlefish , (lasagna with sausage, radicchio, and béchamel sauce).




CUISINE:

Italian


Address:

Calle del Pistor, Cannaregio
Trattoria alla Rivetta
This bustling seafood eatery serves some of the most authentic Venetian cuisine and for the right price. Locals and tourists alike flock to this restaurant for delicious pastas, seafood and other mouth-watering Italian fare. Even in off-season there can be a waiting list. Open from Tuesday to Sunday for lunch and dinner. Closed Mondays. Reservation recommended.




CUISINE:

Seafood


Address:

Castello 4625, Salizzada San Provolo
Antico Martini
Popular with tourists and featuring grand paintings that occupy entire walls, Persian carpets and beautiful views onto the square of the Fenice theatre, Antico Martini is one of the oldest restaurants in Venice, steeped in almost 300 years' history. The superb cuisine will not disappoint and is always made form the freshest ingredients. Open daily from 10.00am to midnight. Reservations essential.




CUISINE:

Venetian


STYLE:

Romance


Address:

Campo San Fantin (on the same square as La Fenice opera house)


Website:

www.anticomartini.com
Trattoria Altanella
Trattoria Altanella has been in the same family for over a hundred years and the French president, François Mitterrand, used to dine here whenever he was in Venice. However, the real attraction to this ambient is the sumptuous , which is homemade and served with tomatoes or (squid ink).




CUISINE:

Local


Address:

Calle delle Erbe, 268, Giudecca
Vino Vino
Located next to the Antico Martini, Vino Vino is a wine bar-cum-restaurant boasting the largest selection of top-quality Italian and imported wines. The food's not bad either, where dishes such as Scallops with cocoa butter and zucchini flowers, carpaccio with pink grapefruit and edible flowers, Sea Bass risotto and strawberry honey flavoured duck breasts with croquettes flavoured with tonka beans, are paired with a delicious selection of wines. Specials can be found scrawled on the blackboard or displayed under the glass counter. Open daily for lunch and dinner. Reservations recommended.




CUISINE:

Italian


STYLE:

Trendy


Address:

Campo Teatro 2007, St Marks Square. On Ponte delle Veste


Website:

http://www.anticomartini.com
Ristorante Quadri
Oozing with old-fashioned romance and elegance coupled with breathtaking views across St Mark's Square, Ristorante Quadri lays it on thick when it comes to fine dining and style. Try the steamed Sea-bass in rosemary flavour with vegetable ratatouille or the lamb cutlets and loin flavoured with thyme and parsley and seved with a foundant of potatoe and eggplant. This restaurant might be perceived as being kitsch, but it definitely doesn't disappoint. Open daily, closed on Mondays between 1 November and 31 March. Reservations essential.




CUISINE:

International


STYLE:

Romance


Address:

Piazza San Marco 120


Website:

www.quadrivenice.com
Travel guide by (c) Globe Media Ltd. By its very nature much of the information in this travel guide is subject to change at short notice and travellers are urged to verify information on which they're relying with the relevant authorities. We cannot accept any responsibility for any loss or inconvenience to any person as a result of information contained above.