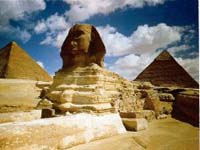 Cairo Kids Attractions
The quintessential ancient city of the world, Cairo, at first glance, may not seem like the best place in the world to travel on holiday with children. Afterall, it''s hot, dry, dusty and full of ancient temples and structures that children find hard to relate to - but Cairo does have a little something to offer its younger visitors. Obvious attractions such as the Great Pyramids of Giza and the Sphinx will amaze visitors of all ages, and riding a camel or Arabian horse round these spectacular attractions is a fantastic activity for the whole family and a good way to keep the kids interested, but don''t forget the sunscreen and hats! Older children might enjoy the Egyptian Museum of Antiquities, but a great way to teach the younger ones about Ancient Egypt is to take a barge ride through Dr. Ragab''s Pharaonic Village where they can enjoy history being acted out. There are plenty of amusement parks in Egypt to enjoy too, such as Dream Park or Sindbad where children can enjoy plenty of rides and activities. For days when the heat is scorching and going outdoors with the children is not an option, take the kids to an indoor playground or amusement park, such as Magic Galaxy, which offers something for children of all ages and even a baby zone for the youngest visitors.
| | |
| --- | --- |
| | Buzzing with the activities of buying and selling, Khan al-Khalili is one of the largest markets in the world. It is situated within Islamic Cairo, a World Heritage Site that attracts travellers... |
| | The pyramids are the earth's oldest tourist attraction and the Great Pyramid of Khufu (also referred to as the Great Pyramid of Cheops) is the only remainder of the seven ancient wonders of... |
| | This living museum is a fabulous attraction for the whole family to enjoy. Visitors sail down a network of canals in motorized barges where a cast of actors and actresses work to recreate ancient... |
| | This indoor amusement park spans two floors and features 10 big rides, more than 100 games and rides, and even a Baby Zone section for very young visitors. Kids can enjoy rides such as the... |
| | A trip to Dream Park is a must for children of all ages and makes a great day out for the whole family. Featuring rides, shops and simulators, the 160 acre Dream Park is also encircled by a train,... |
| | Viewing the Pyramids by Arabian horseback is a great experience and an unforgettable way to take in one of the world's most famous sights. There is of course, the slightly smellier option of... |
Travel guide by (c) Globe Media Ltd. By its very nature much of the information in this travel guide is subject to change at short notice and travellers are urged to verify information on which they're relying with the relevant authorities. We cannot accept any responsibility for any loss or inconvenience to any person as a result of information contained above.