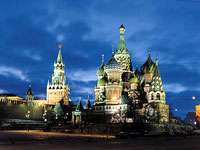 Best Restaurants in Moscow
Eating out in Moscow is a warm and gratifying experience. There are ample Moscow restaurants serving traditional Russian cuisine such as caviare, beef stroganov and chicken kiev, as well as a many offering international or seafood menus. The best Moscow restaurants specialising in local fare can be found inside the Garden Ring and Kitai, or near Poklonnaya Hill. There are excellent seafood restaurants in both Red Square and Kiev Station Square, while international cuisine is available from restaurants in Pushkinskaya and Tverskaya, and on Teatralny Proezd (city centre). The Taganskaya area is also well-know for its wealth of restaurants. While there are some Moscow restaurants that even stay open 24 hours a day, most establishments require reservations. Some restaurants add a service charge to the bill and if not, 10% gratuity is acceptable.
Grably
Grably provides a combination difficult to find in Moscow - cheap, good quality food in stylish, comfortable surroundings. The mainly Russian food is served buffet style, comprising a wide variety of appetizers, soups, salads, and hot cooked mains, as well as dessert options and a breakfast and brunch buffet. The filled pancakes, or blini, are a highlight, as are the traditional Russian chopped salads.




CUISINE:

Russian


STYLE:

Trendy


Address:

Pyatnitskaya 27


Website:

www.grably.ru
Metropol
For some of the city's finest dining, The Metropol has hosted some of recent history's most famous figures beneath its large glass dome and stained-glass windows. The food matches the opulent decoration with the best of European cuisine with some of Russia's most extravagant dishes. The classic feel will leave diners feeling like visiting foreign dignitaries and there is good chance you may meet one.




CUISINE:

International


Address:

1-4 Teatralny Proezd


Website:

www.metropol-moscow.ru/en/
Bon
A curiously trendy establishment, best described as Mafia chic with an Italian slant to the food, usually packs in Moscow's hippest crowd . While the decoration looks like a villain's lair from a batman film, complete with machine gun lamps and decorative gloomy knick-knacks, the menu has reliable favourites such as pasta, seafood and grilled meats all prepared by some of the city's finest chefs.




CUISINE:

Italian


STYLE:

Trendy


Address:

Yakimanskaya Embankment 4, Building 1


Website:

www.bonmoscow.ru
Yolki-Palki Po
This is a 'service on the move' kind of eatery, currently with two locations near the metro stations at Pushkinskaya or Tverskaya. Actually it's a self-service on the move kind of eatery, based on the Mongolian barbecue concept. Guests choose ingredients and components from dishes, are encouraged to be as eclectic as desired, and the selection is cooked or heated according to request. Meats, vegetables, spices and sauces of all styles available.




CUISINE:

Local


Address:

Pushkinskaya Metro, Tveskaya Metro
Sudar
Situated near the Borodino panorama and Poklonnaya Hill, the Sudar is a cozy yet lavish restaurant offering authentic Russian cuisine in the setting of a 19th century nobleman's house. Classical music works well to authenticate the experience. Their fish soup with sturgeon, ravioli and pirozhki are divine dining options.




CUISINE:

Russian


Address:

36A Kutuzovsky Avenue


Website:

sudar-restaurant.com
Shinok
There's a strange paradox at work in this swanky, themed restaurant. While waitresses dress as milkmaids, goats and chickens (live ones) occupy cages near the restaurant centre and the decorative furniture consist of haystacks, the calibre of service and meals are up to the standards of the upper echelons of society. Indeed, most of the restaurant's clientele dress smartly for dinners here.




CUISINE:

Local


Address:

2 Ulitsa, Garden Ring


Website:

www.shinok.ru
Cafďż˝ Pushkin
Plush, pricey, popular and professional� and if you think that's a mouthful, you should try their food. Café Pushkin offers, arguably, the most exquisite dining in Moscow, upmarket enough to charge outrageously but not so pretentious so as to skimp on the portions. Open 24 hours a day, seven days a week, the food is fantastic whether you're having pancakes for breakfast, delicious sturgeon for dinner or a meaty steak halfway through a night out. The weekday business lunch specials are a good deal, considering the venue.




CUISINE:

Russian


Address:

26a Tverskoi bulvat, Tverskaya


Website:

www.cafe-pushkin.ru/en/
One Red Square
Housed within the State History Museum, overlooking Moscow's bustling plaza, this restaurant offers fine dining at a flashy price. The menus are representative of the recipe books found in 17th, 18th and 19th century Russian cuisine, housed in the Museum itself. Russian treats such as and , along with a creative array of fish meals, are the house specialities. Diners with a taste for exotic alcohol might want to try the Russian or .




CUISINE:

Russian


Address:

Red Square
Mu-Mu Café
This is a series of six popular restaurants in Moscow all serving cheap traditional Russian food. Very popular with locals looking for quick eats and tourists wanting to try specialty Russian food without spending a fortune, the restaurants usually sport a pleasantly busy atmosphere. A full meal should cost below US$10.




CUISINE:

Local


Address:

Myasnitskaya St. No. 14, metro Lubyanka, Kitai


Website:

www.cafemumu.ru
Filimonova & Yankel
A favourite seafood hot spot, F&Y serves up seafood cooked in a variety of styles. A large banquet style dining room makes for a festive atmosphere perfect for larger gatherings. A live but mellow jazz band sets the ambiance further with a classy yet casual atmosphere, much like the fun but quality fish dishes whether baked, seared, grilled or still flopping.




CUISINE:

Seafood


Address:

No.2 Kiev Station Sq
Starlite Diner
Sometimes a big hamburger is the only cure for late night cravings and the agreed best after hours restaurant is the American themed Starlite Diner. Open 24 hours to a loyal patronage of locals and expats this classic styled throwback serves up healthy portions of greasy good food and 1950s ambiance.




CUISINE:

American


Address:

Bolshaya Sadovaya Ulitsa, No. 16a


Website:

www.starlite.ru
Travel guide by (c) Globe Media Ltd. By its very nature much of the information in this travel guide is subject to change at short notice and travellers are urged to verify information on which they're relying with the relevant authorities. We cannot accept any responsibility for any loss or inconvenience to any person as a result of information contained above.