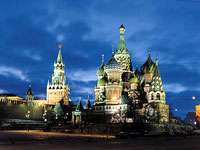 Moscow Overview
Moscow is the capital of the world's biggest country, situated in the centre of the European part of Russia. At the very heart of the city, and indeed the country, is the Kremlin, the Russian place of command for almost eight centuries, and the religious centre. Red Square and the exquisite, colourful domes of Saint Basil's Cathedral, and the jewelled, Fabergé Easter eggs of the Tsars are images that have long been associated with the Soviet Union in the minds of Westerners.
The city of Moscow is a fusion of both splendour and ugliness that is evident in the massive concrete slabs and high-rise apartments of the Stalinist era, and in the ornate churches, beautiful neo-classical houses, and the impressive architecture of the old city. Wide grey thoroughfares give way to narrow winding inner city streets, and golden church domes gleam between the looming skyscrapers. It attracts not only those eager to embrace new business and free enterprise, but also the poor from across the country, and the extremes of affluence and impoverishment are evident everywhere.
Since the fall of communism Moscow has been injected with a sense of urgency to change the face of the 'Mother City', embracing capitalism and shaking off the years of communist-imposed atheism with flashy shop fronts housing western franchises, new restaurants and glossy hotels, and the restoration of lavish Orthodox churches. The once dreary streets are now a vibrant commotion of life with markets and eager vendors offering an assortment of goods that were unavailable during the Soviet years.
It is also a city of entertainment, with theatres and the renowned Moscow Circus, museums and art galleries. It boasts the world's largest and most efficient metro system with gleaming stations deep underground, astonishingly decorated in elegant marble, glittering chandeliers and gilded works of art and magnificent mosaics. It is the soul of the new Russia and an intriguing mix of history and politics, business and culture.