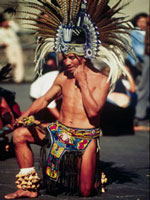 Mexico City Overview
Sprawling across a valley encircled by ice-capped volcanoes and mountains, atop an ancient Aztec civilisation, Mexico City is North America's highest city, and one of the worlds most densely populated. With a long and fascinating history that runs from ancient native civilisations through to the invasion of the Conquistadors and subsequent colonial rule, Mexico City has a vast number of fascinating sights and attractions.
In the city centre, constructed out of the stones of the ancient palaces and temples, is the vast open space of the Zocalo - Mexico's city square - said to be the second largest in the world after Moscow's Red Square. At La Merced you'll discover the city's largest and most vibrant market, with a vast array of bizarre and exciting stalls, while the huge expanse of the Bosque de Chapultepec park houses the National Museum of Anthropology, with a fascinating collection of pre-Hispanic artefacts. At Teotihuac visitors will discover one of the most impressive and mysterious archaeological sites in Mexico, constructed by an ancient, and long forgotten culture.
The sprawling capital is a place to both love and hate, with everything you'd anticipate in a large city. It has world-class museums and galleries, a remarkable architectural legacy and elegant buildings, palaces and cathedrals, green open spaces and colonial suburbs, historical ruins, attractive squares, modern skyscrapers and great economic, cultural and political importance. It also has poverty, overcrowding and slums, incredible pollution, traffic congestion, crime, unemployment, and a constant cacophony of people and noise. It is exhilarating, frenetic and fascinating, an unabated reserve of vibrancy and life.
Despite its problems and somewhat bewildering energy Mexico City is a magnet for Mexicans and tourists alike: a modern, cosmopolitan and ever growing city that is attractive in so many ways. Despite its renown for the appalling, throat-rasping levels of pollution, Mexico City's skies often remain remarkably clear, and it does make for incredible sunsets.